In this article, you'll learn how to make your course available for students to access on the go via the Teachable iOS app.
CAUTION: The Teachable iOS app is intended to serve as a complement to the desktop web app. We recommend that instructors design their course for the desktop, as this is the most robust way to view a Teachable course, and inform students that the iOS app is a supplementary tool for students to use while they are on the go.
What the App Can and Cannot Do
For Students
From the app, your students will be able to do the following actions within your course:
Pick up where they left off on another device
Stream course videos
View lecture text and attachments
Take lecture quizzes and view their scores
Complete lectures and sync their progress with other devices
NOTE: Coaching products are not available through the Teachable iOs app. Additionally, lecture comments and lecture images cannot be accessed from within the app.
For School Owners
School owners cannot manage schools or courses from within the app. It functions only as a way to view and complete lectures and courses.
The app also supports a limited subset of HTML tags: <b>, <bold>, <strong>, <i>, <italic>, <u>, <underline>, <a>, <ul>, <li>, and <br>. Any other HTML tags present in lectures will be stripped from the text.
If you have course compliance settings enabled for your course, those settings will not be enforced in the iOS app.
NOTE: Embedded content will not display in the iOS. To add files, use the file uploader in the upload multimedia media content into your lectures.
How Do I Make My Courses Accessible on the App?
To make courses accessible on the mobile app, make sure that Teachable Accounts is enabled on your school. Students can only access the app via their Teachable account. Learn how to enable Teachable Accounts on your school.
NOTE: Course compliance is not available on the iOS app. If you are using course compliance and want to ensure your students only access your course on a web browser, you can disable Teachable accounts.
Once you've enabled Teachable Accounts, any one of your students who downloads the Teachable app will be able to see your school and course(s) from the My Courses area.
Adding App-Friendly Images
Optimal image sizes differ from web to iOS app access, so you'll want to add new course thumbnail and background images sized specifically for the app. Do this by clicking the iOS icon found under Courses > Information > Branding (this option will not appear if you have Teachable Accounts disabled):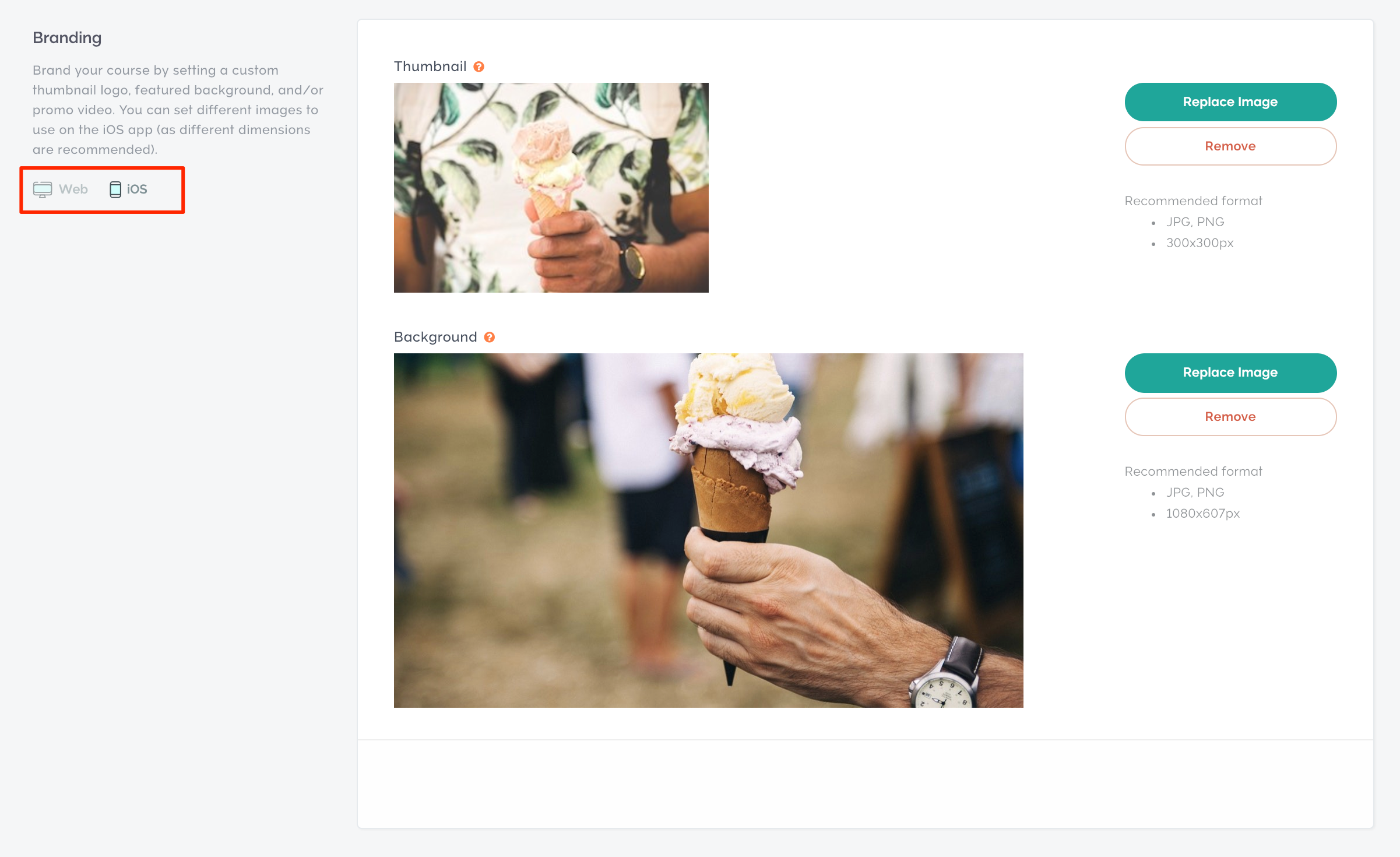 The iOS Thumbnail image is used to represent your course on the Teachable iOS app. The Background image is used at the top of the course curriculum screen on the Teachable iOS app.
Follow the format and size recommendations so the images appear correctly when students access the app from their phones.