This article goes over what information and settings are available in the Affiliate Dashboard for school affiliates. For school owners, learn more about adding affiliates to your school.
Overview
School owners have the option to add affiliates to their schools. Once you are enrolled as an affiliate, you can access your affiliate dashboard to set up payouts, check your earnings, download promotional materials, and find tracking links to share with your audience.
Once you are added as an affiliate, you will receive an email confirmation directing you to login or confirm your account to the owner's school.
For existing students added as affiliates, you can log in to the school using your same credentials. For new affiliates, your confirmation email will direct you to create your own account.
Accessing your dashboard
When you log in to the Teachable school you are promoting, you will see a link in your user profile menu labeled View Admin Dashboard. Clicking this will take you to your Affiliate Dashboard.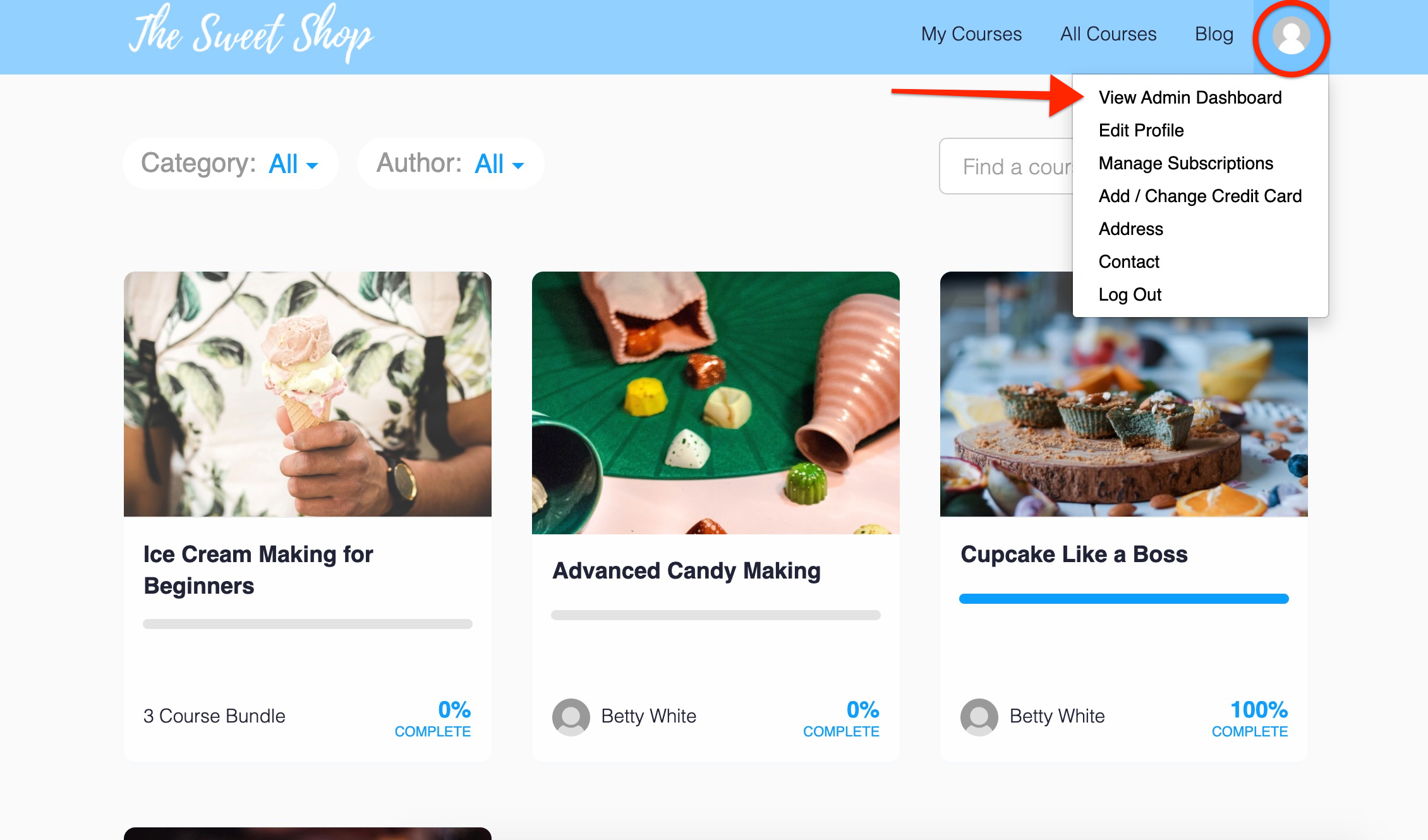 In the Dashboard, you can quickly view the following commission details:
Commission Rate - the percentage of a sale, as determined by the school owner, that the affiliate will receive.
Affiliate Code - the code that affiliates can append to school URLs to receive credit for a student - more information below.
Cookie Period - the duration, in days as determined by the school owner, for which an affiliate's cookie will be active.
Below your commission details, you can also view a breakdown of your earnings and revenue for the last 7 days, 30 days, and all time to date.
If the school owner has assigned specific products to your affiliate account, you will find direct links to the products with your affiliate code already applied in the Products section of your Affiliate Dashboard. Click the Copy button beside the specific product link you would like to share to your audience.
Affiliate links and resources
In the Links & Resources tab, you can access affiliate links created for you by the school owner, the Affiliate Link Generator, as well as additional promotional materials shared by the school owner.
As an affiliate, you promote products using affiliate links. When a customer purchases a product from an affiliate link, you are credited with the sale, and earn a commission rate for that sale (as set by the school owner).
School owners can provide you with your direct affiliate link(s). Alternatively, you can create your own links using the link generator available within your dashboard.
In the Affiliate Links section, you can copy affiliate links that have been created for you by the school owner, or generate direct affiliate URLs for home pages, sales pages, product checkout pages, and external landing pages.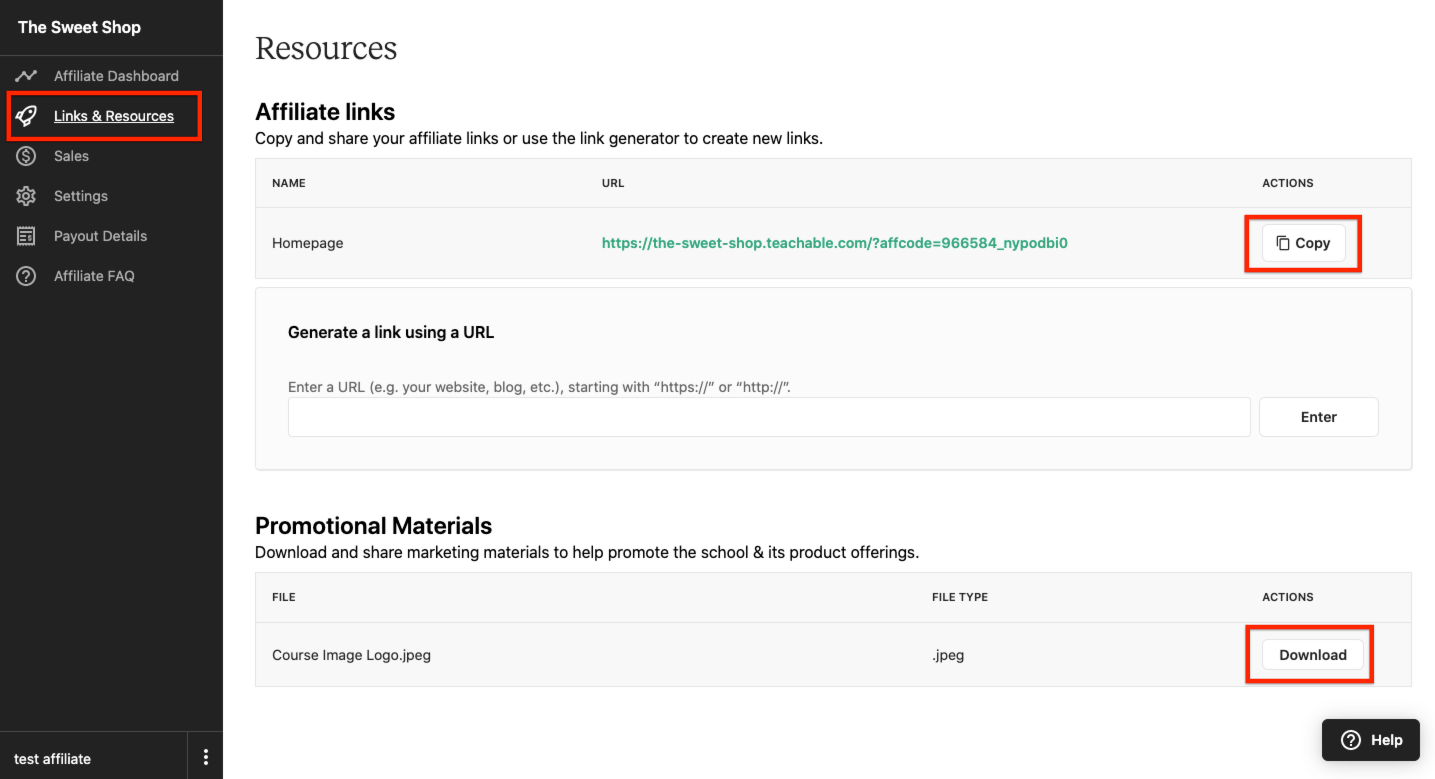 Affiliate link generator
To generate an affiliate link for a specific URL:
Navigate to the specific page you want to direct your audience to - this could be a sales page, checkout page, or other school-specific page.
Copy the URL at the top of the page.
Paste the page URL into the Link Generator, and click Generate.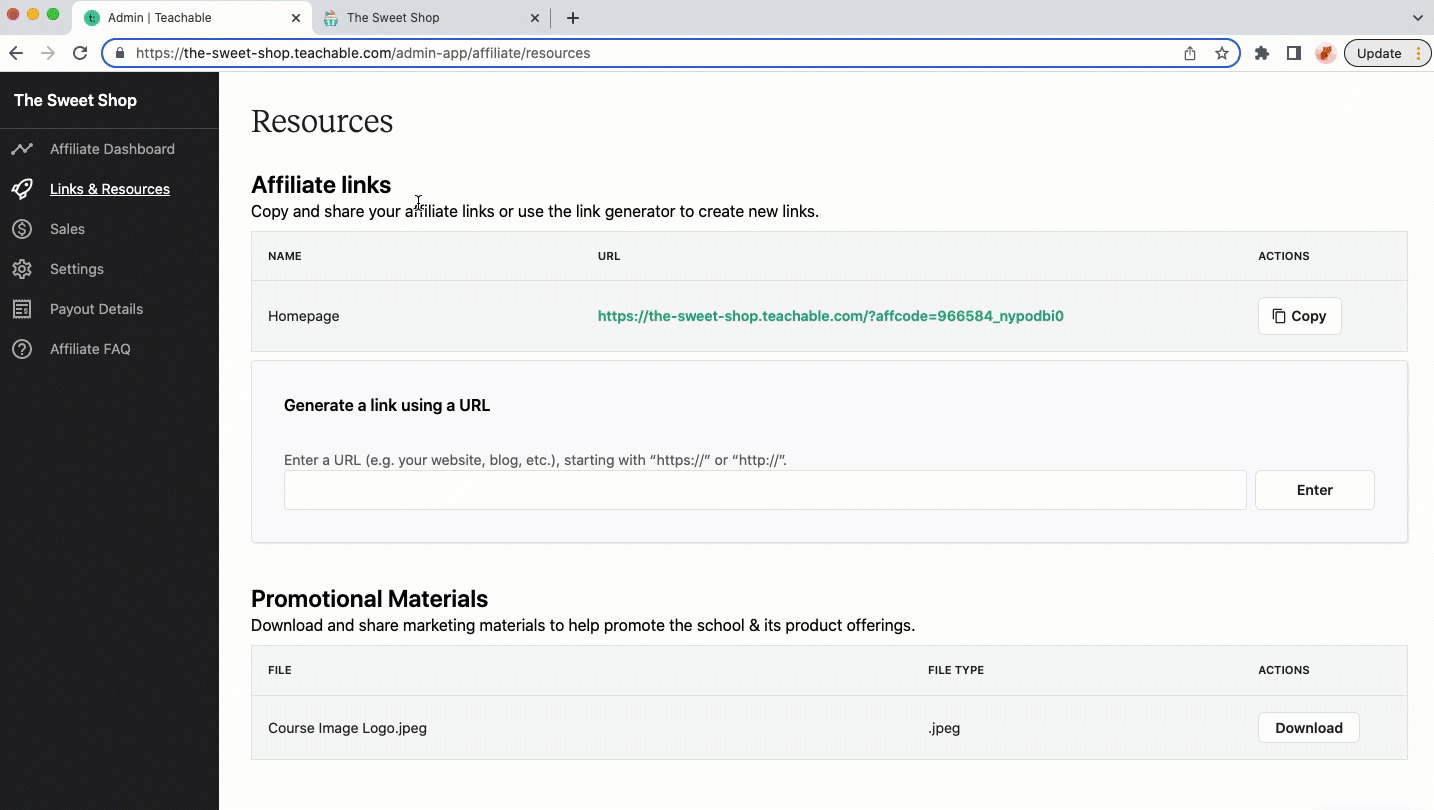 NOTE: You must include http:// or https:// at the beginning of the URL before generating a link.
External landing pages
If you are promoting a school product from an external landing page (i.e., any page not created on Teachable), you can still receive attribution and commission for directing users to these pages by creating an external affiliate link. Please note that this option is only available if the school owner has enabled the option to Allow External URL redirects.
If this setting is enabled, you can enter in the URL to the external landing page (including http:// or https://) to your Link Generator and click Enter.
CAUTION: External payment/checkout sites will not track Teachable affiliate sales—affiliate tracking only works for sales that occur on Teachable's native payment gateways.
Promotional materials
In addition to providing links to share with your audience, school owners have the option to share additional promotional materials with you to help market. These can include flyers, images, or templated social media posts that can help you share information about the school and products.
To access promotional materials, click the Download button beside the content.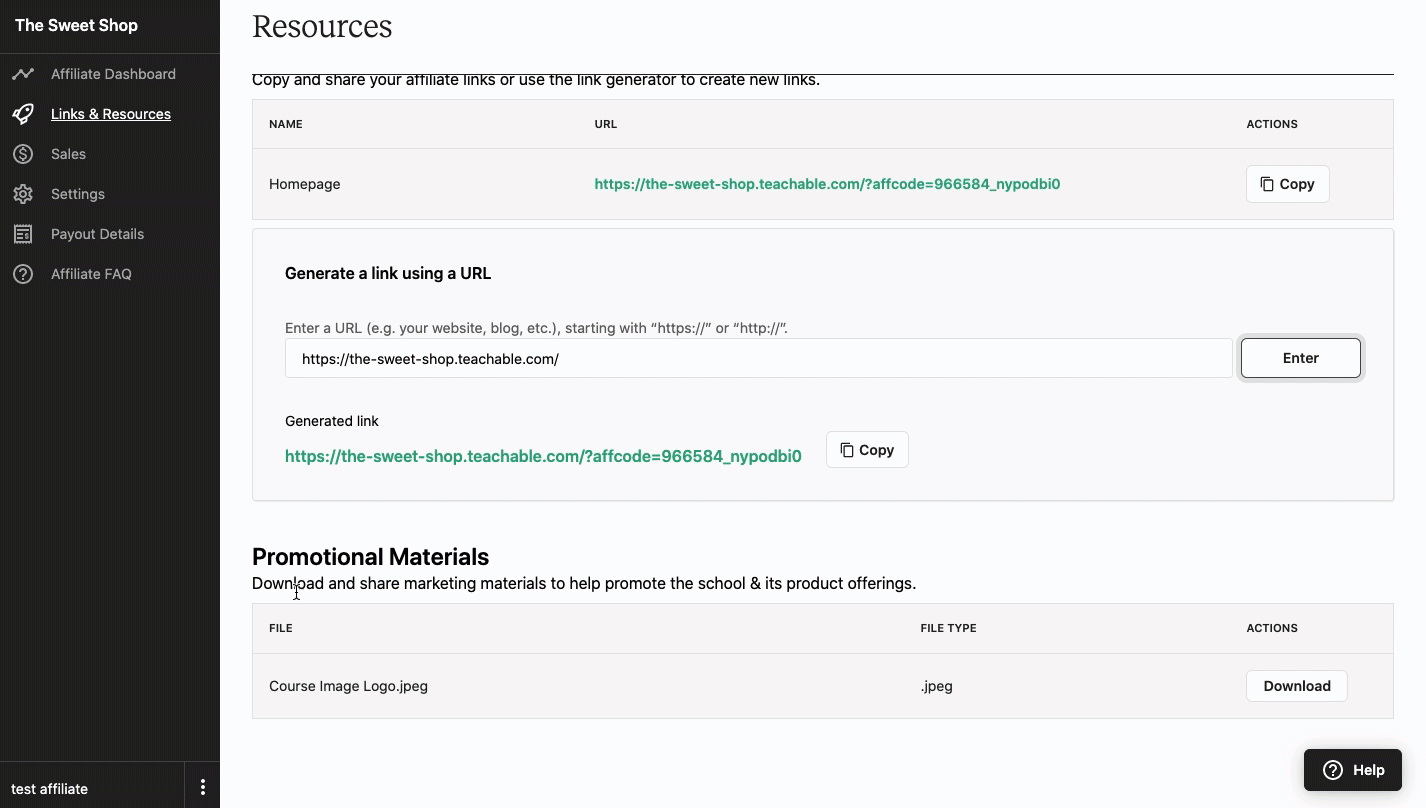 If the school owner has not provided you with materials, please reach out directly to the school owner for assistance.
Sales
In the Sales tab, you will find a history of all the sales that they have been credited for through your affiliate link(s).
In the Transactions tab, each transaction will show the total Sales Price (i.e., the total amount of the course) and the Earnings (i.e., amount you earned for that sale based on your commission rate).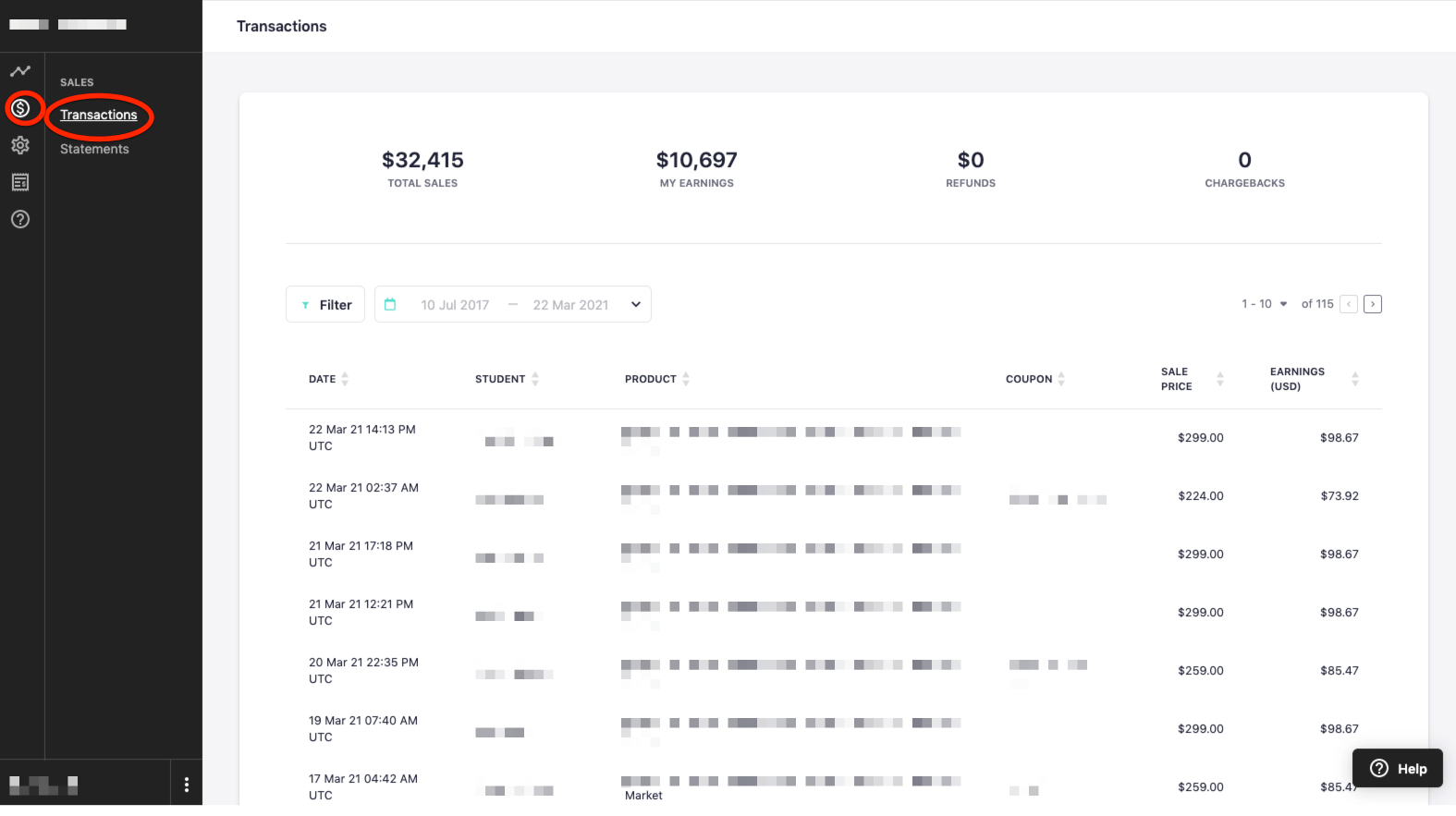 You can click into specific transactions for a more comprehensive transaction breakdown.
The Statements tab will show a summary of earnings by month. Statements are made available 20 days after the end of the month.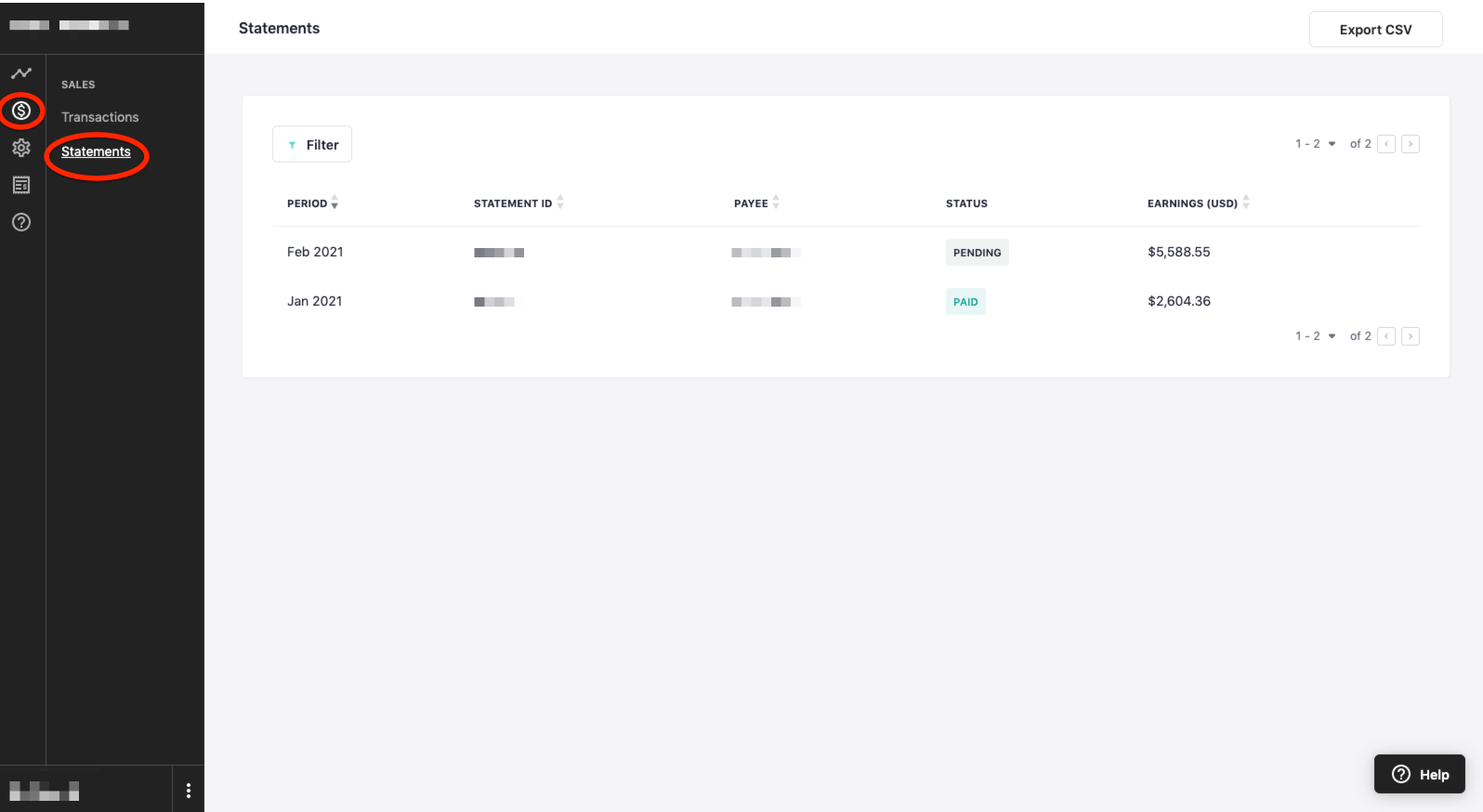 NOTE: School owners have the option to limit affiliate commissions to specific products in their schools. Please contact your school owner for questions about product specific sales.
Settings
In the Settings tab, you can opt in (or out) of enrollment notifications. You can toggle on/off enrollment notifications for free or paid products.

Payout details
Affiliate payout methods are determined by the settings of the school. Please contact the school owner for any questions related to their payout settings for affiliates.
If the school is using one of Teachable's payment gateways, and has BackOffice enabled, you will automatically be paid out by Teachable to your PayPal account. You must have a PayPal account to be paid out by Teachable.
In the Payout Details tab, affiliates can enter their PayPal account information to be paid out. Also shown on this page is a list of past payouts from Teachable (if applicable).

Teachable pays school affiliates in USD on the first of every month (or the next business day if the 1st is on a weekend or US holiday) according to our Monthly Payment Gateway schedule. Due to Teachable's 30-day refund policy, Teachable must hold funds for at least 30 days before releasing them to affiliates. For example, on March 1st, affiliates would receive a payment for all sales that took place in January. Then, on April 1st, they would be paid for sales made in February, and so on.
NOTE: If Teachable is paying out the affiliate directly and the affiliate has earned more than $100, the affiliate will be instructed to fill out a tax form through a banner in the Affiliate Dashboard and Payout Details tab. If you earn $500 or more on the Teachable platform and have yet to fill out a tax form, your payouts will be held by Teachable until the required tax form is completed.

If your school is using custom payment gateways, or they have BackOffice disabled, then the school owner is responsible for paying out affiliates off of the Teachable platform. As a result, affiliate payout methods must be determined by the school owner—not Teachable.
Affiliate FAQ
In the Affiliate FAQ tab, there is information on how the affiliate program works, and answers to some general questions an affiliate may have.