Similar to a school owner's Admin page, the Affiliate View serves as the admin page for affiliates. This article goes over what information and settings are available in the Affiliate View.
NOTE: The Affiliate View is only shown to affiliates. If you are a school owner, and would like to see the Affiliate View for yourself, create a test affiliate account for access.
Overview
When an affiliate logs in (using the same login information as when they first enrolled as a student) to the Teachable school they are promoting, they will have a link in their navigation bar labeled Affiliate. Clicking this will take them to their Affiliate View.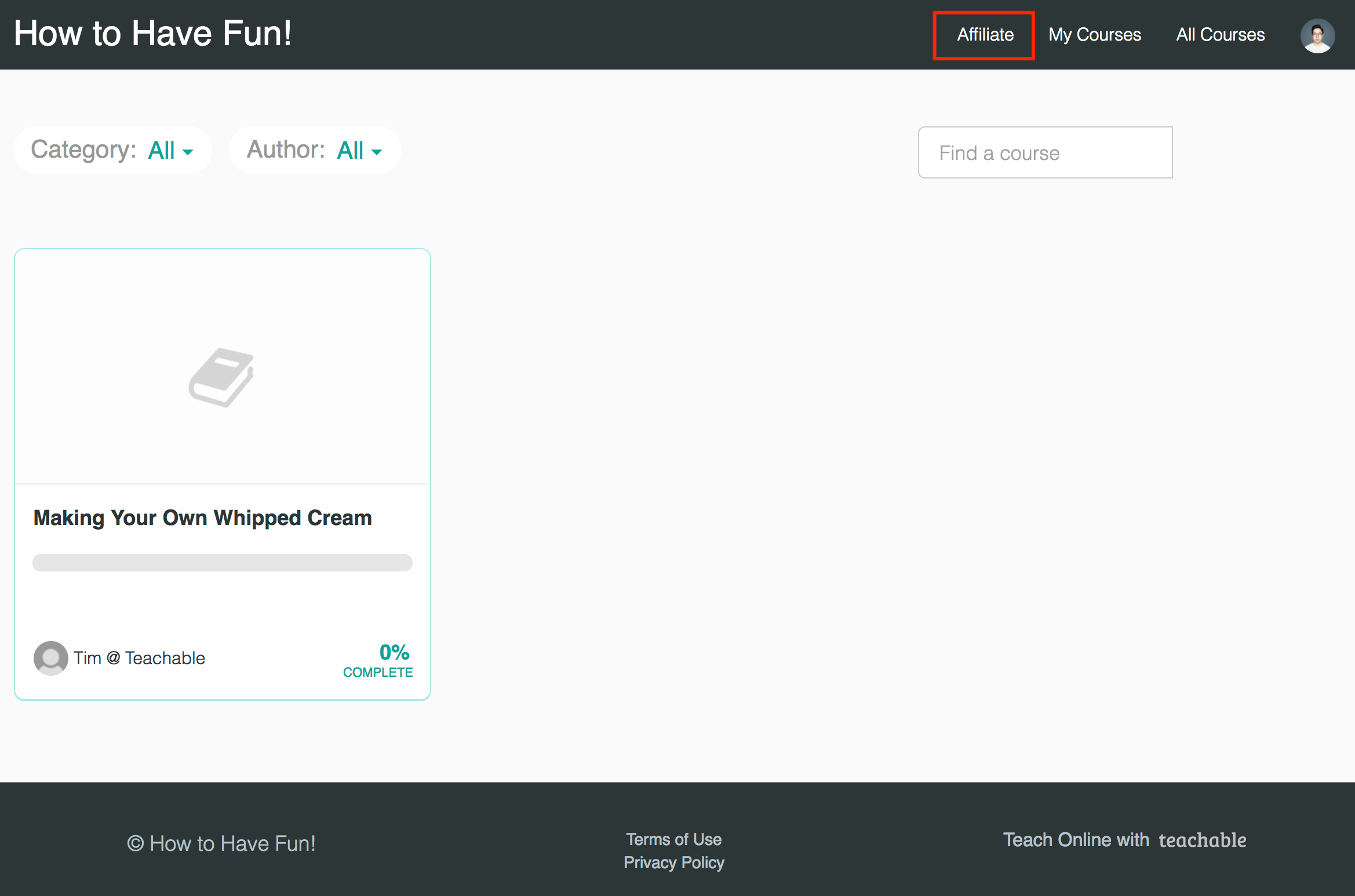 Dashboard
In the Dashboard, the following commission details are available:
Commission Rate - the percentage of a sale, as determined by the school owner, that the affiliate will receive.
Affiliate Code - the code that affiliates can append to school URLs to receive credit for a student—more information below.
Cookie Period - the duration for which an affiliate's cookie will be active. For more information, see this article on how Teachable handles multiple affiliates.
Also shown is a breakdown of the affiliate's earnings and revenue for the last 7 days, 30 days, and all time.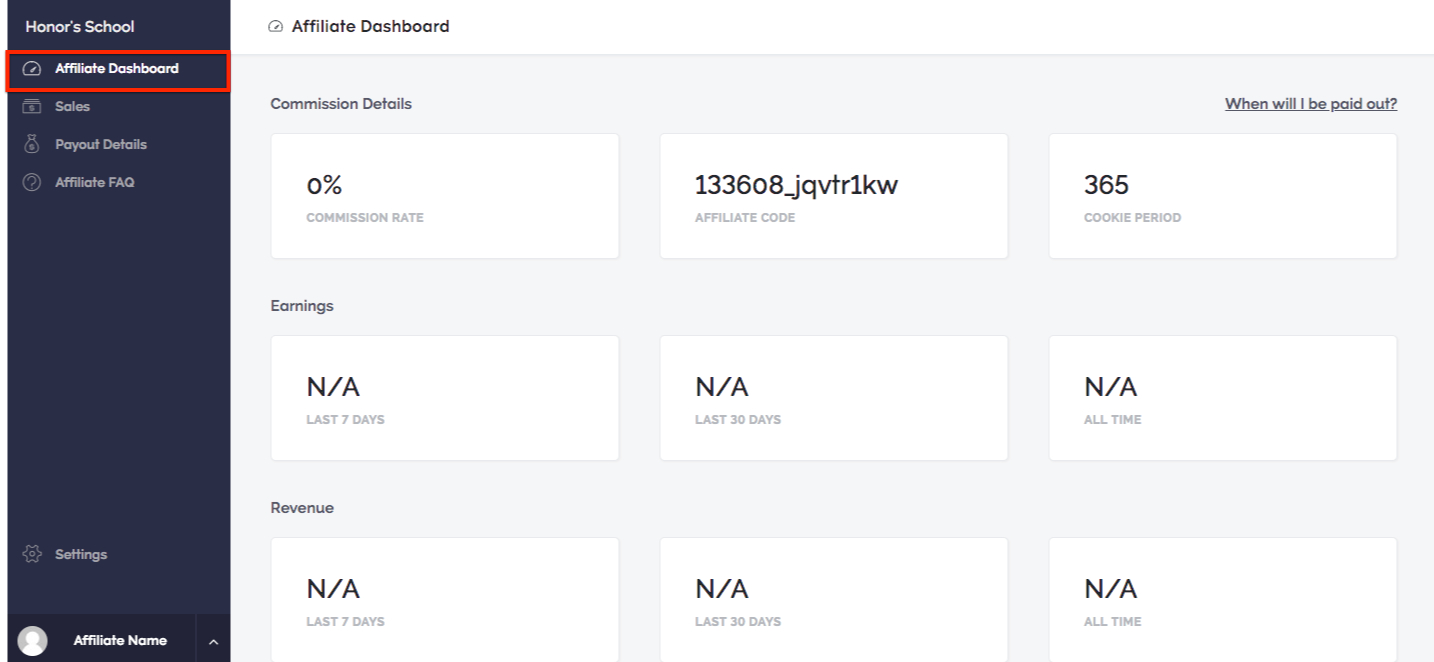 Affiliates generate direct affiliate URLs from the Affiliate View. To do so, enter the URL you'd like to add an affiliate code to and click Generate. Afterwards, the generated link will display.
NOTE: If external affiliate links have been enabled, they will not work unless the school is launched, and 'http://' or 'https://' are prepended in the URL.

Sales
In the Sales tab, the affiliate is shown a history of the transactions they have been credited for.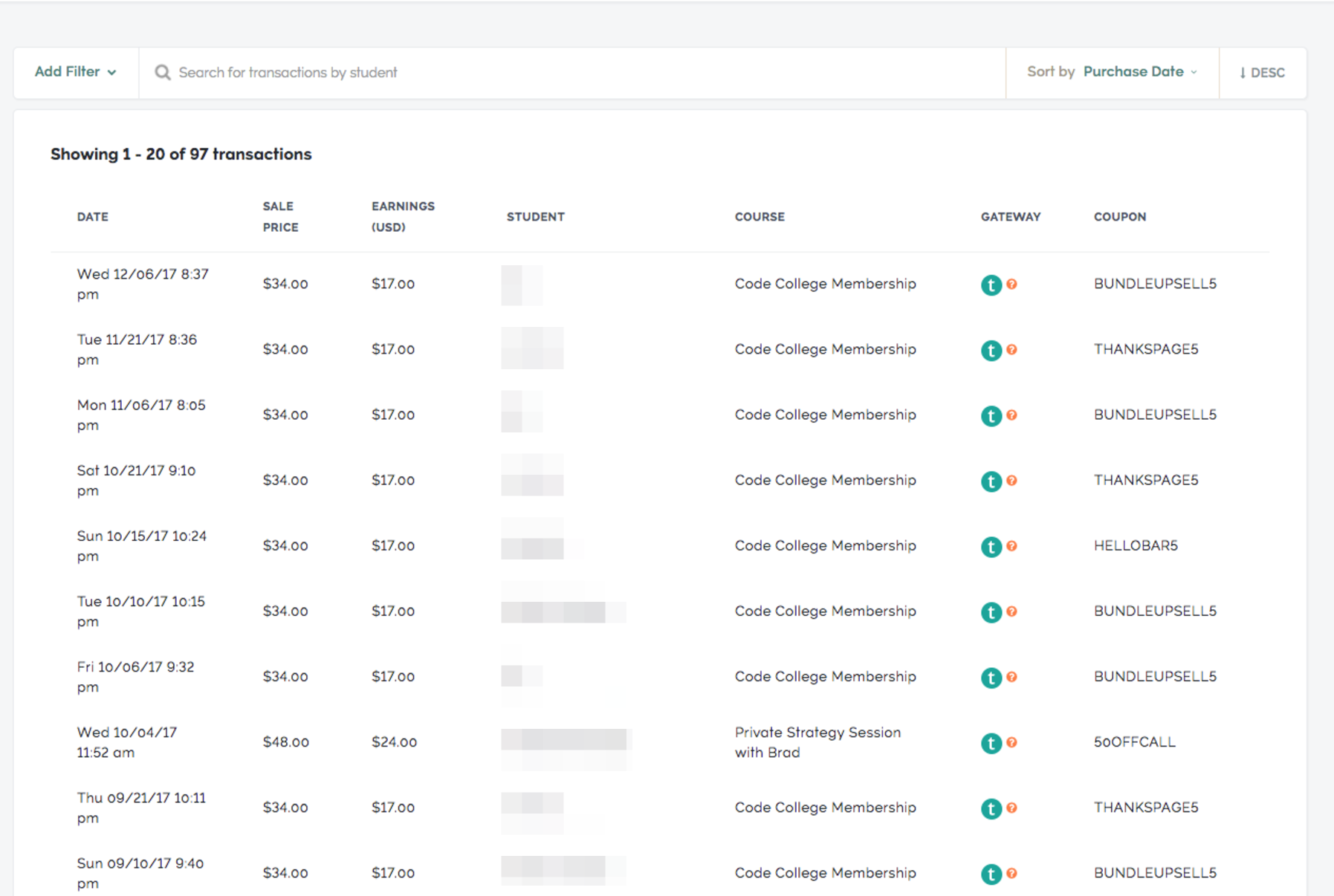 Also shown is a breakdown of an affiliate's credited transactions. This information includes the number of sales credited, the sale price, and the earnings the affiliate received.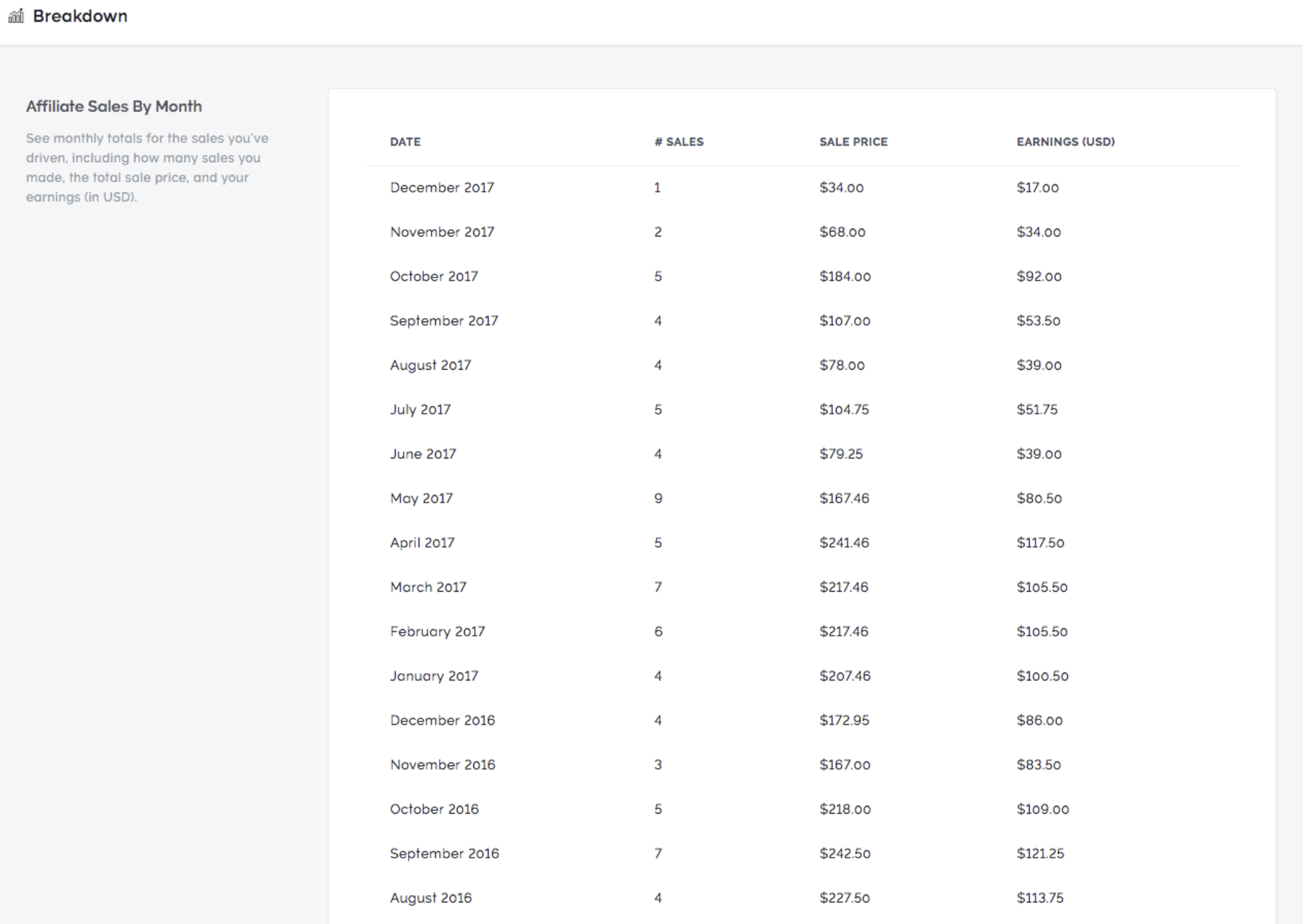 Payout Details
In the Payout Details tab, affiliates can configure their payout information. If a school is using the Teachable payment gateway, and is therefore being paid out by Teachable, the affiliate will have to enter a PayPal account information to be paid out. Also shown in this page is a list of past payouts from Teachable.
NOTE: If a school is using a custom payment gateway, then school owners are solely in charge of paying affiliates. As a result, affiliate payout methods must be determined by the school owner and affiliate—not Teachable.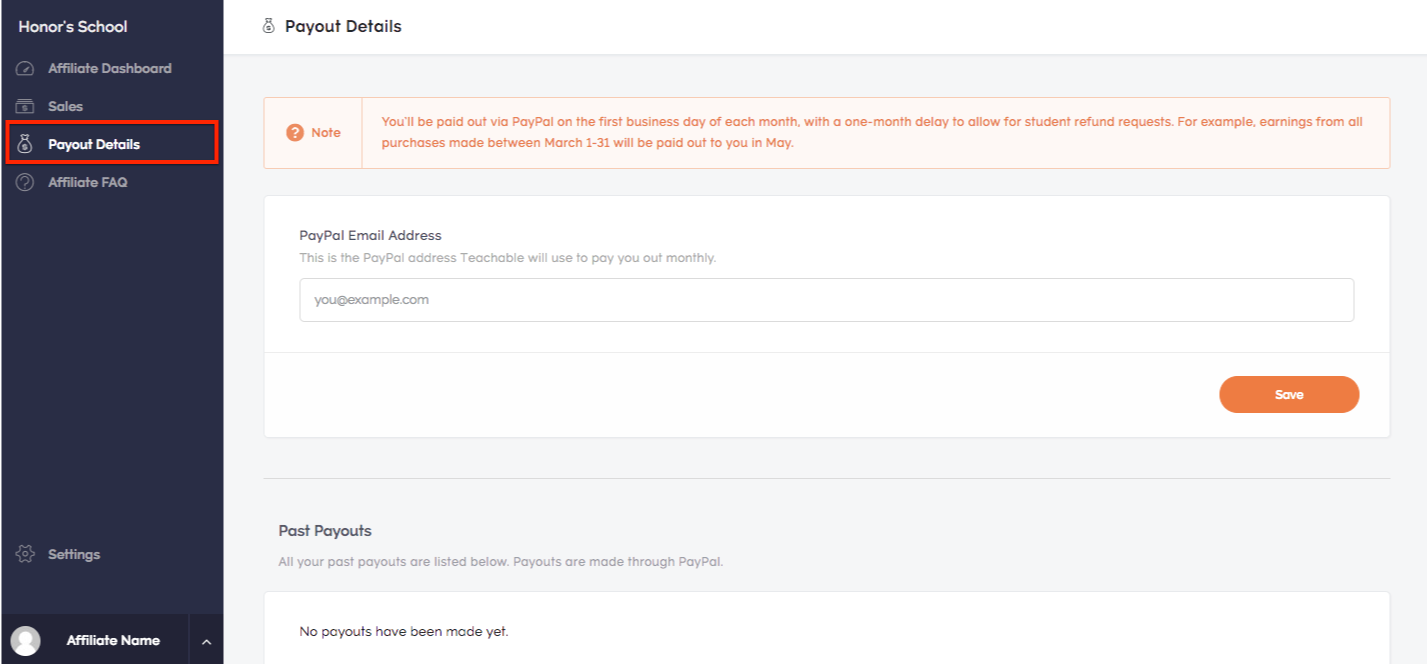 FAQ
In the Affiliate FAQ tab, there is some general information on how the affiliate program works, and answers to some general questions an affiliate may have.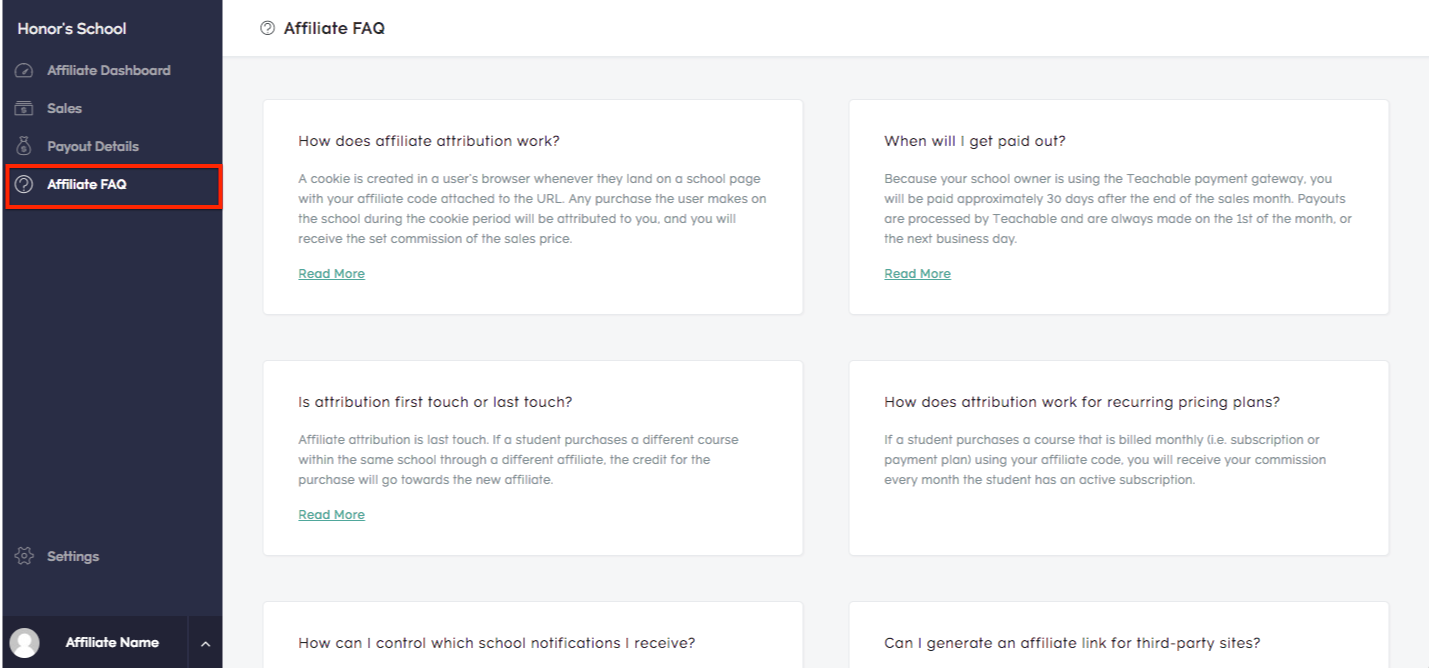 Settings
In the Settings tab, affiliates can opt in (or out) of enrollment notifications being sent to their email address.