Similar to a school owner's admin page, the Author Dashboard serves as the admin page for authors. This article goes over what information and settings are available in the Author Dashboard. This view is only shown to authors.
Overview
When an author logs in to your school, they'll have a link in their user profile menu labeled View Admin Dashboard. Clicking this will take them to their Author Dashboard.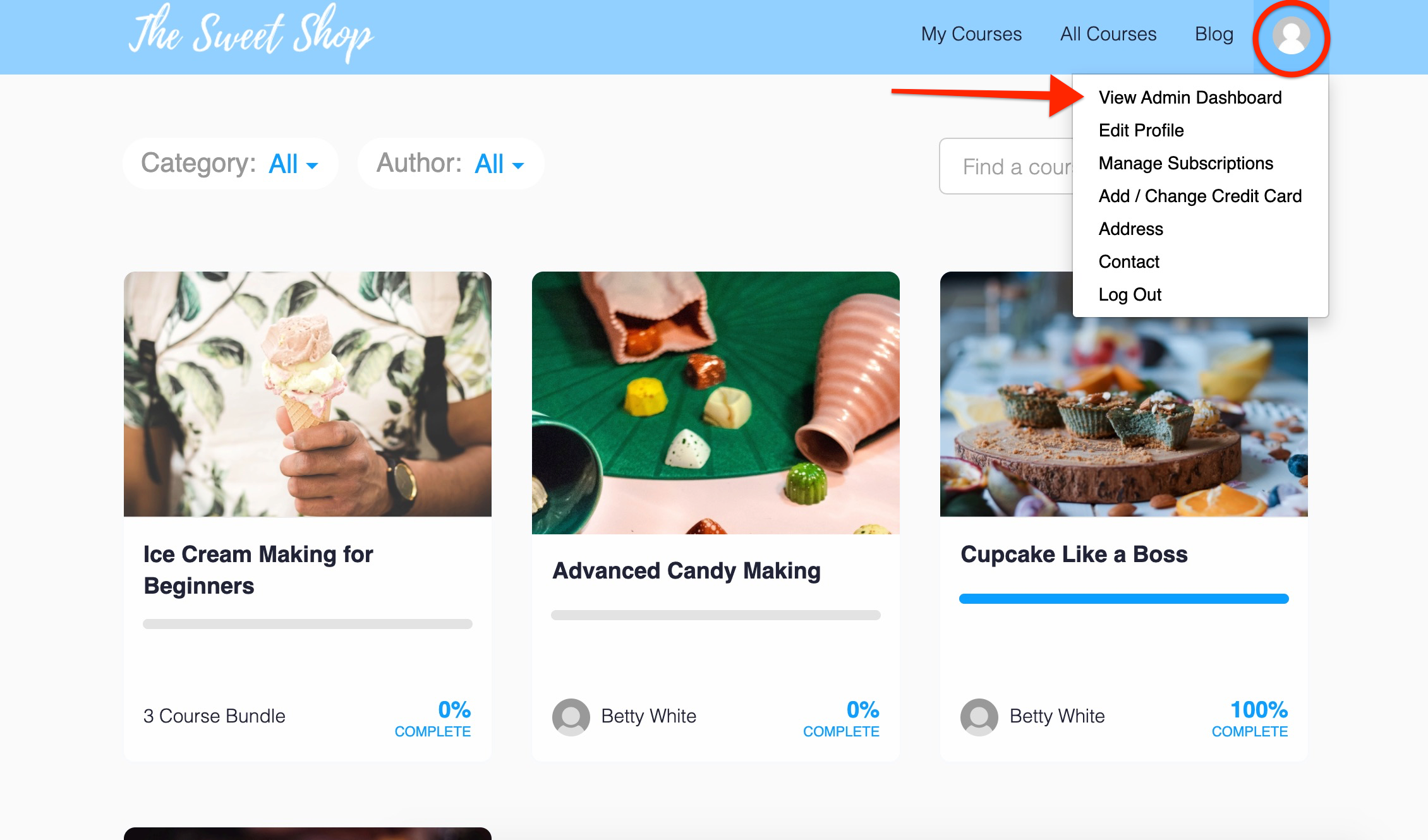 After logging in, authors will see a list of the courses and coaching products for which they have been designated the author. Their dashboard can also include settings such as Author Bio, Users, Sales, Emails, Settings, and Payout Details.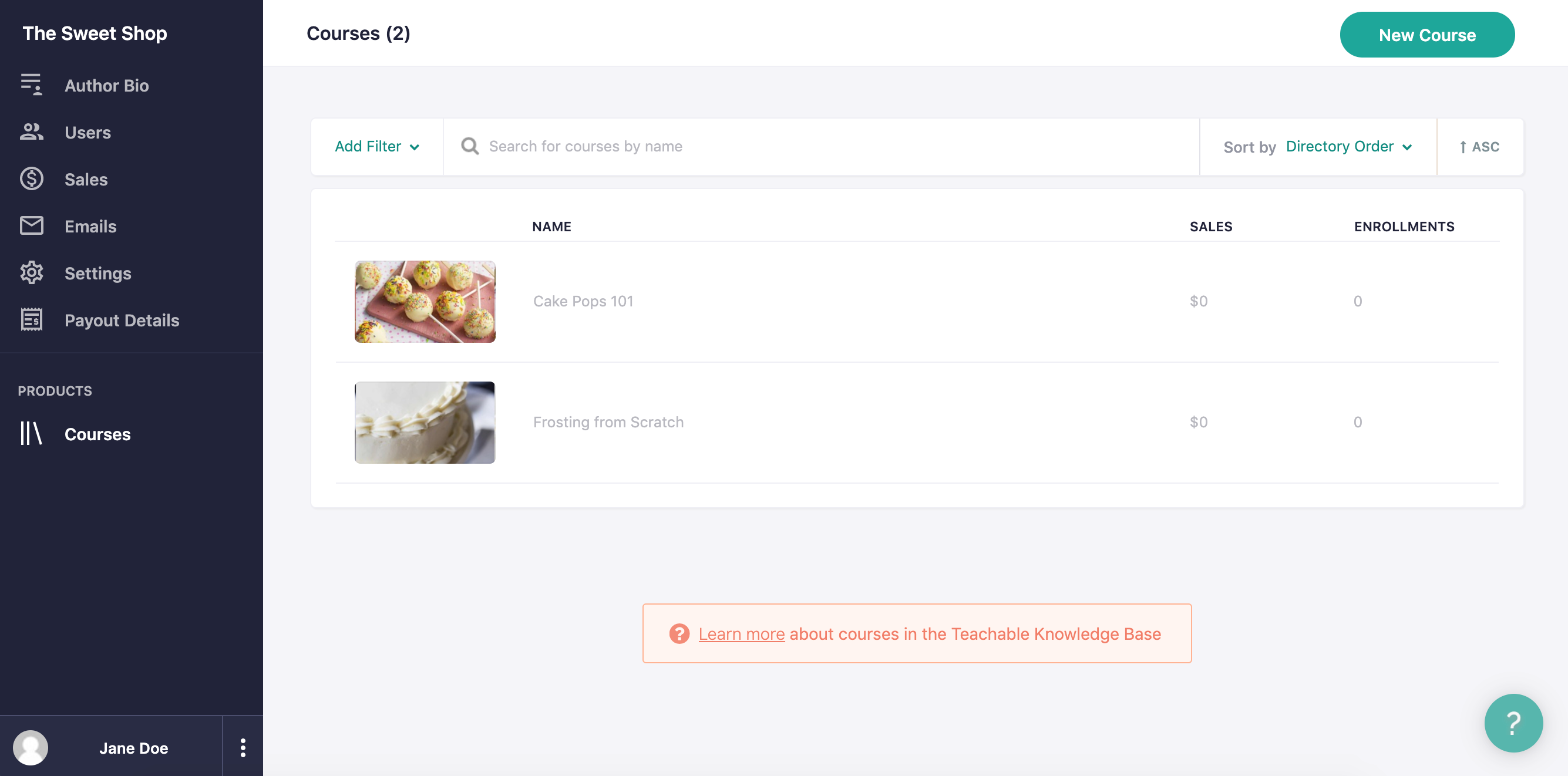 Author bio and revenue share details
Authors can edit the bio associated with their account by clicking the Author Bio tab from their dashboard.
The author can edit the following details within their author bio:
Their Display name
An image of themselves (recommended size 250 x 250px)
A bio, where the author can provide a brief summary of their experience or qualifications as an instructor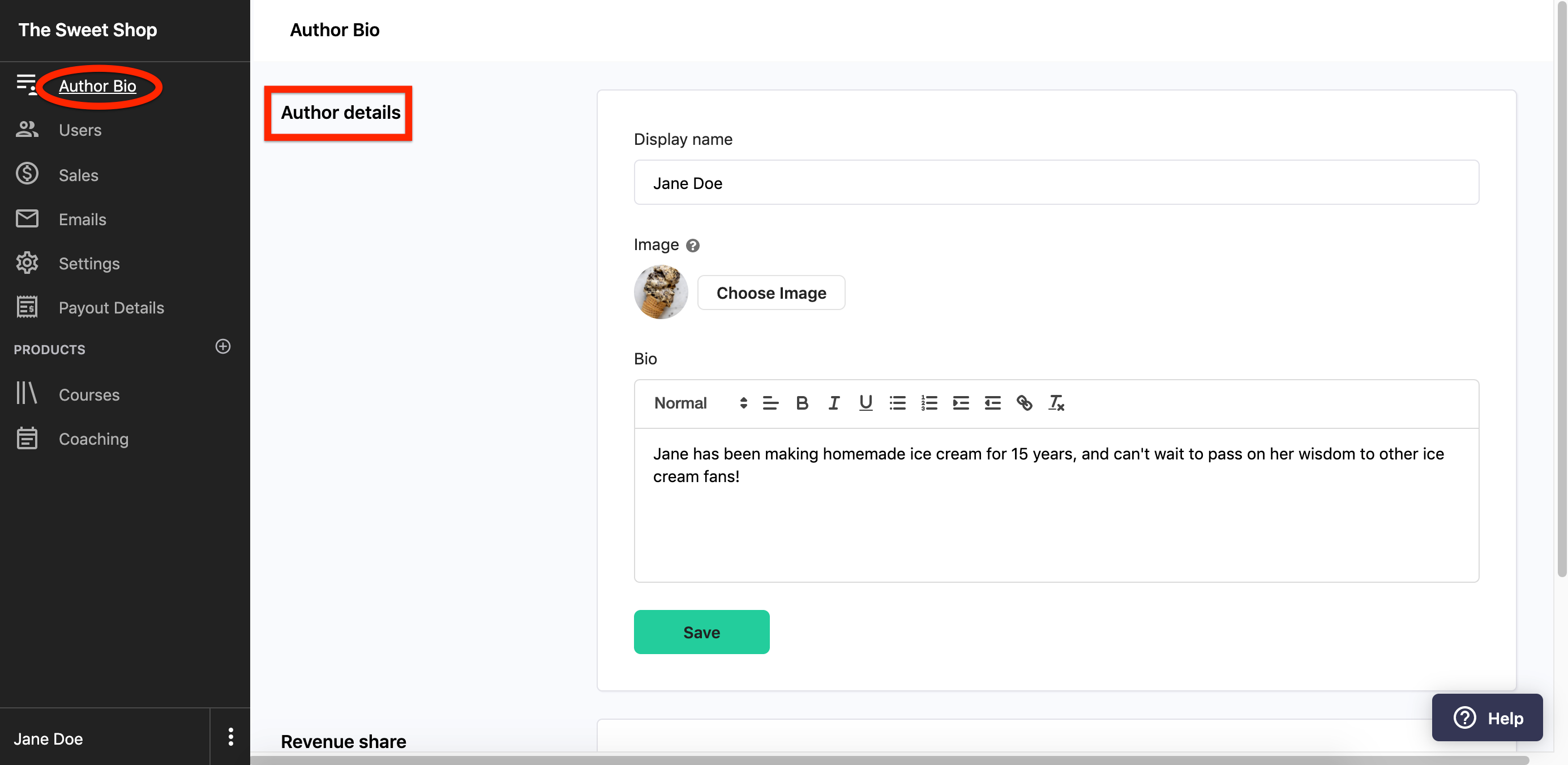 Below the bio, there is a Revenue Share section. This section indicates what the author's default revenue share percentage is for each sale made of a course/coaching product they are assigned to.
If a school owner has set a specific override percentage for any specific products, those override percentages will be listed here as well.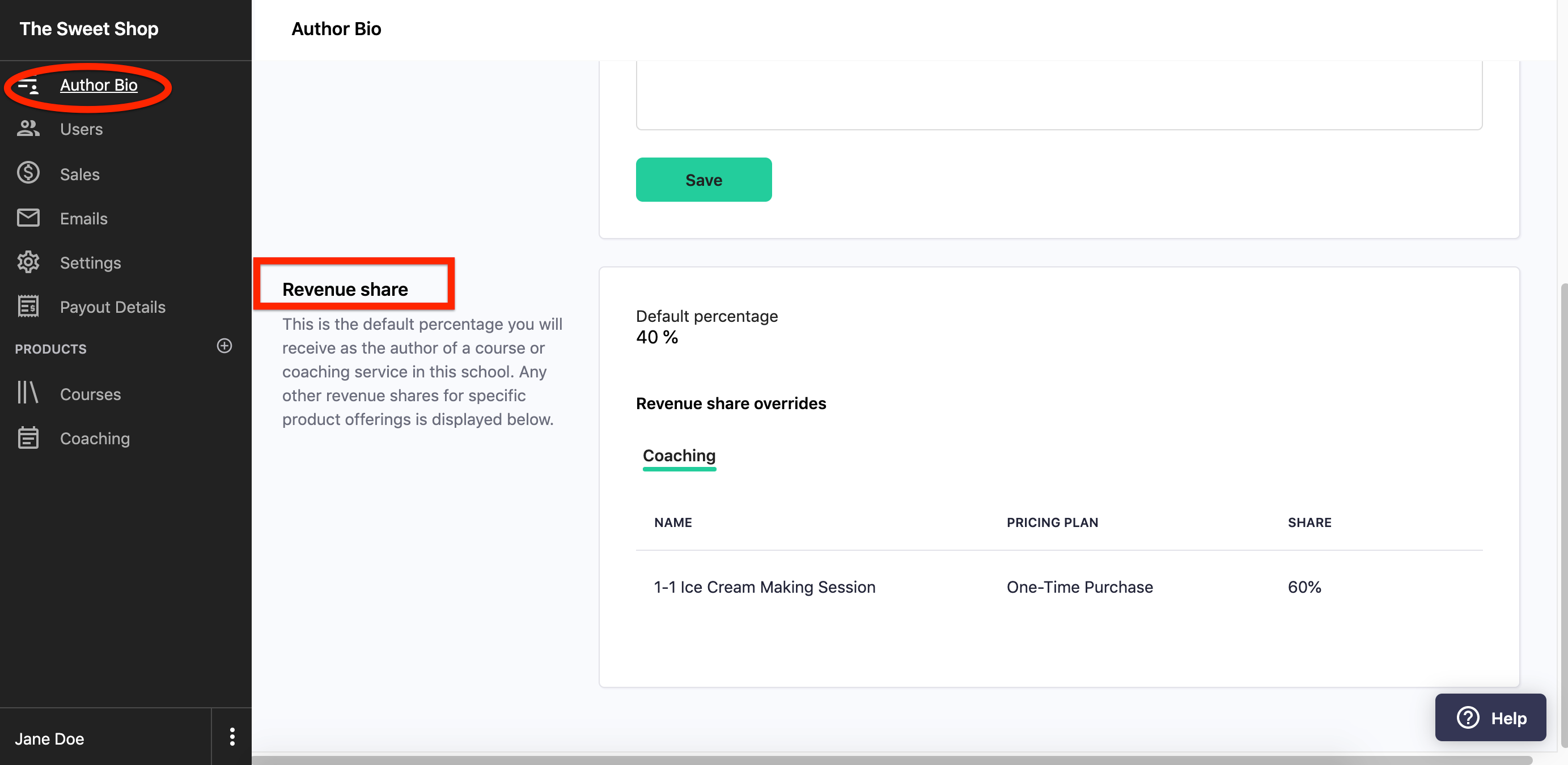 Users
The Users tab is a list of students enrolled in courses or coaching products that the author manages.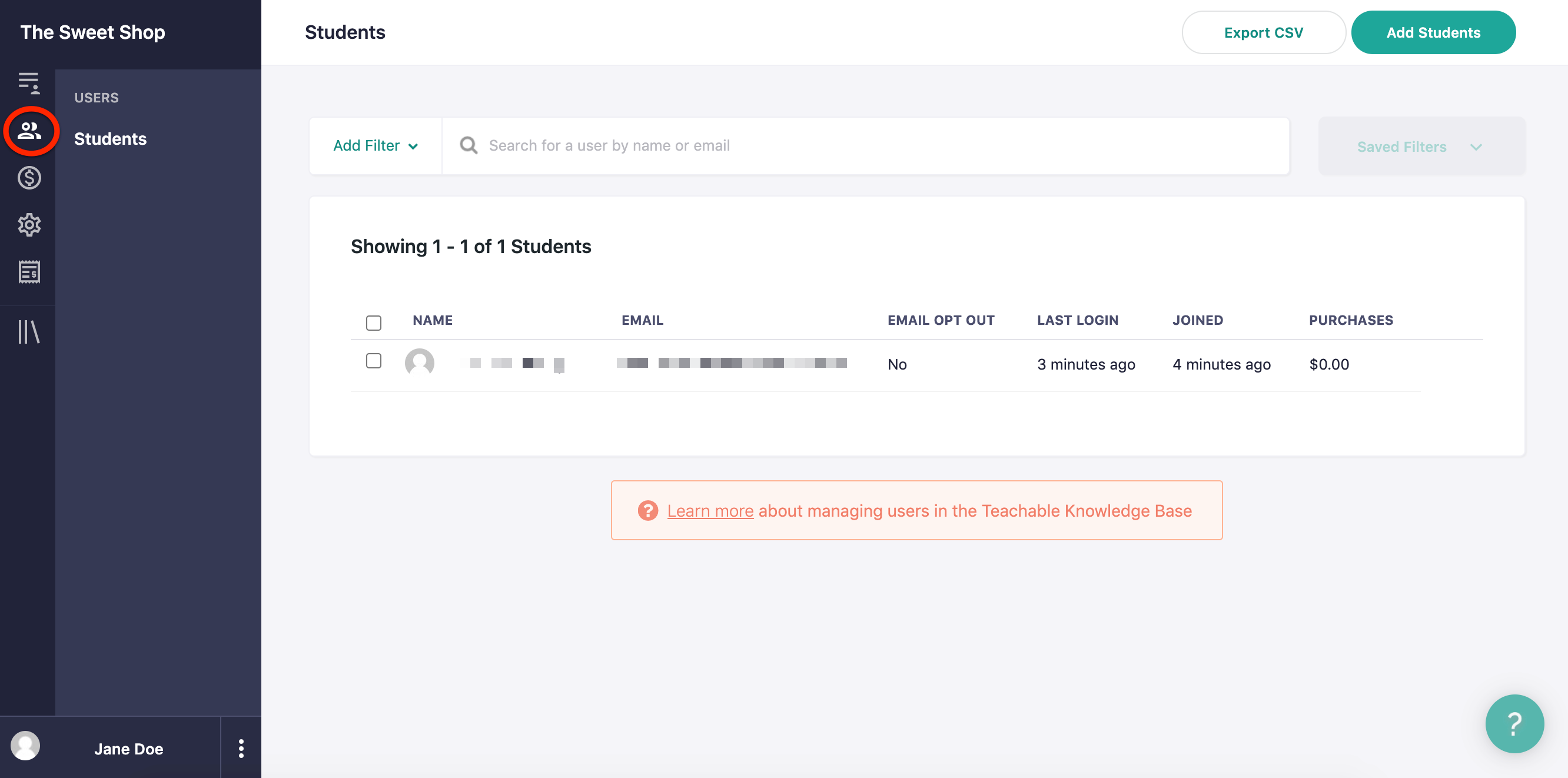 Authors can click a student's name to see some more information about the student. Authors can manually enroll students into other courses they manage, or view the student's progress report to see how they're performing in any courses.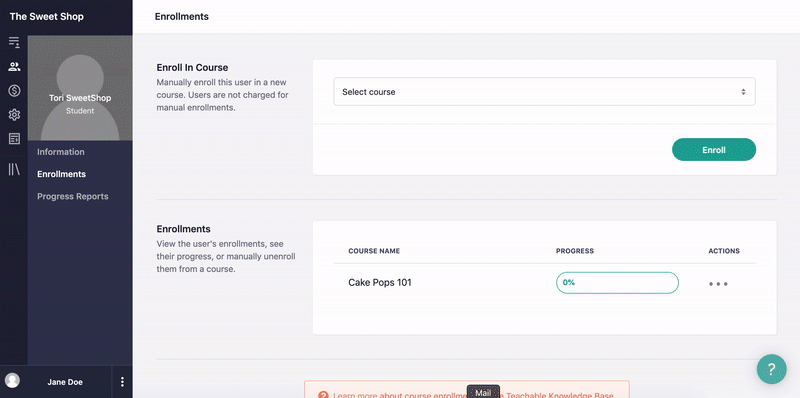 Sales
In the Sales tab, the author transactions and earnings information for sales in which they've received a commission.
The Transactions menu shows a history of purchases for courses or products that the author manages. The author can click each transaction to see transaction details, including a summary of buyer details and associated transaction or processing fees.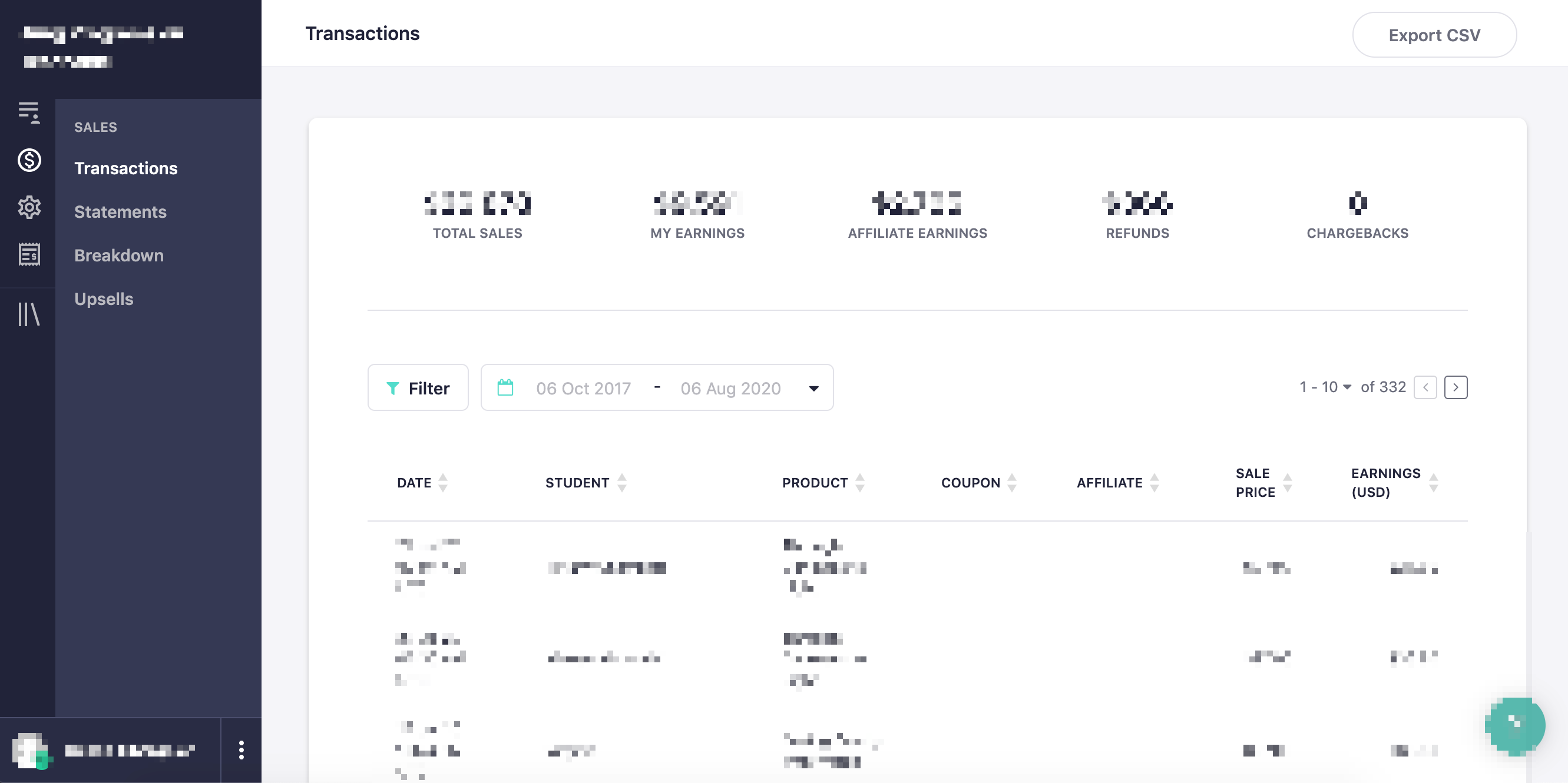 The Statements tab will show a summary of earnings by month. Statements are made available 20 days after the end of the month.
Also shown is a Breakdown of an author's credited transactions by month. This information includes the number of sales credited, the sale price, and the earnings the author received.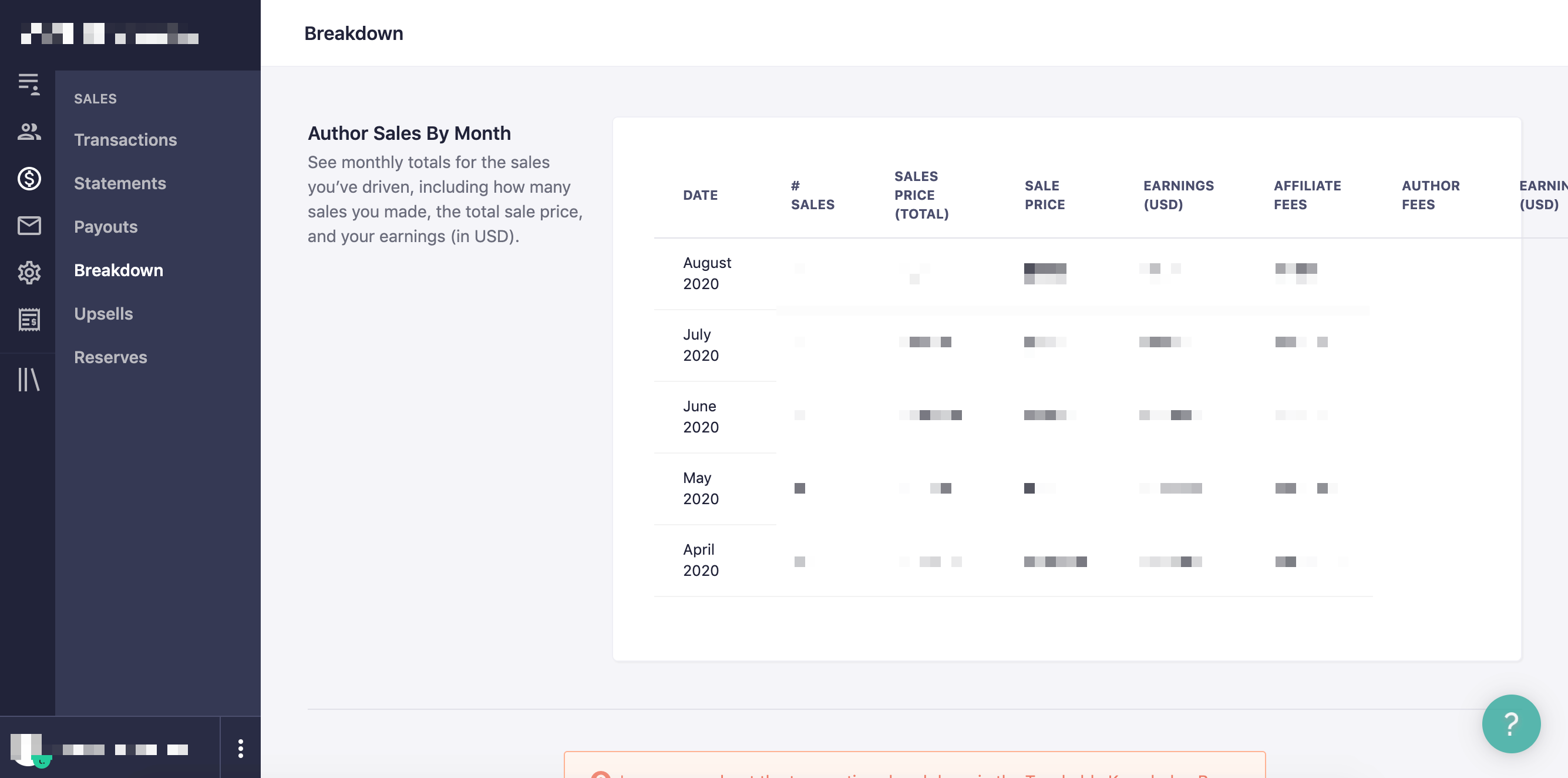 Emails
In the Emails tab, authors can compose emails to students enrolled in their courses or coaching products if this privilege is enabled.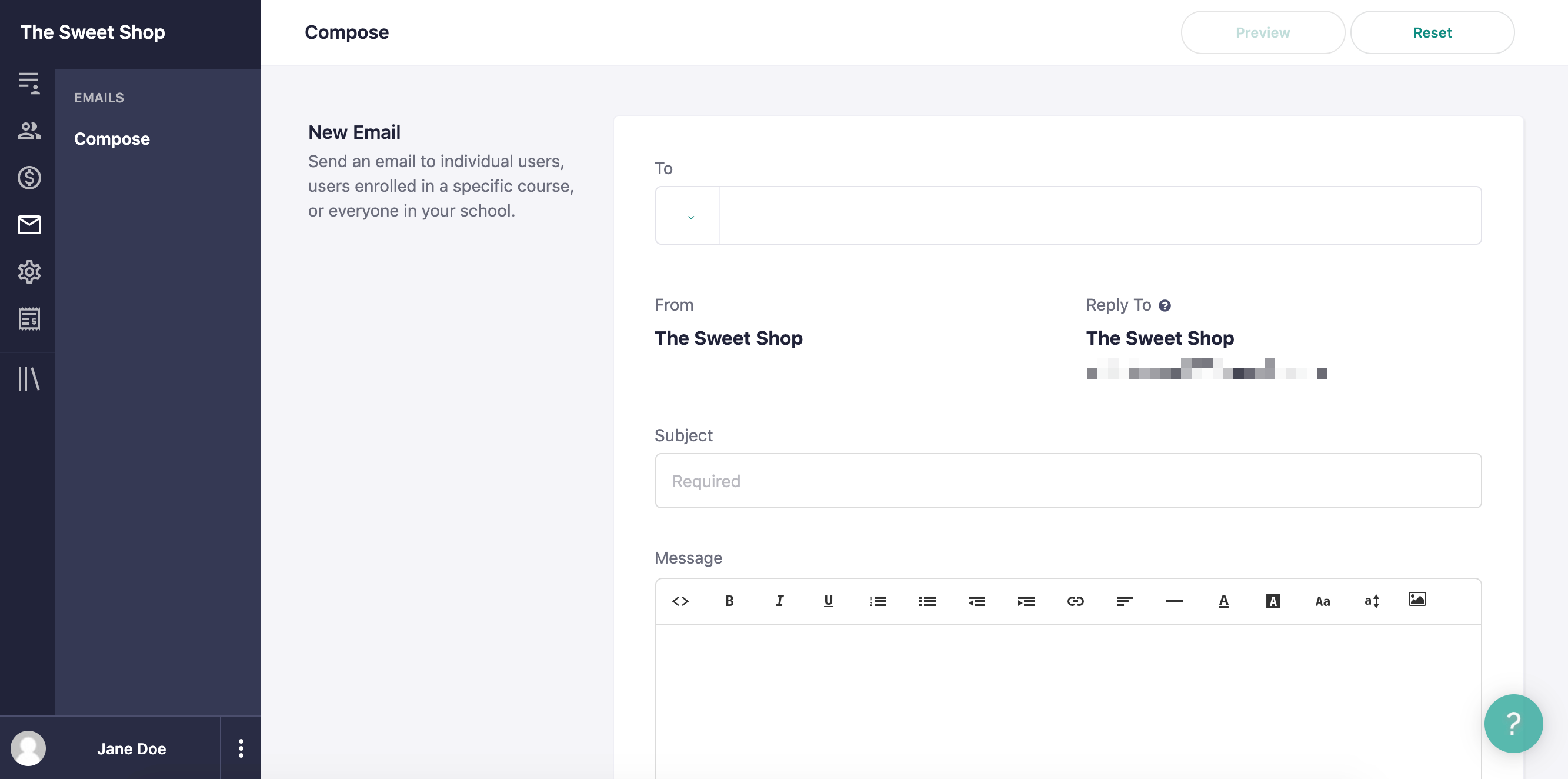 For more information on composing emails to students, please see this Knowledge Base article.
Settings
In the Settings tab, authors can opt in (or out) of enrollment, subscription, and comment notifications being sent to their email address.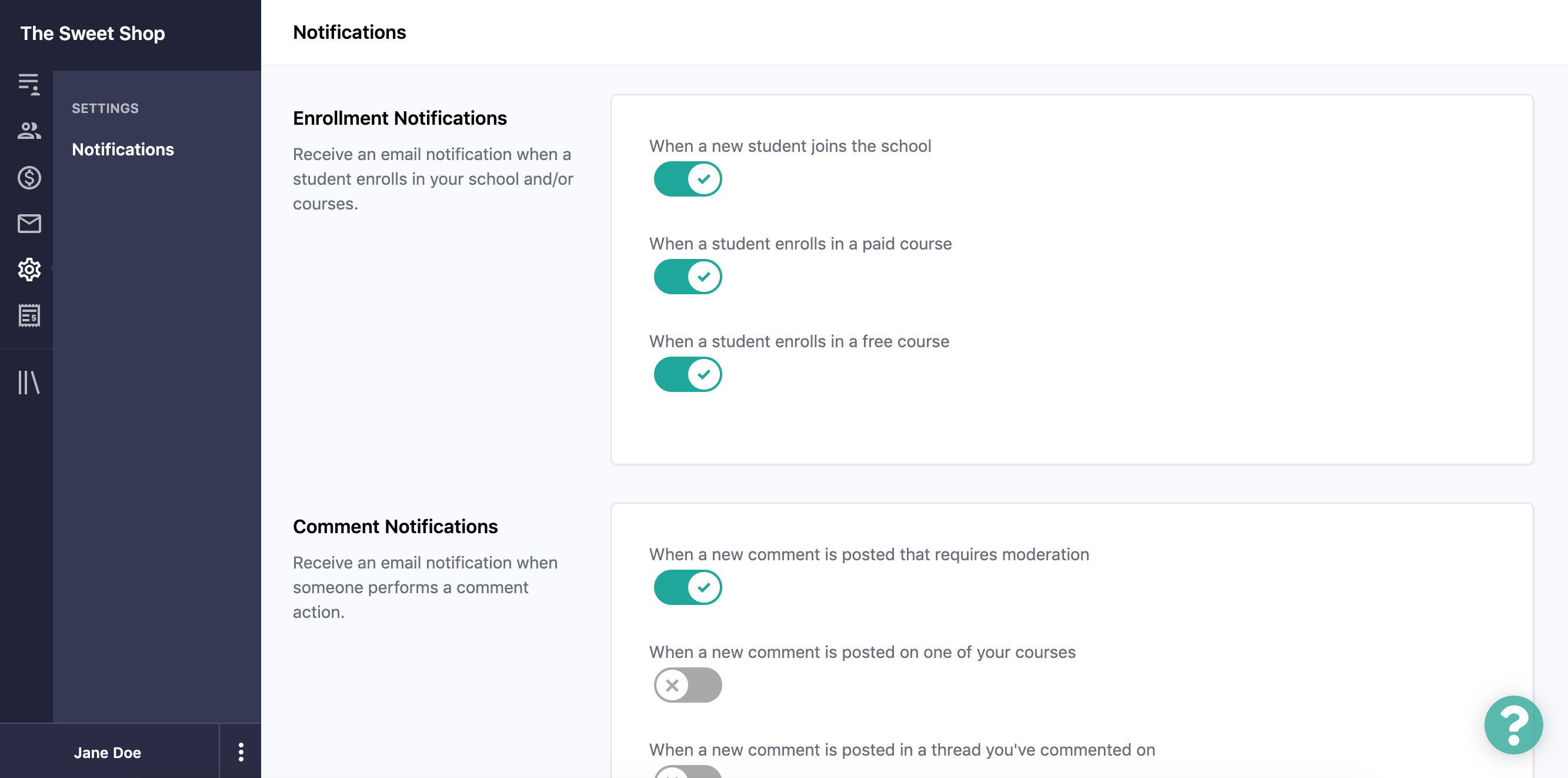 Payout details
In the Payout Details tab, authors can configure their payout information. If a school is using teachable:pay or the Monthly Payment Gateway—and has BackOffice enabled—the author will have to enter a PayPal account information to be paid out.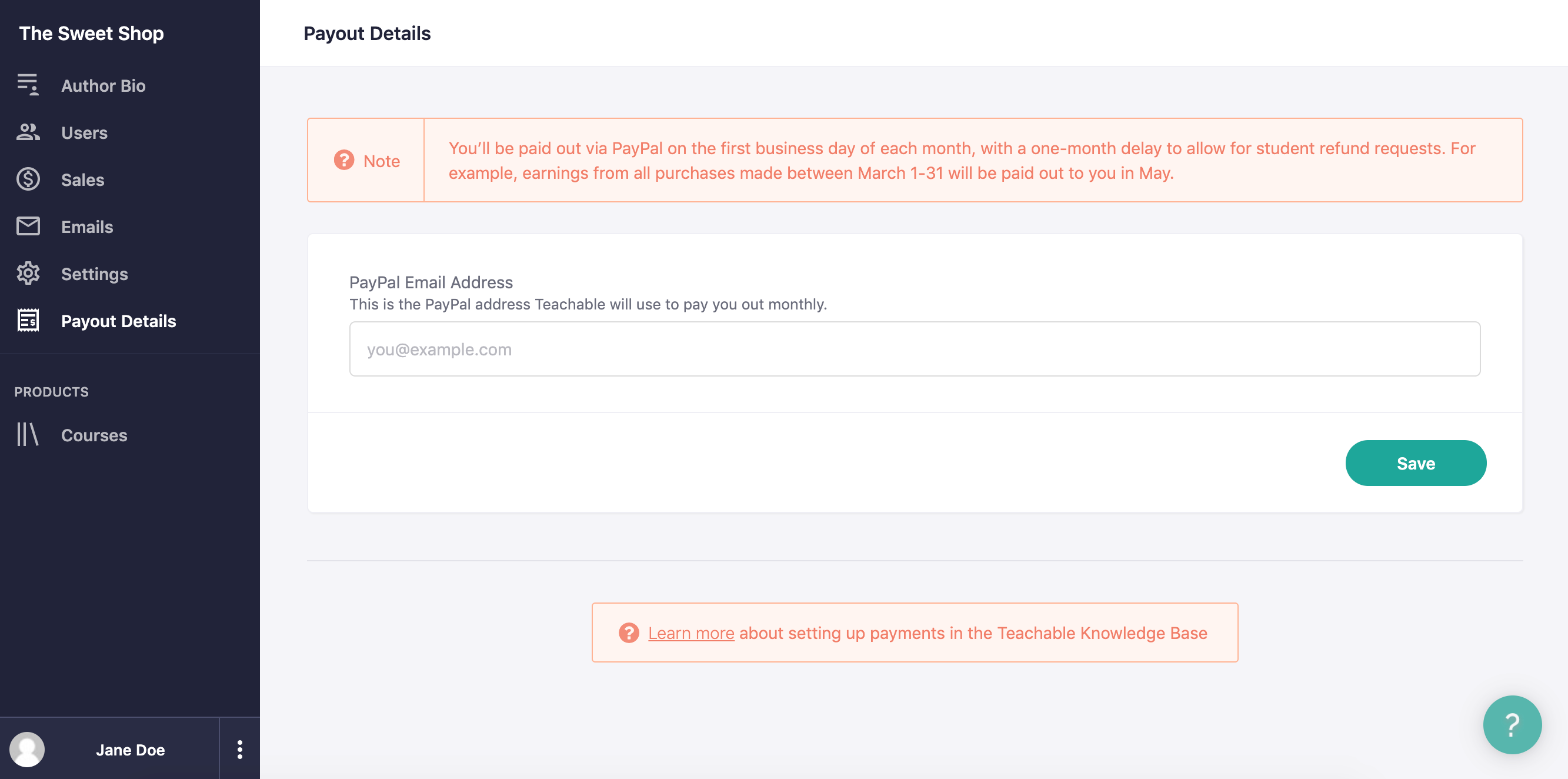 Courses
Once an author is associated with a course, they'll have the ability to edit the course curriculum (i.e. sections, lectures, etc).
Authors can access their course(s) by clicking Courses and then the specific course name. From there, authors will be able to change the course's information, pages, curriculum, pricing, drip schedule, comments, coupons, course reports, and certificates.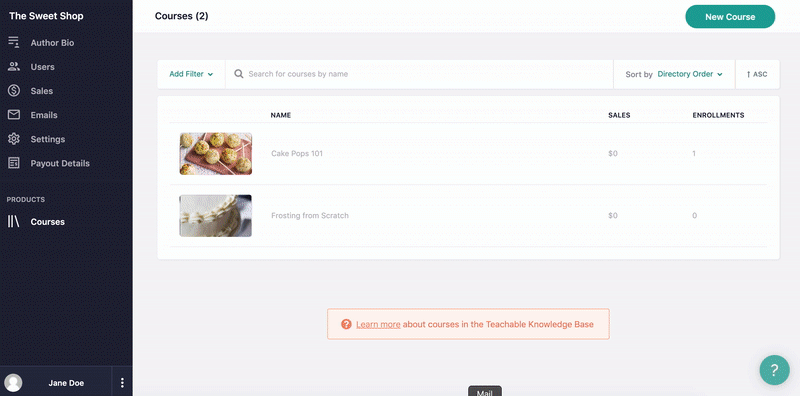 Coaching
Once an author is assigned to a coaching product, they will have access to that product from their Coaching tab.
When they click on the specific coaching product, authors will be able to manage the coaching product's information, pages, Milestones, pricing, and clients.