Since you're just getting started on Teachable, you're going to see a lot of references to "schools" and "courses" as you work through our documentation. This article goes over what these mean and how to handle them on your Teachable website.
What Is a Teachable School?
In short, your Teachable school is the main website on which your courses are hosted. Think of it like college: there's the college itself (Teachable school), and then the individual classes that the college offers (Teachable courses).
You can customize your school however you want, but usually you'll have the following pages:
Homepage: On this page, users will see your school name, heading, and description, and a list of your school's featured courses.
Privacy Policy/Terms of Use: Teachable has default versions of these, but you can customize them to your liking. Links to these are found in the footer area.
Course Directory: On this page, users will see a list of all your courses. (These can be sorted by Author and Category.)
Custom Pages: If you want to make other school-related pages, like an About page, the Teachable interface makes it easy to do that.
Here's what your school's homepage will look like, with up to three featured courses: 
And here's an example course directory, where all your courses will be displayed: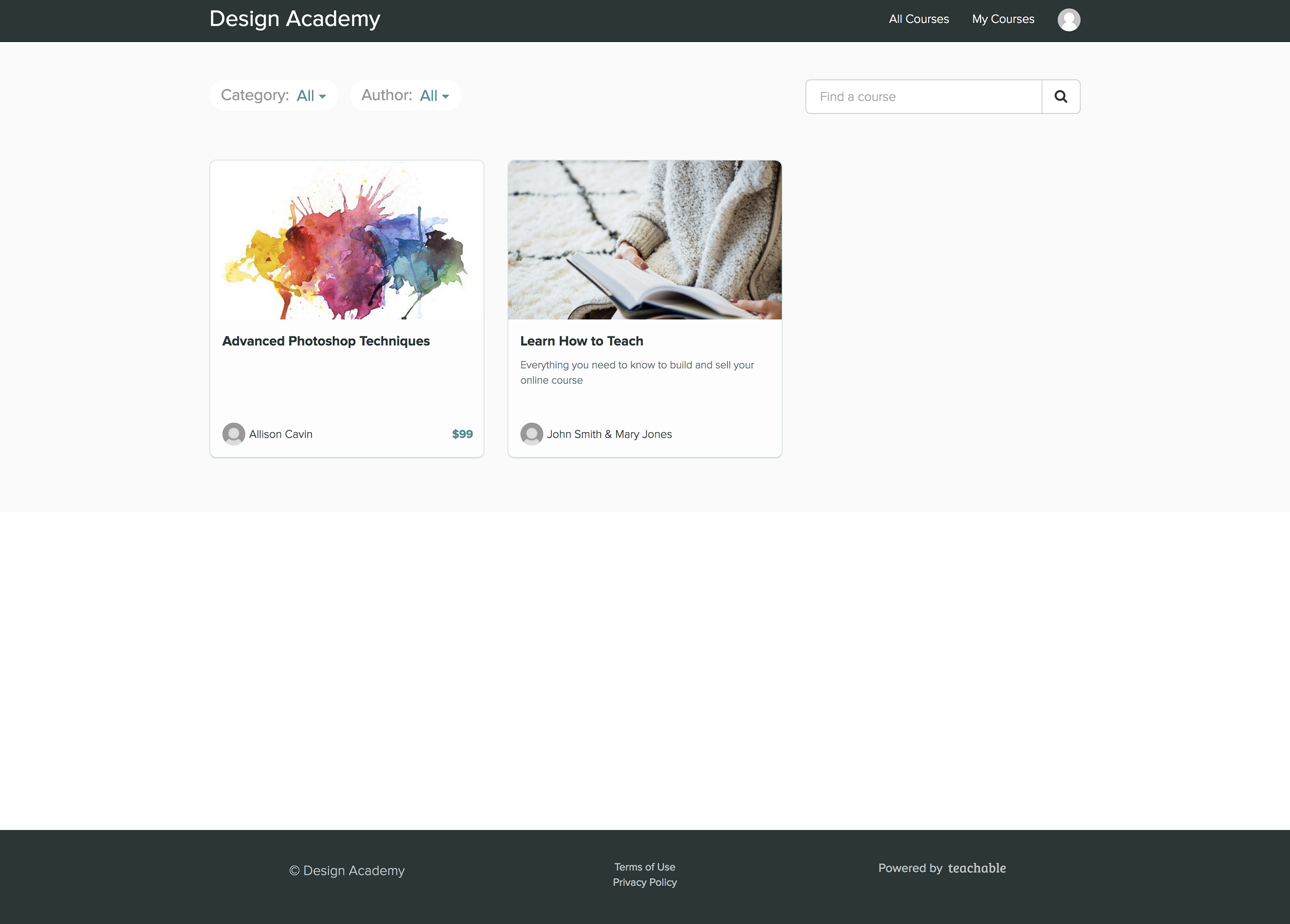 What Are Teachable Courses?
As we mentioned above, on your school you will have courses. These are the actual packages of content that students will purchase. They can include video lectures, audio files, downloadable PDFs, forms, quizzes, and more. You can sell courses individually or group them together in bundles.
Courses all have their own unique sales pages, where students can read all about that specific course and enroll in it. Here's an example of a course page: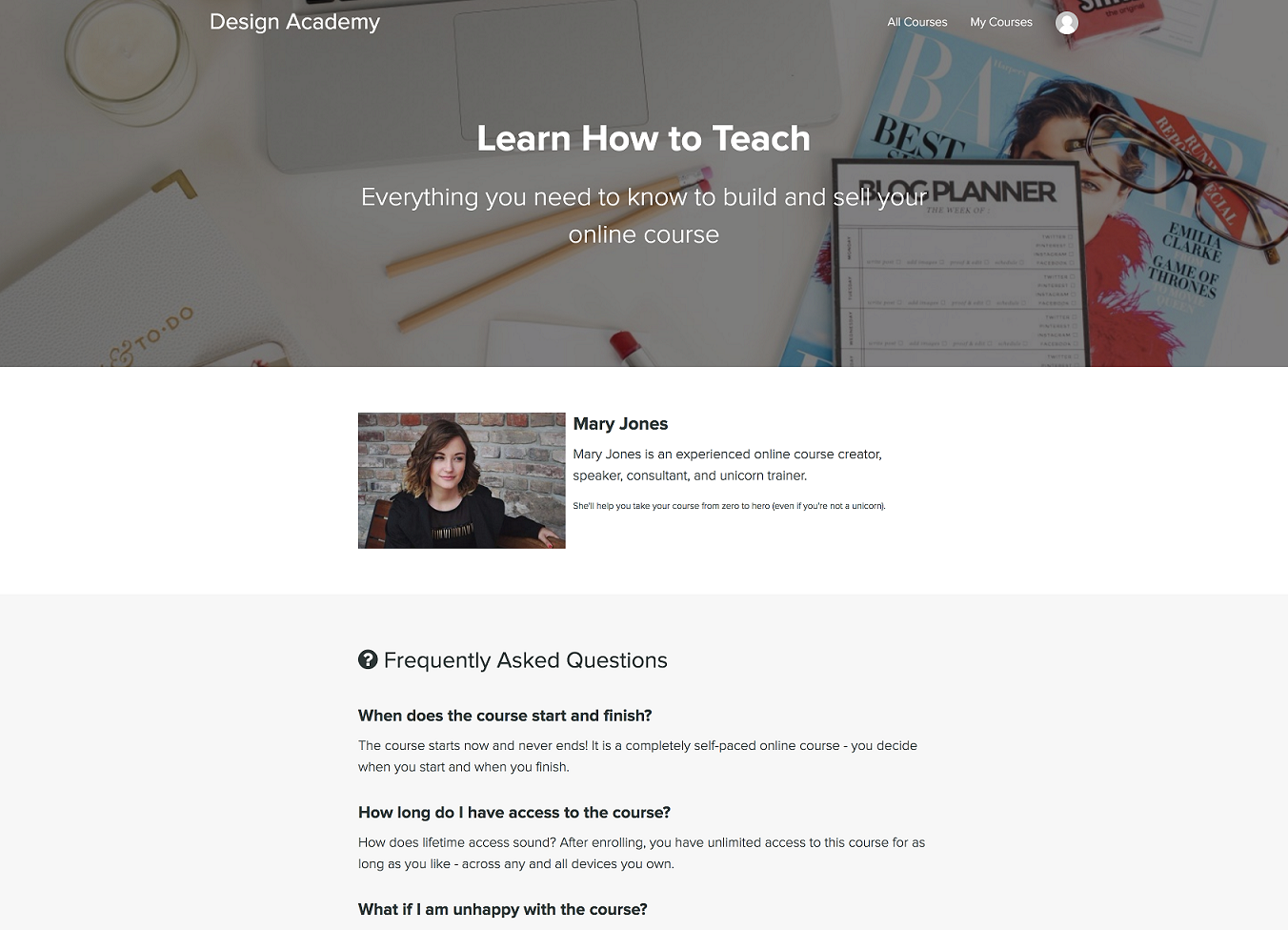 To learn more about all things courses, continue to this section of the Knowledge Base.
How Many Courses Can I Have Per School?
There are no limits! You can have as many courses (and as many students) as you want on a single school. You could be paying $39/month for a school on the Basic plan and have one course, 100 courses, or 10,000 courses (though that might get a little hard to manage!), and it would still be $39.
Can I Create Multiple Schools?
Theoretically, you can create as many schools as you want, but each school has its own plan and is paid for separately. For instance, you could have:
One school on the Free plan and another school on the Professional plan for $99
Two schools each on their own Basic plans for $39 each
20 schools on a mixture of plans
Any other combinations
But you cannot have multiple schools on one plan--meaning that if you want to have two separate Professional-level schools, you'll have to purchase two Professional plans.
Learn more about what comes with each plan here.
Example Schools and Courses
Let's look at a few practical illustrations of how school and course relationships can work.
Example 1
Some people like for their schools to have one specific theme that all their courses will revolve around. In this example, our school will be called Photography Academy.
Courses hosted on Photography Academy might include:
Getting to Know Your DSLR
Basic Composition Principles
Strategies for Framing Your Subject
Understanding Lenses
Mastering Portrait Photography
Each of these courses is individually available for purchase on the Photography Academy school.
You could also bundle some courses together for a discount. Getting to Know Your DSLR and Basic Composition Principles each cost $25 individually, but you could put them in a bundle called Beginner Photography Package and sell that bundle for $40 total.
Example 2
Schools don't have to have only one theme--maybe you want to create courses on a bunch of different subjects. In that case, it would be better to have a general name for your school. Our second example school will be called John Smith School of Life.
John Smith wants to teach courses on travel, fitness, and blogging. Some of his courses might be:
Traveling Europe on a Shoestring Budget
How to Pack Like a Minimalist
6 Weeks to a Six-Pack
Beginner's Guide to Weightlifting
Monetizing Your Blog
He creates all of these courses on his school, John Smith School of Life. If he wants, he can then put his courses into three course categories--travel, fitness, and blogging--so students can easily sort his courses by the subject they're interested in.
Example 3
Finally, we'll look at a scenario in which someone might want to have multiple schools. This school owner, Mary Jones, is a counselor and a car enthusiast, but she doesn't want to cover both topics on the same Teachable school. So she has two schools, which she manages and pays for separately.
Her first school is called The Art of Marriage and includes courses on communication, joint finances, conflict resolution, etc.
Her second school is called A Well-Oiled Machine, where she hosts courses on DIY car maintenance.
Again, these schools are not related to one another beyond the fact that they're hosted on Teachable and owned by Mary Jones. She markets them separately and has different target audiences for each.
Making sense so far? Keep browsing through our Knowledge Base to learn more about using Teachable.