This article shows you how to add sidebar elements to your course checkout pages. These include testimonials, bullet points, and course guarantees. Checkout sidebar elements are unique to each course, but are not required.
NOTE: In order to add checkout sidebar elements to your course, it must be a priced course. Free courses cannot have checkout sidebar elements as there is no checkout page for free courses.
Navigating to Your Checkout Page Editor
Each course has its own checkout page. To customize them, follow these steps.
Log in to your Teachable school.
Select a Course from the admin sidebar, or click View All and then find the course.
Click Pages.
Click Edit on your Checkout Page.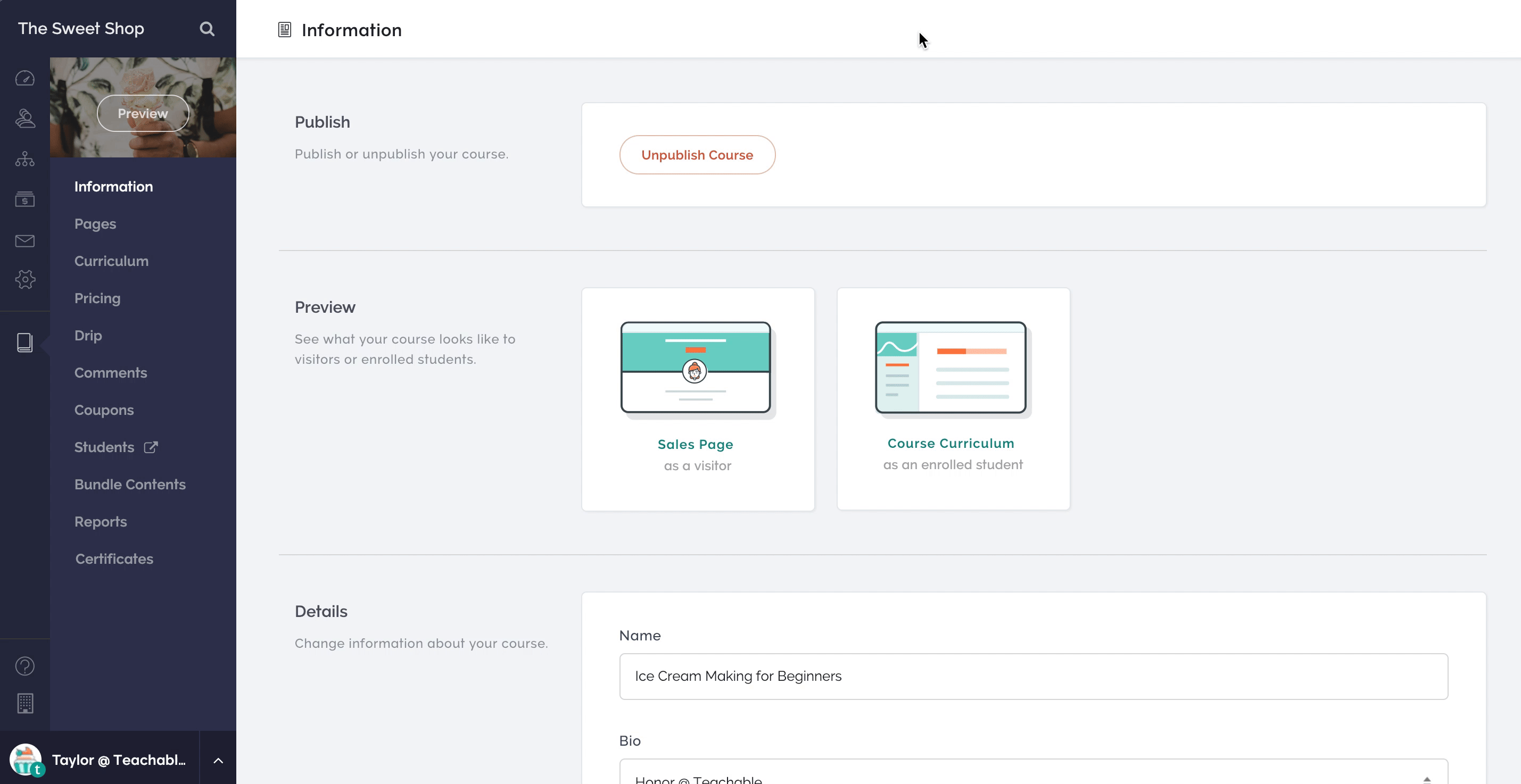 Adding Testimonials
Testimonials reassure potential students that other people have taken the course and enjoyed it--aka "social proof." On each course checkout page, you can add up to two testimonials about your course.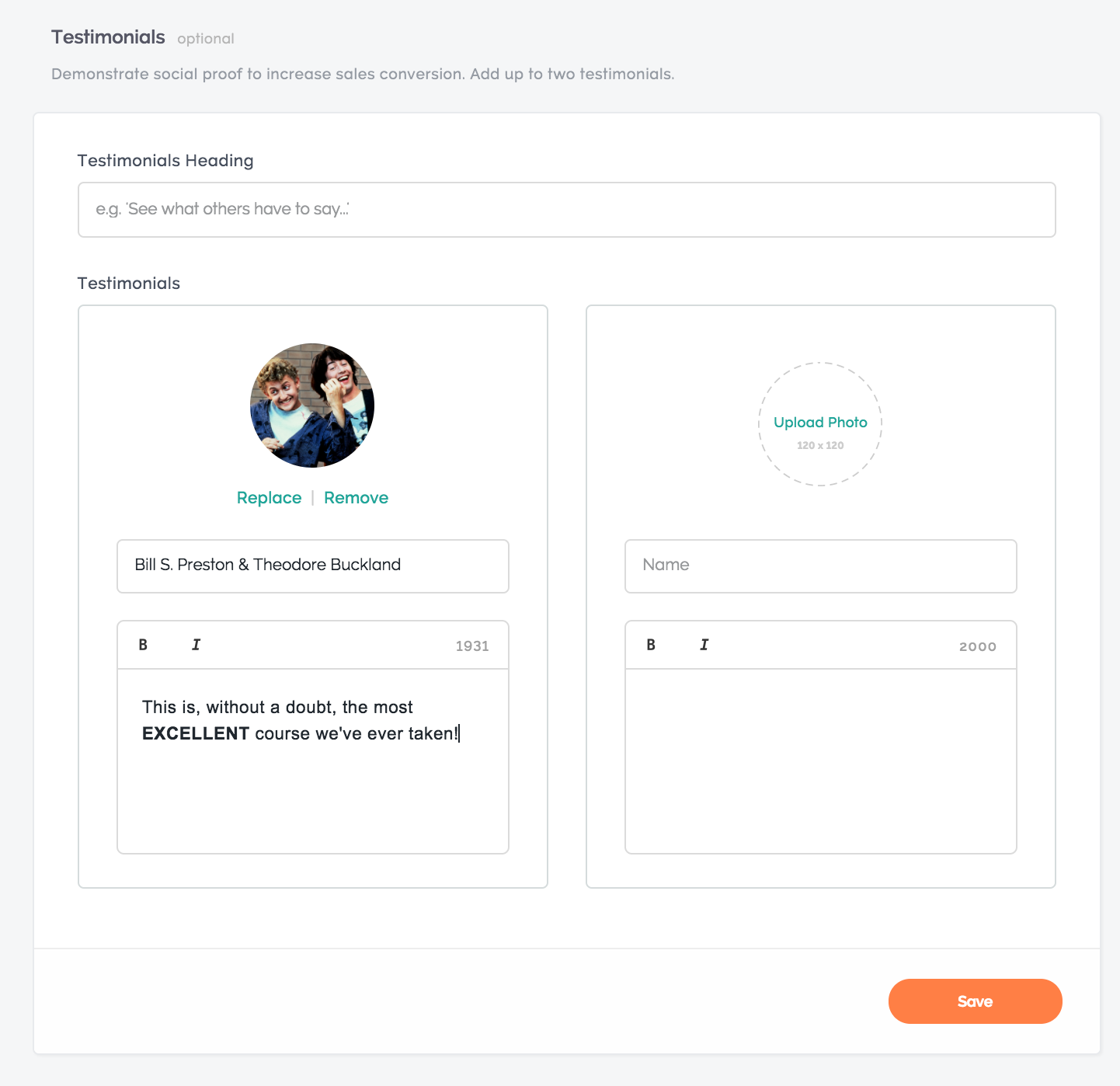 To add a testimonial, fill in the following fields:
Testimonials Heading - the heading is a brief description about your testimonials. For example, See what some of our successful students have to say!
Upload Photo - a photo of the individual giving the testimonial. The recommended image dimensions are 120x120.
Name - the name of the individual giving the testimonial.
Testimonial Description - the actual testimonial itself.
Once you are finished, click Save.
Adding Bullet Points
Here, you can drive home why the student should buy your course by highlighting what benefits they'll enjoy.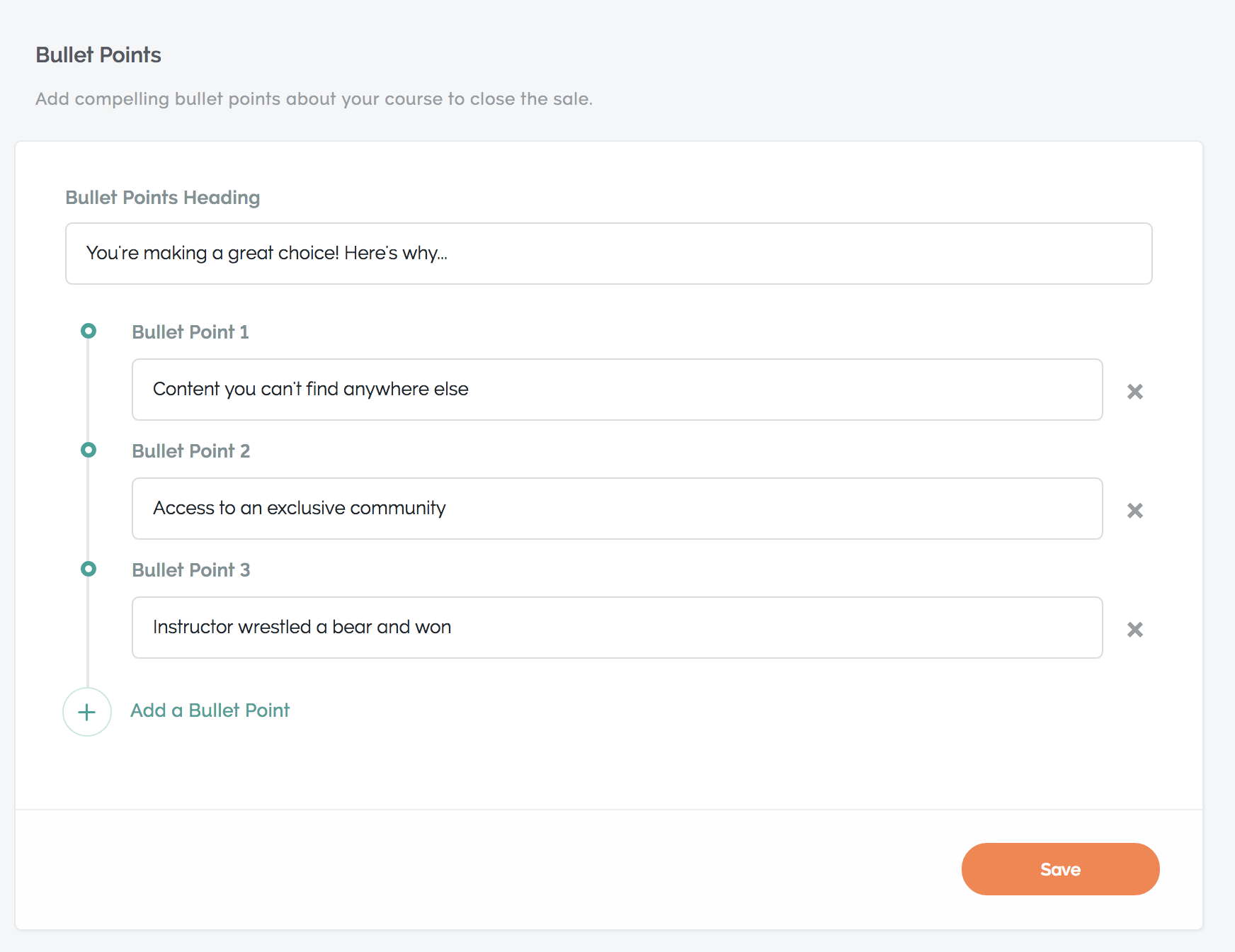 You can add up to five bullet points about your course. To add bullet points, fill in the following fields:
Bullet Points Heading - an introduction to the information being emphasized through the bullet points. For example, Here's what you'll be getting when you sign up!
Bullet Points - the information about your course you would like to emphasize.
Once you are finished, click Save.
Adding a Course Guarantee
Course guarantees can be used to issue some type of guarantee to customers — for example: a 30-day money back guarantee badge. You can choose from the default images, or upload a badge yourself by clicking Upload Custom. The recommended image dimensions for course guarantee badges are 400x400.
If you would like to delete a previously uploaded course guarantee badge, select None. Then, save the page and refresh it.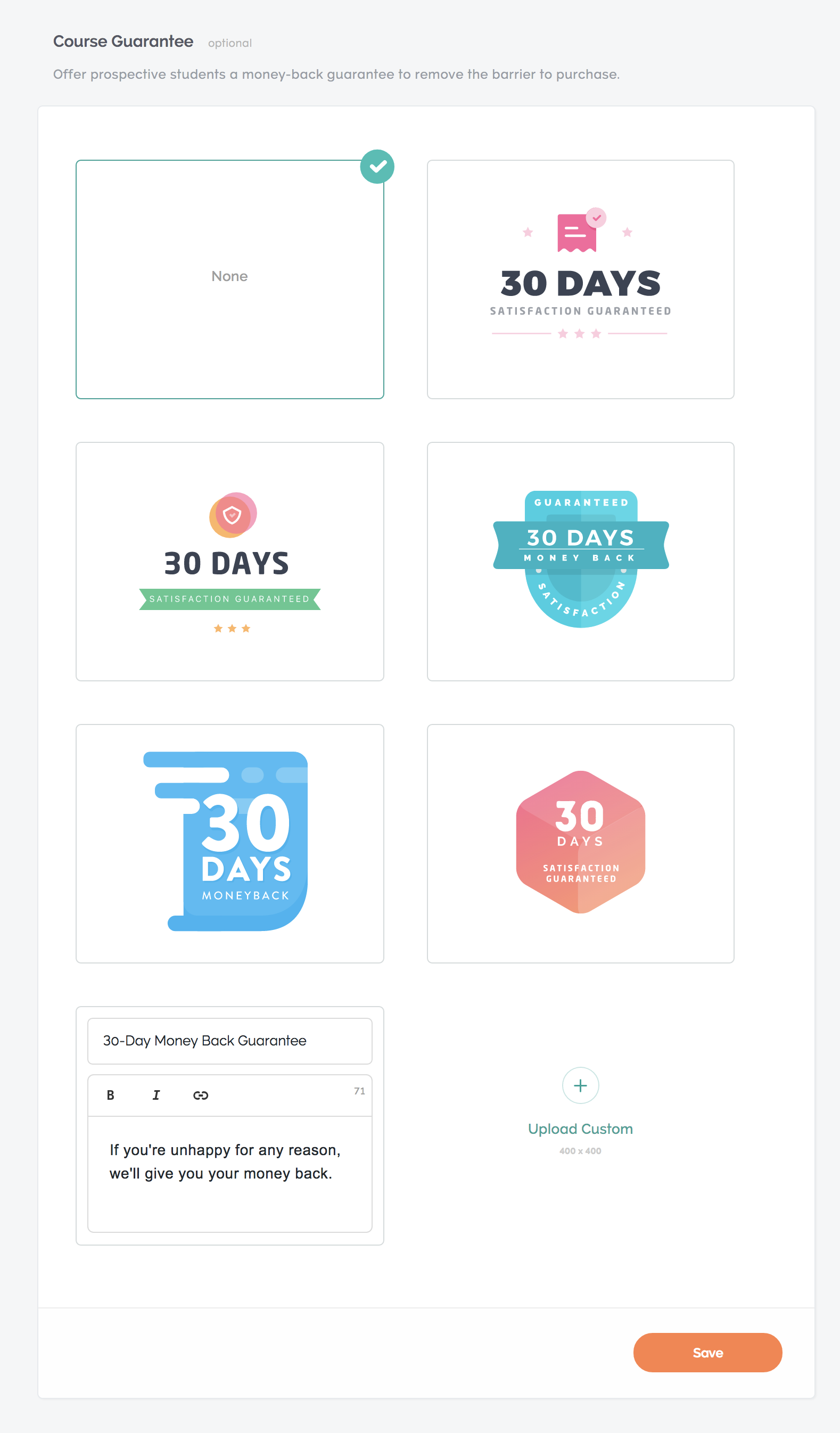 Previewing and Publishing Your Checkout Page
The righthand Preview pane will automatically show your checkout sidebar elements as you save them.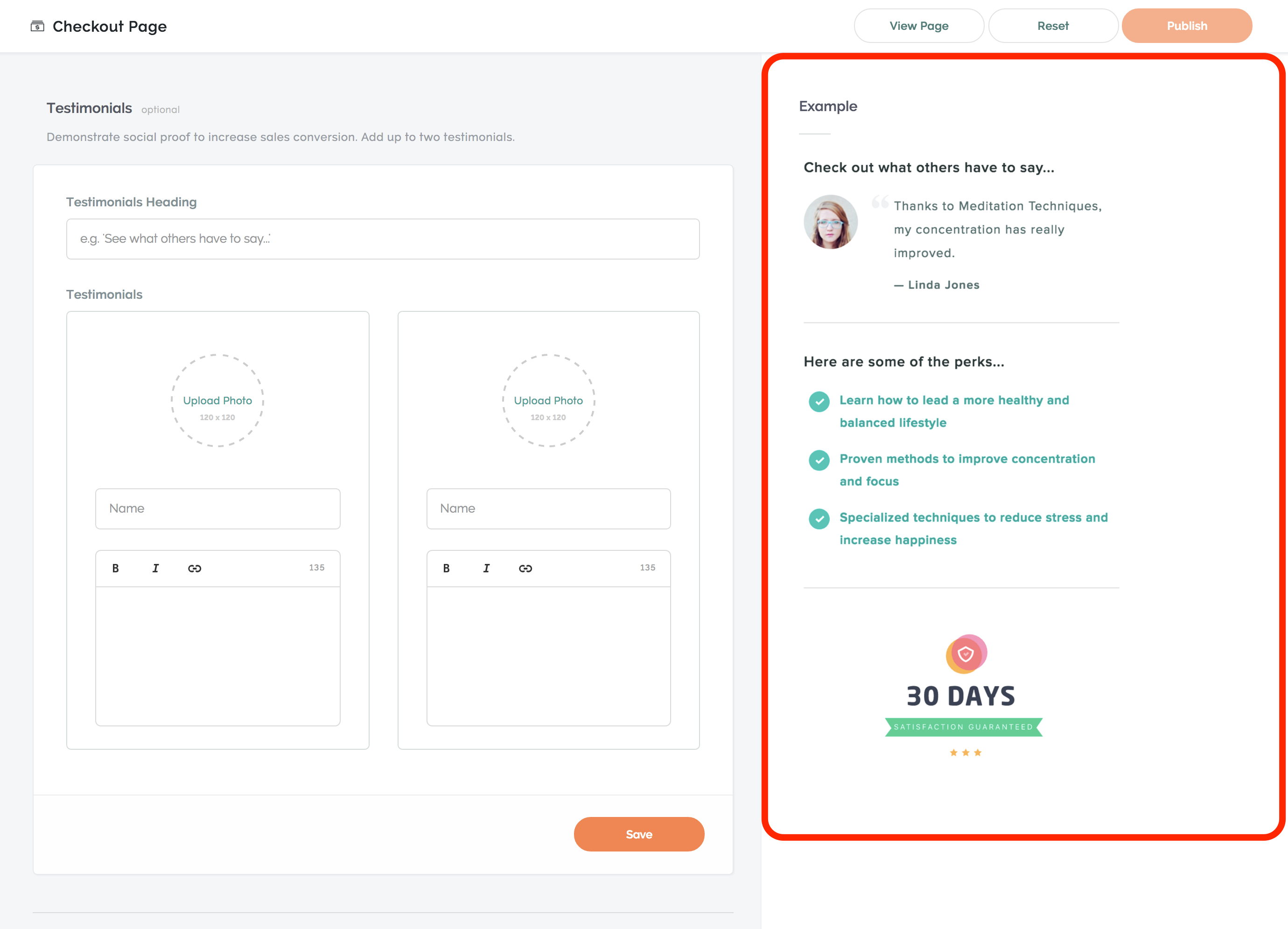 To publish your changes, click Publish on the page header.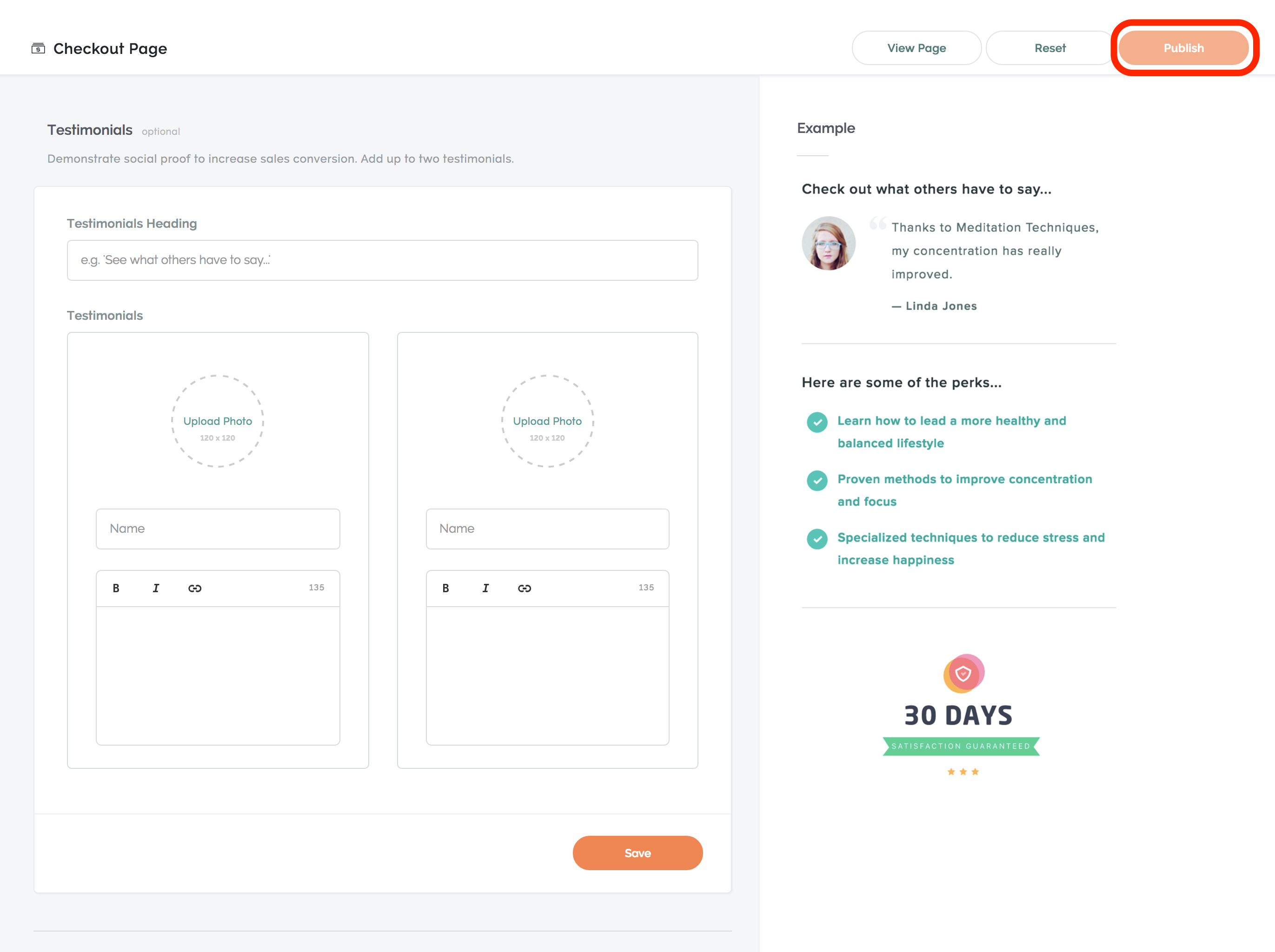 You can also unpublish your checkout page at any time. 
Viewing Your Checkout Page
After publishing your checkout page, you may want to view your checkout page from the perspective of a customer. If you'd like to see a live view of your checkout page:
Click View Page on the page header.
Click Copy course checkout page URL. This will automatically copy the URL of your live checkout page to your clipboard.

Open an incognito (or "private") window in your web browser. Another option is to use any browser where you are not logged in to this school.
Paste the checkout page URL into the new window's address bar, and go to the pasted URL.
Resetting Your Checkout Page
Want to reset your checkout page to the default version without any sidebar elements? The process is simple:
Click Reset on the page header.

Click OK to confirm that you want to reset your page.