This article goes over how to earn school plan credit by inviting other creators to join Teachable, and how credit you earned is redeemed. Terms and conditions apply.
Overview
Teachable offers referral reward credit for existing creators that invite new creators to the platform. Credit earned is automatically applied to your school subscription invoice to seamlessly lower your Teachable payment as a reward for eligible referrals.
New creators invited to join Teachable receive credit upon sign up. This is a benefit you give to others when you share your invite link.
At this time, each credit is $25 and schools may earn up to $500 of reward for eligible referrals.
Invite creators to Teachable
To invite other creators to Teachable and earn credit:
Navigate to the Settings > Earn Credit tab.
Locate Your Unique Link and click Copy Link.
With your invitation link copied, you may paste the link in order to share it with others.

NOTE: In order to receive credit, invited creators must use your referral link during sign up. If they sign up at a later time without using your link, their sign up will not be recorded towards your credit.
Receiving and redeeming credit
View your current available credit in the Settings > Earn Credit area of your school admin.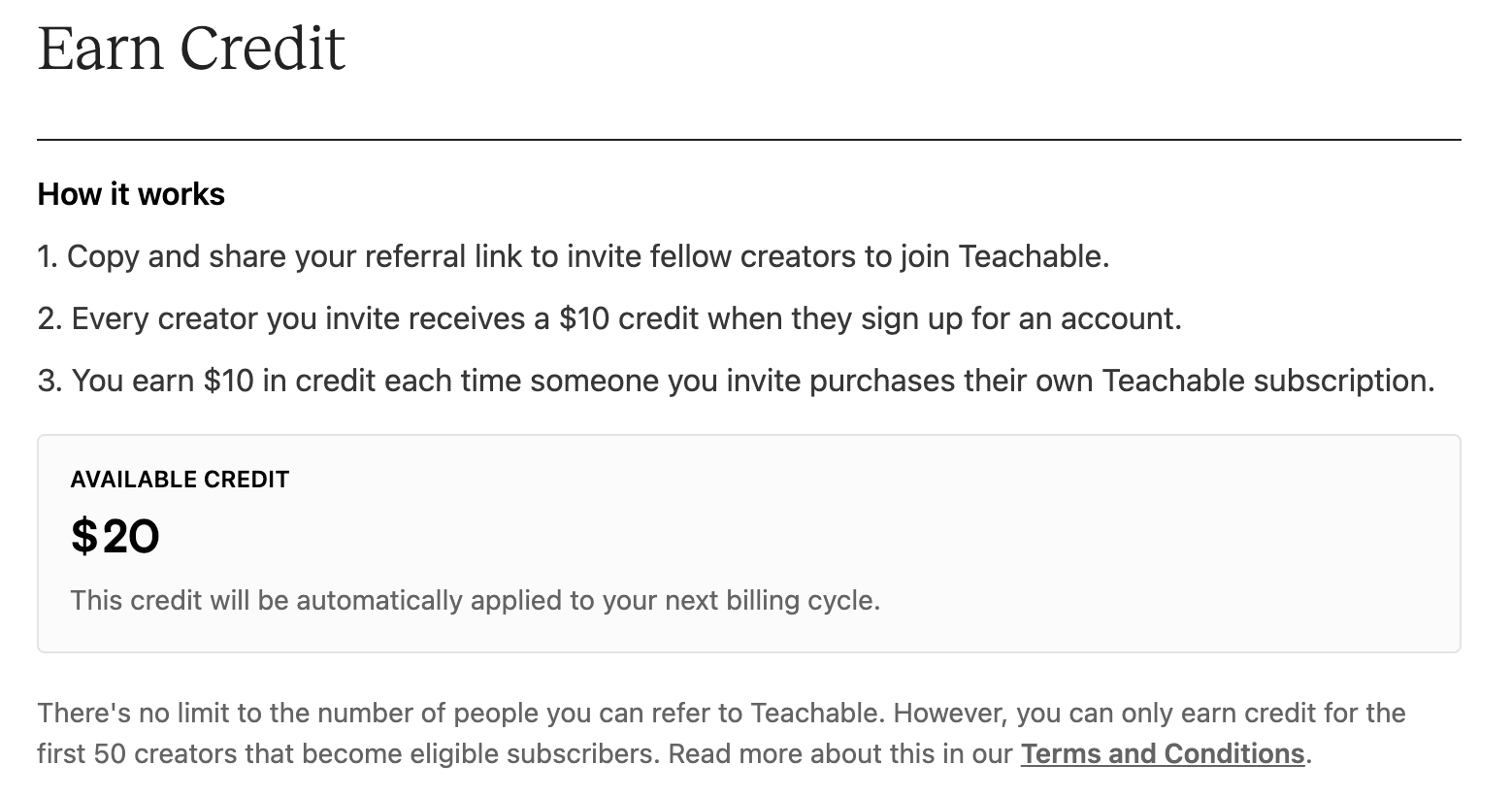 When creators you invite subscribe to Teachable, and remain subscribed for 60 days, you earn reward credit. Available credit is automatically applied to your school plan invoices on a monthly or annual basis, depending upon your plan.
Free plan users can also earn credit towards upgrading to a paid school plan. When available credit is applied to an upgrade, you will find the credit applied to your plan within the checkout modal.
Frequently asked questions
Can I share or transfer earned credit from one school to another?
Credit earned is only available to the school that the invitation link came from. Credit cannot be transferred between different schools or accounts.
Can I share my link to a public forum site?
You may not post your link on referral exchanges or engage in spamming. Please refer to the terms and conditions of the referral program.