This article goes over enabling Buy Now Pay Later (BNPL) as a payment option within your school.
Overview
Buy Now, Pay Later (BNPL) offers your students the ability to use tools like Affirm, Afterpay, and Klarna to purchase products in your school. When enabled, students can purchase by selecting the option on the checkout page.
School owners will receive payment from these transactions as a one-time purchase of your product(s).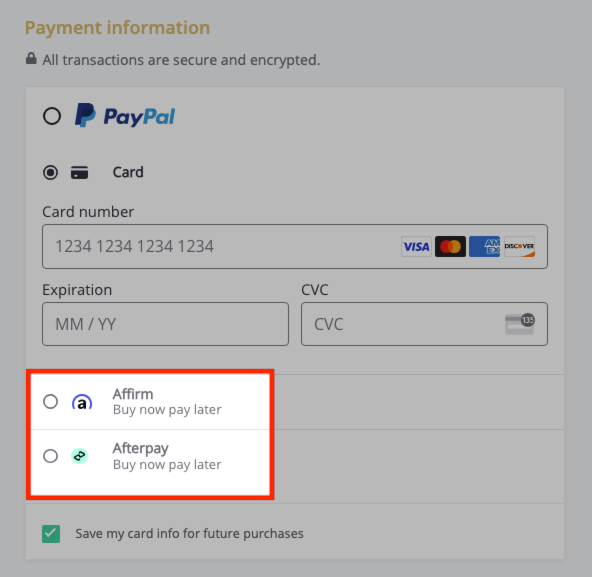 Enable BNPL
If you'd like to offer BNPL as a payment option for your students, you can do so at any time after enabling BackOffice.
To enable:
In your admin, navigate to Settings > Payments.
Scroll to BackOffice and toggle the "Offer Buy Now Pay Later at checkout" option on.


Eligibility
Creators on teachable:pay with BackOffice enabled can turn on BNPL as a payment option at any time. BNPL as a payment option will display based on a student's billing location and the currency the product is priced in.
| Currency | Student's billing address | BNPL Option |
| --- | --- | --- |
| USD | United States | Affirm, AfterPay, Klarna |
| EUR | Austria, Belgium, Finland, France, Germany, Greece, Ireland, Italy, Netherlands, Portugal, Spain | Klarna |
| CZK | Czechia | Klarna |
| DKK | Denmark | Klarna |
| NOK | Norway | Klarna |
| PLN | Poland | Klarna |
| SEK | Sweden | Klarna |
| CHF | Switzerland | Klarna |
| GBP | United Kingdom | Klarna |
Frequently asked questions
Why isn't BNPL showing up on my checkout page?
There are cases where BNPL will not be available as a payment option for students. These specific instances are as follows:
Schools on teachable:pay where BackOffice is disabled
Schools using the Monthly Payment Gateway or a custom payment gateway
Student is in a country that does not support BNPL options
The product pricing is not offered in a currency that is available for BNPL (see Eligibility above).
Why does only one of the BNPL options show up on my checkout?
Affirm / Afterpay / Klarna have a minimum and maximum pricing amount for eligible payment plans. If a pricing option is below or above the approved threshold, the option will not appear at checkout.
| | |
| --- | --- |
| BNPL Option | Approval Amount (Min/Max) |
| Affirm | $50 - $30,000 |
| Afterpay | $1 - $2,000 |
| Klarna | $10 - $12,000 |
I am in a country that isn't supported by BNPL at this time, however I have students that live in other countries where BNPL is supported - Can I still use this feature?
Yes! You don't have to be in a supported country to enable and take advantage of BNPL.
What are the fees associated with BNPL?
BNPL is 6.99% + 30 cents. BNPL providers take on the risk and handle servicing the installments, so costs are higher than other payment methods.
Once the student checks out, assuming they are eligible by the BNPL provider and approved, the full funds minus fees are paid to you by the BNPL provider. The BNPL platform takes on the risk of the payments and handles the installment payments with the student.
How do I set up a BNPL option not listed?
At this time, Teachable's native integration connects only with Affirm, Afterpay, and Klarna for checkout. If you want to use another BNPL option, you will need to set this up outside of Teachable. Please note our Support team is unable to assist with setup or troubleshooting of third-party tools outside of Teachable.