When students visit your course, the first thing they'll see is your sales page, which is a course's landing page. This article shows you how to use the Sales Page Editor to create and customize the sales page for your course.
Finding the Sales Page Editor
To access your course's Sales Page Editor, follow these steps:
Log into your school's admin area.
Select one of your courses from the admin sidebar (click View All if the course is not on the sidebar).
Click the Sales Page submenu in the admin sidebar. 
Using the Sales Page Editor
At any time during the editing of your sales page, you can:
Reset the sales page, which will remove all changes made and revert the page back to default settings
Preview your sales page, so you can see what your changes look like
Save your changes - so you don't lose any of your updates
Below, learn about each of the blocks that will appear by default on your sales page, and how to work with them. In the Adding Other Blocks section, you'll find information about optional extra blocks you can add to your page.
Course Hero Header Block
To edit your course's header background in the Course Hero Header block, click the Add Background button.

NOTE: The recommended header background image size is 1440x780px (JPG, PNG).
Then you can add an image by:
Choosing from a variety of presets
Uploading your own image from your computer
Searching for images on the Web
Linking to an image on the Web
Uploading a file from an FTP
Uploading an image from Dropbox, Google Drive, or OneDrive
After choosing a header image, click Upload.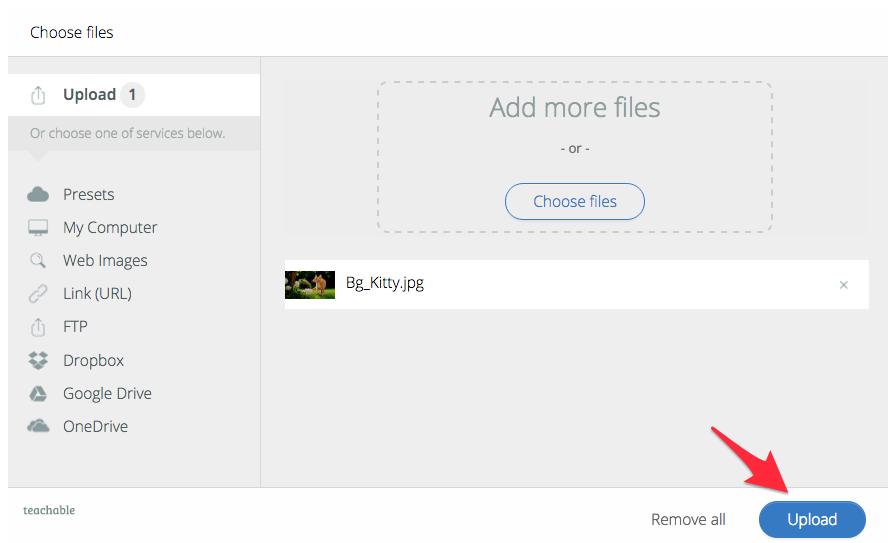 Once your header image is uploaded, you can adjust the Overlay by moving the slider left (for a lighter effect) or right (for a darker effect). In the future, you can Replace your image with a new one or Reset it to bring it back to default.

Coupon Banner Block
Users who visit your sales page with a valid coupon code in the URL can see coupon banners. You can't customize this block, but you can delete it by clicking the red trash icon.
Course Description Block
You can add a description to your sales page by clicking inside the WYSIWYG (What You See Is What You Get) area of the rich text editor. This means that what you type and how you format the text is exactly how it will appear on your sales page. Similar to Word, WordPress, and Gmail, you can format your text any way you like. You can add images, customize font colors and sizes, insert links and lists, and more.

Author Bio Block
To customize the author bio, click the green External editor icon.

This will pull up a text editor that allows you to add information about yourself, including:
Your full name
A headline, which is a quick blurb summarizing your background and skill set.
An image of yourself
A bio description, which is an expansion of the headline and helps potential students judge your qualifications as an instructor
Make sure to Save your changes.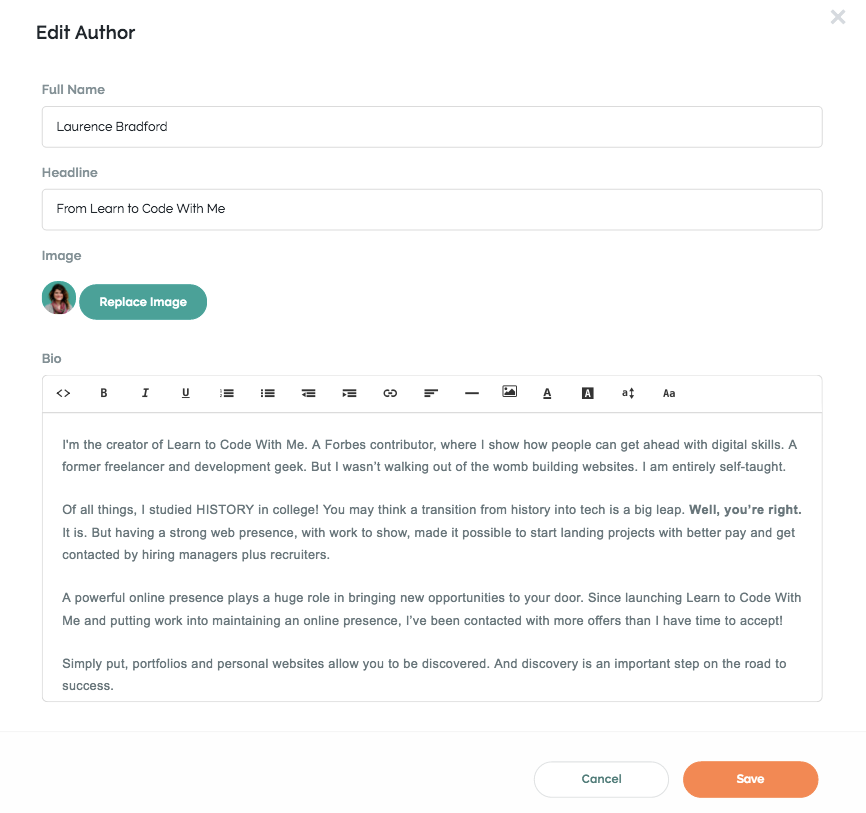 Course Curriculum Block
The curriculum block is where your course lectures will appear. This block will be hidden on your sales page until you add lectures. To start the process of adding lectures, click the green External editor icon. This will take you to the curriculum area.

Bundled Courses Block
If you wish to group multiple courses together into a single course bundle that you can sell at once, click the External editor icon. This will take you to the Bundled Courses area.

FAQ Block
To add or edit a FAQ for your sales page, click the External editor icon to the right side of the FAQ block. You will be directed to the FAQ page where you can add questions and answers that will appear on your sales page.

Course Page Closing Letter Block
A closing letter is a closing remark that appears at the bottom of your sales page. It's a place to make a final pitch to potential students, encouraging them to enroll in your course. If you'd like to add a closing letter to your sales page, click inside the WYSIWYG area and begin typing.

Checkout Button Block
Edit your checkout button by clicking the External editor icon on the right-hand side of the block. The External editor takes you to the pricing page for your course. There, you can edit your course's pricing plan. To edit the checkout button itself, click the Customize Enroll Button link.

Adding Other Blocks
The blocks described are all the ones that come by default on a course sales page, but you can further customize your sales page by adding new blocks. Each of these blocks is self-contained, meaning that the editing and formatting in one block does not affect other blocks. Additionally, adding new blocks to one course sales page doesn't affect your other course sales pages.
To add a new block, run your cursor over the grey intersection of the horizontal and vertical lines on the left side. A grey Insert new block button will appear. When you click this button, you can select what kind of formatting you want for your new block.
You have five options for formatting your block:
Liquid/HTML Block

The HTML block allows you to add additional HTML. You can add custom HTML or embed other elements -- like a video from YouTube or Facebook Like Box. A liquid block enables developers to access custom liquid attributes and filters. If you want to learn more about liquid attributes and how to use them, check out this website.

Rich Text Block

The rich text block lets you format your text in a variety of different ways (bold, underline, font colors, etc.). What you type and how you format it in the text editor is exactly how it will appear on your sales page.

Background Image Block

If you wish to add a background image to your sales page to add extra visual appeal, add a background image block.

Other Blocks

By clicking on the "..." button, you'll see all the other types of blocks you can add. Most of them are present by default on your sales page, but you can add each block as many time as you want. The five blocks at the bottom of the list are not present by default. See more details on these blocks below.

Secondary Enroll Button: The checkout button block allows you to add an additional checkout button with a background image.
Embedded Form: In the embedded form block, we prefill code from MailChimp, Aweber, Campaign Monitor, or GetResponse, which are all e-marketing tools frequently used by our instructors. Simply choose your tool and fill in information within the HTML that automatically appears in the text editor. You can also add a background image.

Testimonial: In the testimonial block, you can add testimonials from people endorsing your course. You can include images and quotes in this block.
Featured courses: This block displays other courses on your school. The featured courses appear in the same order as they do in your Admin > Courses area, and can be reordered in that same area, in the upper right corner above the course list (by name, creation date, or manual "directory order"). 
Homepage hero header: a block including your school name, description, and background image (same info that appears on the homepage).
Rearranging Blocks
Once you've added the desired blocks to your sales page, you can rearrange them by clicking and dragging individual blocks above or below existing blocks.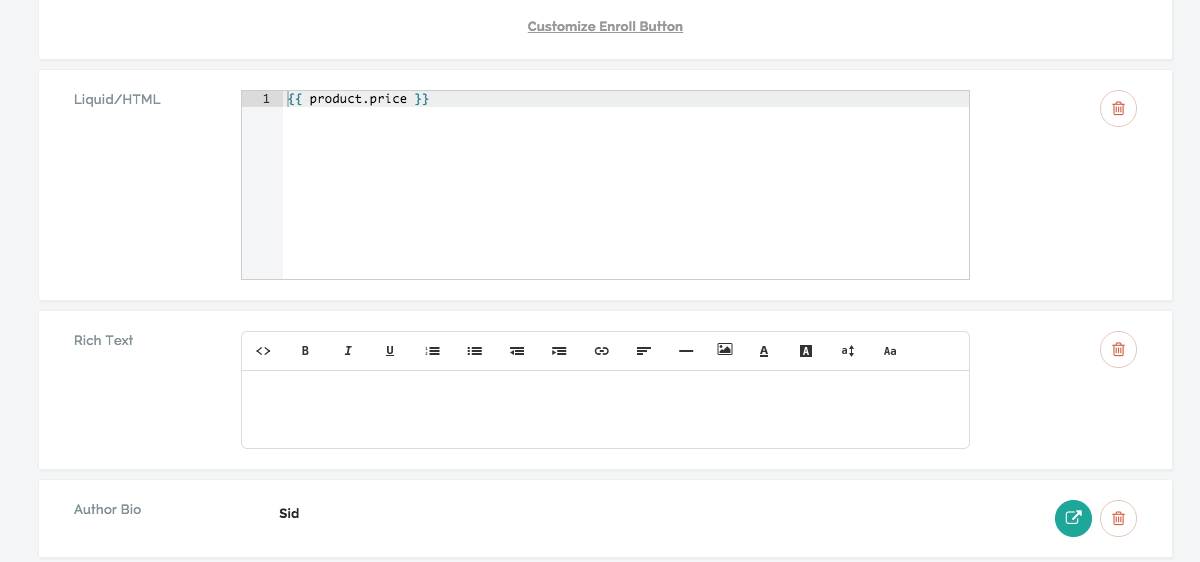 Deleting Blocks
To delete a block, simply click the red trash icon on the right-hand side of a block.
A notification box will appear. Click OK to delete the block.

Changing Sales Page Settings
At the bottom of your sales page editor, you'll see the Settings area:

The Blank Template toggle, turned off by default, removes all school template code from the sales page when turned on.
The Show Header toggle, turned on by default, shows your standard school header on your sales page. Turn it off to remove the header.
The Show Footer toggle, turned on by default, displays your standard school fooder on the sales page. Turn it off to remove the footer.
The Colored Header toggle, turned off by default, allows you to choose between a transparent header or a solid-colored header. When turned off, your header text will simply overlay your sales page background image like so:  When turned on, there will be a solid colored bar there instead:  You can adjust this color in Site > Theme > Theme Colors (Nav Bar & Footer Background).
NOTE: If the Colored Header toggle is not working for you, recompile your CSS by making any change in the Theme section and saving it (you can undo the change later). If it still doesn't take effect, you may have template customizations interfering.
Understanding the "Already Enrolled" Banner
If a logged-in student visits the sales page of a course they are already enrolled in, they will by default see this banner:

The banner is not a block, but it is editable in Site > Custom Text in the Courses section (the string is already_enrolled).
There are only a few cases where this banner might be relevant--such as if you have your homepage settings adjusted to take logged-in students to the sales page rather than the curriculum.