Comments are helpful in increasing student involvement. They also allow instructors to directly interact with their students. This article goes over how to add and manage comments. 
Overview
There are a number of ways to increase student engagement in your Teachable course. One way is by adding comments to your lectures so students can discuss it and ask questions.
You can add comments in two ways:
Native comments - students and instructors can comment using their Teachable account, built right into the platform.
Disqus - free third-party commenting system integration. Teachable is retiring this feature for new users, so going forward Disqus will only be accessible to people who signed up before integration was disabled.
As an instructor, you can moderate and manage these discussions.
Enabling Native Comments
Enable comments for a particular lecture by toggling Comments to be On in the lecture area.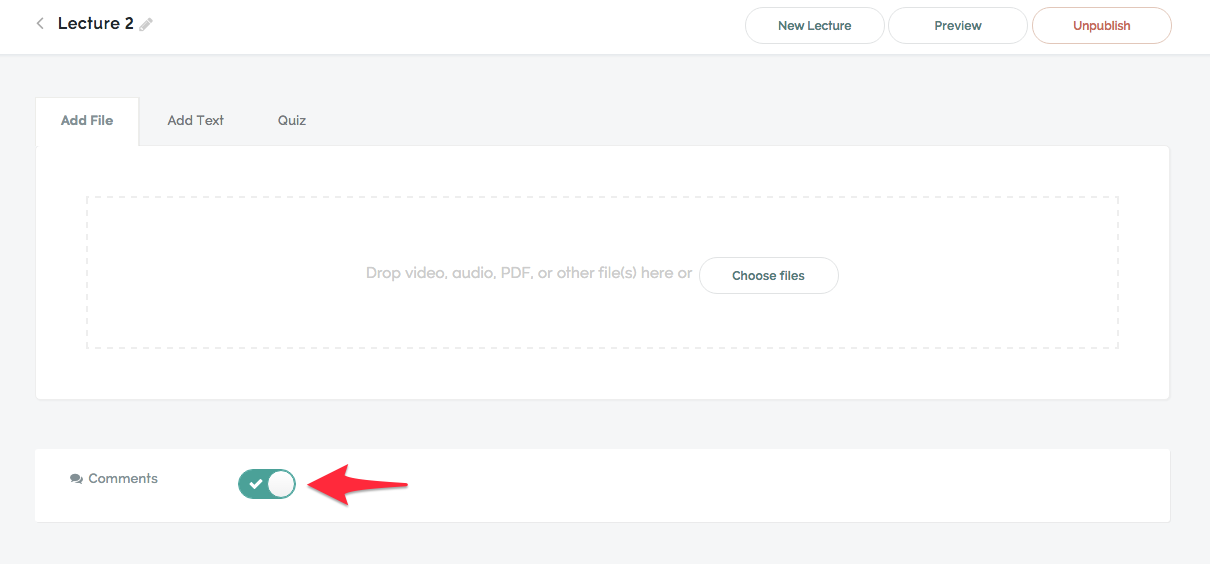 See how comments appear by clicking Preview in the upper right corner of the lecture area. They will look like this: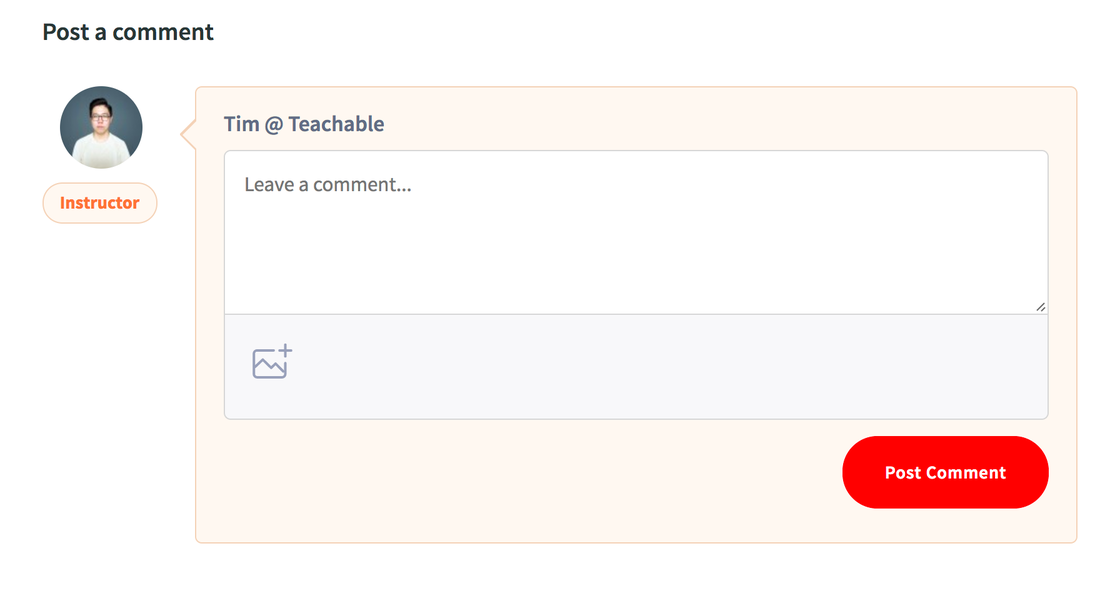 Managing Comments
Comment Settings
Inside the Teachable admin sidebar, go to Settings.
In the General area, go to the Comments section.
Here, you can:

Enable comment moderation, which will give the school owner the option to moderate comments before they appear.
Allow multi-level threading of responses, which will separate and organize responses between students and instructors within a given lecture.
Enable comment attachments, which will determine whether or not users will be able to attach an image to their comments.

When multi-threading is enabled, comments and comment replies will look like this:

Comment Activity
When a student leaves a comment on a course where moderation is enabled, this message will appear:

To moderate comments, follow these steps:
In your Teachable admin sidebar, go to Courses and select the course you want to moderate comments in.
Select the Comments tab.
Inside the Comments area, Latest Activity will be posted, showing you all comments students have recently made.
In this same area, you'll find the Awaiting Moderation box. Here, the school owner can either Approve or Reject the comment.
After you approve a comment, it will appear in the front facing lecture area.
You can also view all comments on your school by navigating to Site > Comments. Here, comments from all your courses will be displayed. You can also reply to comments here, or approve/reject any comments if you have comment moderation enabled.
Individual Comment Threads
If you'd like to get the link to, or view, an individual comment thread, click the link icon next to a comment within the lecture area.
Replying to Comments
Before replying to comments, you'll first need to make sure that you're enrolled in the course as the instructor. Do this by going to your profile page from the admin area, selecting Courses from the sidebar, and manually enrolling yourself in your course. It's recommended to do this for all your courses to save time.
To reply to a comment, go to the Comments section of your course and locate the Latest Activity section. From here, you can look over any comment made within your course, and reply to them by click Reply. 
You can also reply to comments within the lecture page itself. To reply to a comment, click the arrow icon and type in your response. Afterwards, click Post Comment.