This article provides an overview of how to accept and process payments on Teachable.
Overview
If you're based in the US or Canada, then your school will process card payments using Teachable Payments. Credit and debit card transactions on Teachable Payments are processed using Stripe Express. This allows school owners to receive their payouts daily, weekly, or monthly—and also set their own payout schedules.
If you're not in the US or Canada, then you'll default to the Monthly Payment Gateway (MPG). Credit and debit card transactions on the Monthly Payment Gateway are processed using Teachable's Stripe account. As a result, school owners on the MPG will be paid out every 30 days via PayPal.
When setting up either Teachable Payments and the Monthly Payment Gateway, school owners can enable PayPal as a payment option and payment gateway if they opt-in to BackOffice.
Alternatively, if you're on the Professional plan and up, you can connect your own custom payment gateways.
NOTE: Payments are processed through whichever gateway is active at the time of purchase. For example, if you switch from the Monthly Payment Gateway to Teachable Payments, any sale made before switching gateways will be paid out according to the Monthly Payment Gateway's payout schedule.
Payment Options for Students
Students have two payment options when it comes to purchasing courses on Teachable: credit/debit cards and PayPal.
By default, students can pay with a credit/debit card on all gateways.
PayPal will be available as a payment method for your students if you've opted-in to BackOffice, or have set up a PayPal custom payment gateway.
Paying with a Credit or Debit Card
When a student makes a purchase using a credit or debit card, their transaction is processed via Stripe. All major international cards (Visa, MasterCard, American Express) are supported by Stripe.
Students can choose to purchase with a credit or debit card by selecting the Credit Card tab when entering their payment details on the checkout page: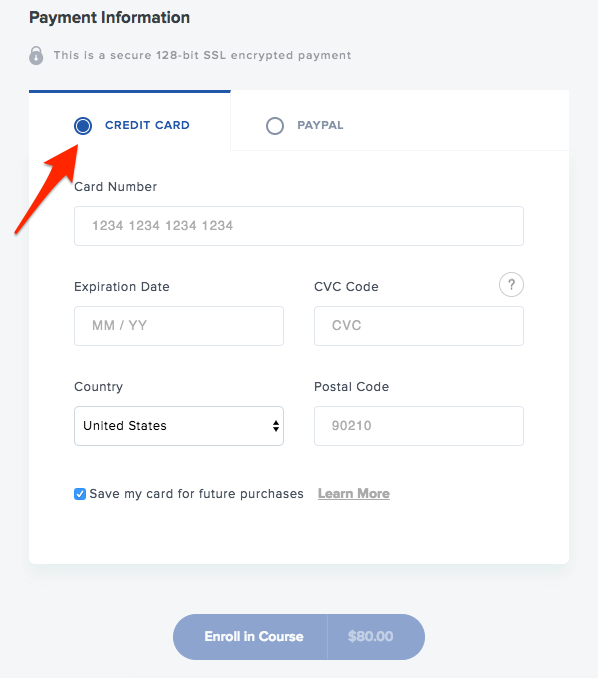 Paying with PayPal
If enabled, students can purchase a course with PayPal by selecting the PayPal tab on the checkout page.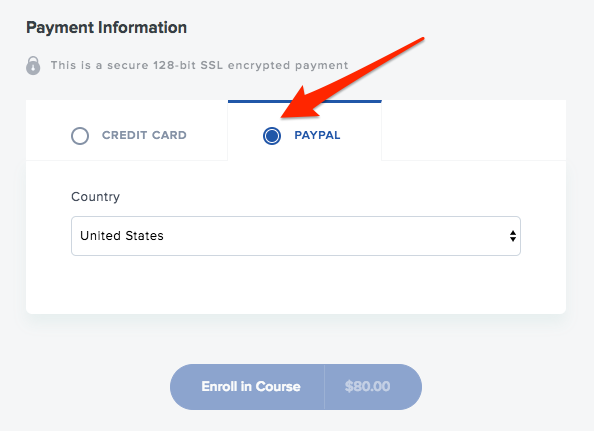 NOTE: Students won't be able to purchase a course via PayPal for any kind of recurring pricing plan, like an ongoing subscription or payment plan. PayPal will also not display as a payment option for students if the course is priced in a currency other than USD.
Supported Currencies
For school using the Monthly Payment Gateway or Teachable Payments, visit Stripe for the most up-to-date list of supported currencies. If you've set up custom payment gateways, contact Stripe and/or PayPal for more information about supported currencies.
Stripe charges your customer's card in the currency you specify. Per Stripe's documentation, your customer's bank may then add up to two types of additional charges:
A conversion fee to exchange the payment from the currency you specified to their local currency.
A foreign transaction fee if your business is based in another country.
If your account is set up to charge in the same currency as your customer's card, then they'll avoid the first fee, though they may still pay a cost for your business being based in another country.