This article gives an overview of your school's affiliate feature and directions for setting up a program at your school.
Overview
As a school owner on a paid plan, you can allow people to promote your course(s) as an affiliate. As an affiliate, the person will receive a percentage of the revenue generated from any sale to which they contribute. In the case of subscription courses, affiliates will receive a percentage of each payment, not just the first.
NOTE: To be added as an affiliate, the person must be enrolled in your Teachable school. 
Once the process is complete, affiliates will be able to use unique URL links to send people to your site and track purchases made.
Setting Up Affiliates
Log in to your Teachable School.
Select Users.
Click the User you'd like to add as an affiliate.
Inside the student's information area, select Affiliate from the submenu.
Toggle Affiliate Program to be set to Active.
Set Affiliate Commission to the percentage amount you will pay the affiliate. For example, if you set Affiliate Commission to 25% for a course priced at $10.00, the affiliate will receive $2.50 for each sale they refer.
Click Save.
Site Owner Commission and Pay Schedule
Depending on the monthly plan your school is currently on, the site owner commission that you'll receive—that is, the percentage of the sale that you keep after you pay your affiliate and Teachable's processing fees—will change. Site owners and affiliates are paid on the first of each month (or closest business day) for all sales made over 30 days prior to that date, a schedule made necessary by Teachable's 30-day refund policy.
Viewing Individual Affiliate Performance
Right now, there are no analytics at an individual affiliate level, although we're working to add that capability soon. However, you can see individual affiliate sales in the Transactions area by selecting the Show affiliate toggle.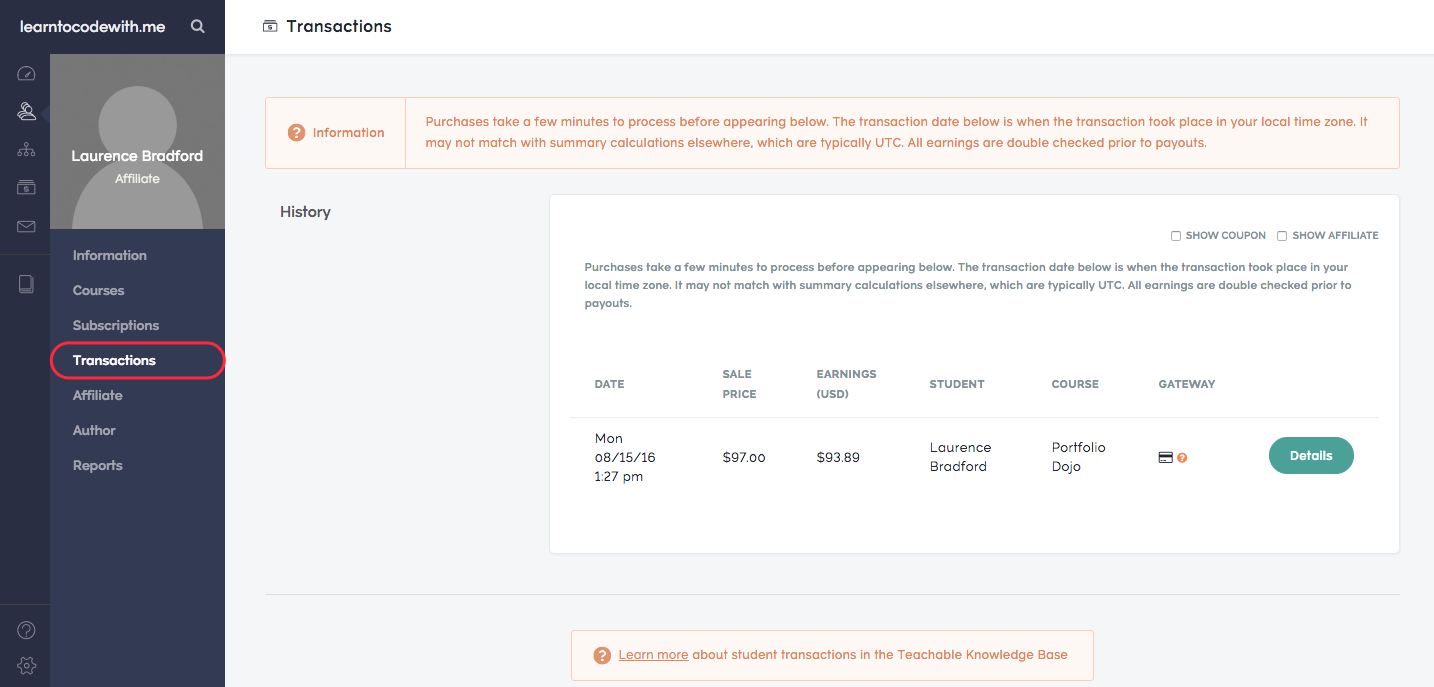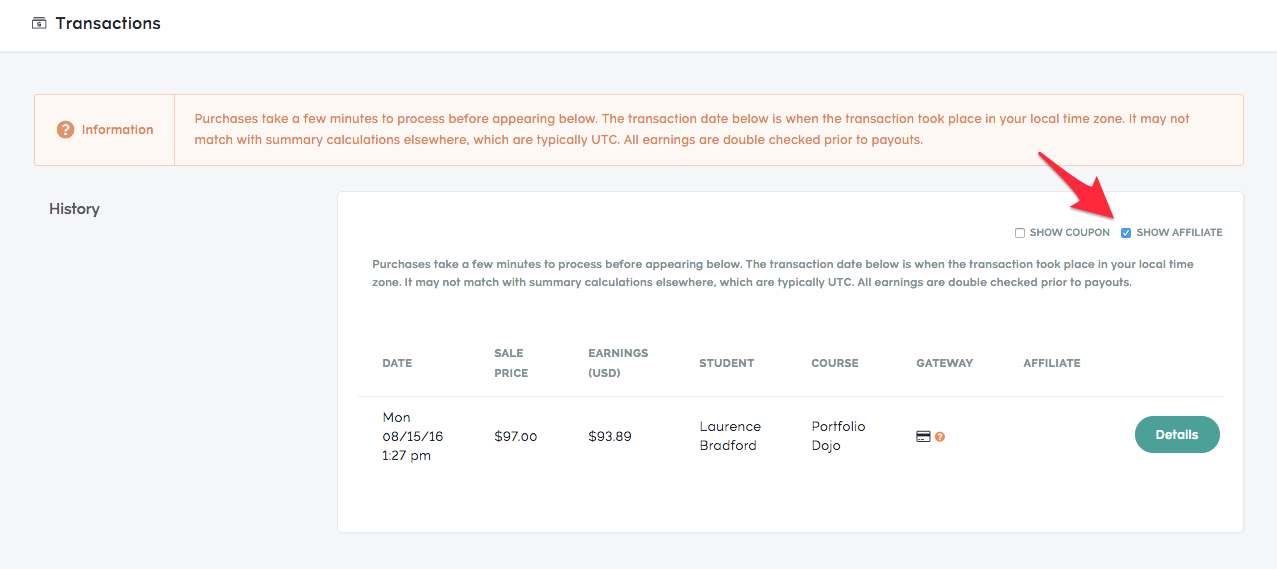 You also can download a raw CSV of all transactions, sort by affiliate, and build your own reports.
Understanding the Cookie Period
A "cookie period" refers to the amount of time between a user clicking on an affiliate link and when they actually purchase the product. In practical terms, this means that even if someone clicks an affiliate's link, leaves the site, and returns to purchase later, the sale will still be counted for the affiliate (as long as the user is on the same device and browser, and has not cleared their cache).
At Teachable, the default cookie period is 365 days. At this point in time there is no way to adjust this, but it's a feature we're looking to add in the future.
Affiliate View
Upon successfully setting up an affiliate, the affiliate will have a new Admin link in their menu bar.

Clicking Admin will take the user to the Affiliate Area, where they can access Affiliate Details, Affiliate Links, Transactions, and Payout Details.

Affiliate Details provides basic information about how the affiliate program works.
Affiliate Links has an affiliate's unique affiliate code and affiliate link to recruit people to your school. 
Transactions shows how many sales they have driven as a general history, and a more detailed breakdown.

Payout Details allows an affiliate to set up payments with PayPal. 
Multiple Affiliates: Last-Touch Attribution
If multiple affiliates refer the same student, then most recent referral will be the one credited with the sale (last-touch attribution). This effectively will overwrite the first affiliate's 365-day cookie period as well.
Example: John Smith clicks Affiliate A's link on January 1, but doesn't make a purchase. On February 1, he clicks Affiliate B's link. He makes the purchase on March 1. Assuming that he's using the same device and hasn't cleared his cookies, Affiliate B is the one who receives the credit and commission for the sale.