This article gives an overview of your school's affiliate feature and how to set up an affiliate program in your school.

If you are an affiliate looking for information, learn more about your affiliate dashboard and settings.
Overview
On the Professional plan and up, you can allow users to promote your product(s) as an affiliate. Affiliates receive a percentage of revenue generated from any sale that is a result of their promotion. In the case of a subscription or payment plan, affiliates will receive a percentage of each payment, not just the first.
To set up an affiliate in your school, you will first need to create a new user affiliate account in your school, or designate an existing student as an affiliate. Then, you can determine the amount of commission an affiliate will earn per sale and ensure you understand your affiliate payout options. Finally, you can share affiliate links with your affiliates for their use.
Create a new affiliate
You can have an unlimited number of affiliates in your school. You can view a list of your affiliates and their affiliate codes from your Users > Affiliates menu.
To add a new user as an affiliate in your school, navigate to the Users > Affiliates page and select the Add Affiliates button in the top right corner.
You'll be prompted to fill out the Name, Email, Password, and Commission of the affiliate you are adding. The email address and password entered here will be the credentials used to log into the affiliate account. You can change commission percentage details at any time.
If you would like to limit the affiliate to a specific product, you can check off the Limit affiliate(s) to a specific course, bundle, or coaching product box and select a specific product from the drop down menu.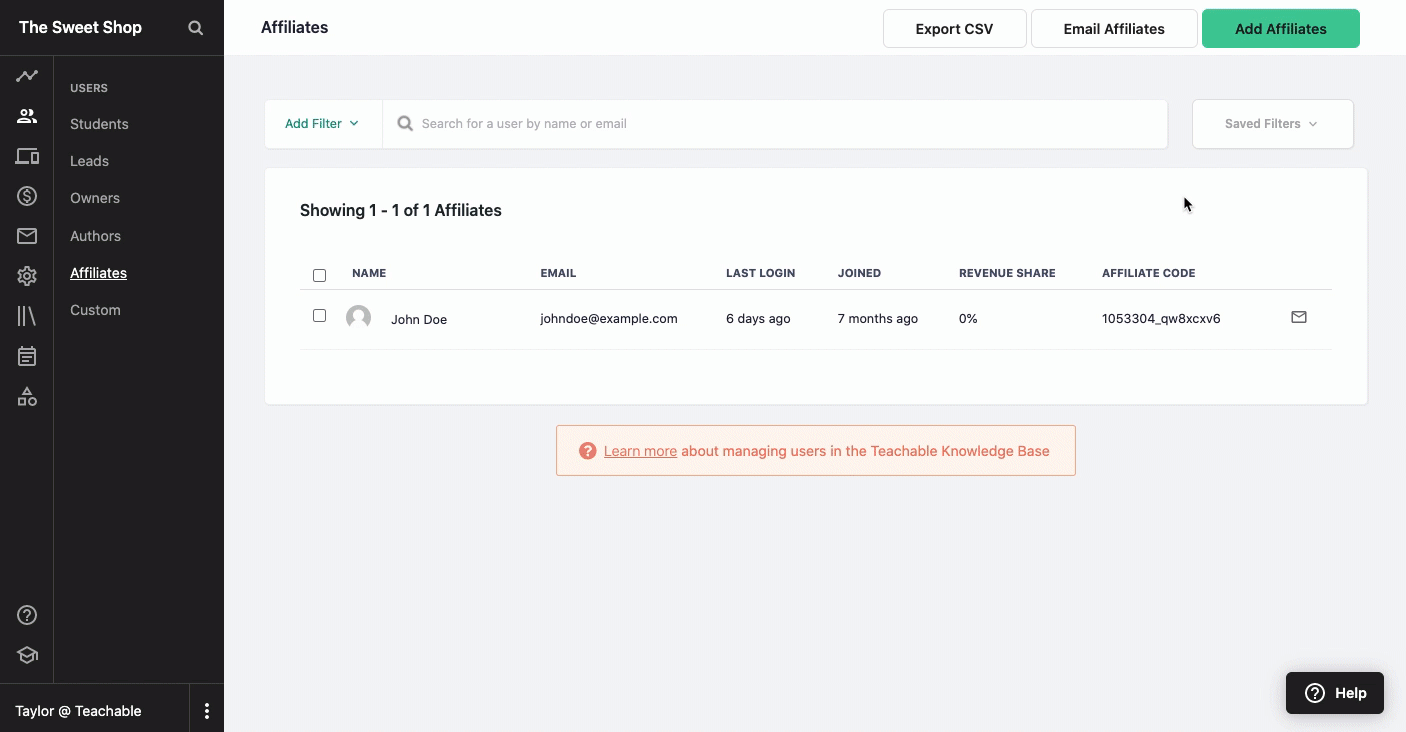 NOTE: If you create a password for your affiliate, let them know what password you set, or else they won't be able to login. If you leave the password field blank, your affiliate will receive an account confirmation email where they can set their own password.
For more information on adding affiliates to your school, take a look at this article on adding users to your school.
Designate a student as an affiliate
You can designate any existing student account in your school as an affiliate by following these steps:
Navigate to Users and then Students.
Select the account of the user you'd like to make an affiliate.
Click Affiliate.
Toggle on the Affiliate Program.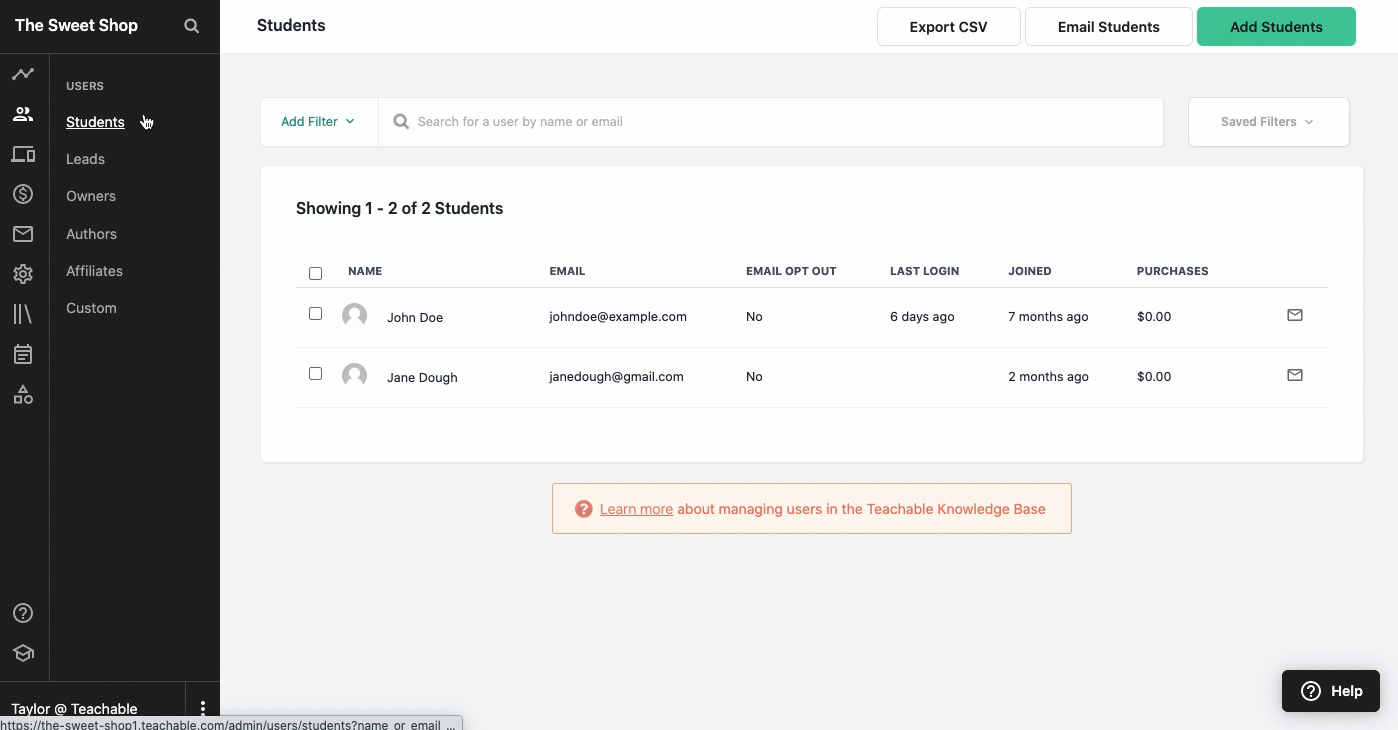 Affiliate commission
To set the affiliate commission percentage amount, navigate to the affiliate's profile from the Affiliates page of the Users tab. Click the Affiliate tab of the specific user, and set a percentage amount between 0-100 in the Affiliate Commission section. Click Save.
NOTE: Affiliate commissions are universal for all product types within your school. To limit an affiliate to specific products, navigate to the Product Restrictions section of the user's Affiliate tab.
In a transaction where an affiliate earns commission, the affiliate fee is deducted from the total transaction earnings (i.e., the amount charged minus taxes). For more information on transaction breakdowns, see our Knowledge Base here.
If you change an affiliate's commission percentage, this will apply for future transactions. Transactions that have already occurred will have the affiliate commission amount calculated based on the affiliate commission rate at the time of the original sale.
For recurring transactions (such as subscriptions or payment plans), affiliate commission is based on the percentage set at the time of the transaction. For example, if you set your affiliate John Doe's commission rate at 20%, and he is attributed to a student's purchase of a subscription, he will receive 20% commission for the first transaction. If you later change John Doe's commission rate to 50%, John Doe will earn 50% commission for future transactions related to that student's subscription.
Product-specific affiliates
To restrict the commission of an affiliate to a specific course, coaching, or bundle product:
Click the Users tab on the left sidebar of your admin and navigate to the Affiliates page.
Click on the user profile of the affiliate you would like to restrict. Click the Affiliate tab in their profile.
Under Product Restrictions, toggle Restrict commission to specific course, bundle, or coaching product on.
Once enabled, you can choose which product(s) the affiliate can receive a commission for.
Payouts
If you use Teachable Payments or the Monthly Payment Gateway, and have BackOffice enabled, your affiliates will automatically be paid out by Teachable to the affiliate's PayPal account. Affiliates must have a valid PayPal account to be paid out by Teachable.
Teachable pays school affiliates in USD on the first of every month (or the next business day if the 1st is on a weekend or US holiday) according to our Monthly Payment Gateway schedule. Due to Teachable's 30-day refund policy, Teachable must hold funds for at least 30 days before releasing them to your affiliates. For example, on March 1st, they would receive a payment for all sales that took place in January. Then, on April 1st, they would be paid for sales made in February, and so on.

Affiliate payouts are sent to the PayPal account affiliates have on file in their affiliate dashboard.
If you are on a custom payment gateway, or if you have BackOffice disabled, payouts will be your responsibility and will be handled off of the Teachable platform. You can use our transaction reporting to keep track of how much is owed to each affiliate.
Affiliate links
Your affiliates will receive credit for sales by having users purchase your products through their affiliate links.
You can find the affiliate link for each of your affiliate's from the Affiliate Program section of that user's Affiliate tab, which you can then provide to your affiliate: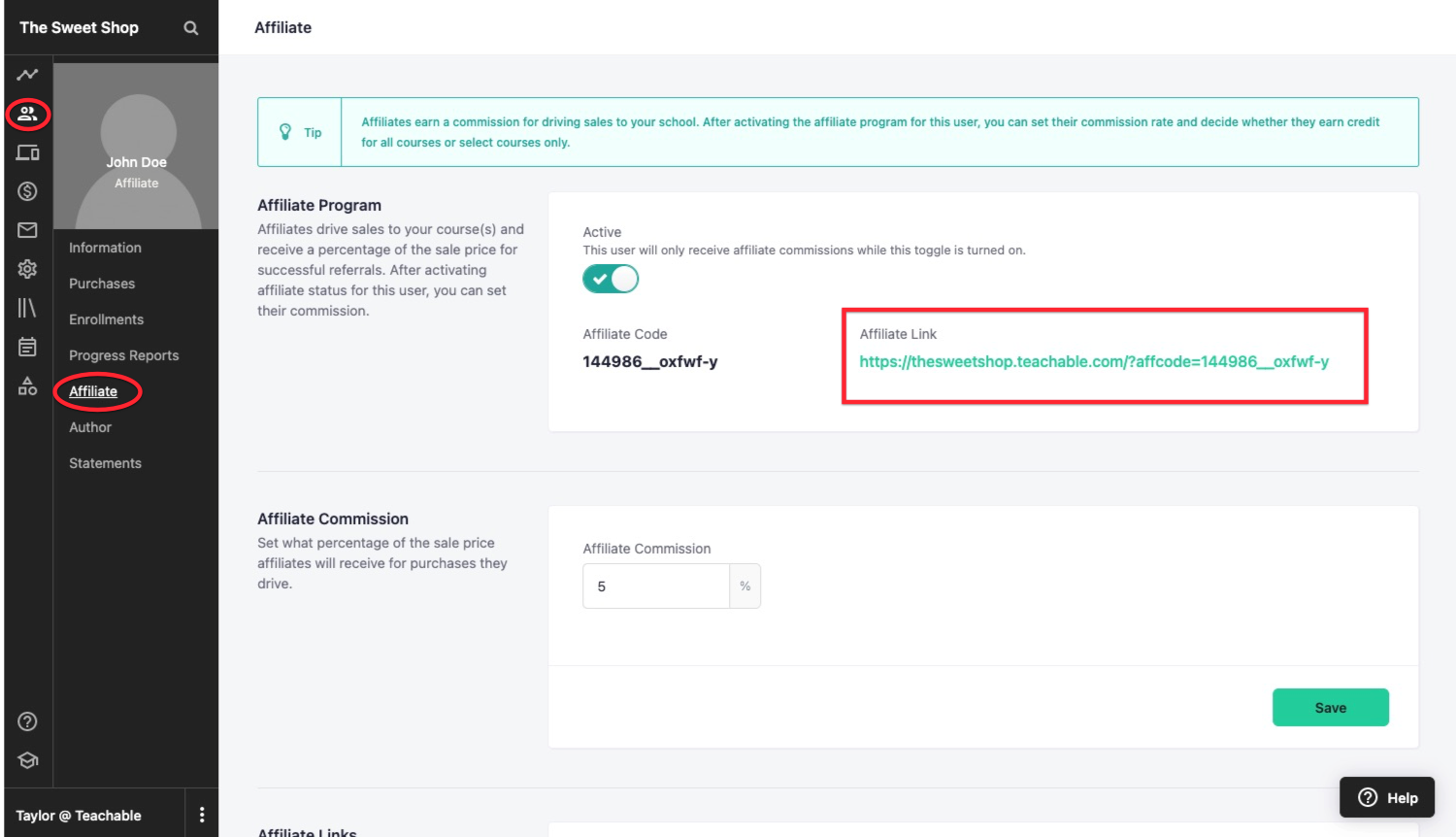 This main affiliate link navigates to your school homepage, and the affiliate will be credited for product purchases a user makes after clicking that link.
You might want to provide your affiliates with links to pages other than your school homepage. For example, you can provide your affiliates with links to:
A checkout page
External landing pages (see more below)
To create affiliate links for any of these pages, use the Link Generator in the Affiliate Links section of the affiliate's user profile.
To use the Link Generator:
Copy the URL of the page you would like to make into an affiliate link.
Paste the URL in the Link Generator (you must include http:// or https://).
Click Generate.
Copy the new URL and send it to your affiliate.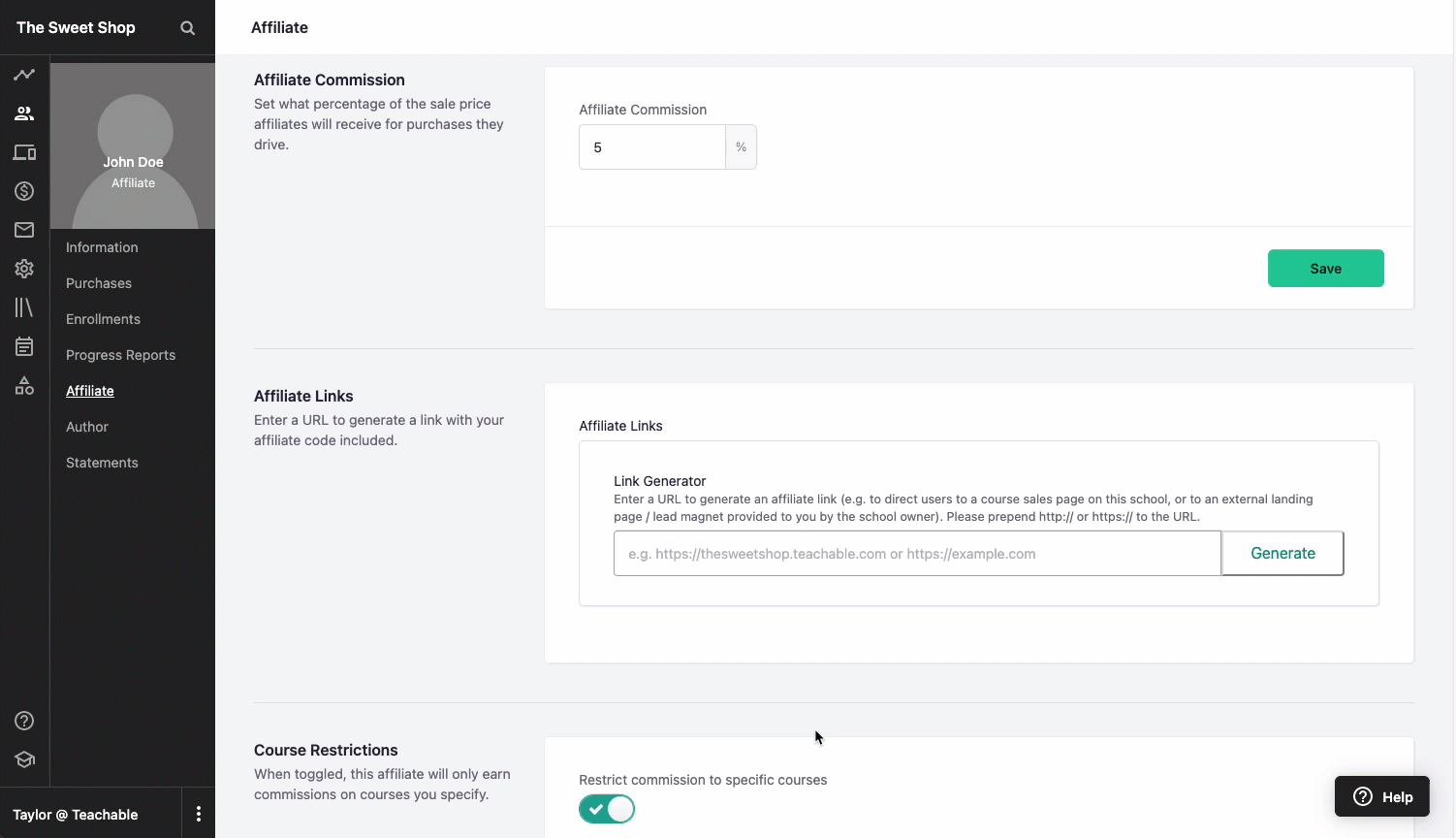 You can either create and provide the affiliate links directly to your affiliates, or you can instruct them to create their own links using the Link Generator available to them in their affiliate dashboard.
External landing page URLs
You might want your affiliates to direct potential customers to an external landing page (i.e., any page not created on Teachable), but still earn credit for sales those customers go on to make on your Teachable site.
To do so, you will first need to toggle on the Allow External URL redirects setting from your Settings > Roles > Affiliate Permissions menu.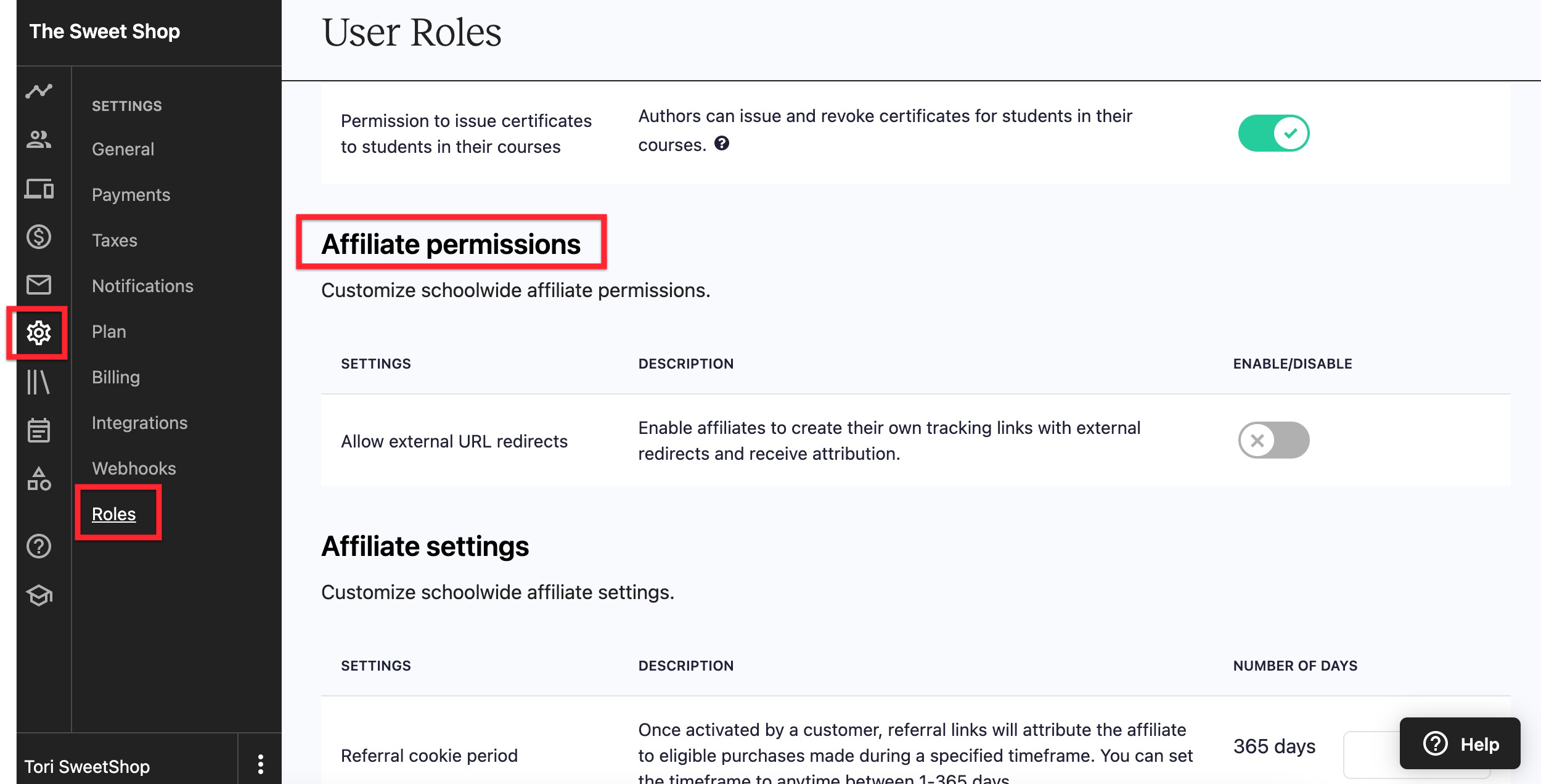 Then, follow the instructions above to create an affiliate link with the Link Generator, or instruct your affiliate to use the Link Generator provided in their affiliate dashboard.
Affiliate attribution
"Cookies" are used to prepare customized web pages or save user information. On Teachable, a cookie is created whenever a user clicks an affiliate link, regardless of whether or not they purchase the course at that moment. This cookie is valid for the "cookie period" (as determined by the school owner), or until the user's browser cache is cleared.
School owners can set the "cookie period" for affiliate links. To do so:
Navigate to your Settings > Roles > Main Roles page in your school admin.
Scroll down to the Affiliate settings section.
Click the Edit button next to the Referral cookie period.
In the popup window, enter the number of days between 1 and 365.
Click Save.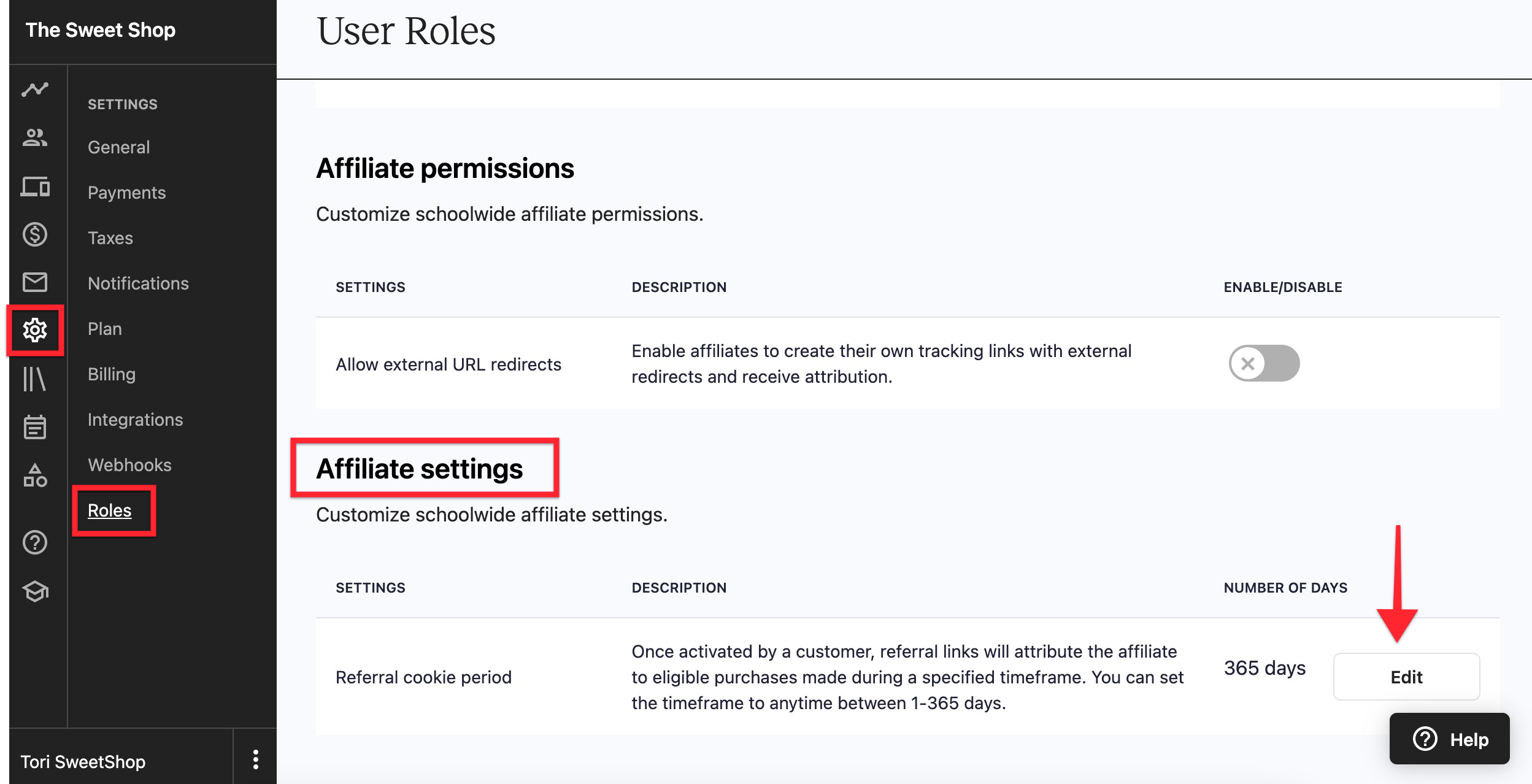 NOTE: Affiliates that drive students towards a free product will still be credited for any future product purchases within the school if the purchase falls under the duration of the cookie period.
In practical terms, this means that even if someone clicks an affiliate's link, leaves the site, and returns to purchase later—the sale will still be counted towards the affiliate (as long as the user is on the same device and browser, has not cleared their cache, and is within the cookie period).
If there are multiple affiliates that are marketing to the same student, the attribution will go to the affiliate that most recently marketed towards the student (i.e. last-touch attribution). This is because cookies can overwrite each other, and even if there is a pre-existing cookie that has not expired—a newly created cookie will take precedence.
If a transaction was not attributed to an affiliate, it is not possible to retroactively attribute the commission to the affiliate.
Removing or deleting affiliates
To remove an affiliate, you can toggle off their affiliate toggle from the Affiliate Program section of the Affiliate tab of their user profile. This will remove the user's affiliate status, but they will still have a student account in your school.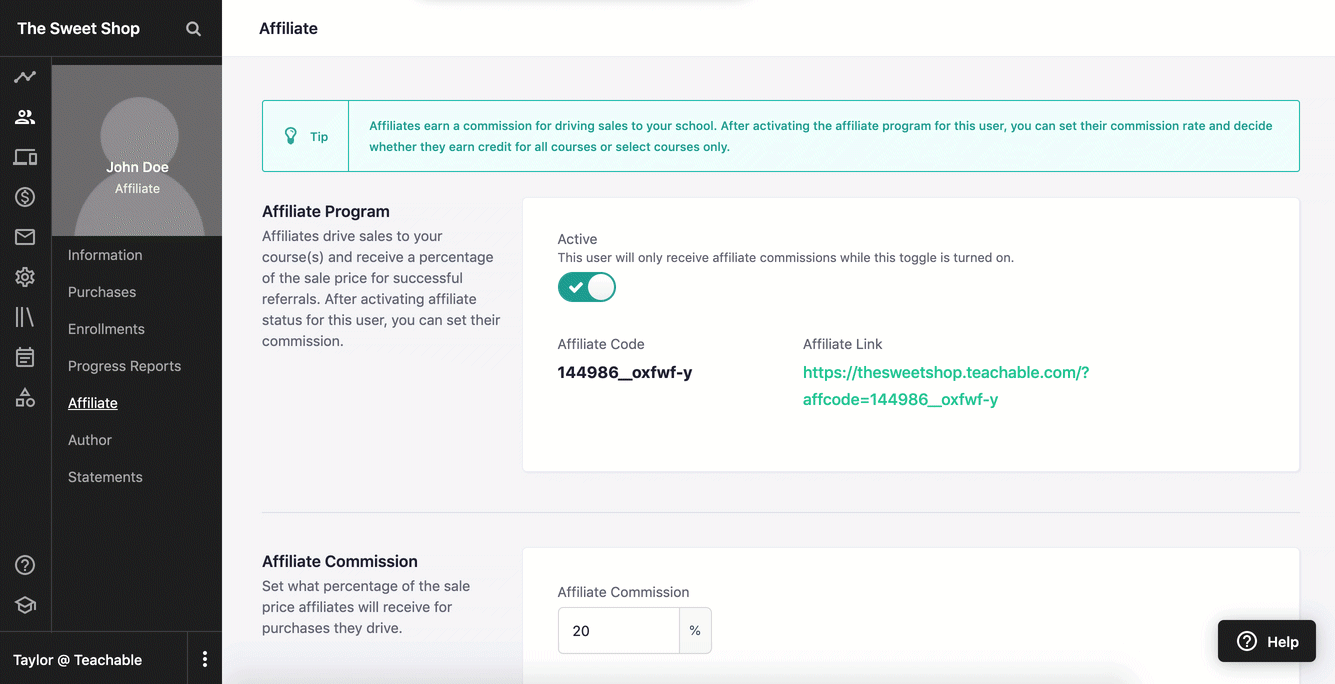 If you would like to delete the user profile from your school, you can do so from the Information tab of that user.
If you delete an affiliate user or toggle off their affiliate status, they will no longer receive attribution for any future transactions—including future transactions for subscriptions in which they were attributed the original sale. However, if you have BackOffice enabled, Teachable will still issue a payout to the user for any transactions made prior to deletion or removal of affiliate status.