This article gives an overview of your school's affiliate feature and directions for setting up an affiliate program at your school.
Overview
As a school owner on a paid plan, you can allow users to promote your course(s) as an affiliate. An affiliate receives a percentage of the revenue generated from any sale that is a result of their promotion. In the case of subscription or payment plan courses, affiliates will receive a percentage of each payment, not just the first.
There is no limit to how many affiliates a school can have. To understand how Teachable handles multiple affiliates within the same school, take a look at this Knowledge Base article.
Setting Up Affiliates
When setting up an affiliate, the user must first be enrolled in your Teachable school as a student. Afterwards, follow these steps to make them an affiliate: 
Log in to your Teachable School.
Select Users.
Click the User you'd like to add as an affiliate. 

Inside the user's information area, select Affiliate from the submenu. 

Toggle Affiliate Program to be set to Active. 

Set Affiliate Commission to the percentage amount you will pay the affiliate. For example, if you set Affiliate Commission to 25% for a course priced at $10.00, the affiliate will receive $2.50 for each sale they refer. Click Save.

The Restrict commission to specific courses button is used to determine whether the affiliate will receive commission for all of your courses, or specific ones. If enabled, you can choose which courses an affiliate is to receive commission for.
Site Owner Commission and Pay Schedule
Depending on the monthly plan your school is currently on, the site owner commission that you'll receive—that is, the percentage of the sale that you keep after you pay your affiliate and Teachable's processing fees—will change. Site owners and affiliates are paid on the first of each month (or closest business day) for all sales made over 30 days prior to that date, a schedule made necessary by Teachable's 30-day refund policy.
Viewing Individual Affiliate Performance
Right now, there are no analytics at an individual affiliate level, although we're working to add that capability soon. However, you can see individual affiliate sales in the Purchases area.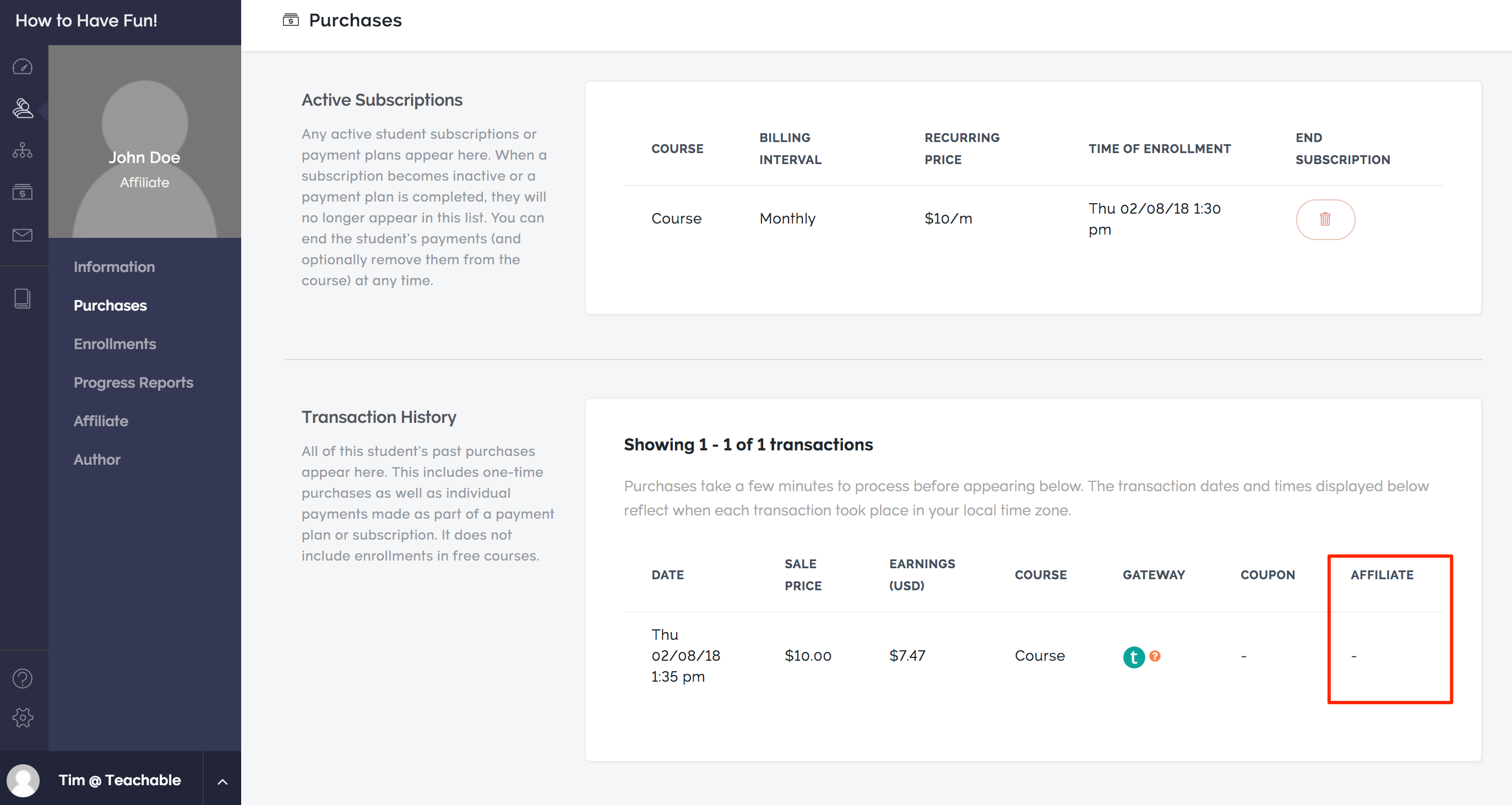 You also can download a raw CSV of all transactions, sort by affiliate, and build your own reports.
How Does Teachable Handle Multiple Affiliate Attribution?
"Cookies" can be used to prepare customized webpages or to save user information. A cookie is created when a user clicks an affiliate link, regardless of whether or not they purchase the course. This cookie is valid for the "cookie period" (as determined by the school owner), or until the user's browser cache is cleared. 
NOTE: Affiliates that drive students towards a free course will still be credited for any future course purchase within the school if the purchase falls under the duration of the cookie period.
In practical terms, this means that even if someone clicks an affiliate's link, leaves the site, and returns to purchase later—the sale will still be counted towards the affiliate (as long as the user is on the same device and browser, has not cleared their cache, and is within the cookie period).
If there are multiple affiliates that are marketing to the same student, the attribution will go to the affiliate that most recently marketed towards the student (i.e. last-touch attribution). This is because cookie can overwrite each other, and even if there is a pre-existing cookie that has not expired—a newly created cookie will take precedence.