This article shows you how to log in to your Teachable school's administration area. From there you can begin customizing your site and creating courses.
Logging In to Your Teachable School
Type your school's URL into your web browser's address bar (e.g. https ://yourdomain.teachable.com or https://yourcustomdomain.com)).
Click Login in the upper right-hand corner of the page.
Enter the email address and password you used to register your Teachable account and click Log in. If you do not have a school account, you can create one by clicking Create an Account. You can also log in with your myTeachable account by clicking Log In with myTeachable.
NOTE: If you forgot your Teachable password, click the Forgot password? link on the login page or read more about retrieving a lost password.
Unrecognized Device Notification
If there is a login attempt to your Teachable account from an unrecognized device, an email will automatically be sent to your email address notifying you of the attempt. The email also contains an alphanumeric code that will be needed to confirm—and proceed—with the login attempt.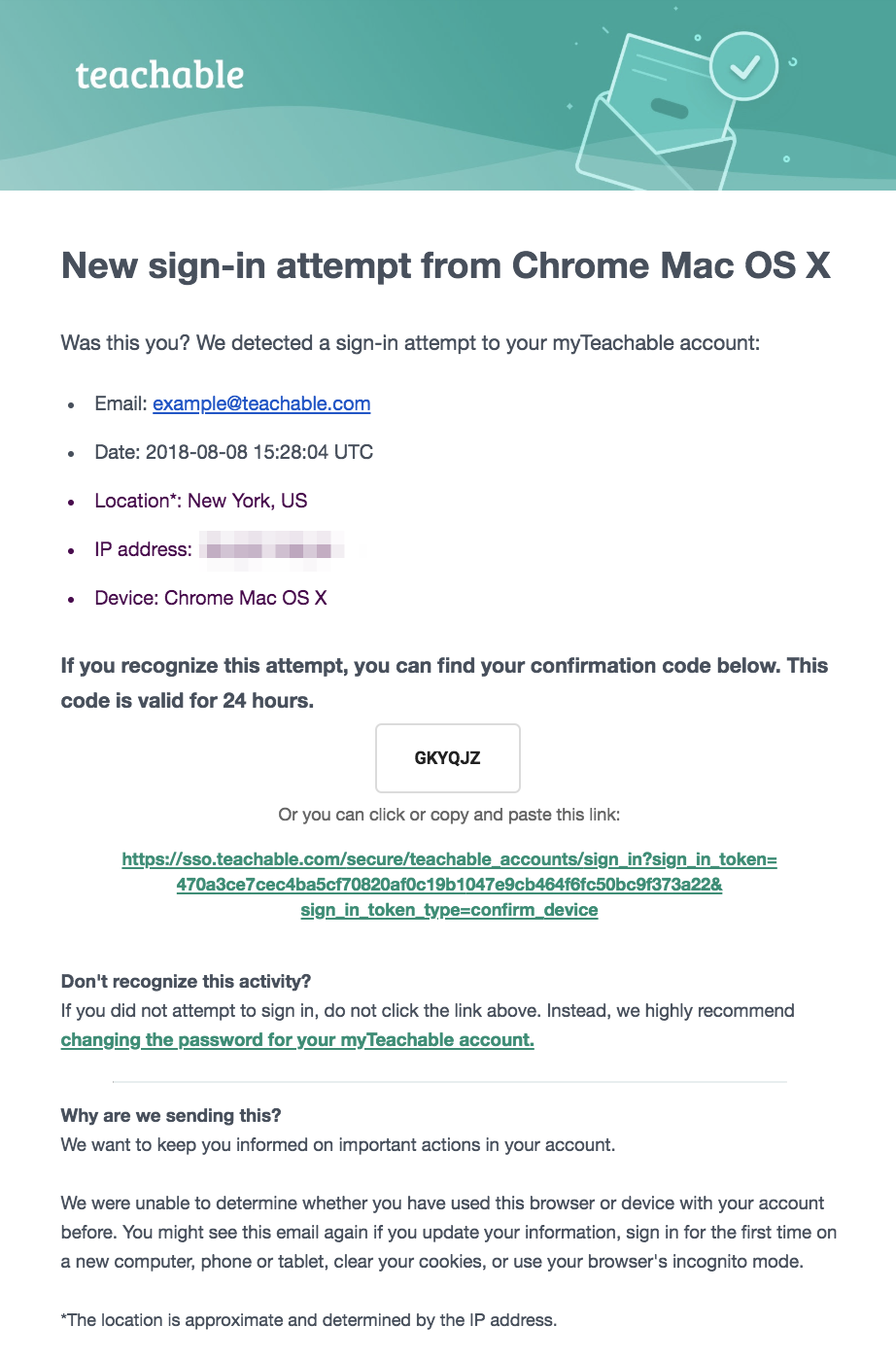 If you don't recognize the login attempt or device, we strongly recommend that you reset your password immediately.
If you recognize the login attempt, copy the confirmation code from the email, and then paste it into the Confirmation code text field when prompted. Note that this confirmation code will be valid for 24 hours.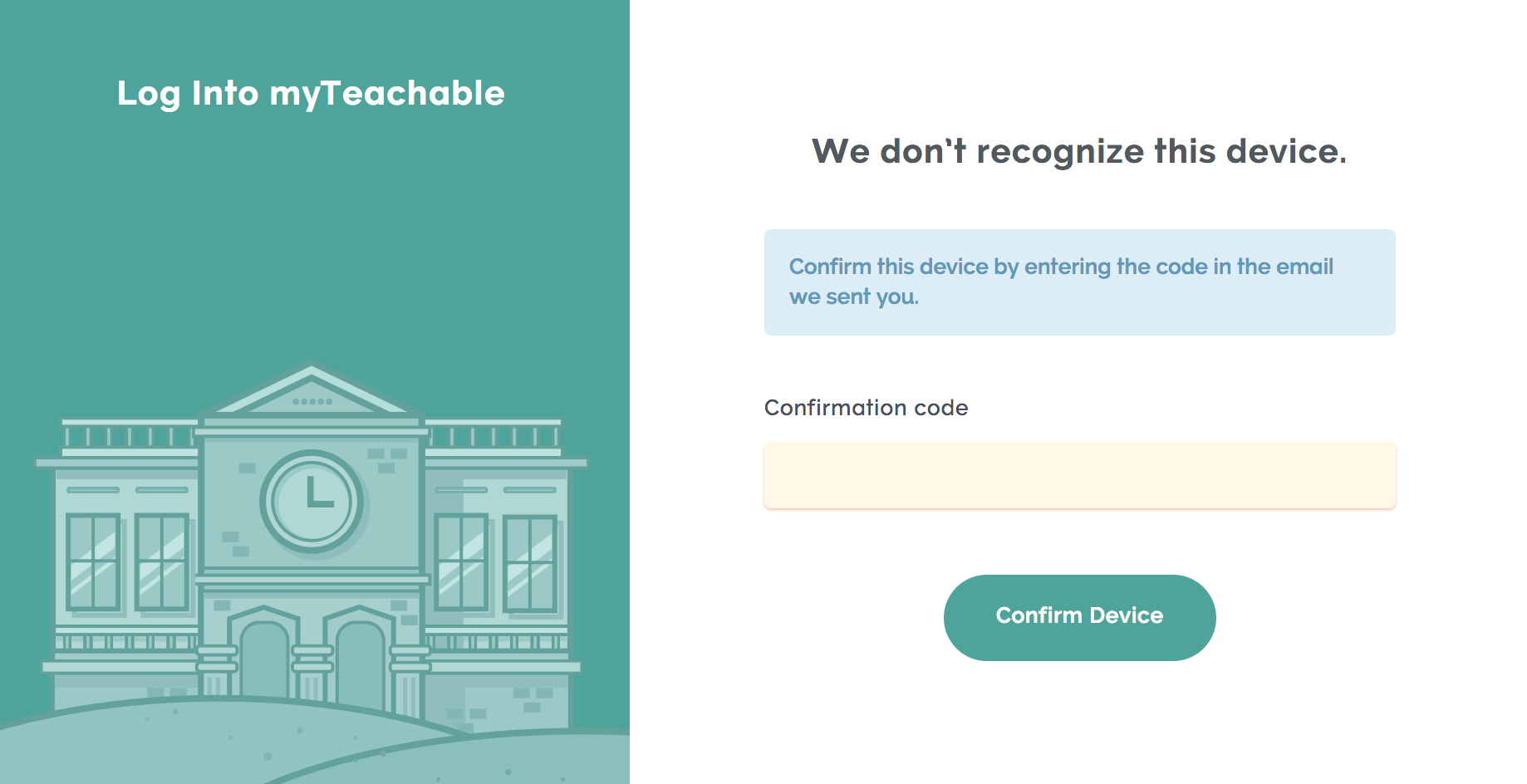 Alternatively, the login attempt can be confirmed by navigating to the URL provided to you in the email. The URL contains a token that will be stored in your browser—which will then be used to recognize your device on future login attempts.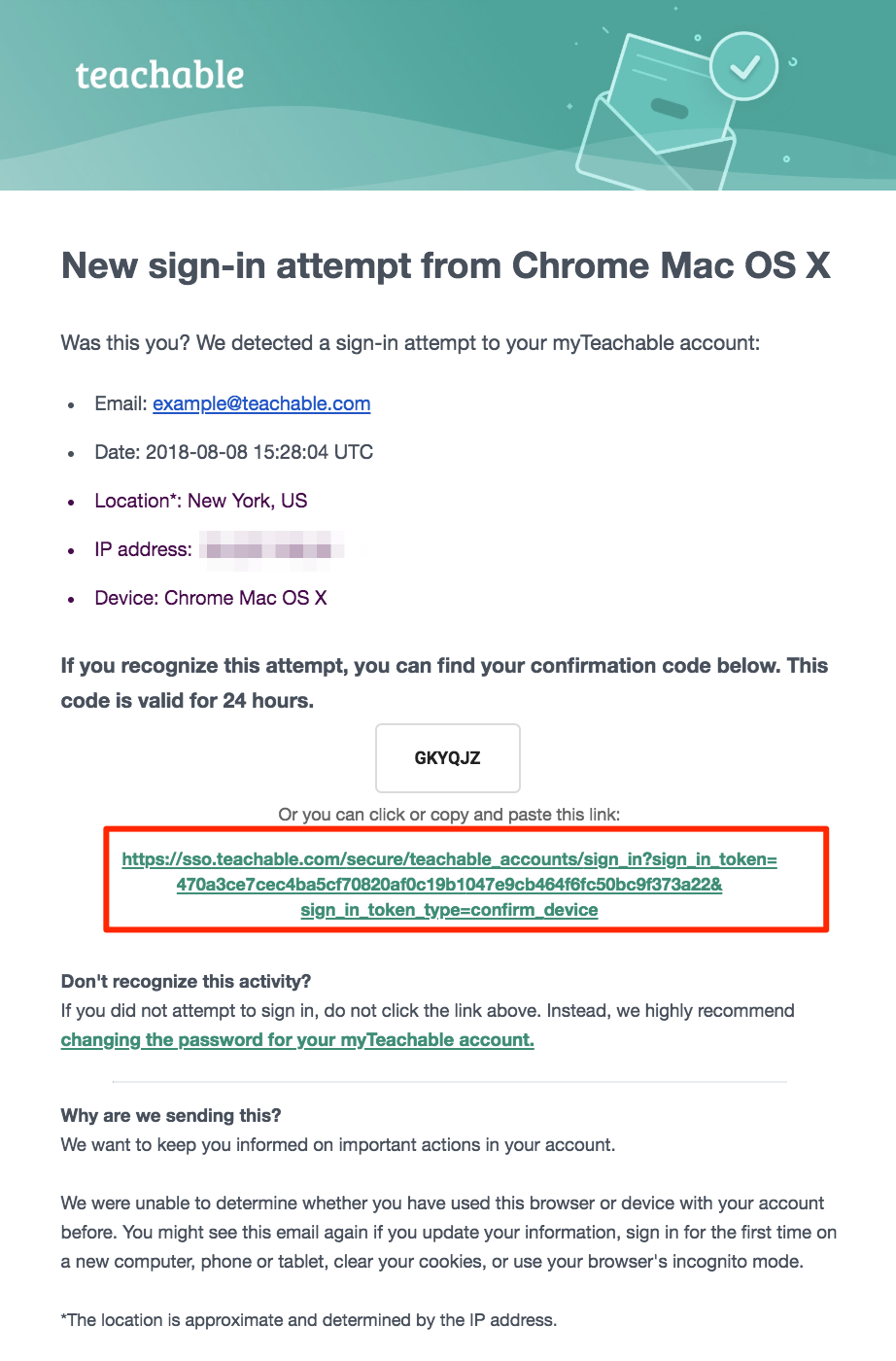 Issues Logging In
I Forgot My Password
If you can't log in because you've forgotten your, visit Recover Your Teachable Account Password.
I Forgot My Email Address
If you cannot remember the email address you used when creating your Teachable school, please file a support ticket by visiting this URL.
To make it easier (and faster!) for our support team to assist you, please provide the URL of your Teachable school as well as any other relevant account information.
I Didn't Receive a Password Reset Email
If you didn't receive your password reset email:
Check your email's spam or junk folder.
Add m@teachable.com to your email account's whitelist and redo the email reset request.
I Can't Submit a Ticket Because I Can't Log In
Write an email to support@teachable.com using the email address associated with your Teachable account. Please note, ticket response times may be longer than usual since the ticket is not attached to your school or plan.