This article goes over how to log in to your Teachable school's admin area and troubleshoot login issues.
If you are a student looking to log in to a course, please see this Knowledge Base article.
Overview
There are two types of user accounts for schools powered by Teachable:
Teachable Accounts - Teachable Accounts are centralized accounts that allow you to log in to any Teachable-Accounts-enabled school using the same credentials. When you sign up with Teachable, you create a Teachable Account. You can use a singular Teachable account to access as many schools as you'd like, and be able to access them from your Teachable Accounts login page.
Non-Teachable Accounts (School Accounts) - If you prefer not to use Teachable Accounts, you can keep each school's login credentials separate. Just be aware that your students will have to login to each school separately as well.
Logging into your Teachable school
To log in to your school, enter your school's URL into your web browser's address bar (e.g. https://yourdomain.teachable.com or https://yourcustomdomain.com).
Click Login in the upper right-hand corner of the page.
Enter the email address and password you used to sign up with Teachable and click Login. If you forgot your Teachable password, click the Forgot Password link on the login page or read more about retrieving a lost password.
If you have a Teachable account, you can login using the Login with Teachable button. You can also connect your school account to an existing Teachable account by following the instructions in Connect Your Teachable Account to Your School.
If this is your first time logging into your school, you will be "challenged" with a security code that is emailed to you. Enter the code and then you will be taken to your Teachable Accounts dashboard:
Unrecognized device notification
Primary owners, owners, authors, affiliates, and custom user roles will receive an unrecognized device notification each time they log in from a new device, use an incognito browser, or log in after clearing their browser cache. Students will not receive unrecognized device notifications.

If there is a login attempt to your Teachable account from an unrecognized device, you won't be able to proceed to your school admin until you confirm the device. However, you'll automatically receive an email notification containing instructions on how to confirm your device for future logins.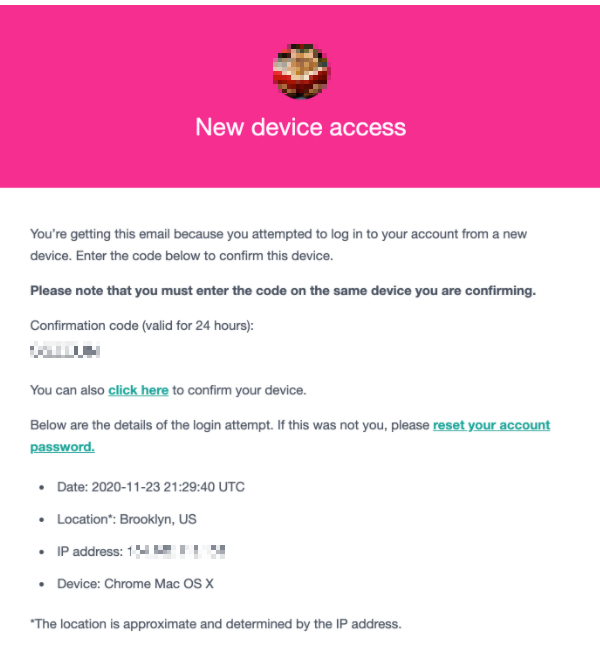 If you recognize the login attempt, copy the confirmation code and then paste it into the Confirmation code field in the login screen. If you do not receive the device confirmation email, click Resend Code from the login screen.
Alternatively, the login attempt can be confirmed by navigating to the URL provided to you in the email. The URL contains a token that will be stored in your browser—which will then be used to recognize your device on future login attempts.
CAUTION: Both the confirmation URL and code expire after one hour. To receive a new confirmation URL or code, log in to your school again.
If you don't recognize the login attempt or device, we strongly recommend resetting your password immediately.
Troubleshoot login issues
If you experience issues logging in to your school, follow the troubleshooting steps outlined below. You can also refer to Common Technical Issue Troubleshooting for more troubleshooting strategies.
Recover Your Password
If you can't remember your password, follow the instructions in Recover Your Account Password.
Check for Multiple Accounts
In some cases, you may have multiple Teachable accounts with different login credentials. If you can't find the school you're looking for, try logging in with a different set of login credentials.
Confirm Your Device
If using a new device, you'll first have to confirm it. To do so, follow the instructions in Unrecognized Device Email.
Teachable uses browser cookies to authenticate devices. If you're prompted to confirm your device every time you log in, make sure that you've enabled cookies. Similarly, private or incognito browsers will not store cookies.
If you can't find the confirmation email, check your inbox's spam or junk folder. Also, be sure to add m@teachable.com to your email's filters, to avoid further issues with email delivery.
Clear Cache
While online, web browsers store—or"cache"—websites assets such as images and scripts. Clearing your browser's cache removes these assets, and may help resolve login issues.
If using Google Chrome, click the menu and select More tools. Then click Clear browsing data. Make sure that the Cached image and files box is checked. See more details on clearing your cache in Google Account Help.
If using Mozilla Firefox, go to your Preferences and then find the Advanced panel. From there, click Clear Now in the Cached Web Content section. See more details on clearing your cache in How to Clear the Firefox Cache.
Disable Third-Party Browser Extensions
Some third-party extensions—e.g. password managers—have been known to cause problems when logging in to a course. We recommend attempting to log in in another browser with no extensions. If successful, an extension may be the cause.
Once you're certain that an extension may be the issue, test each one by disabling it and reloading the page. If disabling a certain extension solves the issue, you can identify that extension as the source of the issue. From there, either disable or remove the extension.
Below are some extensions that have caused issues in the past for some Teachable users:
Adblocker Extensions
Security Extensions (e.g. HTTPS Everywhere)
Password Managers (e.g. LastPass)
Grammarly
Coupon Extensions (e.g. Honey, Dingo, etc.)
TIP: Research online to determine if there are any known conflicts/issues with extensions that you have installed in your web browser. If you have a lot of extensions, this can save you some time.
For further information about how to manage extensions in your browser, see here:
Locked out of account
In some scenarios, you might find yourself locked out of your account. This can occur if:
You are not receiving a password reset or unrecognized device notification email
You do not have access to the email address you created the account with and therefore cannot reset your password or confirm your device
If you have access to your email address but are not receiving either of the above emails, please try the following troubleshooting steps:
Check secondary folders for emails from Teachable or your school—including the spam/junk, promotions, updates, and "all mail" folders
Use your email search function to search for the title of the email ("Reset Password Instructions" for a password reset email, or "Login attempt on a new device" for unrecognized device notifications)
Safelist Teachable's email domains—see our guide here
Re-trigger the email after completing the above steps
If the above troubleshooting steps do not resolve the issue, or you do not have access to your email account, please contact our Customer Care team directly. In your email, please include as much of the following information as you are able to:
The school name and URL
Your full name
The email address you used to create the account