This article gives an overview of adding course authors to new and existing courses.
NOTE: The Free plan supports 1 author/owner (including yourself), the Basic plan supports 2 authors/owners, the Professional plan supports 5 authors/owners, and the High Volume plan supports 25 authors/owners.
User Accounts vs. Author Accounts
User accounts and author accounts are separate things—which is why making a user into an author isn't as simple as just checking a box. Rather, to make someone an author, you must first create an author account within a new or existing course, and then associate it with the person's user account, following the process outlined below.
Adding Course Authors
Log into your Teachable school.
In the admin sidebar, select a course where you'd like to add an author. If the course is not displayed, click View All to see all courses in your school.
Click New Course in the upper right corner of the screen, or select an existing course.

If you're creating a new course for the first time, without any existing authors, select New Author:
If you're adding a new author to an existing course, go to the Information submenu tab. Inside Details, select New Author.

Both will bring you to this box:

NOTE: There can only be one author per course.

Enter Full Name and Headline. The headline is a quick blurb to summarize the author's background and skill set.
Add Image and Bio of the author. The author's image will be resized to 250px by 250px. For best results, use an image with an exact or similar aspect ratio.
Click Add Author to save.
To add an author to your school, but not assign them to a course yet, go to Site > Authors. You'll then be able to save their information and assign them to a course later.
For more information on editing an author's privileges, visit Edit Course Author Privileges.
Associating a User Account With an Author Account
To link a user account to an author account, follow these steps:
Navigate to Users.
Select the account of the user you'd like to make an author. In this example, we'll use Adam Baker. On the user's account page, go to the Author tab. There, you'll find a dropdown menu where you can select an author account to be associated with the user account.
Since we had previously created an author account for Adam Baker, we simply select that option from the list.
Click Save. Now Adam Baker is able to be the author for any courses associated with his author account.
Editing Course Authors
If you need to edit an author profile, you can easily do so. Simply locate the profile by navigating to Site > Authors and click the green edit icon next to the author's name.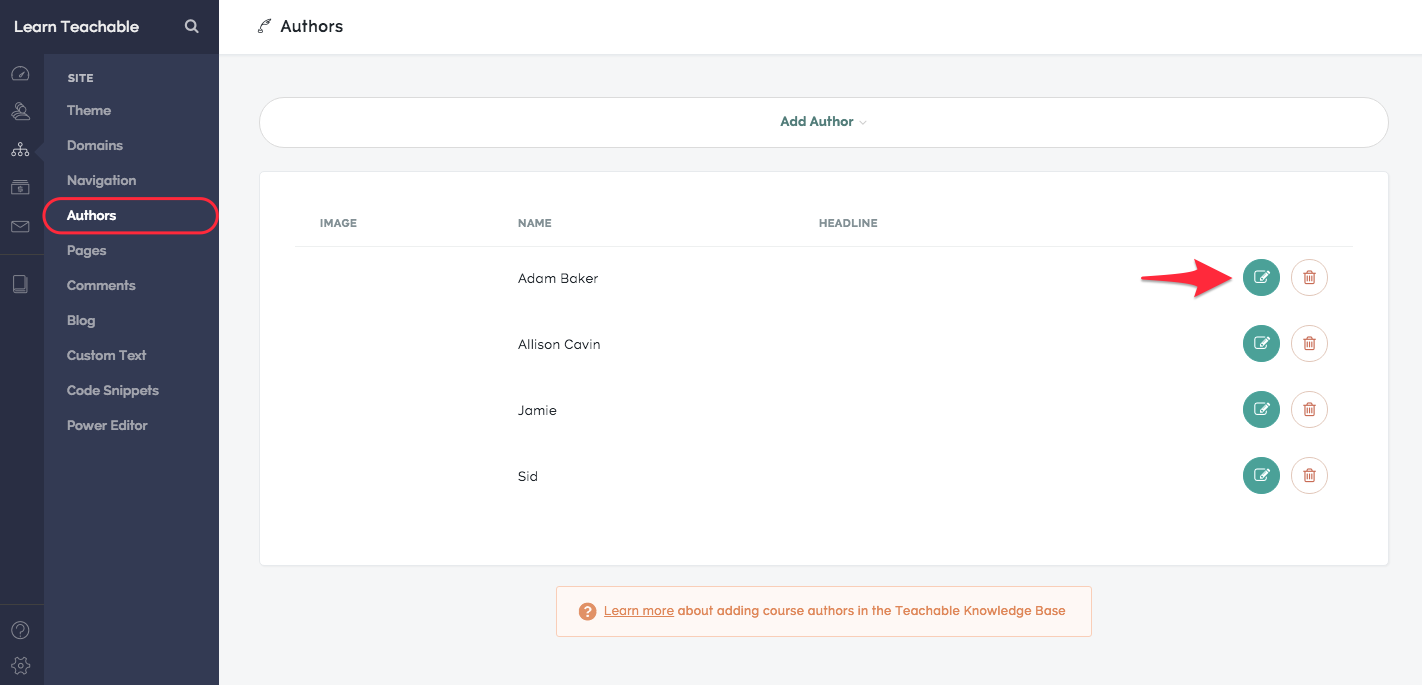 You'll be able to edit their name, headline, image, and bio from this area.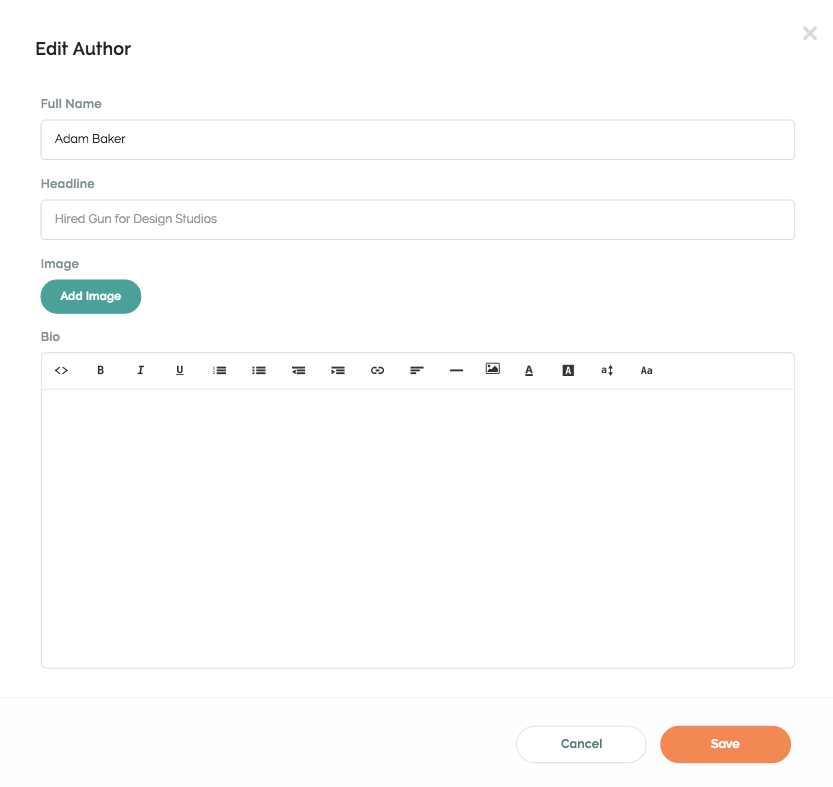 Be sure to click Save when finished.
Deleting Course Authors
You can delete your course authors at any time by following these steps:
Choose the user you'd like to delete as an author.
Select Author from the admin sidebar.
Click Unlink Author.
A notification will appear in the lower right-hand corner, letting you know that the user is no longer a course author.
You can delete the author profile by navigating to Site > Authors and clicking the red trash icon on the selected profile.