This article goes over author bios, how to add authors to your course and school, author commissions, editing/deleting authors, and editing author privileges.
Author Bios
On Teachable, Author Bios can be uniquely linked to an Author's account. These bios are used to showcase information about the author, for example, on a course's sales page or curriculum.
Whenever you add a new course author, an author bio will automatically be created using the name of the course author. Similarly, you can edit the author's bio information, such as their name, headline, image, and bio. You can create as many bios as you'd like—they do not have to be associated with a user account in your school.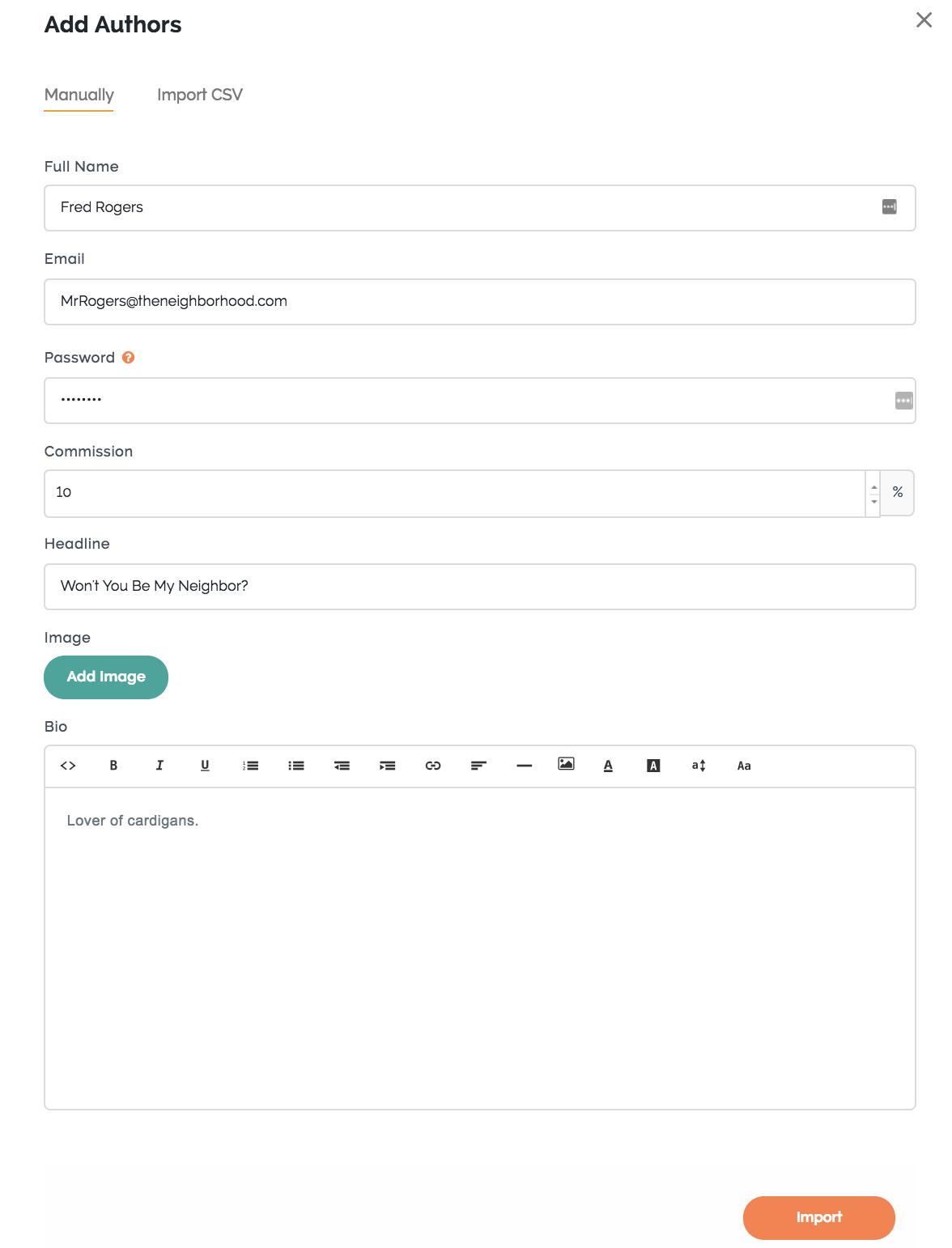 At any time, you can go to Site > Bios to see a list of your created author bios. From there, you can add, edit, or delete author bios.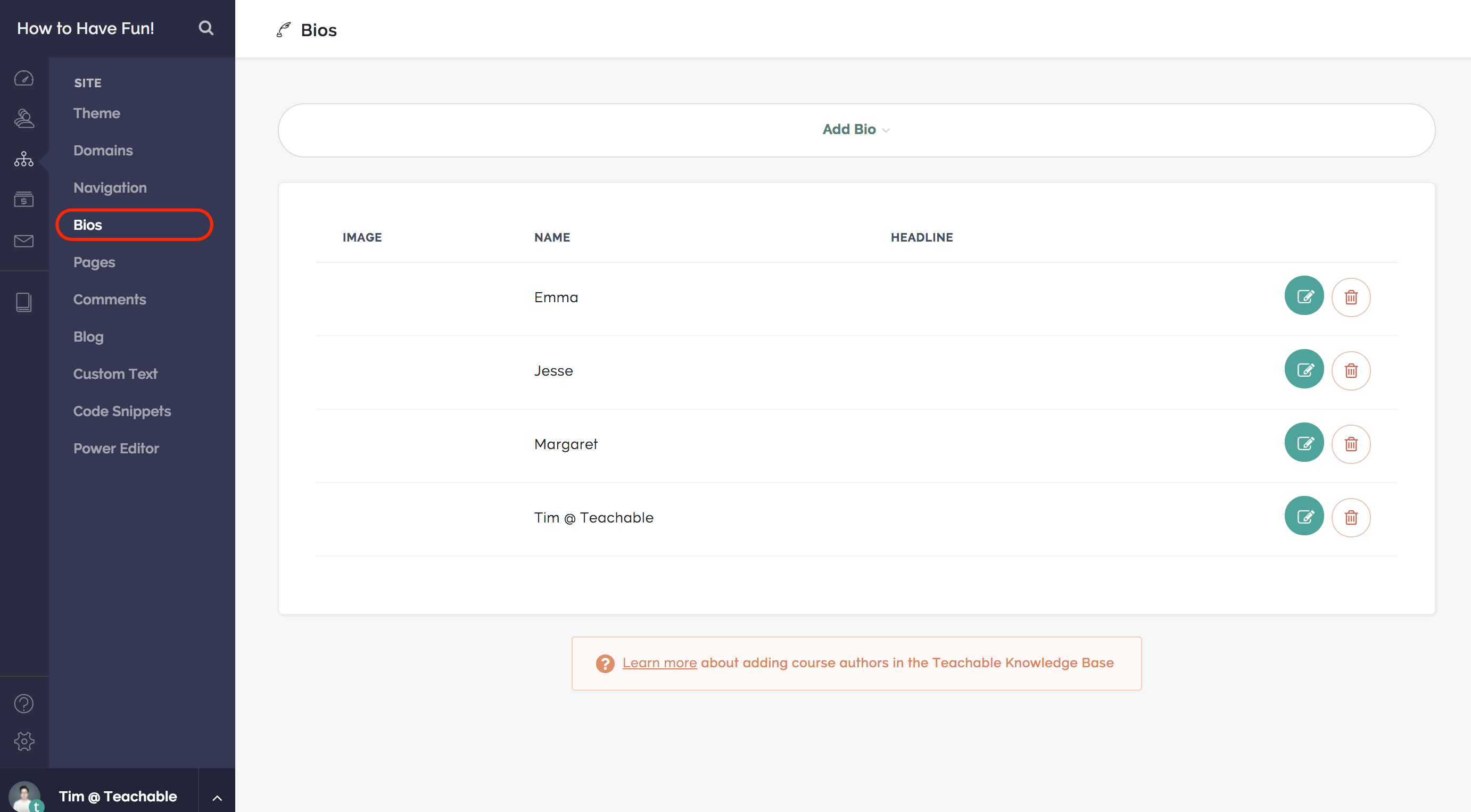 Adding Course Authors
The Free plan supports 1 author/owner (including yourself), the Basic plan supports 2 authors/owners, the Professional plan supports 5 authors/owners, and the Business plan supports 100 authors/owners. For more information on adding authors to your school, take a look at our Knowledge Base article on Adding Users to Your School. 
Designating an author to a course means that the author will receive a set commission of course sales (which school owners can individually modify in the author's profile), and will have other course administrative privileges.
NOTE: In order to designate an author, you must first add the author to your school.
To designate an author to a course, follow these steps:
Select the course where you'd like to designate an author, and in the Information page, click on the Details tab.
Select the author bio from the drop-down menu in the Bios section.
Click Save.
If you have a student you want make an author, you can link their student account to an author account by following these steps:
Navigate to Users and then Students.
Select the account of the user you'd like to make an author.
There, you'll find a dropdown menu in the Associated Author Bio section where you can select an author account to be associated with the user account. 
Click Save.

Author Commissions
To set custom commissions for each individual author, follow these steps:
Navigate to Users > Authors and select the author whose commission you would like to adjust.
From their user page, select the Author tab on the sidebar.

Under the Author Commission heading, you'll be able to adjust the commission percentage that the author will receive for whatever associated course you select from the dropdown menu. This revenue share is applied after all fees (payment processing, Teachable fees, and affiliate payouts) have been applied.

For example, setting the revenue share to 50% would mean that you (the school owner) and the author will receive the same revenue for the course. 
Editing Course Authors
If you need to edit an author profile, locate their profile by navigating to the author profile and click Edit Bio. From there, you'll be able to edit their name, headline, image (250 x 250 pixels), and bio. Be sure to click Save when finished.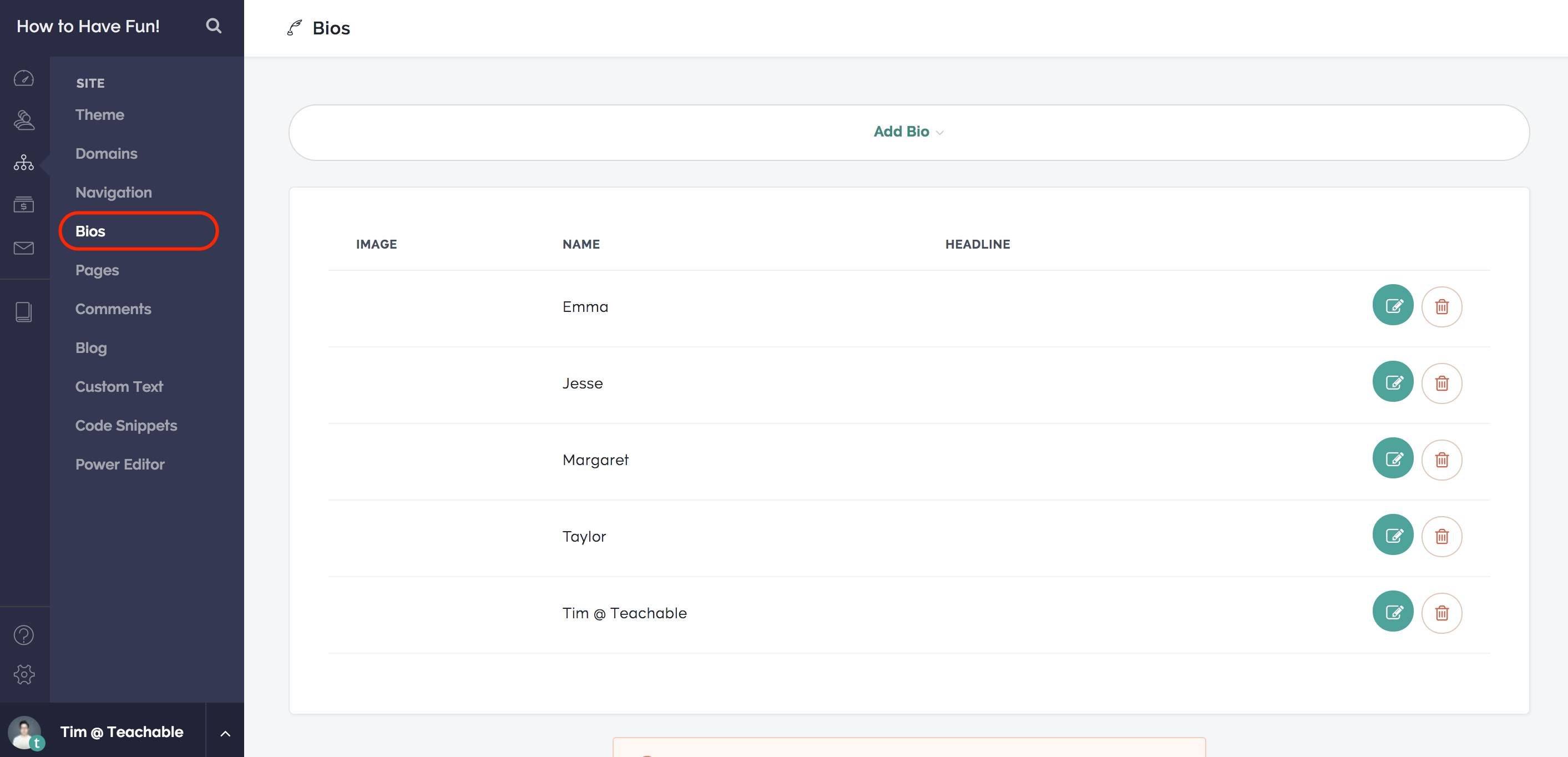 Alternatively, if you'd like to see a list of all the Bios available on your school, navigate to Site > Bios. From there, you can add a new bio, or edit any existing bios.
Deleting Course Authors
You can delete your course authors at any time by navigating to the author's profile, and clicking Choose a Different Bio in the Associated Author Bio section.
Afterward, a notification will appear in the lower right-hand corner, letting you know that the user is no longer a course author. You can delete the author profile by navigating to Site > Bios and clicking the red trash icon on the selected profile.
Editing Author Privileges (Pro Plan and Up)
On the Professional plan and up, you can customize which privileges your authors have access to. To change these privileges, go to your admin sidebar and click Settings. Then, in the General tab, scroll down to Authors. 
From there, use the toggles to allow/disallow authors to publish courses, email students, set course prices, create coupons, import students (Business only), edit their course's sales pages, and manage and issue certificates of completion.
NOTE: These privileges will apply universally to all authors. Setting privileges for each individual author is not available at this time.