This article gives an overview of adding course authors to your Teachable school.
Adding Course Authors
For more information on adding authors to your school, take a look at our Knowledge Base article on Adding Users to Your School. The Free plan supports 1 author/owner (including yourself), the Basic plan supports 2 authors/owners, the Professional plan supports 5 authors/owners, and the High Volume plan supports 25 authors/owners.
Associating a Student Account With an Author Account
To link a student account to an author account, follow these steps:
Navigate to Users and then Students.
Select the account of the user you'd like to make an author.
There, you'll find a dropdown menu in the Associated Author Bio section where you can select an author account to be associated with the user account. 
Click Save.

Designating a Course Author
Designating an author to a course means that the author will receive a set commission of course sales (which school owners can individually modify in the author's profile) and will have other course administrative privileges.
NOTE: In order to designate an author, you must first add the author to your school.
To designate an author to as the author of a specific course, follow these steps:
Log in to your Teachable admin area.
In the admin sidebar, select a course where you'd like to add or edit information. If the course is not displayed, click View All to see all courses in your school.
Once inside a particular course, you should be automatically in the Information area. If you're not, select it from the sidebar.
Click on the Details tab.
Select the author bio from the drop-down menu in the Bios section.
Click Save.
Editing Course Authors
If you need to edit an author profile, simply locate the profile by navigating to the author profile and clicking Edit Bio. From there, you'll be able to edit their name, headline, image, and bio.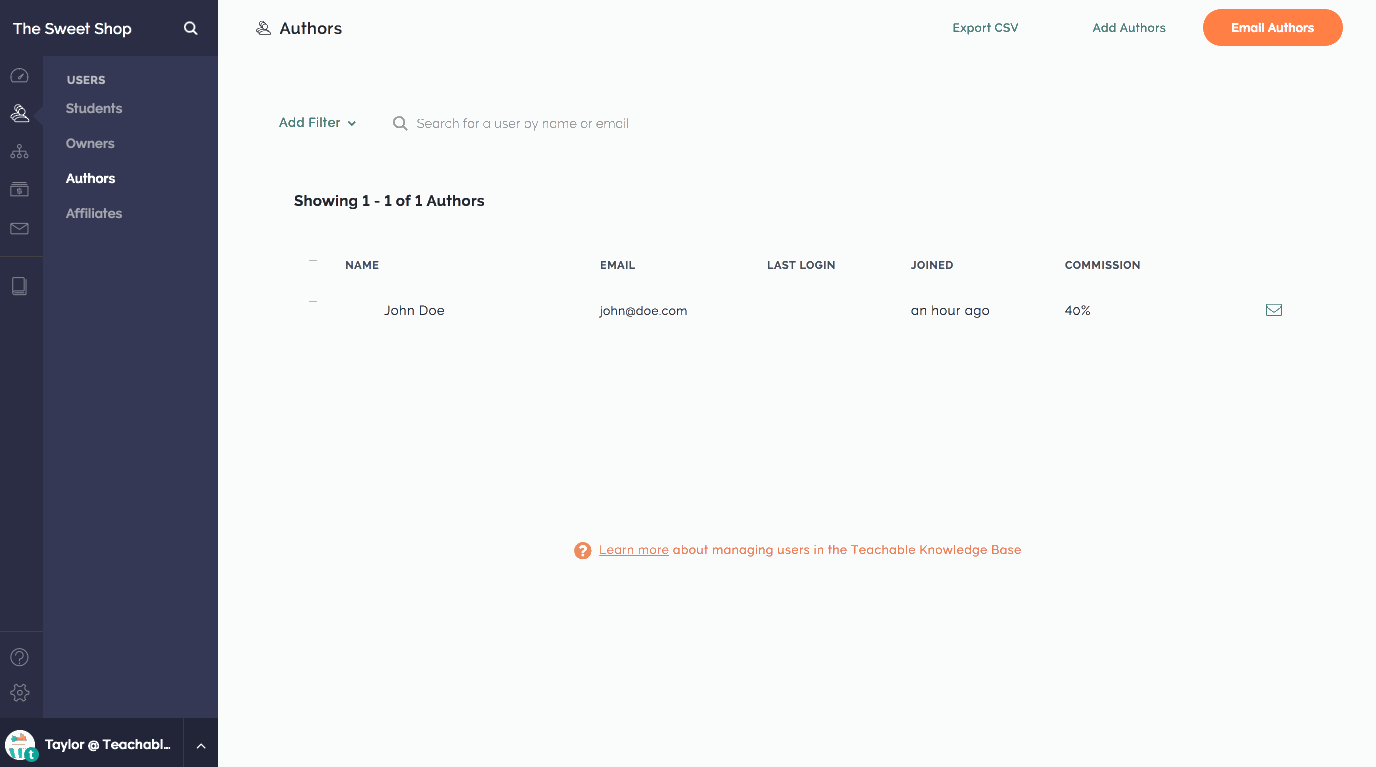 Be sure to click Save when finished.
Deleting Course Authors
You can delete your course authors at any time by following these steps:
Choose the user you'd like to delete as an author.
Select Author from the admin sidebar. 

Click Unlink Author.
A notification will appear in the lower right-hand corner, letting you know that the user is no longer a course author.
You can delete the author profile by navigating to Site > Authors and clicking the red trash icon on the selected profile.