This article goes over what is included on a student receipt and how to resend receipts to your students.
Student Receipts
When a student purchases a course from your Teachable school, they automatically receive an initial purchase receipt via email. If a student purchases a recurring pricing plan (e.g. a subscription or payment plan), then they will not automatically receive receipts for subsequent payments.
If you're on the Basic plan and up, then you can preview the Receipt template in the Emails > Template Editor section of your school admin. To open the template, select Students > Receipt from the Select a Template drop-down menu. Once you've opened the template, click the Preview button to view how the template will appear to your students.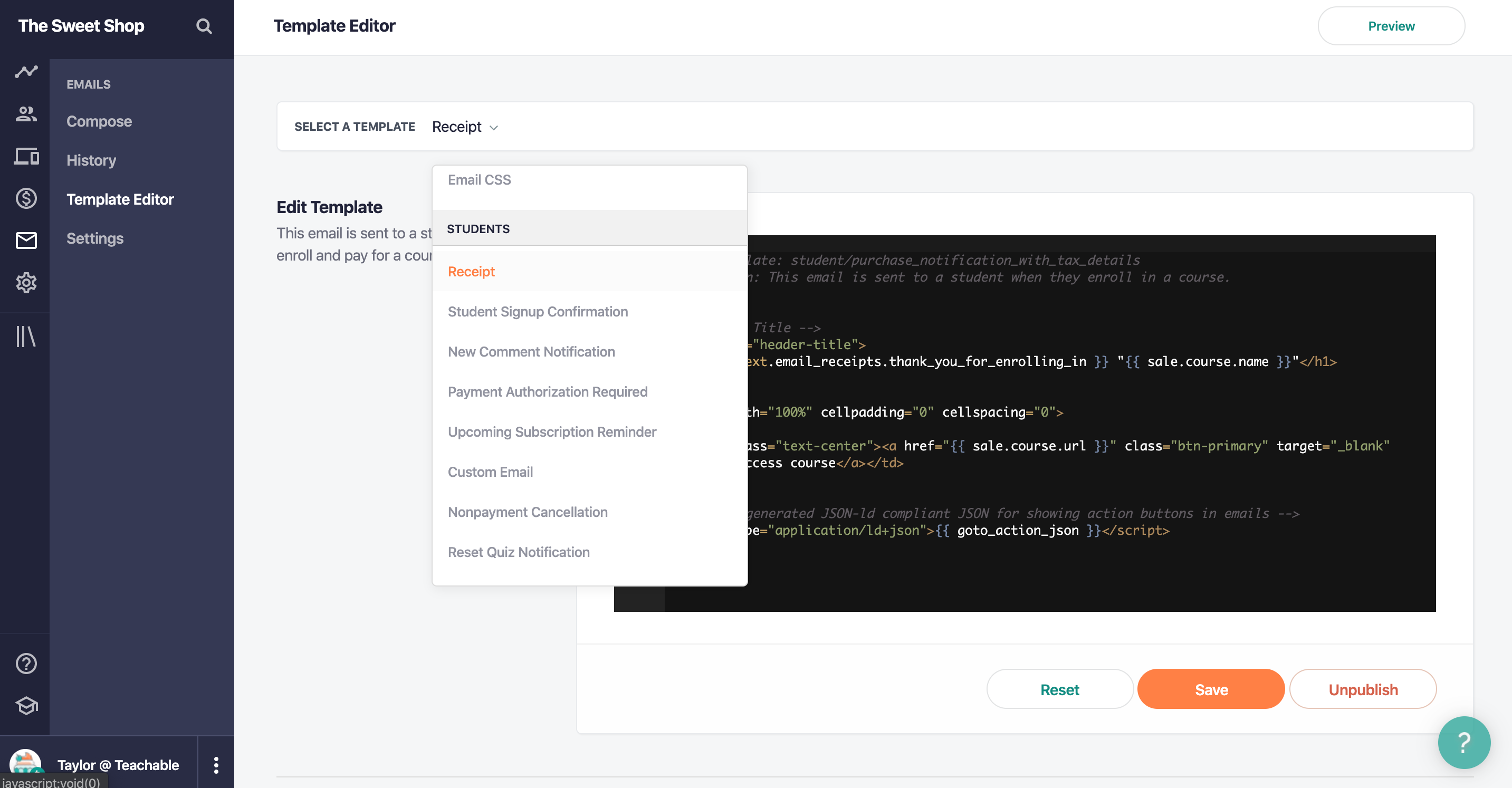 Receipts for paid products cannot be disabled. Receipts for free products can be disabled from the Emails > Settings menu.
Depending on which payment gateway processed the transaction, student receipts sent from Teachable may contain the following information:
Purchased By - The name of the student who purchased the product, including their billing address and VAT ID (if applicable).
Billing Address - The address where the product was purchased.
Shipping Address - The address where the product will be used (may be the same as Billing Address).
Order Number - A unique number assigned to the receipt.
Payment Method - The method used to purchase the product. If purchased with a credit/debit card, the type and last four digits of their card will appear here. If purchased with PayPal, then their PayPal account email address will appear here.
Purchased Date - The date the student purchased the product and a receipt was sent.
Issued Date - Similar to Purchased Date, but can also reflect a receipt re-issue.
Course Name - The name of the course the student purchased.
Course ID - The identification number of the course the student purchased.
Discount - The coupon code applied to the purchase, along with the discount amount.
Tax - The rate of EU value-added tax (VAT) charged (if applicable).
Total price - The total amount charged to the purchaser.
Provider - The name of your school and link to your school's URL, including your billing address and VAT ID (if applicable).
Supplier - Teachable, as the marketplace facilitator of the product purchased.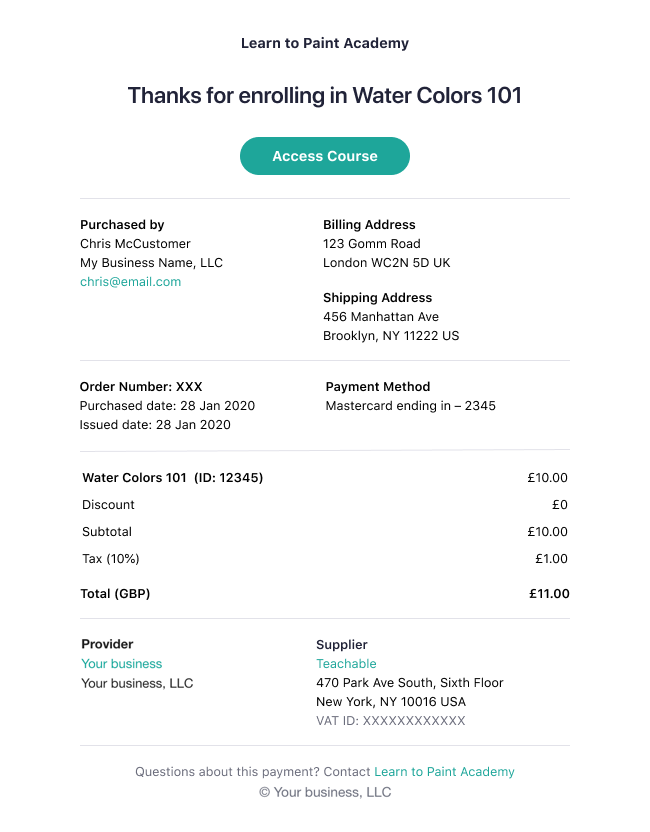 Resend a Student Receipt
If your student requests an invoice for tax purposes, we recommend directing them to their initial purchase receipt, as it should contain all of the information they need for tax reporting. If your school is on a paid plan, you can resend initial purchase receipts to students at any time in the Summary section of the student's transaction details:

TIP: If you click Resend Receipt after you have refunded a student, the resent receipt will reflect the final sale price charged to the student after the refund. This means that if you fully refund a purchase, the total charge on the resent receipt will be $0.