Teachable is an all-in-one platform that helps you create and sell courses online. Teachable handles everything from web hosting to payment processing. We want to give you more time so you can focus on what matters—creating an awesome online business.

This article is a guide to getting started with the Teachable product.
Overview
Once you create your Teachable account, you are ready to start building your online business.
At Teachable, we believe that anybody who is interested in transforming knowledge into income is ready to start building an online business. This could mean several things—you could already be teaching in-person courses or trainings, and you want to start offering these courses online. Or, you could have knowledge or expertise on a subject and want to start building an online course or coaching business to share this knowledge with others.
A school is your main Teachable website where your products are hosted. Many creators sell online courses as their products—however, others sell individual coaching or training sessions, among other things. When you sign up for a Teachable plan, you will be creating one school. Each school can host an unlimited number of individual courses or products.
TIP: To learn more about which plan might work best for you, check out our pricing page. If you need a bit more time before upgrading, continue to build your school on our Free Plan.
The first step in building your school is knowing where to get started. Our core TeachableU trainings are provided on paid Teachable plans and guide users on how to choose a course topic, create and launch a course, and build an audience.
However, some users prefer to dive right in and explore the Teachable product. You can use the maps below to help you get started. You can click on some of the different sections of the maps to bring you to separate Knowledge Base articles to understand how to use each product feature. (Not all blocks on the maps are clickable—instead, they indicate which path you are following).
Below each map, you'll find some additional details to provide some more context about the features. You can also choose to read about more advanced features if you'd like!
These maps are intended as a general guide—there is no "one size fits all" when it comes to creating an online knowledge business. Additionally, not all parts of the diagrams are required. For example, some creators choose to pre-sell their course—which means they often sell access before completing the lecture content. This map is intended as a general guideline to help you explore the product.
TIP: Click the magnifying glass with the "+" icon at the bottom of the diagrams to zoom in.
Create a product

Learn more about creating a course or creating a coaching product.
Tell me more
The first step you can take on Teachable is creating your first product.
You can create a product by clicking the "+" icon next to the Products heading on your left-side admin menu. You will be prompted to select either Course or Coaching as your product type.
TIP: A course is a product organized with curriculum that can include text, video, quizzes, or other file types. Coaching is a product where you can schedule time with clients one-on-one. To learn more about coaching services on Teachable, you can check out our blog post.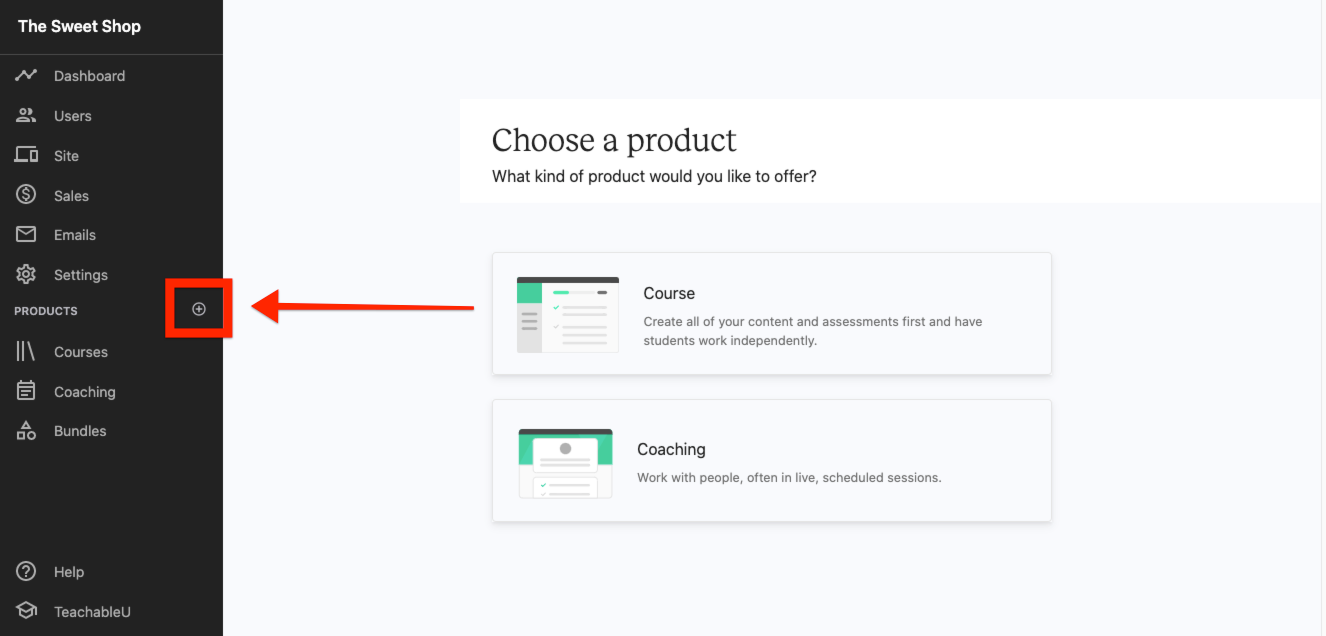 Once you select the product type, you will fill out some basic information about the product (such as the product name). You can always revisit this from the Information tab of the course or coaching product. Then, you can continue following the map above to finish setting up your product.
You can also combine multiple course or coaching products together into a product bundle. This offers more flexibility in selling your products at different levels or tiers.
Additional options
The map above includes the basic steps you should take to create a product. However, Teachable offers several additional features that you can choose to explore as well. These features include:
Create and customize your site

Learn more about using the page editor blocks and customizing your school's theme.
Tell me more
When creating an online knowledge business, you will often hear about the importance of building your pages, sometimes referred to as "landing pages." Pages are what your potential customers see when they navigate to your website. They should be designed to provide information on what you are selling and entice users to make a purchase.
Your school pages are intended to provide information about your business or school. You can access your school pages from the Site > Pages menu. Default school pages include a homepage, terms of use, and privacy policy. However, you can add as many custom site pages as you would like. For example, you can add an "about me" or "related resources" page.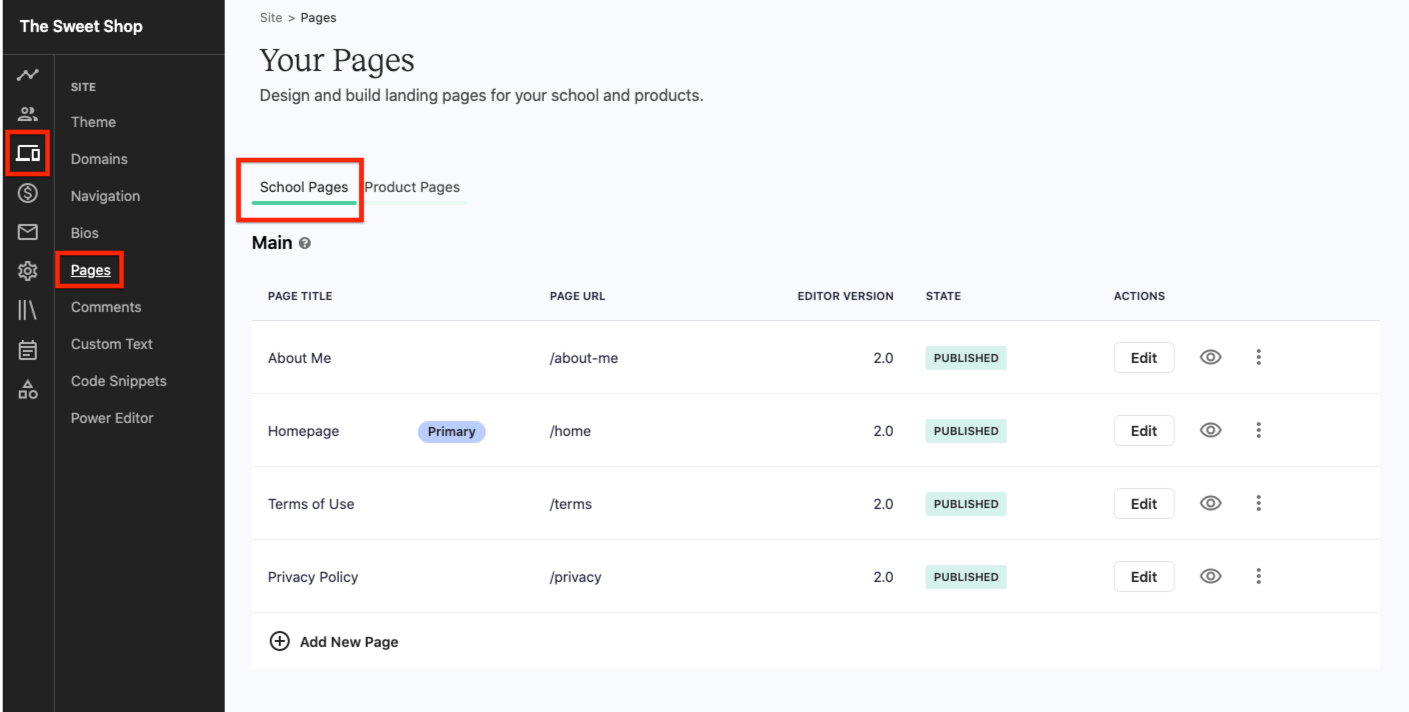 For creators that offer multiple courses or products, your site homepage is a great opportunity to highlight these different options.
One way to do so is to add a Featured Products block to your homepage. This way, potential customers can view the courses/products you offer from your homepage. If they click on a specific product, they will be brought to that product's sales page.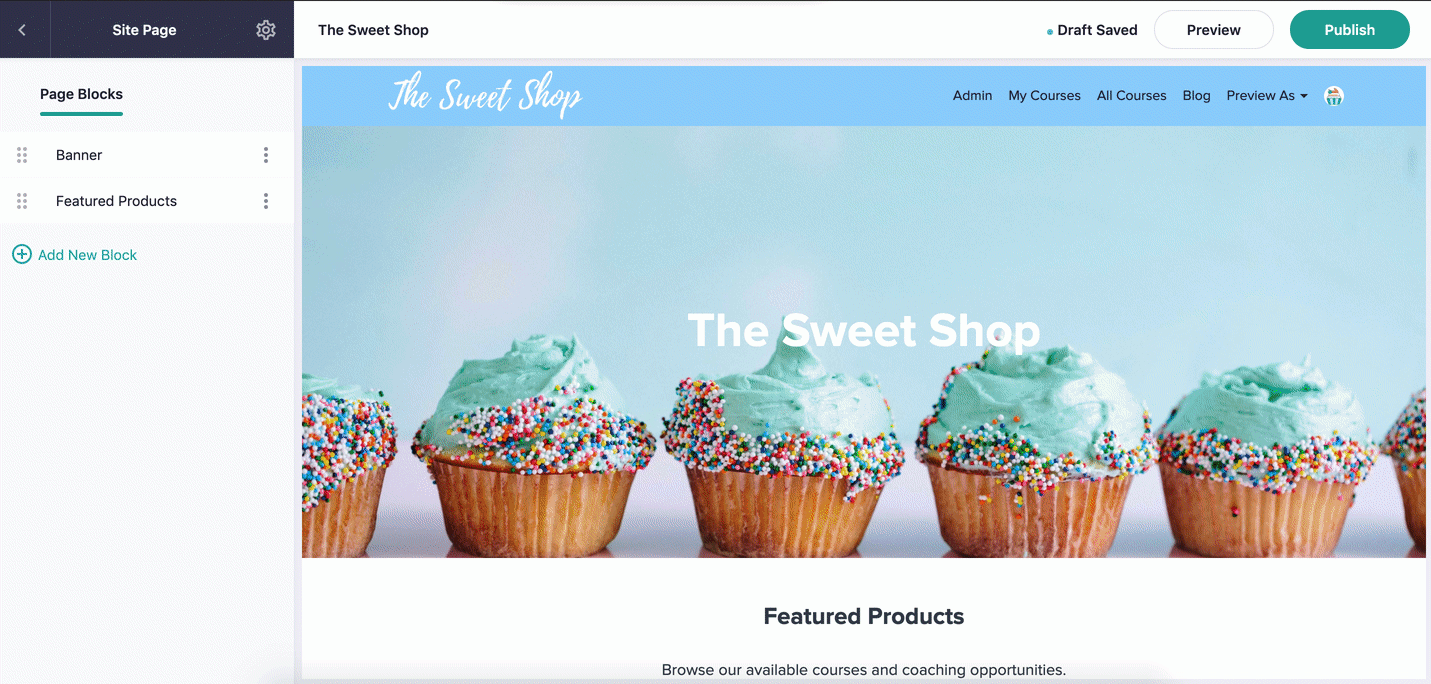 TIP: Use your Site > Navigation menu to personalize your school navigation. You can add pages you've created to your course navigation bar and footer, or you can choose a default homepage—which is the page users will see when they go to your school URL.
Additional options
The map above includes the basic steps you should take to set up and customize your site. However, Teachable offers several additional features that you can choose to explore as well. These features include:
Resources
The map above does not cover every feature the Teachable platform offers—we recommend continuing to explore the product and browse our Knowledge Base to learn about more advanced features you can use for your online business.
In addition to exploring the Knowledge Base, we also recommend checking out the following resources: