Teachable is an all-in-one platform that helps you create and sell courses online. Teachable handles everything from web hosting to payment processing. We want to give you more time so you can focus on what matters—creating awesome online courses.
Overview
We understand that getting started with Teachable can seem like a daunting task, which is why we've created this guide to explain our recommended first steps for setting up your school:
Create Your School
Select a Plan for Your School
Configure Your School's Domain
Set Up Payment Gateways
Create Your School
The first thing you'll need to do in order to start creating courses is sign up for an account and create a school. It's free–all you need is a valid email address!
Select a Plan for Your School
There are four school plans: Free, Basic, Professional, and Business. Each plan has its own set of features and support levels. By default, when you first create a school, you'll be on the Free plan. If you upgrade to a paid plan it will be billed to your credit card either for a monthly or annual subscription fee. To learn more about Teachable plans and pricing, refer to our comparison guide.
You can upgrade or downgrade your plan at any time. Teachable also offers a 30-day refund policy for all paid plans, so you can request a refund and cancellation of your paid plan within that time.
Teachable does not offer multi-school plans. For example, if you want two schools on the Basic plan, you would have to purchase two subscriptions of the Basic plan—one for each school.
Configure Your School's Domain
We offer free Teachable subdomains to all schools, but if you're on the Basic plan and up, you can connect a custom domain or subdomain. To learn more about domains, visit our Get Started with Domains guide.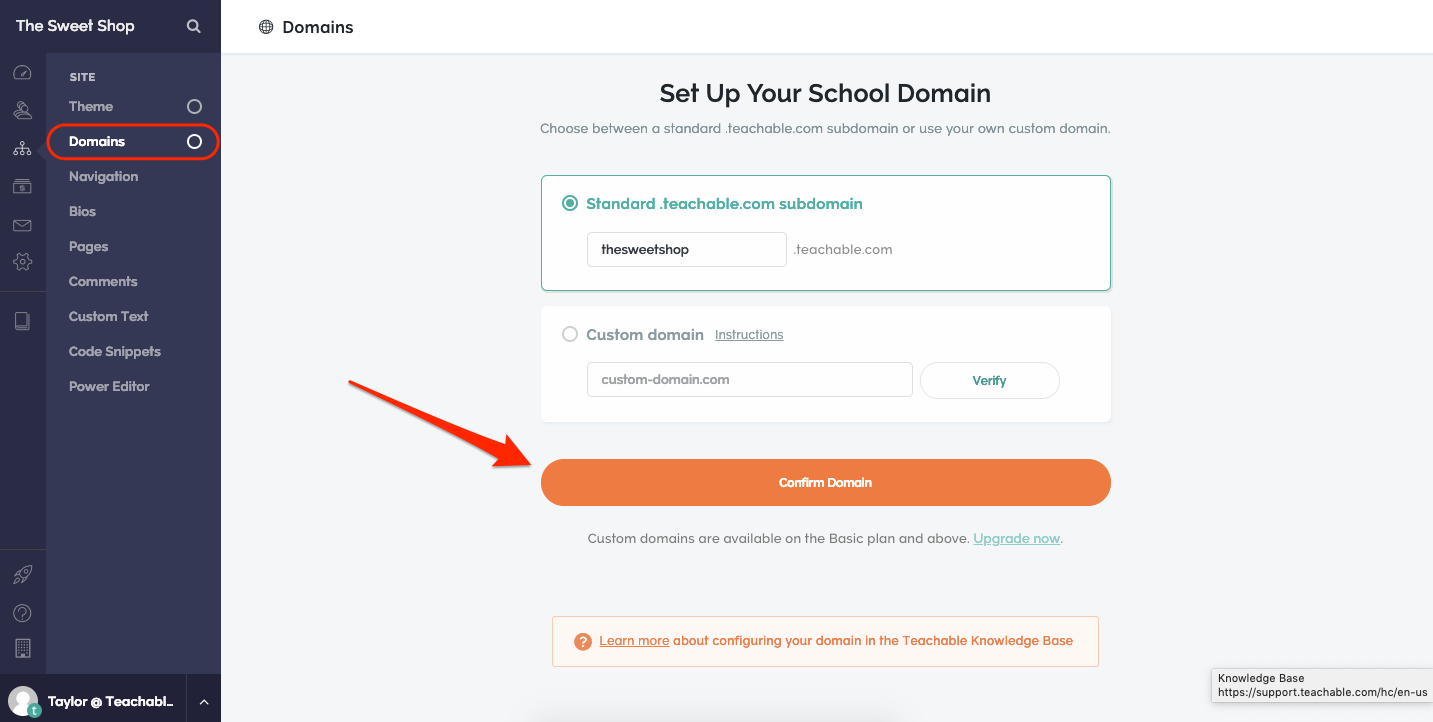 Set Up Payment Gateways
Setting up payment gateways for your school allows you to start accepting payments from students and receive payouts for course sales. You have three payment gateway options for your school: Teachable Payments, the Monthly Payment Gateway, and custom payment gateways. To learn more about payment gateways, visit our Get Started with Payments guide.
Next Steps
Now that you've completed basic school setup, you can start further customizing your school and building your course(s). These steps are recommendations and do not need to be completed in a certain order. 
If you're on a paid plan, you can also access Teachable's online training academy, TeachableU, to learn more about getting started with Teachable.
Customize Your School's Site
Change the look and feel of your school by modifying your school theme and navigation. To make more advance customizations to your school site, you can also use Code Snippets & Custom CSS, Custom Text, the email Template Editor (Basic plan and up), and the Power Editor (Professional plan and up).
Create Your First Course
You can create an unlimited amount of courses in your school. Once you've created a course, you can start adding sections, lectures, and content. You can also set up a drip schedule for time-releasing course content and customize your course's sales page, checkout page, and thank you page.
Once you've finalized your course content and pages, you can then publish your course and open enrollment by adding pricing options.
Launch Your School
If you're ready to take your school online and sell your courses to the world, you can launch your school. When you first create a school, you'll have the option of going through onboarding in your school dashboard. You can either launch your school via your school dashboard or in your school settings.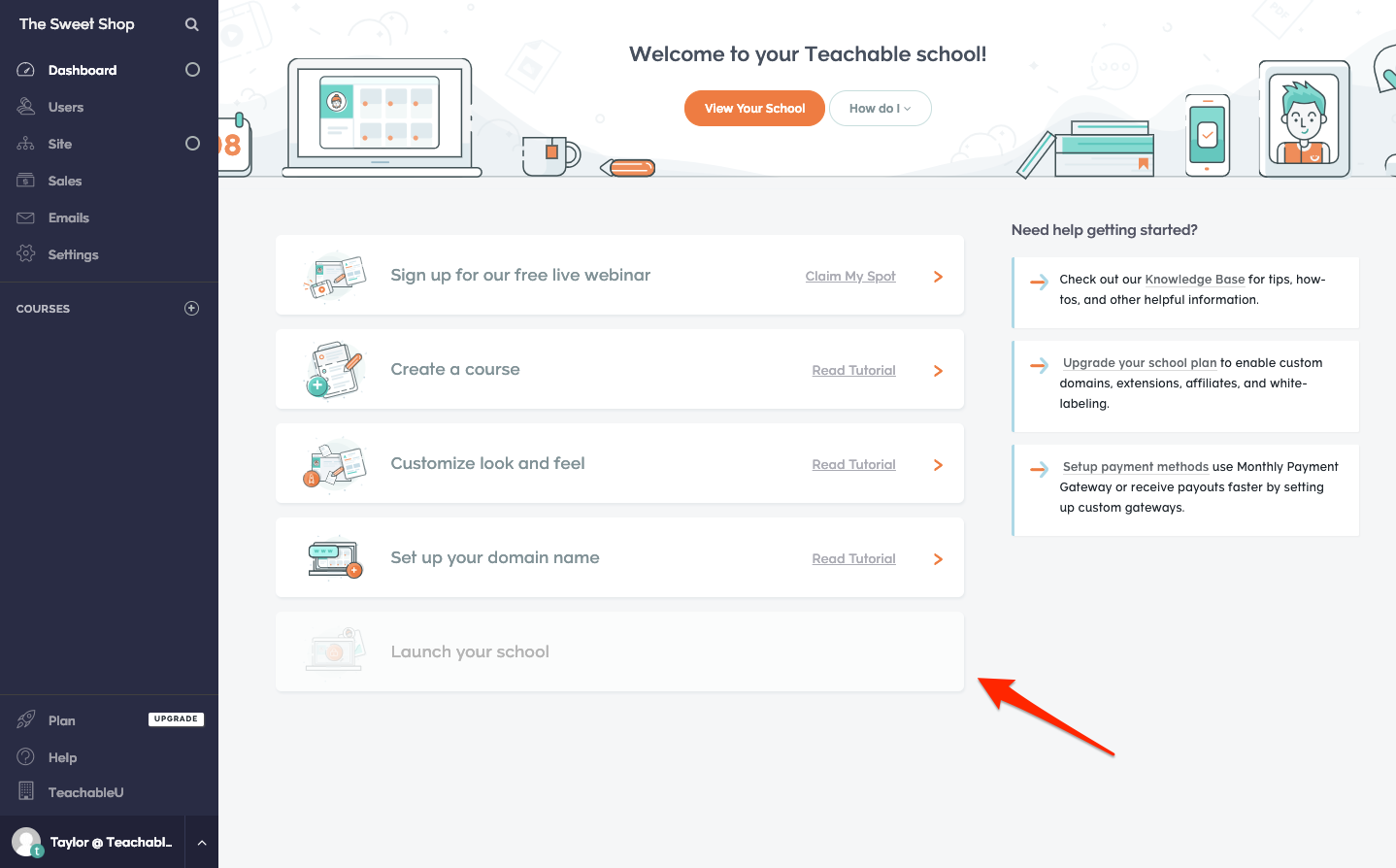 Marketing Your Course
Teachable is not a marketplace, and therefore, does not market your course. If you're looking for marketing help, we recommend checking out the Teachable Blog, which is a great resource at any point in your course creation process, from creating content to marketing your course.
Get Help
Teachable offers several support resources designed to help school owners with every step of the school and course creation process. To learn more about available support resources, visit our Where to Get Help guide.