This article goes over how to create a course within your Teachable school, and also covers how to add and modify basic course information. If you're looking for information on setting up mini courses, we have a blog post that provides more detail.
Creating a Course
After you create your school, you'll be prompted to create your first course. However, you don't need to do this right away. You can always come back later to create your first course—or add additional courses—at any time.
To create a course on your school:
From your Teachable admin area, click the Courses tab in the admin sidebar. Alternatively, you can press the plus icon next to Courses and skip to step 3.

Click New Course.
This will bring you to the new course area where you can input course details, including the Course Title and Course Subtitle. You can also choose a course author using the Select Author drop-down menu.

After entering the course's information, click Create Course.
Course Details
In the Information > Details section of your course's page, you can modify information that will be displayed across your school. Here, you can modify the following information:
Name - the title of your course as it appears throughout your Teachable school.
Subtitle - You can use this to add additional information about the course content. The subtitle will appear beneath the course name in your course directory.
Categories - Categories make it easier for students to find the specific type of course they want when they're looking through your school.
Search Engine Optimization (SEO) (Legacy Page Editor)
NOTE: This section is only available for courses that were created with Page Editor 1.0. For courses created with Page Editor 2.0, you can edit the course details (such as URL, page title, and page description) from the page settings of your sales page. For more information on Page Editor 1.0 vs. Page Editor 2.0, please see this article.
In the SEO area, you can make your course's sales page more search-engine-friendly by modifying pertinent course details. Please note that this section will only appear if you're using the legacy page editor. If you are using the new page editor, your page's SEO settings will appear in the editor.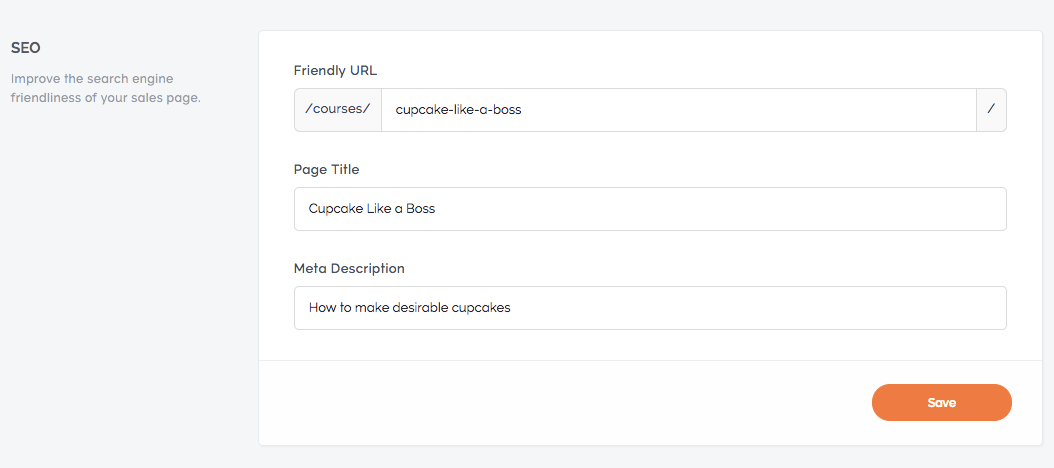 Friendly URL - One of the most basic search engine optimization techniques is in using an SEO-friendly URL. A friendly URL is a web address that is easy to read and includes words that describe the content of the webpage.
Page Title - the title that will appear in search engine results.
Meta Description - This brief phrase summarizes a webpage's content—think of it as a short sales pitch for your Teachable school. Ideally, a meta description should be no longer than 160 characters.
Branding
In the Branding area, you set a custom thumbnail logo (2.0 and 1.0 schools) and/or promo video (1.0 schools only). Similarly, you can set different images to use on the iOS app (as different dimensions are recommended):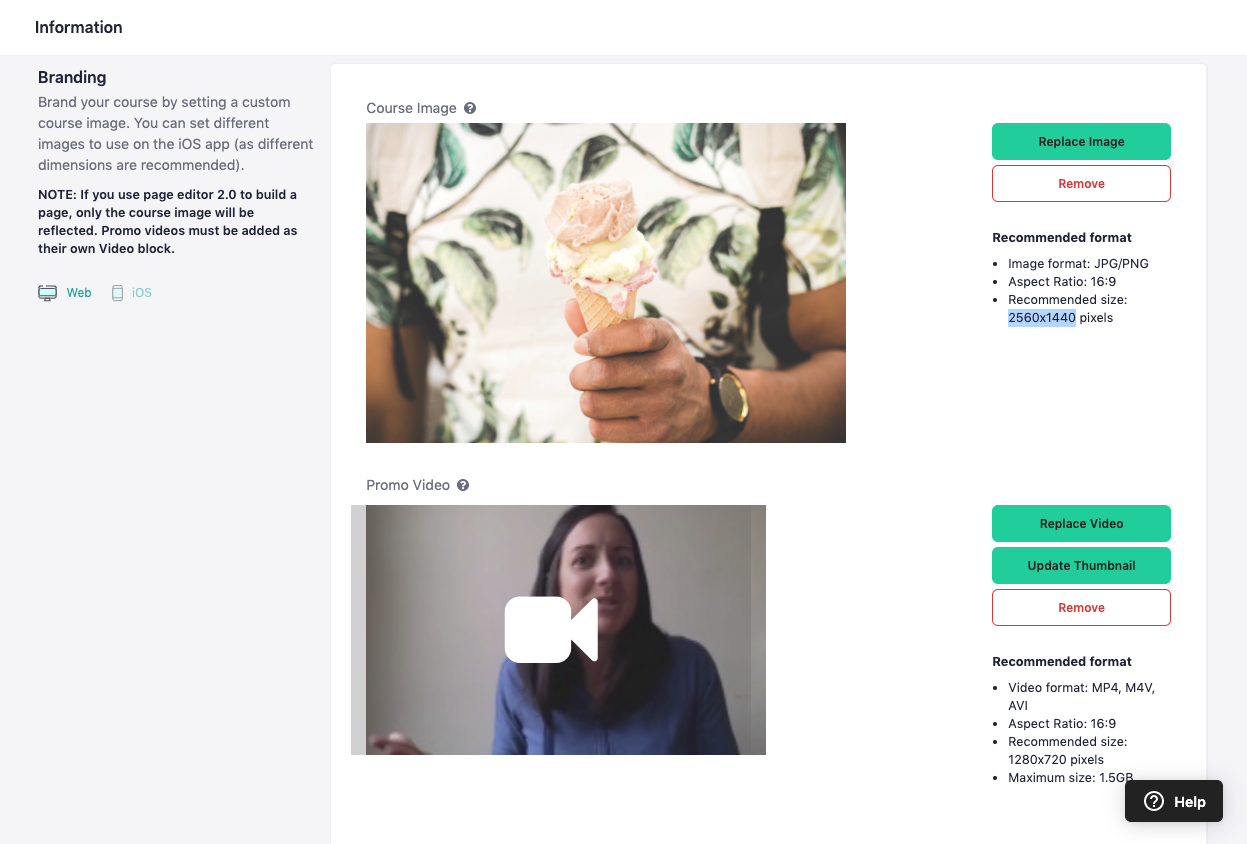 Course Image- A small image that is used to represent your course across your school; it appears to your students in the sidebar of the course curriculum and in the course directory of your school. We recommend using a 2560x1440 JPG or PNG file type for thumbnail.
Promo Video (1.0 schools only) - A short promotional video that displays in the Course Hero Header block on your course's sales page. We recommend using either 1920x1080 or 3840x2160 (MP4, M4V or AVI) video, no larger than 2 GB. Generally, we also recommend that you compress your videos as much as possible.
TIP: If using a 4k or 1080p video, we recommend you compress your files as much as possible. You can use a tool like Handbrake to help compress your file without losing quality in your video.
To set an image to use on the iOS app for the thumbnail and background images of your course, click on the iOS icon. We recommend that thumbnail images for the iOS app be a 300x300 JPG or PNG file, while background images should ideally be a 1080x607px JPG or PNG file.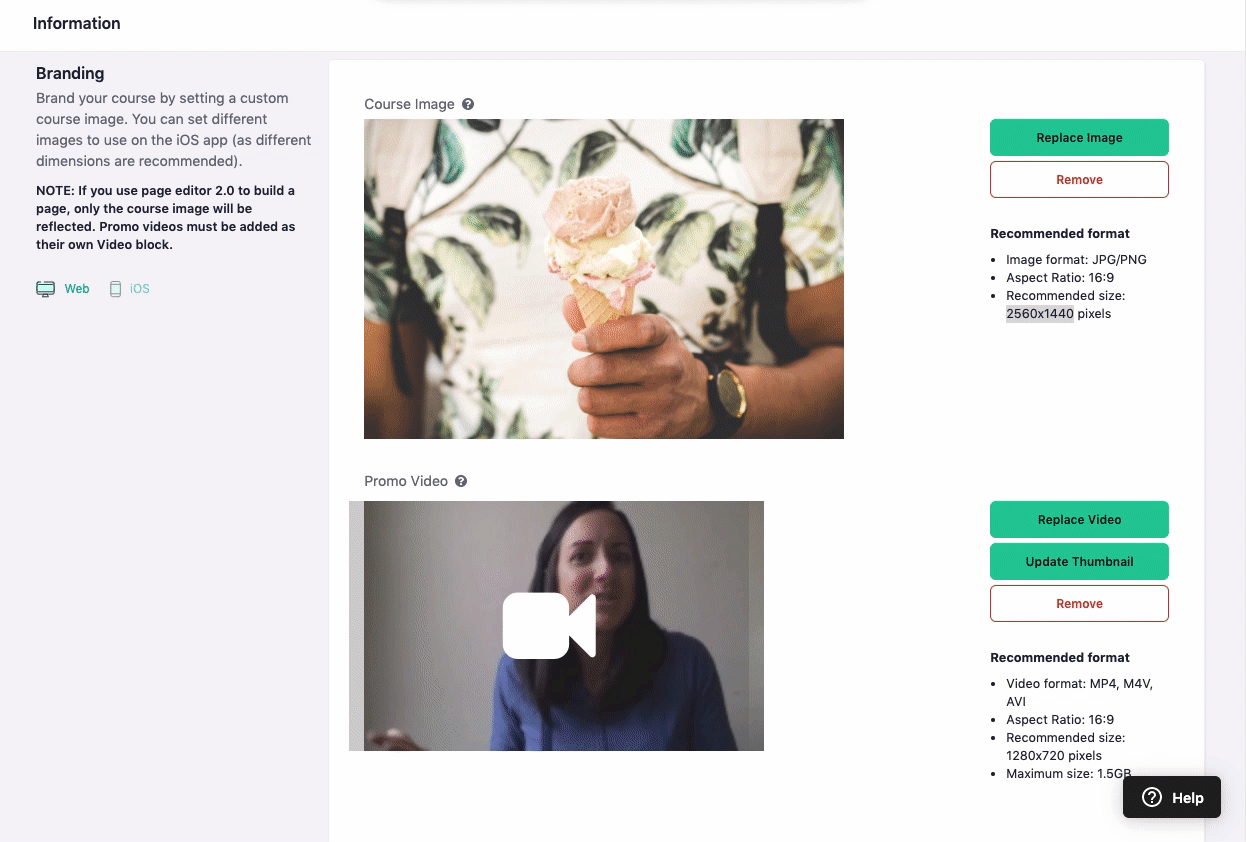 To remove any images or videos that you've uploaded in the Branding section, click the Remove button
Default Pages
Using the Post Purchase Page drop-down menu, you can specify the page students will land on after purchasing your course. For example, you may want your students to be taken immediately to a course's curriculum, instead of the thank you page, to create more seamless access to the course.
You can choose to redirect your students after the checkout page to one of these three options:

Thank You Page - After purchasing your course, students will be directed to your thank you page.
Enrolled Course Curriculum - After purchasing your course, students will be directed to your course curriculum page.
Custom URL - After purchasing your course, students will be directed to the URL specified in the Custom Post Purchase Redirect URL field.
Deleting a Course
You can delete a course at anytime by selecting your course from the admin sidebar and clicking Information from the upper navigation. Scroll down to the Delete section, then click Delete Course Permanently.
CAUTION: Deleting a course is irreversible. Once you confirm that you would like to delete your course, it will be irretrievable.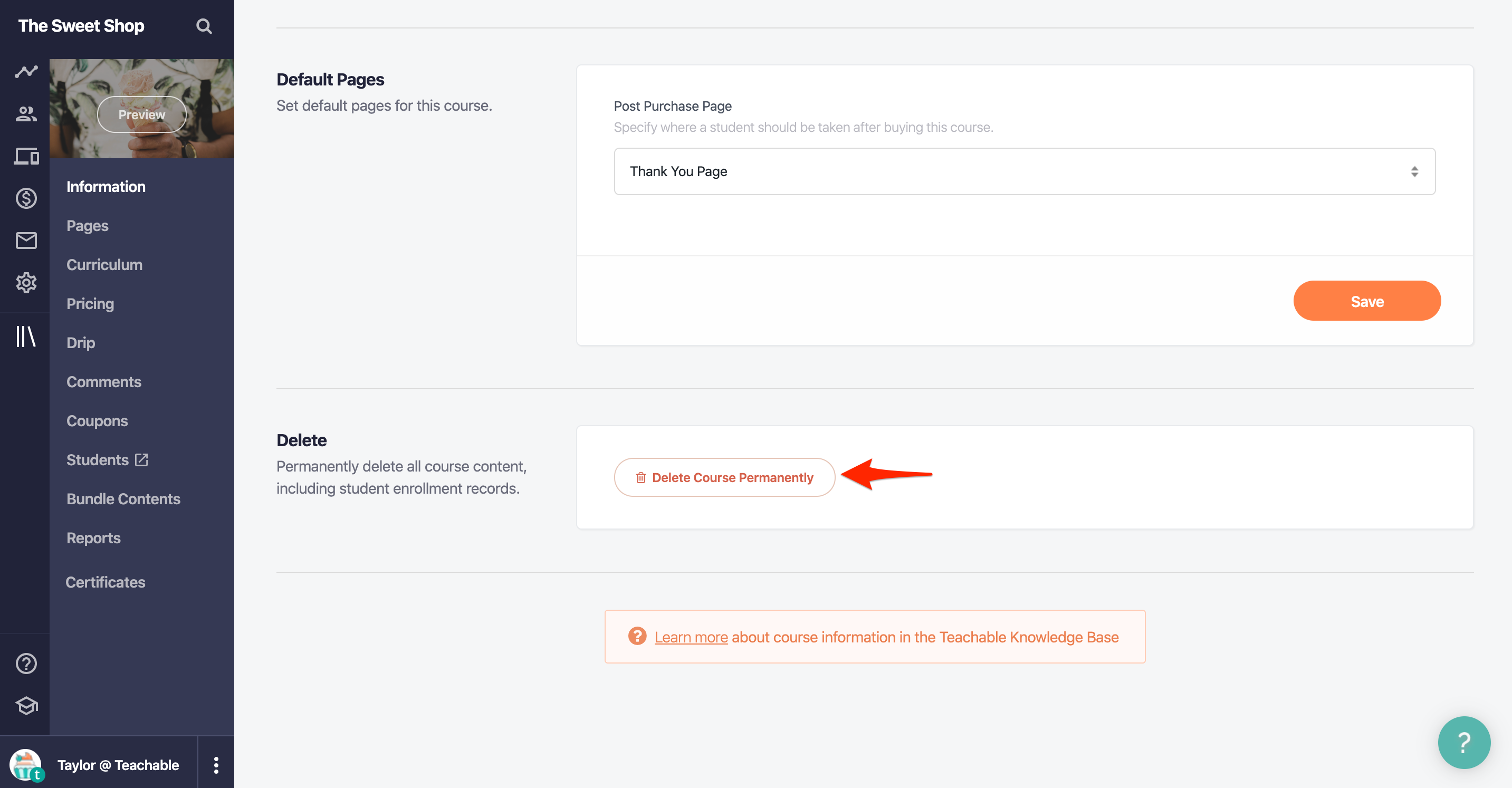 Next steps
Once your basic course details are set up, you are ready to start building your course content, pages, and pricing options. The following Knowledge Base articles cover these topics in more details: