You have the ability to change your Teachable plan at any time. For more information about Teachable plans and pricing, visit our pricing page.
Overview
There are 4 types of Teachable plans:
Free
Basic
Professional
High volume
For more in-depth information on feature availability per plan, take a look at this plan comparison chart. 
The Current Plan icon indicates the plan your school is currently under. The Next Payment date is when you will be charged for the renewal of your plan.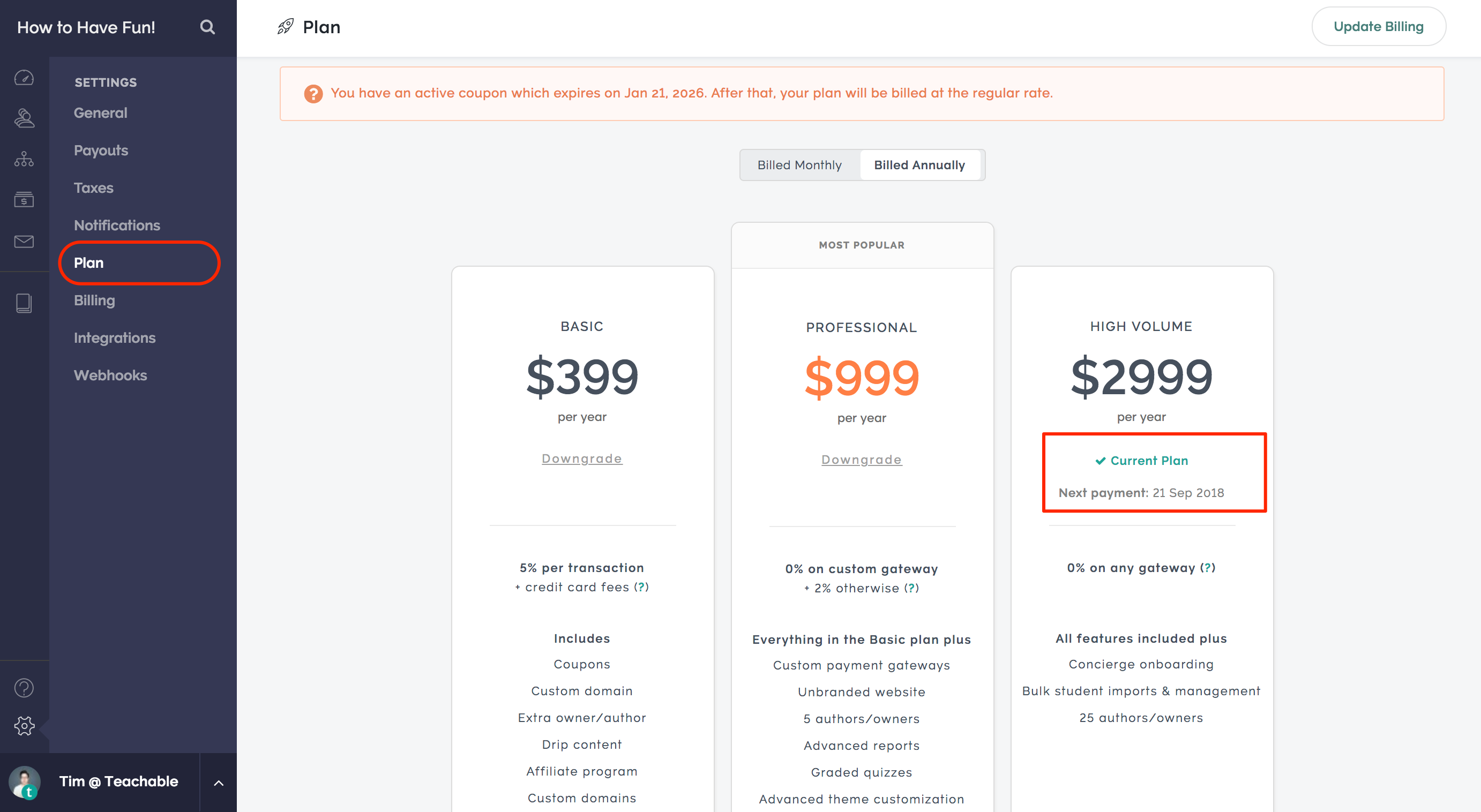 Annual Versus Monthly Billing
All paid plans come with the option of being billed monthly or annually. You can change your plan at any time from monthly to annually under the Settings > Plan in the admin sidebar. 
By default, all paid plans are set to automatically charge at the beginning of each billing period (monthly/annually), unless you downgrade your account or submit a cancellation request through a ticket.
Upgrading Your Plan
To upgrade your school's plan, you must go to the admin area of the school itself. Plans cannot be upgraded from your myTeachable dashboard. If you have multiple schools that you want to upgrade, you'll need to upgrade them one at a time, following the process below.
Log into your Teachable school and access the admin area.
Click on Settings in your admin sidebar.
Choose Plan.
To upgrade your school, find the plan you would like to upgrade to and click Upgrade. Note that you can switch between monthly and annual plans using the toggle button. 
A window will pop up asking you to confirm your plan change. If you are upgrading from a paid plan, your credit card information will be automatically inputted and you'll just have to confirm the upgrade. If you have no credit card information stored, you'll have to input it before confirming your upgrade. This is also where you would enter your coupon code, if available. 

If you'd like to change your billing information, you can do so by going to the Billing page within your admin area, or clicking the Update Billing button. For more information, take a look at the Update Billing Information article.
To finalize your upgrade, click the Confirm Upgrade button.

Downgrading Your Plan
To downgrade your plan, find the plan you would like to switch to and click the Downgrade button. If you're downgrading from a paid plan to another paid plan, you'll just be asked to confirm the change. When you downgrade your plan, Teachable holds the right to remove any additional features that are no longer supported on your plan.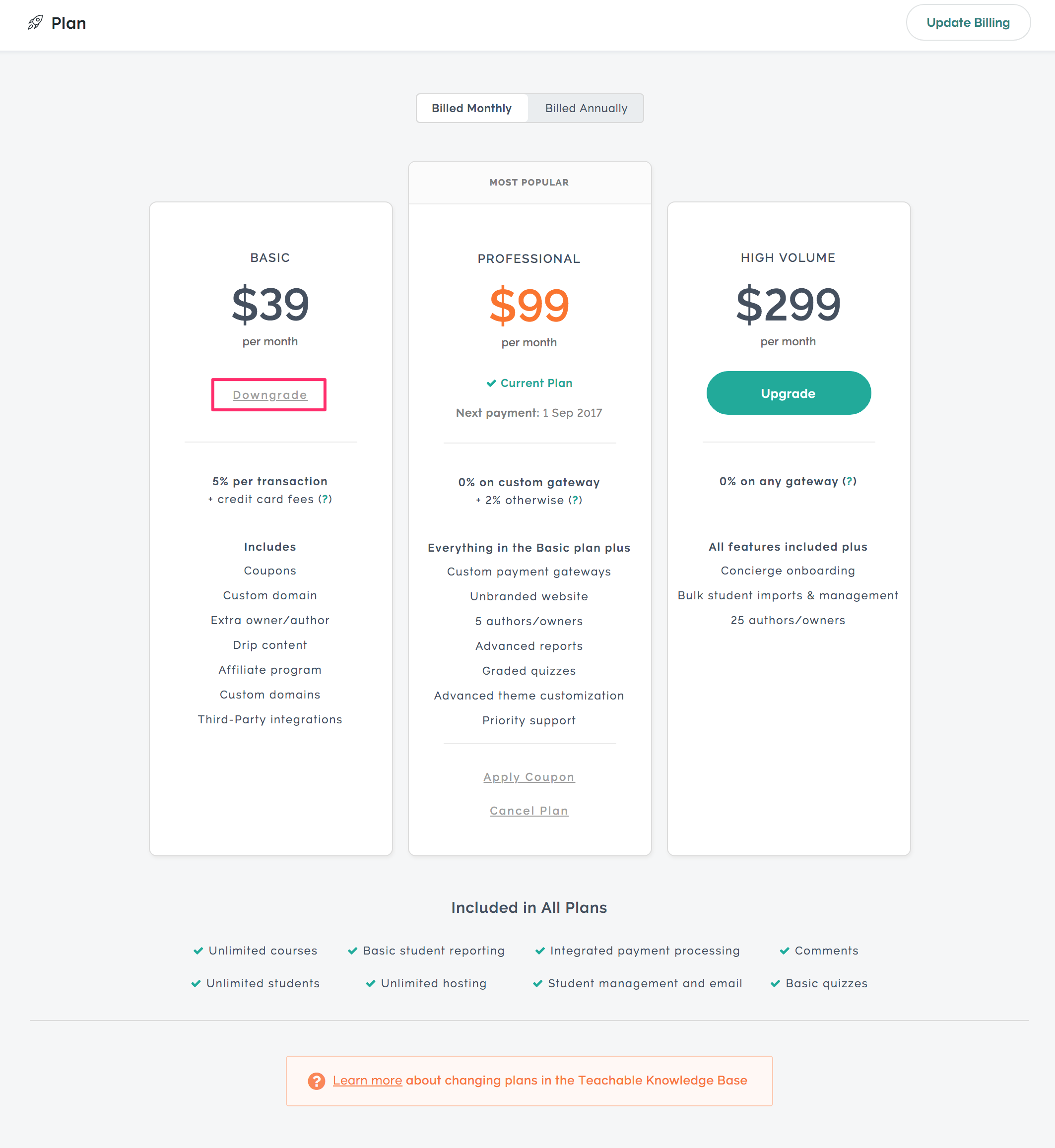 If you'd like to completely cancel your Teachable plan, find the plan you are currently under and click the Cancel Plan button.
You'll be asked to confirm your cancellation, as well as take a look over the features that you will lose by cancelling.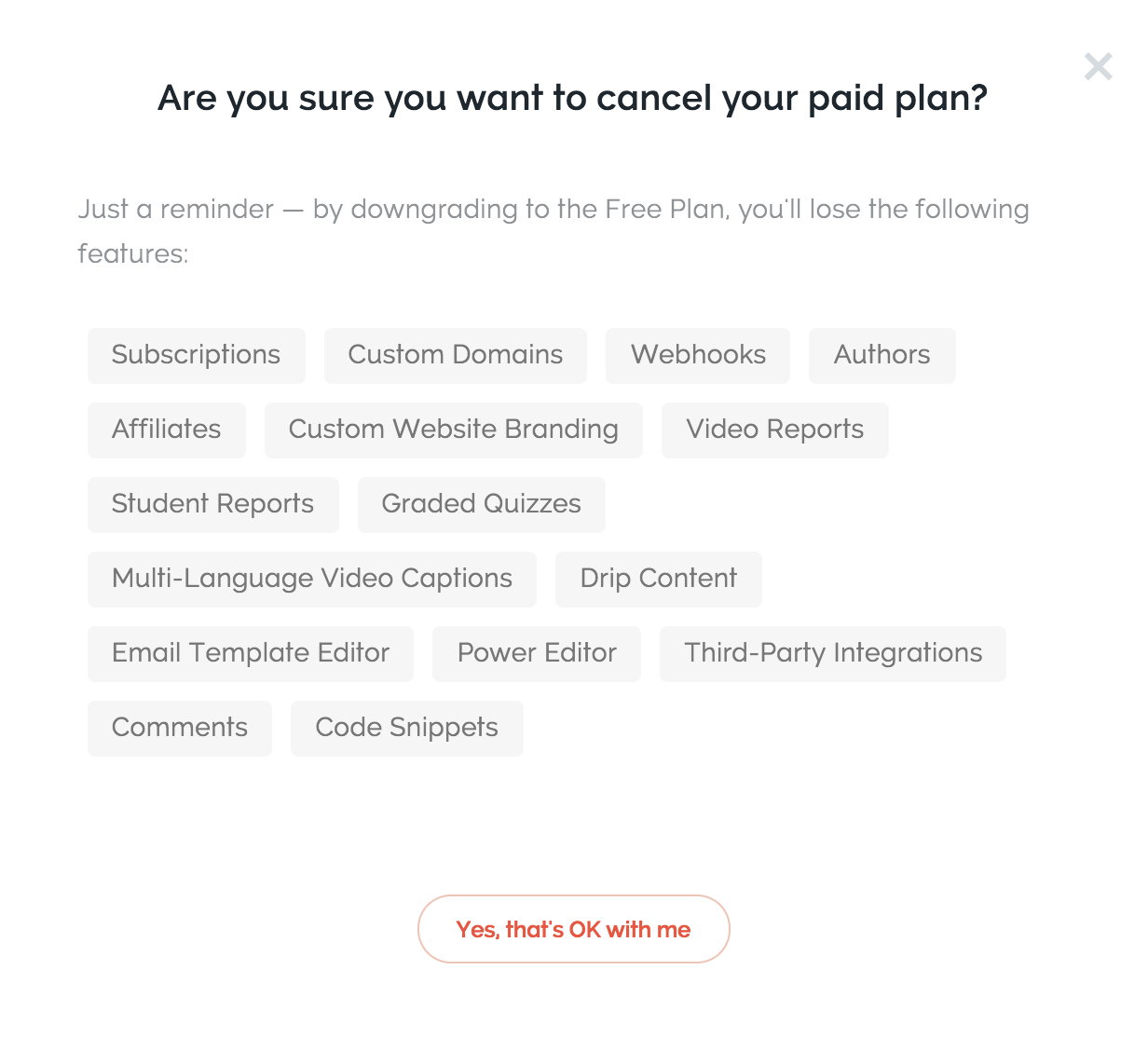 NOTE: If you cancel a paid plan, the cancellation will become effective at the end of the then-current billing cycle.
To complete your cancellation, select Yes, that's OK with me.