You have the ability to change your Teachable plan at any time. For more information about Teachable plans and pricing, visit our pricing page.
Overview
There are four types of Teachable plans:
Free
Basic
Professional
High volume
Your current Teachable plan information can be found in the admin sidebar under the Plan tab.
Annual Versus Monthly Billing
All paid plans come with the option of being billed monthly or annually. You can change your plan at any time from monthly to annually under the Settings > Plan in the admin sidebar. Switching to annual billing saves money as compared to paying 12 months individually.
By default, all paid plans are set to automatically charge at the beginning of each billing period (monthly/annually), unless you downgrade your account or submit a cancellation request in writing via email/through a ticket.
Upgrading Your Plan
To upgrade your school's plan, you must go to the admin area of the school itself. Plans cannot be upgraded from your myTeachable dashboard. If you have multiple schools that you want to upgrade, you'll need to upgrade them one at a time, following the process below.
Log into your Teachable school and access the admin area.
Click on Settings in your admin sidebar.
Choose Plan.

Below your current plan, you will see all available Teachable plans.
Click on the Choose This Plan button for the plan you'd like to switch to.

A window will pop up asking you to confirm your plan change. If you're switching from the free plan to a paid plan, this is where you'll enter your credit card information. Otherwise, the window will display your current stored card, plus an option to use a different card. This is also where you can input a coupon code for a discount on the upgrade price.
Click the Confirm Upgrade button.
Downgrading Your Plan
To downgrade your plan, follow steps 1-3 above. If downgrading to the free plan from a paid plan, you'll see a pop-up like this, advising you that you'll lose features by downgrading: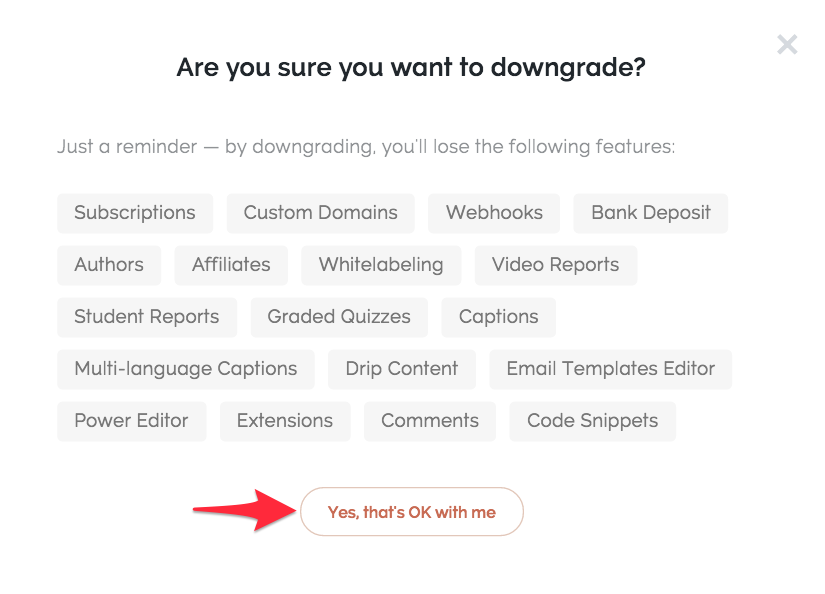 Select Yes, that's OK with me.
If downgrading from a paid plan to another paid plan, you'll just be asked to confirm the change.
NOTE: If you choose to downgrade your monthly paid plan to a free plan, your paid plan will be terminated immediately.
When you downgrade your plan, we hold the right to remove any additional features that are no longer supported on the plan.
Viewing Your School Billing History
At the bottom of the Plan page, you can view your Teachable billing history.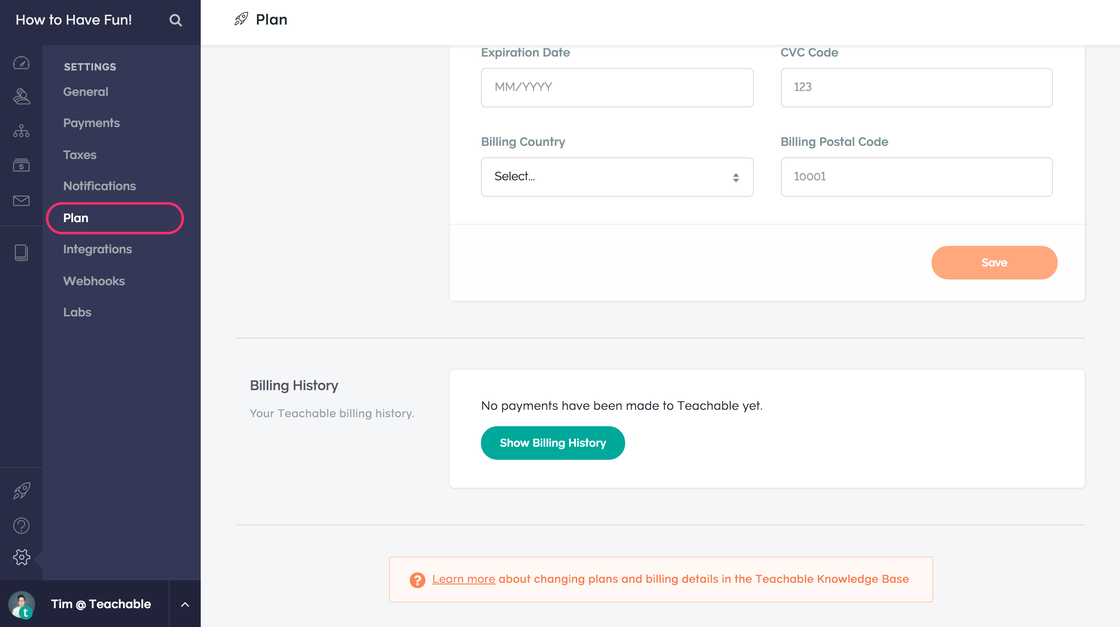 For each transaction, you'll see the payment date, payment ID, amount paid, which plan you were billed for, and whether it was an annual or monthly plan.
You'll also be able to resend the receipt of any transaction, to your Teachable associated email address, by clicking the Resend Receipt button.