This article goes over where to learn more about Teachable and contact our support team.
The Knowledge Base
If you're not sure how to use a feature or complete a task in your Teachable school, we recommend checking out the Knowledge Base—which you are now reading!—consider it the Teachable "manual".
Weekly Live Webinars
If you'd like to view a live demo of Teachable or participate in a live workshop, we recommend registering for one of our weekly webinars. The webinars will guide you through choosing a course topic, setting up your school, and marketing your courses. At the end of each webinar, there's a live Q&A for you to ask any questions you have related to setting up your online school.
Register for the 7 Steps Webinar (Every Tuesday at 2pm EST | 11am PT)
Register for the Quickstart Webinar (Every Thursday at 2pm EST | 11am PT)
The Teachable Tribe
If you want to connect with other course creators on Teachable, you can request to join our course creator Facebook community which has 25k+ members and counting. Ask questions, share resources, and participate in a growing community of course creators.
TeachableU
TeachableU was created by the Teachable team to provide additional resources to school owners on an active paid plan. TeachableU includes our most-updated training programs, as well as monthly live-streamed workshops with experts in a variety of industries.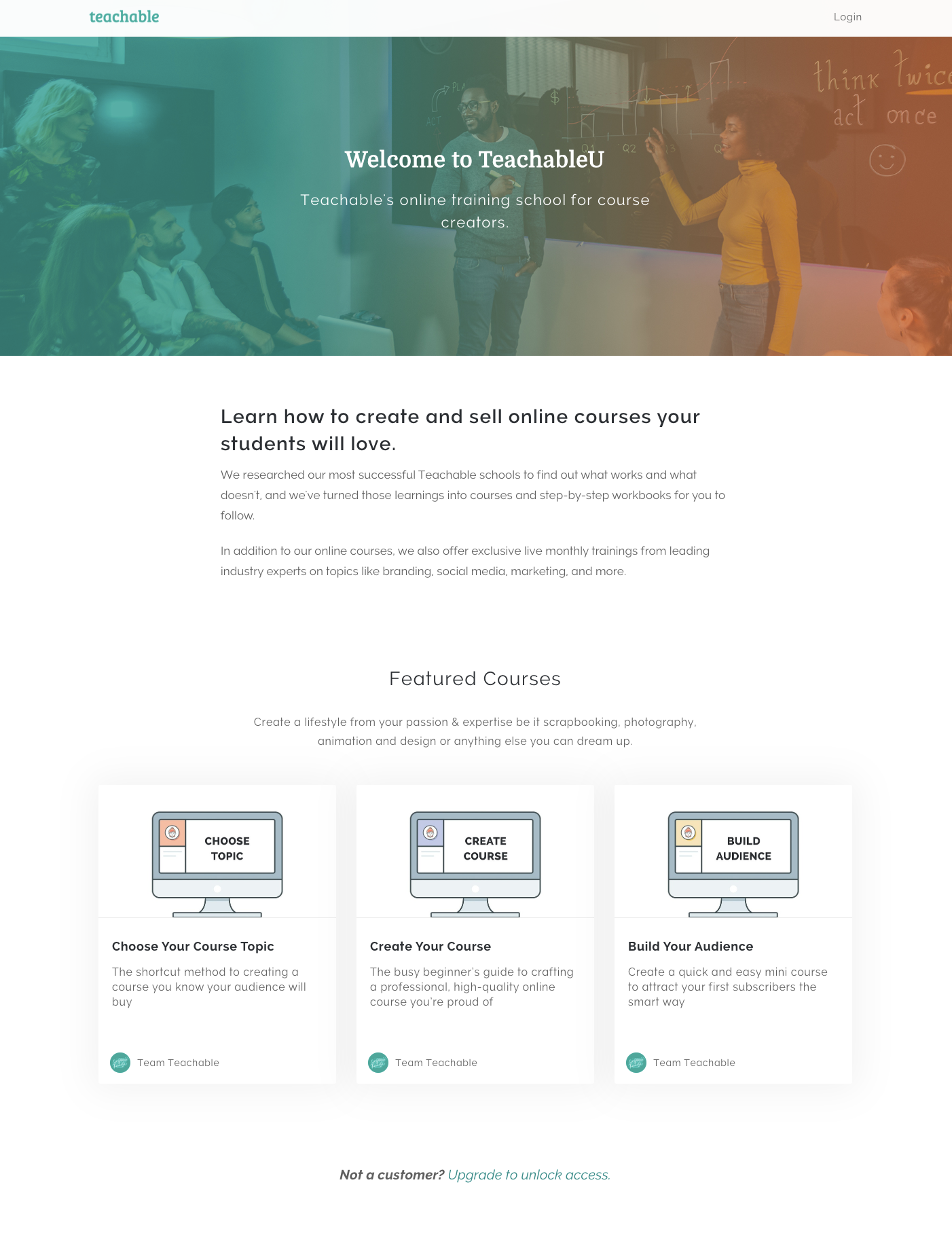 Teachable Help Center
You can access our Help Center through your school admin or your myTeachable profile page.
To locate the myTeachable Help Center, log in to your myTeachable account and select Help from the sidebar. (If you have not created a myTeachable account or are not logged in, you will be prompted to do so). Once logged in, you'll have to option to Search our Knowledge Base, Submit a Ticket or Manage Tickets.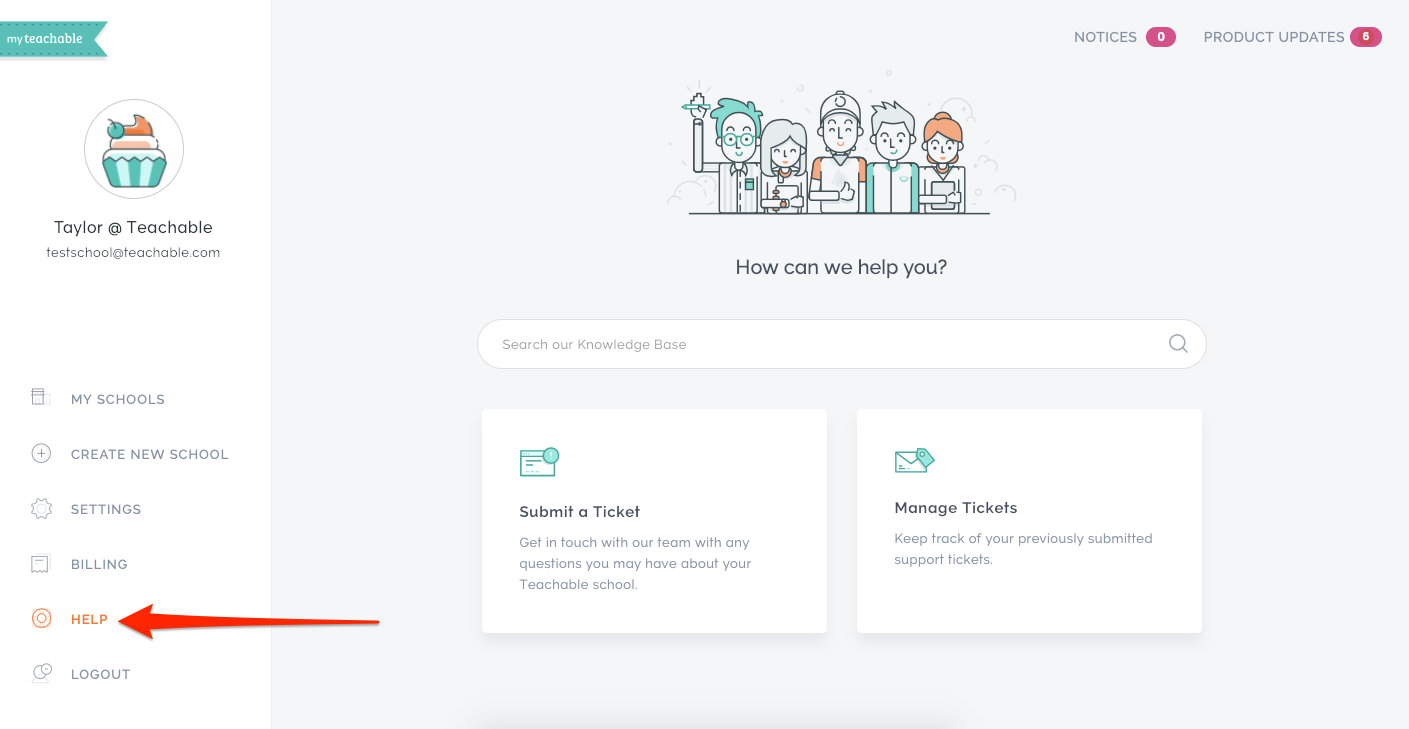 Alternatively, if you do not have a myTeachable account, you can click on the Help button in your school admin to access the Help Center. You'll also have the option to Search Our Knowledge Base, Create a Support Ticket, or Live Chat with Someone on Our Team (Professional plan and up).
Contact Customer Care
If you are experiencing an issue with your school or if you aren't able to find the answers you need, please submit a support ticket or chat with us.
Our award-winning Customer Care team is happy to assist users via email and live chat (available on the Professional plan and up). We've found that email and live chat are the best ways for us to provide high-quality support because we can:
More effectively troubleshoot by having immediate access to your school, account information, past tickets, and other relevant details.
Provide clarity and direction with visual aids, such as screenshots, videos, and links.
Save you time by addressing or escalating issues directly through your chat or ticket.
Safeguard your security by providing a secure channel for verifying account ownership and looping in your school affiliates, authors, and students when necessary.
Ensure that you're speaking to a product expert from our dedicated in-house support team.
To submit a ticket from your myTeachable profile, click Submit a Ticket: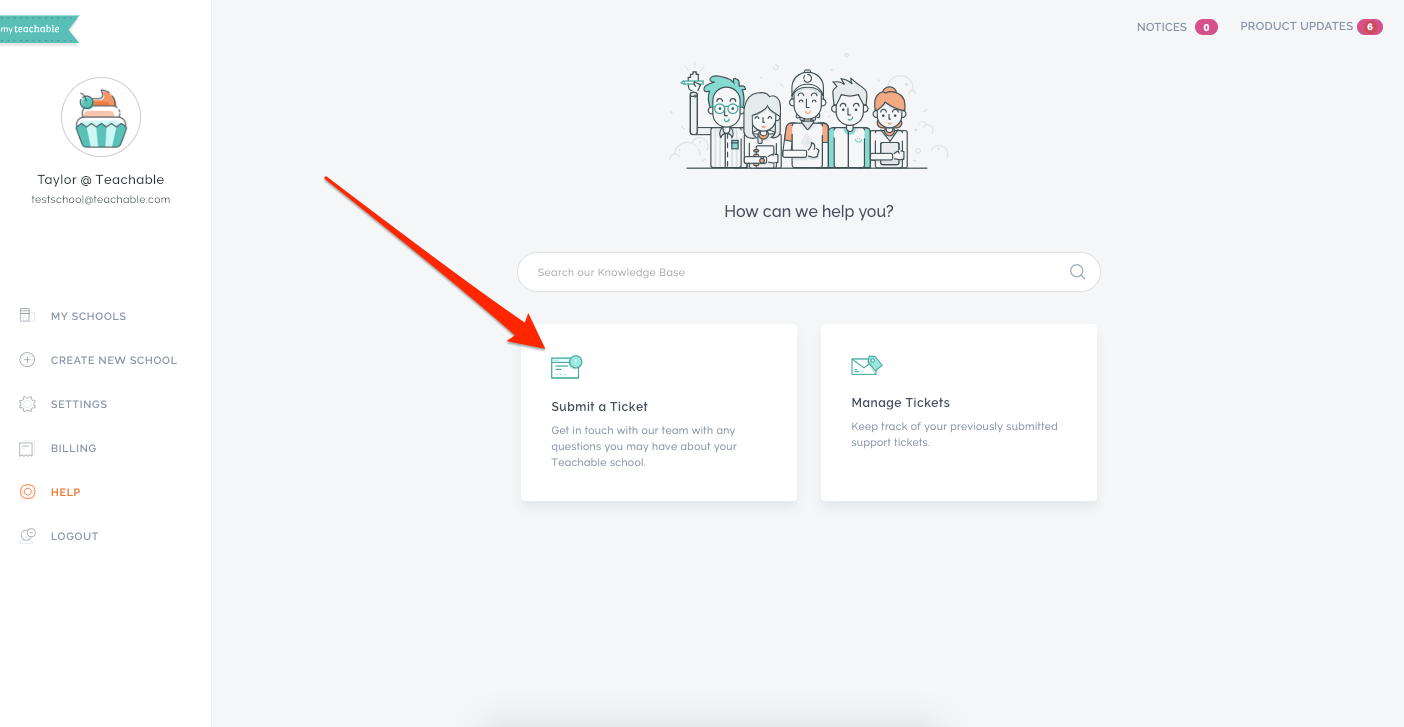 Alternatively, if you've accessed our Help Center through your school admin, you can submit a ticket by clicking on the Create a Ticket button.
Then, click Submit a Ticket: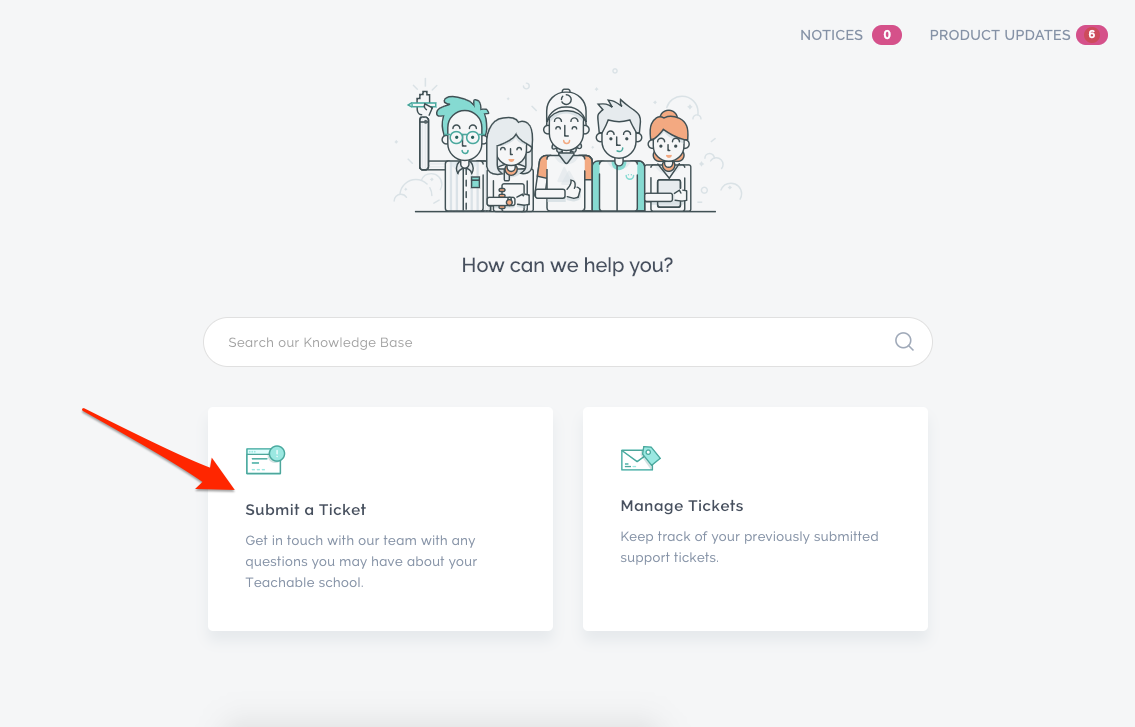 You can then select from a series of drop-down menus to help you narrow down your problem: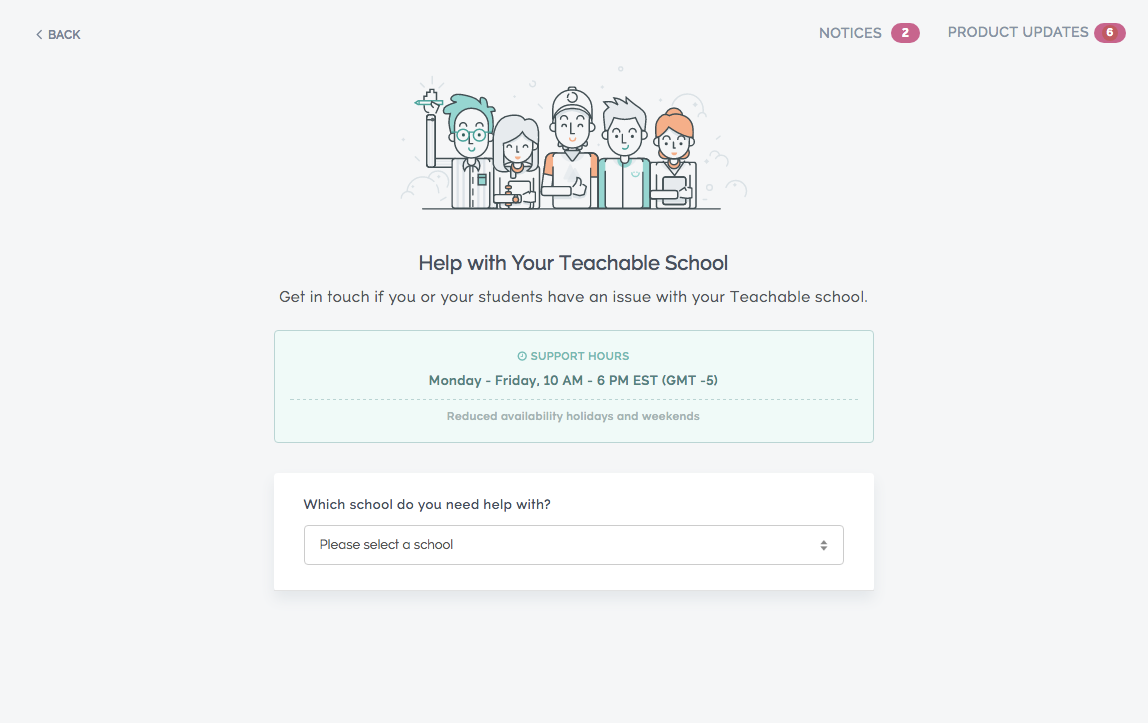 First, select your school from the drop-down menu. Then, choose from three general topics:
School Plans and Teachable Billing - Information on upgrading, downgrading or canceling a plan, receiving a refund, and updating billing information.
Troubleshoot an Issue - Common problems that instructors experience.
Frequently Asked Questions - Learn more about managing your school, from settings to users to customization.
Once you've narrowed down the issue, you'll receive an answer, links to relevant Knowledge Base articles, and/or a request for more information. Here's an example of a successful inquiry:
If you're still not able to locate the information you need, or you're not able to resolve the issue that you're experiencing with your school, click the Message Us button at the bottom of the form to submit a support ticket to our Customer Care team. Then, fill out the form below with the details of your inquiry or issue: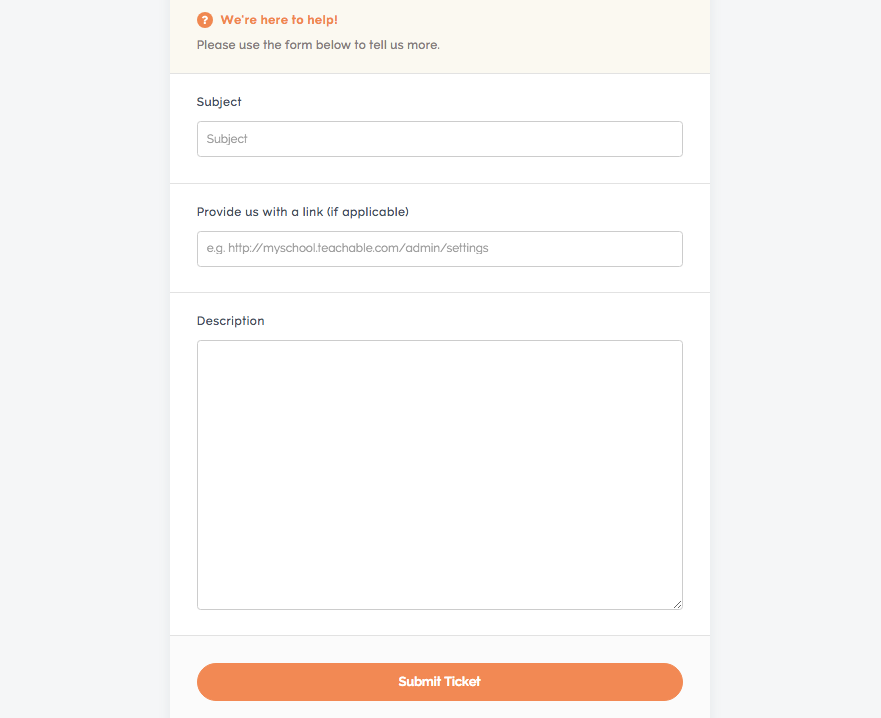 Once you've submitted a ticket, our Customer Care team will respond as soon as possible.
Tips for Creating a Support Ticket
To help us provide the best support possible, please follow these guidelines for submitting a support ticket:
Be as Specific as Possible - The more details you include in your initial ticket, the better our support team will be able to understand what you want to achieve. If you are having an issue with a specific school, course, or user then it's also helpful to include details such as the user's email address, name, the specific URL or name of your course, etc. in your initial ticket. This helps our support team access your school information and locate the source the issue much faster, which leads to a more efficient resolution for you.
Include Visuals - It's helpful to include visuals to help illustrate the issue or question that requires our support. Although our help form does not have a file uploader, you can include file sharing links from services like Google Drive, Dropbox, etc. Please also ensure that you've given us permission to view the files.

Once you submit a ticket via our help form, you'll receive an email receipt from our help desk provider, Zendesk, that contains the details of your support request. If you want to upload a file, you can attach files in your response to your ticket receipt.

Avoid Multiple Issues or Questions in One Ticket - If you have a new issue or question, we recommend creating a new ticket so that each can be handled within its own email thread. This makes referencing these messages faster in the future.
Utilize the Description Section of the Help Form - To avoid confusion, ensure that you write the body text of your inquiry in the Description section of the help form and not in the Subject Line. The subject line of your ticket should be a brief explanation of the issue or inquiry that you explain further in the Description section of the ticket.
Live Chat (Professional plan and up)
If your school is on the Professional plan and up, then you can access live chat by logging in to your school admin and clicking on Help button. From there, you can open a live chat with a member of our Customer Care team by clicking on the Chat Now button.
NOTE: Live chat is available Monday through Friday from 10am to 5pm EST (GMT -5). If the Chat Now button is greyed out, this indicates that live chat is not available at the moment. If you have an urgent inquiry, we recommend submitting a support ticket and our Customer Care team will respond as soon as possible.