This article reviews how to add and manage webhooks with your Teachable school.
NOTE: Third-party applications are not supported by customer support. This means that we cannot assist with the maintenance or troubleshooting of third-party applications.
Overview
Webhooks are used to send information from Teachable to another application in a way that can trigger a specified behavior. Webhooks enable you to automate actions between Teachable and other third-party applications you use to manage your online school or business.
A webhook is sent based on a specific event that occurs in your Teachable school.
Once the webhook event is triggered, it will send the event data from Teachable to the connected third-party application. For example, you can use the Enrollment Completed webhook to send data to a third-party application (such as an email service provider) every time a student completes a course. Depending on how you configure your third-party application, you can use the webhook to trigger certain actions in that application (such as sending a congratulatory email).
TIP: Webhooks can complement and work together with the Teachable API to send and receive data about your Teachable school. Learn more about the Teachable API at docs.teachable.com.
Teachable only sends webhook events; it does not receive webhook events from other applications.
NOTE: Zapier is a third-party tool that connects applications—you might be able to use Zapier with Teachable to automate your workflows without having to manually set up webhooks. Additionally, Zapier allows you to both send and receive data to and from Teachable. Learn more about using Zapier with your Teachable school.
Available events
On Teachable, the following events can be used with webhooks:
Add a webhook
To add a webhook:
Select Settings from the admin sidebar.
Click Webhooks.
Select Add Webhook.
Enter in the following details:

Webhook URL - This is the URL of the server that will receive the webhook POST requests. (You will get this URL from the application you are sending the webhook to. For help with finding this URL, contact the third-party application directly.)
Webhook payload setting (optional) - Toggle this setting on to send the webhook data as a JSON array. (Some third-party applications prefer or require data to be sent as a JSON array. If you are unsure, contact the third-party application directly.)
Select webhook events - Select the webhook event you want to send to your application. If you would like to send data for all of the available webhooks, select All events.

Click Save.
Once you add a webhook, it will be listed in your main Settings > Webhooks menu.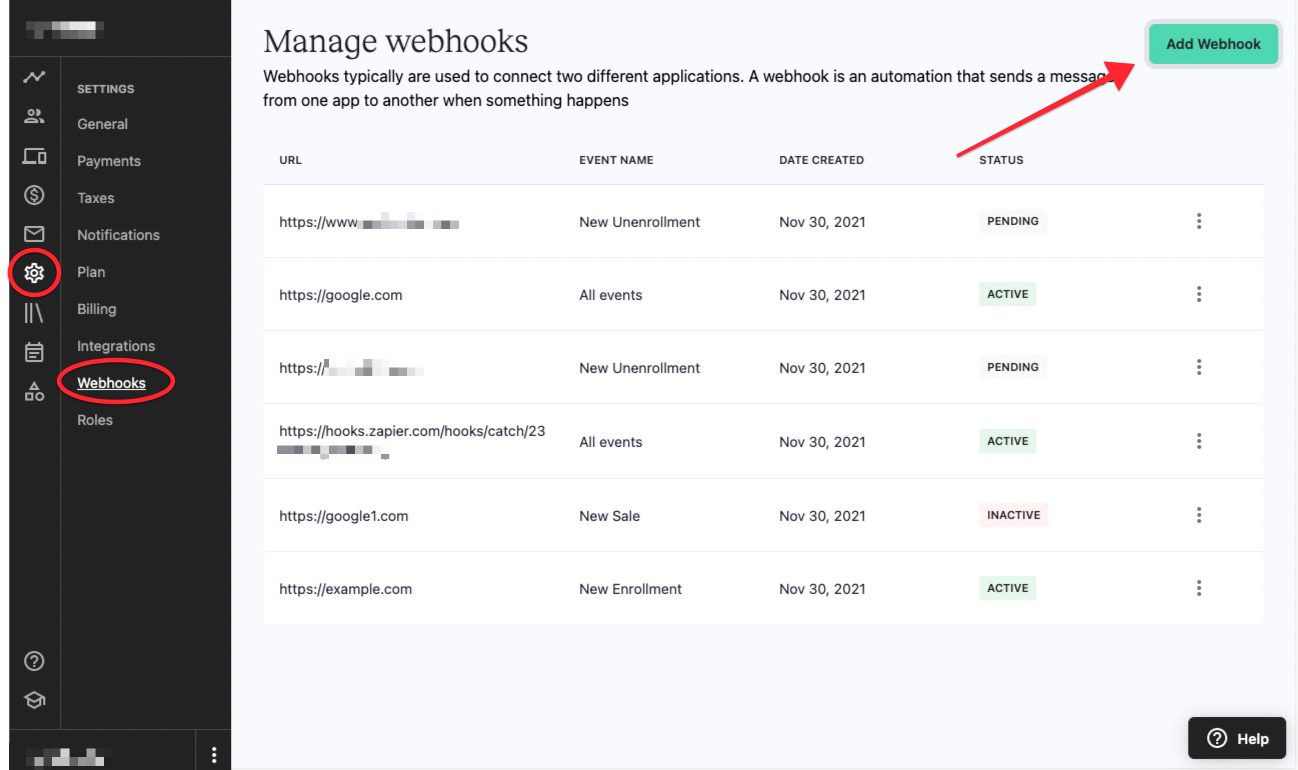 Webhook status & history
All webhooks listed in your Settings > Webhooks page will have a status. Statuses are as follows:
Pending - Once a webhook is created, it automatically has a "pending" status. The webhook will remain pending until the selected event type occurs and the webhook successfully sends.
Active - A webhook is "active" after it is created and the selected event type successfully fires.
Inactive - A webhook is inactive if it has failed or been cancelled.
To see additional information on each webhook, you can view your webhook history details. (Only active or failed webhooks have a webhook history.)
To access your webhook history:
Click the More options icon next to the webhook.
Select View webhook history.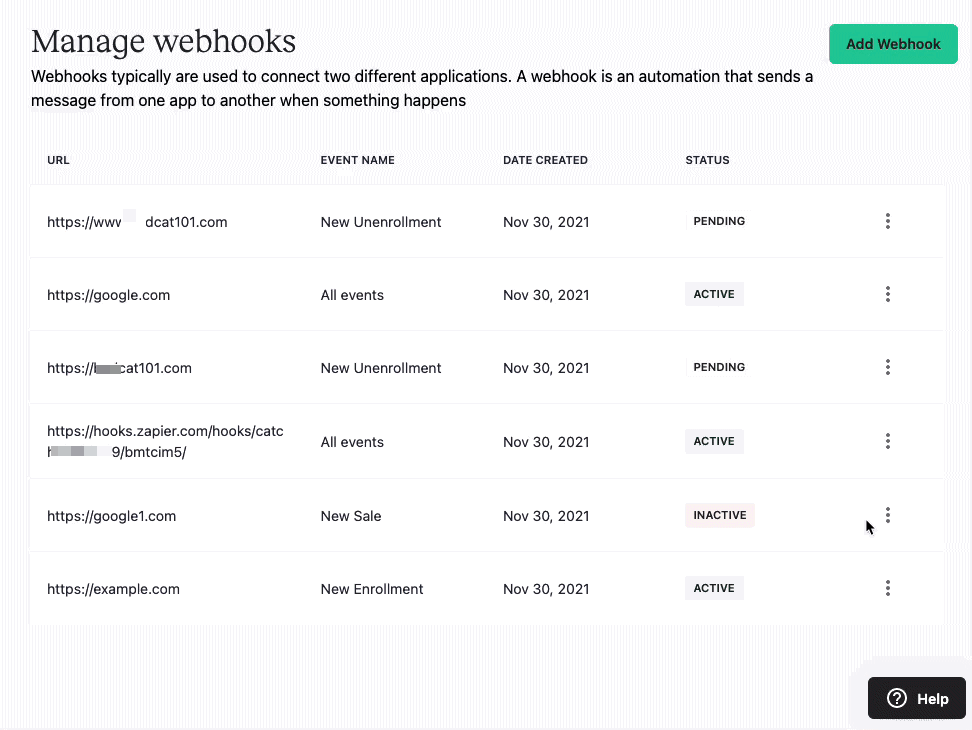 The webhook history table lists the status of each individual event, or firing, of that specific webhook. For example, if you created a webhook for the Enrollment is created event, the webhook history table will add a new row each time the webhook fires (i.e., each time a new student enrolls in your course).
The webhook history table includes the following columns:
Event name - The webook's event type.
Object ID - Each webhook event has a specific ID that will be listed here.
Status

Success - The webhook event fired successfully and data was sent from Teachable to the receiving application.
Failed - A webhook event can fail if the webhook is configured incorrectly, Teachable is unable to send the webhook at the time of firing, or the receiving application is unable to receive the webhook at the time of firing.
Permanently Failed - After a webhook fails four times, the next event will be permanently failed. If this happens, you can manually re-enable it from the webhook history popup window or from the Edit Webhook page.
Cancelled - After a webhook permanently fails, the following events of that webhook will be cancelled. A webhook can also be cancelled if the webhook is deleted during the process of the event being fired.

Date & Time - The date and time that the event fired (in UTC).
Edit and delete webhooks
To edit a webhook:
Click the More options icon next to the webhook.
Select Edit webhook.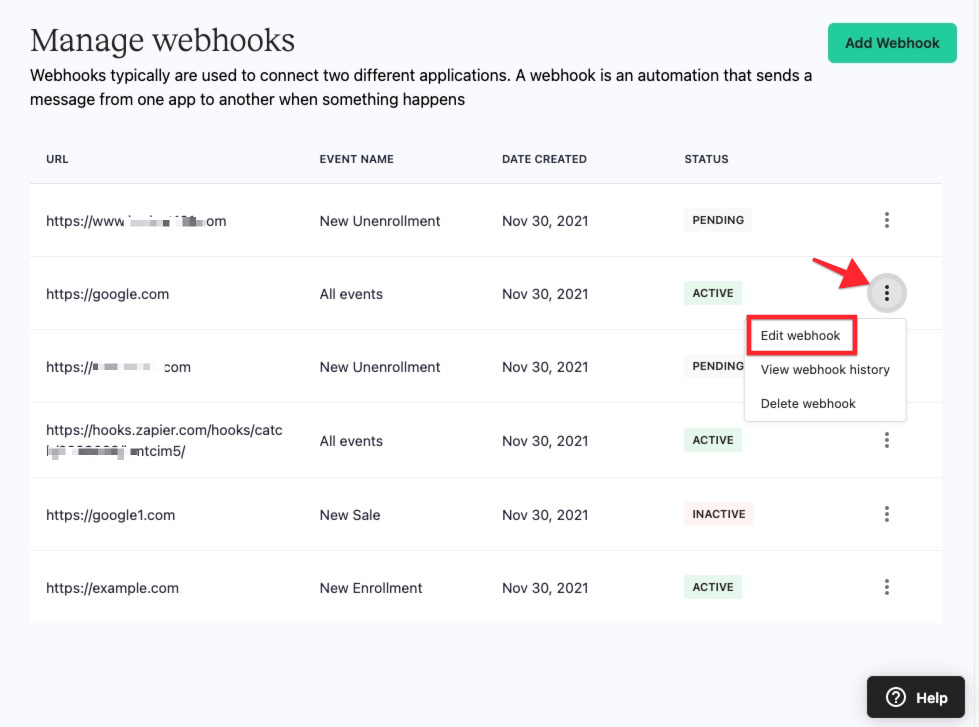 From there, you can edit the webhook URL, payload setting, and the event type. If a webhook is inactive because it has permanently failed, you will see an option to Re-enable the webhook.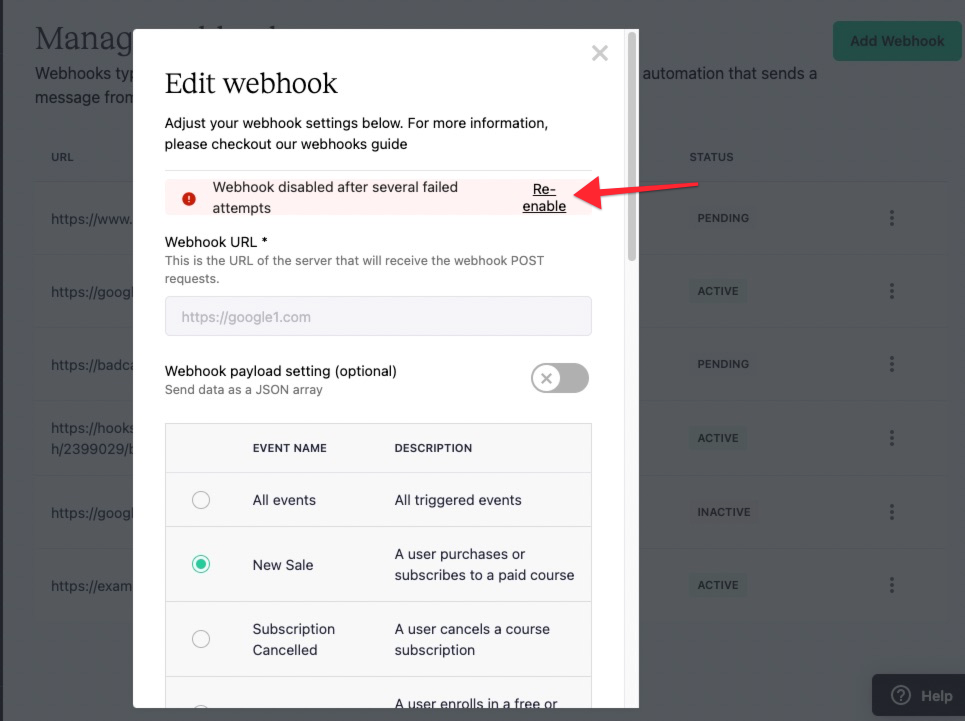 Once you re-enable the webhook, its status will move to Pending until it fires again.
To delete a webhook:
Click the More options icon next to the webhook.
Select Delete webhook.
In the popup confirmation window, click Delete.
Data returned from webhooks
If you'd like to see the test data for any event type as a JSON response:
Log in to the school for which you would like to view the test data.
In your browser URL box, go to [SCHOOL_URL].teachable.com/api/v1/hooks/example?event_type=[EVENT.TITLE]. You'll have to replace [SCHOOL_URL] with the subdomain of your school, and [EVENT.TITLE] with the event type you would like to see the test data for (i.e. User.updated, Enrollment.created, etc. This URL is case specific.

For example, to see the test data for new enrollments at testschool.teachable.com, you would enter "testschool.teachable.com/api/v1/hooks/example?event_type=Enrollment.created" into the URL field.
NOTE: You must run the relevant webhook at least once in your school to view the test data. For example, if you'd like to see the test data for new sales, there must be at least one instance where the New Sales webhook was used in your school.
Listed below are examples of the test data that would be returned for a variety of event types:
[

{
 "created": 1326853478,
 "livemode": false,
 "id": 345,
 "type": "sale.created",
 "object": "event",
 "data": {
   "object": {
     "object": "sale",
     "school_id": 1,
     "created": "2021-11-18T17:41:54+00:00",
     "id": 495,
     "price": 400,
     "currency": "USD",
     "product_id": 47,
     "course_id": 47,
     "is_active": true,
     "livemode": false,
     "is_recurring": false,
     "user_id": 1,
     "product": {
       "id": 47,
       "name": "foo"
     },
     "course": {
       "id": 47,
       "name": "abc"
     },
     "user": {
       "id": 1,
       "email": "john_doe@example.com"
     }
   }
 }
}

]
[

{
 "type": "User.created",
 "id": 1, 
 "livemode": false,
 "created": "2021-11-18T17:41:54+00:00",
 "object": {
     "id":8014167,
     "role":"student",
     "email":"john_doe@example.com",
     "name":"John Doe",
     "school_id":116505,
     "src":null,
     "first_touch":null,
     "last_touch":null,
     "last_sign_in_at":"2017-11-06T22:38:34Z",
     "sign_in_count":3,
     "unsubscribe_from_marketing_emails":null
}
 }
}

]
[  
   {  
      "type":"Transaction.created",
      "id":1459433,
      "livemode":true,
      "created":"2018-01-29T17:21:03+00:00",
      "hook_event_id":1,
      "object":{  
         "id":1459433,
         "user_id":8014167,
         "school_id":116505,
         "final_price":100,
         "currency":"USD",
         "affiliate_percent":0.0,
         "author_percent":0.0,
         "fedora_percent":0.0,
         "amount_refunded":100,
         "status":"paid",
         "is_recurring":false,
         "sale_id":9980514,
         "coupon_id":null,
         "net_charge":0,
         "stripe_charge_token":"ch_Xxxxxxxxxxxxxx",
         "net_charge_usd":0,
         "fedora_fee":0,
         "net_revenue_usd":0,
         "processor_fee_description":null,
         "affiliate_fees":0,
         "earnings_usd":0,
         "paypal_payment_id":null,
         "legacy_id":null,
         "purchased_at":"2017-11-06T22:39:36Z",
         "author_fees":0,
         "stripe_invoice_id":null,
         "stripe_event_id":null,
         "refunder_id":4106241,
         "processor_fee":0,
         "total_fedora_fee":0,
         "is_chargeback":null,
         "is_stripe_connect":null,
         "author_id":6431807,
         "credential_id":null,
         "is_custom_paypal":null,
         "data":{  
            "id":"ch_Xxxxxxxxxxxxxx",
            "paid":true,
            "order":null,
            "amount":100,
            "object":"charge",
            "review":null,
            "source":{  
               "id":"card_Xxxxxxxxxxxxxx",
               "name":null,
               "brand":"Visa",
               "last4":"2620",
               "object":"card",
               "country":"US",
               "funding":"debit",
               "customer":"cus_Xxxxxxxxxxxxxx",
               "exp_year":2019,
               "metadata":{  

               },
               "cvc_check":"pass",
               "exp_month":1,
               "address_zip":"11101",
               "fingerprint":"heQxxxxxxxxxxxxx",
               "address_city":null,
               "address_line1":null,
               "address_line2":null,
               "address_state":null,
               "dynamic_last4":null,
               "address_country":null,
               "address_zip_check":"pass",
               "address_line1_check":null,
               "tokenization_method":null
            },
            "status":"succeeded",
            "created":1510007975,
            "dispute":null,
            "invoice":null,
            "outcome":{  
               "type":"authorized",
               "reason":null,
               "risk_level":"normal",
               "network_status":"approved_by_network",
               "seller_message":"Payment complete."
            },
            "refunds":{  
               "url":"/v1/charges/ch_Xxxxxxxxxxxxxx/refunds",
               "data":[  
                  {  
                     "id":"re_Xxxxxxxxxxxxxx",
                     "amount":100,
                     "charge":"ch_Xxxxxxxxxxxxxx",
                     "object":"refund",
                     "reason":null,
                     "status":"succeeded",
                     "created":1510009679,
                     "currency":"usd",
                     "metadata":{  

                     },
                     "receipt_number":null,
                     "balance_transaction":{  
                        "id":"txn_Xxxxxxxxxxxxxx",
                        "fee":-33,
                        "net":-67,
                        "type":"refund",
                        "amount":-100,
                        "object":"balance_transaction",
                        "source":"ch_Xxxxxxxxxxxxxx",
                        "status":"available",
                        "created":1510009679,
                        "currency":"usd",
                        "description":"REFUND FOR CHARGE (sagdsag)",
                        "fee_details":[  
                           {  
                              "type":"stripe_fee",
                              "amount":-33,
                              "currency":"usd",
                              "application":null,
                              "description":"Stripe processing fee refund"
                           }
                        ],
                        "available_on":1510099200,
                        "sourced_transfers":{  
                           "url":"/v1/transfers?source_transaction=re_Xxxxxxxxxxxxxx",
                           "data":[  

                           ],
                           "object":"list",
                           "has_more":false,
                           "total_count":0
                        }
                     }
                  }
               ],
               "object":"list",
               "has_more":false,
               "total_count":1
            },
            "captured":true,
            "currency":"usd",
            "customer":"cus_Xxxxxxxxxxxxxx",
            "livemode":true,
            "metadata":{  
               "email":"john_doe@example.com",
               "order":"order_Xxxxxxxx",
               "country":"US",
               "school_id":"116505",
               "product_id":"429527",
               "course_name":"How to Have Fun!",
               "product_name":"sagdsag"
            },
            "refunded":true,
            "shipping":null,
            "application":null,
            "description":"sagdsag",
            "destination":null,
            "failure_code":null,
            "on_behalf_of":null,
            "fraud_details":{  

            },
            "receipt_email":null,
            "receipt_number":null,
            "transfer_group":null,
            "amount_refunded":100,
            "application_fee":null,
            "failure_message":null,
            "source_transfer":null,
            "balance_transaction":{  
               "id":"txn_Xxxxxxxxxxxxxx",
               "fee":33,
               "net":67,
               "type":"charge",
               "amount":100,
               "object":"balance_transaction",
               "source":"ch_Xxxxxxxxxxxxxx",
               "status":"available",
               "created":1510007979,
               "currency":"usd",
               "description":"sagdsag",
               "fee_details":[  
                  {  
                     "type":"stripe_fee",
                     "amount":33,
                     "currency":"usd",
                     "application":null,
                     "description":"Stripe processing fees"
                  }
               ],
               "available_on":1510099200,
               "sourced_transfers":{  
                  "url":"/v1/transfers?source_transaction=ch_Xxxxxxxxxxxxxx",
                  "data":[  

                  ],
                  "object":"list",
                  "has_more":false,
                  "total_count":0
               }
            },
            "statement_descriptor":"How to Have Fun"
         },
         "vat_fees":0,
         "usd_conversion_rate":null,
         "school_plan_id":20,
         "sale":{  
            "id":9980514,
            "price":100,
            "currency":"USD",
            "is_active":true,
            "is_recurring":false,
            "user_id":8014167,
            "school_id":116505,
            "final_price":100,
            "course":{  
               "id":158157,
               "name":"How to Have Fun!",
               "url":"http://testschool.teachable.com/courses/123456",
               "friendly_url":"how-to-aoihdgoiahdgoih",
               "meta_description":"oaidhgaodughadoiughadoighadiog",
               "description":"\u003cp\u003eTESTESTESTESTESTESTETEWSRTSTESTESTESTESTESTSETESTEST\n\u003c/p\u003e",
               "author_bio":{  
                  "created_at":"2017-10-19T20:08:55Z",
                  "headline":"sdgsdag",
                  "profile_image_url":null,
                  "bio":"\u003cp\u003easdgasd\n\u003c/p\u003e",
                  "position":null,
                  "user_id":null,
                  "name":"sgsa",
                  "id":115523,
                  "meta":{  
                     "class":"authorbio",
                     "url":"/author_bios/115523",
                     "name":"sgsa",
                     "description":"",
                     "image_url":null
                  }
               }
            },
            "product":{  
               "id":429527,
               "is_recurring":false,
               "price":100,
               "name":"sagdsag",
               "currency":"USD"
            },
            "user":{  
               "id":8014167,
               "role":"student",
               "email":"john_doe@example.com",
               "name":"John Doe",
               "school_id":116505,
               "src":null,
               "first_touch":null,
               "last_touch":null,
               "last_sign_in_at":"2017-11-06T22:39:37Z",
               "sign_in_count":4,
               "unsubscribe_from_marketing_emails":null
            },
            "coupon":null,
            "affiliate":null,
            "transactions":[  
               {  
                  "created_at":"2017-11-06T22:39:36Z",
                  "custom_gateway?":false,
                  "fully_refunded?":true,
                  "is_stripe_connect?":false,
                  "is_custom_paypal?":false,
                  "user_id":8014167,
                  "final_price":100,
                  "currency":"USD",
                  "affiliate_percent":0.0,
                  "author_percent":0.0,
                  "author_id":6431807,
                  "teachable_percent":0.0,
                  "teachable_processor_fee":0,
                  "amount_refunded":100,
                  "status":"paid",
                  "affiliate_fees":0,
                  "author_fees":0,
                  "sale_id":9980514,
                  "coupon_id":null,
                  "net_charge":0,
                  "earnings_usd":0,
                  "net_charge_usd":0,
                  "teachable_fixed_fee":0,
                  "total_teachable_fee":0,
                  "is_recurring":false,
                  "stripe_charge_token":"ch_Xxxxxxxxxxxxxx",
                  "paypal_payment_id":null,
                  "stripe_invoice_id":null,
                  "purchased_at":"2017-11-06T22:39:36Z",
                  "refundable":false,
                  "vat_fees":0,
                  "is_chargeback":null,
                  "id":1459433,
                  "net_tax_charge":0,
                  "net_product_charge_usd":0,
                  "meta":{  
                     "class":"transaction",
                     "url":null,
                     "name":"1459433",
                     "description":"",
                     "image_url":null
                  }
               }
            ]
         },
         "user":{  
            "id":8014167,
            "role":"student",
            "email":"john_doe@example.com",
            "name":"John Doe",
            "school_id":116505,
            "src":null,
            "first_touch":null,
            "last_touch":null,
            "last_sign_in_at":"2017-11-06T22:39:37Z",
            "sign_in_count":4,
            "unsubscribe_from_marketing_emails":null
         },
         "coupon":null
      }
   }
]
[
{
 "type":"User.updated",
      "id":1234567,
      "livemode":true,
      "created":"2017-05-15T18:49:45+00:00",
      "hook_event_id":1,
      "object":{  
         "id":1234567,
         "role":"student",
         "email":"john_doe@example.com",
         "name":"john doe",
         "school_id":12345,
         "src":null,
         "first_touch":null,
         "last_touch":null,
         "last_sign_in_at":"2017-04-11T17:58:41Z",
         "sign_in_count":2,
         "unsubscribe_from_marketing_emails":null,
         "old_email":"john_doe2@example.com",
         "new_email":"john_doe@example.com",
         "old_name":"john doe",
         "new_name":"john doe"
  }
}
]
 
[

{
       "type" => "Sale.subscription_canceled",
         "id" => 4242424242,
   "livemode" => "true",
    "created" => "2016-03-24T11:26:30-04:00",
     "object" => {
                 "id" => 1289757,
              "price" => 1000,
           "currency" => "USD",
          "is_active" => false,
       "is_recurring" => true,
            "user_id" => 4567,
          "school_id" => 1234,
        "final_price" => 1000,
             "course" => {
             "id" => 686868,
           "name" => "How to Have Fun",
            "url" => "http://testschool.teachable.com/courses/how-to-have-fun"
       },
            "product" => {
                     "id" => 12345,
           "is_recurring" => true,
                  "price" => 1000,
                   "name" => "Monthly Payment (12 months)",
               "currency" => "USD"
       },
               "user" => {
                        "id" => 4567,
                      "role" => "guest",
                     "email" => "john_doe@example.com",
                      "name" => "John Doe",
                 "school_id" => 1234,
                       "src" => nil,
               "first_touch" => nil,
                "last_touch" => nil,
           "last_sign_in_at" => "2016-03-08T19:31:05Z",
             "sign_in_count" => 6
       },
             "coupon" => nil,
          "affiliate" => nil,
       "transactions" => [
           [0] {
                   "custom_gateway?" => nil,
                   "fully_refunded?" => false,
                                "id" => 166020,
                           "user_id" => 4567,
                         "school_id" => 1234,
                        "created_at" => "2016-02-08T18:39:32Z",
                        "updated_at" => "2016-03-08T18:40:32Z",
                       "final_price" => 1000,
                          "currency" => "USD",
                 "affiliate_percent" => nil,
                    "author_percent" => 0.0,
                         "author_id" => nil,
                    "fedora_percent" => 0.1,
               "total_processor_fee" => 59,
                   "amount_refunded" => 0,
                            "status" => "paid",
                    "affiliate_fees" => 0,
                       "author_fees" => 0,
                         "coupon_id" => nil,
                        "net_charge" => 1000,
                      "earnings_usd" => 747,
                    "net_charge_usd" => 1000,
                        "fedora_fee" => 1,
                  "total_fedora_fee" => 194,
                   "net_revenue_usd" => 747,
                      "purchased_at" => "2016-02-08T18:39:32Z",
                        "refundable" => true,
                          "vat_fees" => 0,
                     "is_chargeback" => nil,
                              "meta" => {
                         "class" => "transaction",
                           "url" => nil,
                          "name" => nil,
                   "description" => nil,
                     "image_url" => nil
         }

     }

  }

]
[
  {
     "type":"Enrollment.created",
     "id":1,
     "livemode":"true",
     "created":"2016-08-08T10:38:24-04:00",
     "hook_event_id":31,
     "object":{
        "created_at":null,
        "coupon":null,
        "user_id":1,
        "course_id":2,
        "primary_course_id":2,
        "sale_id":1,
        "is_active":true,
        "enrolled_at":"2016-08-08T14:38:24Z",
        "percent_complete":0.0,
        "has_full_access":false,
        "id":1,
        "meta":{
           "class":"enrollment",
           "url":null,
           "name":"1",
           "description":null,
           "image_url":null
        },
        "course":{
           "created_at":"2016-08-05T20:38:32Z",
           "path":"/courses/good-course",
           "safe_image_url":"//d6xfpzo6h49n1.cloudfront.net/O3FPQEI9tlnWDtlA0vVKvDXxxxx=/fit-in/705x0/https://d3gvvapoxxxxxx.cloudfront.net/icons/default-course-image.png",
           "default_product_formatted_price":"$10",
           "has_published_lecture":false,
           "has_published_product":true,
           "promo_video":null,
           "name":"Good course",
           "heading":null,
           "page_title":"Good course",
           "meta_description":null,
           "friendly_url":"good-course",
           "description":null,
           "author_bio_id":1,
           "position":0,
           "conversion_pixels":null,
           "closing_letter":null,
           "image_url":null,
           "hero_image_url":"https://d3gvvapxxxx.cloudfront.net/bg/default-hero.png",
           "is_published":false,
           "bundled_courses_count":0,
           "child_course_ids":[
           ],
           "preenrollment_call_to_action":"Sign up to get this course when it launches",
           "is_open":true,
           "is_accepting_preenrollments":false,
           "use_old_course_page":null,
           "purchase_redirect_url":null,
           "skip_thank_you_page":null,
           "onboarded_at":null,
           "id":2,
           "meta":{
              "class":"course",
              "url":"/courses/2/",
              "name":"Good course",
              "description":null,
              "image_url":null
           },
           "categories":[
           ],
           "author_bio":{
              "created_at":"2016-08-03T04:03:58Z",
              "headline":"headline ex",
              "profile_image_url":null,
              "bio":"Bacon ipsum dolor amet shankle ham pork belly jowl.",
              "position":null,
              "user_id":2,
              "name":"Jane Doe",
              "id":1,
              "meta":{
                 "class":"authorbio",
                 "url":"/author_bios/1",
                 "name":"Jane Doe",
                 "description":null,
                 "image_url":null
              }
           }
        },
        "user":{
           "created_at":"2016-08-03T04:03:58Z",
           "Role":"owner",
           "gravatar_url":"https://s.gravatar.com/avatar/12345288e5d61695b0d3f9c63835c?d=mm\u0026s=70",
           "email":"john_doe@example.como",
           "notes":null,
           "affiliate_code":"1_12orpy2s",
           "name":"John Doe",
           "is_owner":true,
           "sign_in_count":7,
           "is_student":true,
           "is_affiliate":false,
           "is_author":false,
           "src":null,
           "current_sign_in_at":"2016-08-05T20:17:15Z",
           "last_four":null,
           "paypal_email":"john_doe@example.com",
           "affiliate_revenue_share":null,
           "joined_at":"2016-08-03T14:13:37Z",
           "transactions_gross":0,
           "signed_up_affiliate_code":null,
           "author_revenue_share":0.0,
           "last_sign_in_ip":"::1",
           "current_sign_in_ip":"::1",
           "id":1,
           "school_id":1,
           "meta":{
              "class":"user",
              "url":null,
              "name":"John Doe",
              "description":"john_doe@example.com",
              "image_url":"https://s.gravatar.com/avatar/12345144288e5d61695b0d3f9c63835c?d=mm\u0026s=100"
   },
           "author_bio_id":null,
           "total_sales":0,
           "author_bio":null
        }
     }
  }
]
[
  {
     "type":"LectureProgress.created",
     "id":45454545454,
     "livemode":true,
     "created":"2016-08-31T16:54:47+00:00",
     "hook_event_id":1,
     "object":{
        "id":54545454545,
        "is_completed":true,
        "course_id":444444,
        "lecture_id":32322,
        "school_id":859,
        "percent_complete":21.0,
        "course":{
           "id":232323232,
           "name":"How to Have Fun",
           "url":"http://testschool.teachable.com/courses/how-to-have-fun"
        },
        "user":{
           "id":111111,
           "role":"student",
           "email":"john_doe@example.com",
           "name":"John Doe",
           "school_id":859,
           "src":null,
           "first_touch":null,
           "last_touch":null,
           "last_sign_in_at":"2016-08-28T18:07:23Z",
           "sign_in_count":10
        },
        "lecture":{
           "id":43444344444,
           "name":"Lead Magnet #1: The \"Checklist\"",
           "is_published":true
        }
     }
  }
]
[
  {
     "type":"Response.created",
     "id":3333333,
     "livemode":true,
     "created":"2016-08-31T16:56:00+00:00",
     "hook_event_id":1,
     "object":{
        "id":323232,
        "user_id":33333,
        "custom_form_id":122,
        "answers":{
           "answer-1":[
              "Make a quiz"
           ],
           "answer-2":[
              "Ankur"
           ]
        },
        "created_at":"2016-08-28T08:14:03Z",
        "updated_at":"2016-08-28T08:14:22Z",
        "school_id":859,
        "submitted_at":"2016-08-28T08:14:22Z",
        "grade":{
           "total":2,
           "correct":1,
           "answered":2,
           "remaining":0,
           "percent_correct":0.5,
           "percent_answered":1.0
        },
        "custom_form":{
           "id":122,
           "type":"Quiz",
           "topic_id":3333334,
           "topic_type":"Attachment",
           "data":{
              "graded":true,
              "answerKey":{
                 "answer-1":[
                    "Make a quiz"
                 ],
                 "answer-2":[
                    "answer1",
                    "answer2"
                 ]
              }
           },
           "school_id":859,
           "is_published":false,
           "identifier":null,
           "created_at":"2015-06-08T17:05:26Z",
           "updated_at":"2015-06-08T17:50:23Z",
           "schema":{
              "type":"object",
              "required":[
                 "answer-1",
                 "answer-2"
              ],
              "properties":{
                 "answer-1":{
                    "enum":[
                       "Make a quiz",
                       "Start a blog",
                       "Create an email campaign"
                    ],
                    "type":"string",
                    "title":"What is one of the easiest ways to engage your audience?"
                 },
                 "answer-2":{
                    "enum":[
                       "answer1",
                       "answer2",
                       "answer3"
                    ],
                    "type":"string",
                    "title":"Who are the founders of Fedora?"
                 }
              }
           },
           "attachment":{
              "id":22222222,
              "attachable_type":"Lecture",
              "attachable_id":22222222,
              "kind":"quiz"
           }
        },
        "user":{
           "id":22222222,
           "role":"student",
           "email":"john_doe@example.com",
           "name":"John Doe",
           "school_id":859,
           "src":null,
           "first_touch":null,
           "last_touch":null,
           "last_sign_in_at":"2016-08-30T07:51:52Z",
           "sign_in_count":46
        }
     }
  }
]
[
   {
      "type":"Comment.created",
      "id":214950,
      "livemode":true,
      "created":"2017-05-15T18:53:43+00:00",
      "hook_event_id":1,
      "object":{
         "id":214950,
         "user_id":3119253,
         "school_id":69842,
         "created_at":"2017-01-19T17:39:02Z",
         "updated_at":"2017-01-19T17:39:02Z",
         "body": "comment text here",
         "user":{
            "id":3119253,
            "role":"student",
            "email":"john_doe@example.com",
            "name":"John Doe",
            "school_id":69842,
            "src":null,
            "first_touch":null,
            "last_touch":null,
            "last_sign_in_at":"2017-01-19T17:38:48Z",
            "sign_in_count":11,
            "unsubscribe_from_marketing_emails":null
         },
         "commentable":{
            "created_at":"2017-01-19T17:30:13Z",
            "code_syntax":null,
            "content_type":null,
            "audio_type":null,
            "should_be_uploaded_to_wistia?":false,
            "data":null,
            "schema":null,
            "text_constructor":null,
            "full_url": "https://schoolurl.teachable.com/courses/111111/lectures/1234567",
            "cdn_url":null,
            "url":null,
            "host_id":null,
            "source":"user",
            "kind":"native_comments",
            "name":null,
            "host":null,
            "position":1,
            "attachable_id":2034508,
            "is_published":true,
            "downloadable":false,
            "text":null,
            "attachable_type":"Lecture",
            "thumbnail_url":null,
            "meta":{
               "class":"attachment",
               "url":null,
               "name":null,
               "description":null,
               "image_url":null,
               "status":null
            },
            "embeddable":true,
            "id":45307557,
            "display_text":"",
            "plain_text_html":""
         }
      }
   }
]

[
   {
      "type":"Transaction.refunded",
      "id":867110,
      "livemode":true,
      "created":"2017-05-15T18:57:24+00:00",
      "hook_event_id":1,
      "object":{
         "id":867110,
         "user_id":4831317,
         "school_id":5783,
         "final_price":500,
         "currency":"USD",
         "affiliate_percent":null,
         "author_percent":0.0,
         "fedora_percent":0.2,
         "amount_refunded":500,
         "status":"paid",
         "is_recurring":false,
         "sale_id":5810934,
         "coupon_id":null,
         "net_charge":0,
         "stripe_charge_token":"ch_Xxxxxxxxxxxxxx",
         "net_charge_usd":0,
         "fedora_fee":0,
         "net_revenue_usd":0,
         "processor_fee_description":null,
         "affiliate_fees":0,
         "earnings_usd":0,
         "paypal_payment_id":null,
         "legacy_id":null,
         "purchased_at":"2017-04-26T17:47:53Z",
         "author_fees":0,
         "stripe_invoice_id":null,
         "stripe_event_id":null,
         "refunder_id":2184202,
         "processor_fee":0,
         "total_fedora_fee":0,
         "is_chargeback":null,
         "is_stripe_connect":null,
         "author_id":null,
         "credential_id":null,
         "is_custom_paypal":null,
         "data":{
            "id":"ch_Xxxxxxxxxxxxxx",
            "paid":true,
            "order":null,
            "amount":500,
            "object":"charge",
            "review":null,
            "source":{
               "id":"card_Xxxxxxxxxxxxxx",
               "name":null,
               "brand":"Visa",
               "last4":"1234",
               "object":"card",
               "country":"US",
               "funding":"debit",
               "customer":"cus_Xxxxxxxxxxxxxx",
               "exp_year":2020,
               "metadata":{

               },
               "cvc_check":"pass",
               "exp_month":6,
               "address_zip":null,
               "fingerprint":"Xxxxxxxxxxxxxx",
               "address_city":null,
               "address_line1":null,
               "address_line2":null,
               "address_state":null,
               "dynamic_last4":null,
               "address_country":null,
               "address_zip_check":null,
               "address_line1_check":null,
               "tokenization_method":null
            },
            "status":"succeeded",
            "created":1493228874,
            "dispute":null,
            "invoice":null,
            "outcome":{
               "type":"authorized",
               "reason":null,
               "risk_level":"normal",
               "network_status":"approved_by_network",
               "seller_message":"Payment complete."
            },
            "refunds":{
               "url":"/v1/charges/ch_Xxxxxxxxxxxxxx/refunds",
               "data":[
                  {
                     "id":"re_Xxxxxxxxxxxxxx",
                     "amount":500,
                     "charge":"ch_Xxxxxxxxxxxxxx",
                     "object":"refund",
                     "reason":null,
                     "status":"succeeded",
                     "created":1493228931,
                     "currency":"usd",
                     "metadata":{

                     },
                     "receipt_number":null,
                     "balance_transaction":{
                        "id":"txn_Xxxxxxxxxxxxxx",
                        "fee":-43,
                        "net":-457,
                        "type":"refund",
                        "amount":-500,
                        "object":"balance_transaction",
                        "source":"ch_Xxxxxxxxxxxxxx",
                        "status":"pending",
                        "created":1493228931,
                        "currency":"usd",
                        "description":"REFUND FOR CHARGE (Paid Course)",
                        "fee_details":[
                           {
                              "type":"stripe_fee",
                              "amount":-43,
                              "currency":"usd",
                              "application":null,
                              "description":"Stripe processing fee refund"
                           }
                        ],
                        "available_on":1493337600,
                        "sourced_transfers":{
                           "url":"/v1/transfers?source_transaction=re_Xxxxxxxxxxxxxx",
                           "data":[

                           ],
                           "object":"list",
                           "has_more":false,
                           "total_count":0
                        }
                     }
                  }
               ],
               "object":"list",
               "has_more":false,
               "total_count":1
            },
            "captured":true,
            "currency":"usd",
            "customer":"cus_Xxxxxxxxxxxxxx",
            "livemode":true,
            "metadata":{
               "name":"John Doe",
               "email":"john_doe@example.com",
               "country":"US",
               "sale_id":"5810934",
               "user_id":"4831317",
               "school_id":"5783",
               "product_id":"300137",
               "course_name":"Bundle Course",
               "product_name":"Paid Course"
            },
            "refunded":true,
            "shipping":null,
            "application":null,
            "description":"Paid Course",
            "destination":null,
            "failure_code":null,
            "on_behalf_of":null,
            "fraud_details":{

            },
            "receipt_email":null,
            "receipt_number":null,
            "transfer_group":null,
            "amount_refunded":500,
            "application_fee":null,
            "failure_message":null,
            "source_transfer":null,
            "balance_transaction":{
               "id":"txn_Xxxxxxxxxxxxxx",
               "fee":43,
               "net":457,
               "type":"charge",
               "amount":500,
               "object":"balance_transaction",
               "source":"ch_Xxxxxxxxxxxxxx",
               "status":"pending",
               "created":1493228914,
               "currency":"usd",
               "description":"Paid Course",
               "fee_details":[
                  {
                     "type":"stripe_fee",
                     "amount":43,
                     "currency":"usd",
                     "application":null,
                     "description":"Stripe processing fees"
                  }
               ],
               "available_on":1493337600,
               "sourced_transfers":{
                  "url":"/v1/transfers?source_transaction=ch_Xxxxxxxxxxxxxx",
                  "data":[

                  ],
                  "object":"list",
                  "has_more":false,
                  "total_count":0
               }
            },
            "statement_descriptor":"statement descriptor here"
         },
         "vat_fees":0,
         "usd_conversion_rate":null,
         "school_plan_id":3,
         "sale":{
            "id":5810934,
            "price":500,
            "currency":"USD",
            "is_active":true,
            "is_recurring":false,
            "user_id":4831317,
            "school_id":5783,
            "final_price":500,
            "course":{
               "id":82791,
               "name":"Bundle Course",
               "url":"http://testschool.teachable.com/courses/12345",
               "friendly_url":"terms",
               "meta_description":"description here",
               "description":"description here",
               "author_bio":{
                  "created_at":"2015-03-09T16:08:46Z",
                  "headline":"headline here",
                  "profile_image_url":null,
                  "bio":null,
                  "position":null,
                  "user_id":null,
                  "name":"Jane Doe",
                  "id":5083,
                  "meta":{
                     "class":"authorbio",
                     "url":"/author_bios/5083",
                     "name":"Jane Doe",
                     "description":null,
                     "image_url":null
                  }
               }
            },
            "product":{
               "id":300137,
               "is_recurring":false,
               "price":500,
               "name":"Paid Course",
               "currency":"USD"
            },
            "user":{
               "id":4831317,
               "role":"student",
               "email":"john_doe@example.com",
               "name":"John Doe",
               "school_id":5783,
               "src":null,
               "first_touch":null,
               "last_touch":null,
               "last_sign_in_at":"2017-04-26T17:47:20Z",
               "sign_in_count":2,
               "unsubscribe_from_marketing_emails":null
            },
            "coupon":null,
            "affiliate":{
               "id":250053,
               "role":"affiliate",
               "email":"john_affiliate@example.com",
               "name":"John Affiliate",
               "school_id":5783,
               "src":null,
               "first_touch":null,
               "last_touch":null,
               "last_sign_in_at":"2015-02-03T17:43:29Z",
               "sign_in_count":1,
               "unsubscribe_from_marketing_emails":null
            },
            "transactions":[
               {
                  "created_at":"2017-04-26T17:47:55Z",
                  "custom_gateway?":null,
                  "fully_refunded?":true,
                  "is_stripe_connect?":false,
                  "is_custom_paypal?":false,
                  "user_id":4831317,
                  "final_price":500,
                  "currency":"USD",
                  "affiliate_percent":null,
                  "author_percent":0.0,
                  "author_id":null,
                  "teachable_percent":0.2,
                  "teachable_processor_fee":0,
                  "amount_refunded":500,
                  "status":"paid",
                  "affiliate_fees":0,
                  "author_fees":0,
                  "sale_id":5810934,
                  "coupon_id":null,
                  "net_charge":0,
                  "earnings_usd":0,
                  "net_charge_usd":0,
                  "teachable_fixed_fee":0,
                  "total_teachable_fee":0,
                  "is_recurring":false,
                  "stripe_charge_token":"ch_Xxxxxxxxxxxxxx",
                  "paypal_payment_id":null,
                  "stripe_invoice_id":null,
                  "purchased_at":"2017-04-26T17:47:53Z",
                  "refundable":false,
                  "vat_fees":0,
                  "is_chargeback":null,
                  "id":867110,
                  "net_tax_charge":0,
                  "net_product_charge_usd":0,
                  "meta":{
                     "class":"transaction",
                     "url":null,
                     "name":"867110",
                     "description":null,
                     "image_url":null
                  }
               }
            ]
         },
         "user":{
            "id":4831317,
            "role":"student",
            "email":"john_doe@example.com",
            "name":"John Doe",
            "school_id":5783,
            "src":null,
            "first_touch":null,
            "last_touch":null,
            "last_sign_in_at":"2017-04-26T17:47:20Z",
            "sign_in_count":2,
            "unsubscribe_from_marketing_emails":null
         },
         "coupon":null
      }
   }
]

[
   {
      "type":"Enrollment.completed",
      "id":12345,
      "livemode":true,
      "created":"2016-08-31T16:50:28+00:00",
      "hook_event_id":1,
      "object":{
         "created_at":"2016-08-31T16:27:34Z",
         "shipping_address": null,
         "coupon":null,
         "user_id":43434343,
         "course_id":444444,
         "primary_course_id":444444,
         "sale_id":333333,
         "is_active":true,
         "enrolled_at":"2016-08-31T16:27:34Z",
         "percent_complete":100.0,
         "has_full_access":false,
         "id":22232323,
         "course_progress_id": 12345678,
         "meta":{
            "class":"enrollment",
            "url":null,
            "name":"222232323",
            "description":null,
            "image_url":null
         },
         "user":{
            "created_at":"2016-08-31T16:27:34Z",
            "current_sign_in_at": "2022-04-27T19:57:32Z",
            "sign_in_count": 8,
            "role":"student",
            "sanitized_name": "User Name",
            "gravatar_url":"https://s.gravatar.com/avatar/12345?d=mm",
            "email":"john_doe@example.com",
            "notes":null,
            "affiliate_code":"5559_9r2htpcz",
            "name":"John Doe",
            "is_owner":false,
            "is_student":true,
            "is_affiliate":false,
            "is_author":false,
            "src":null,
            "current_sign_in_at":"2016-08-31T16:27:35Z",
            "last_four":null,
            "paypal_email":"john_doe@example.com",
            "affiliate_revenue_share":null,
            "joined_at":"2016-08-31T16:27:34Z",
            "transactions_gross":0,
            "signed_up_affiliate_code":null,
            "author_revenue_share":0.0,
            "last_sign_in_ip":"99.224.146.47",
            "current_sign_in_ip":"99.224.146.47",
            "id":2058707,
            "school_id":859,
            "meta":{
               "class":"user",
               "url":null,
               "name":"John Doe",
               "description":"john_doe@example.com",
               "image_url":"https://s.gravatar.com/avatar/12345?d=mm\u0026size=100"
            },
            "author_bio_id":null,
            "total_sales":0,
            "author_bio":null
         },
          "course": {
            "id": 123456,
            "name": "Advanced Candy Making",
            "url": "https://the-sweet-shop.teachable.com/courses/123456",
            "friendly_url": "advanced-candy-making1",
            "meta_description": "Learn the most advanced candy-making techniques known to humankind from a trained candy-making master.",
           "description": null,
           "author_bio": {
              "created_at": "2021-05-24T20:46:16Z",
              "profile_image_url": null,
              "bio": "Renowned expert",
              "position": null,
              "user_id": 12345678,
              "name": "Author name",
              "id": 123456,
              "meta": {
                "class": "authorbio",
                "url": "/author_bios/123456",
                "name": "Author name",
                "description": "",
                "image_url": null,
                "status": null
              },
          "user_name": "Author name",
          "user_is_owner": false,
          "user_has_custom_role": false
      }
    },
    "certificate_serial_number": "cert_d12ab2cd"
  }
}
]

User Opts out of Marketing Emails
[
  {
    "type": "User.unsubscribe_from_marketing_emails",
    "id": 11659146,
    "livemode": true,
    "created": "2018-05-22T21:50:57+00:00",
    "hook_event_id": 1,
    "object": {
      "id": 11659146,
      "role": "affiliate",
      "email": "john_doe@example.com",
      "name": "John Doe",
      "school_id": 116505,
      "src": null,
      "first_touch": null,
      "last_touch": null,
      "last_sign_in_at": "2018-05-22T16:16:28Z",
      "sign_in_count": 2,
      "unsubscribe_from_marketing_emails": null
    }
  }
]
User Opts in to Marketing Emails
[
  {
    "type": "User.subscribe_to_marketing_emails",
    "id": 12477454,
    "livemode": true,
    "created": "2018-06-27T20:47:23+00:00",
    "hook_event_id": 1,
    "object": {
      "id": 12477454,
      "role": "student",
      "email": "john_doe@example.com",
      "name": "John Doe",
      "school_id": 116505,
      "src": null,
      "first_touch": null,
      "last_touch": null,
      "last_sign_in_at": "2018-06-27T20:43:47Z",
      "sign_in_count": 1,
      "unsubscribe_from_marketing_emails": false
    }
  }
]
[
  {
    "type": "Enrollment.disabled",
    "id": 121,
    "livemode": true,
    "created": "2021-01-06T15:54:32+00:00",
    "hook_event_id": 6,
    "object": {
      "created_at": "2021-01-06T15:12:26Z",
      "coupon": null,
      "user_id": 116,
      "course_id": 3,
      "primary_course_id": 3,
      "sale_id": 120,
      "is_active": false,
      "enrolled_at": "2021-01-06T15:12:26Z",
      "percent_complete": 0,
      "has_full_access": false,
      "id": 121,
      "course_progress_id": 121,
      "updated_at": "2021-01-06T15:54:31Z",
      "meta":{
        "class": enrollment,
        "url": null,
        "name":	121,
        "description":	
        "image_url": null,
        "status": null,
         },
      "user":{
        "created_at": 2021-01-06T15:12:26Z,
        "role": guest,
        "sanitized_name": John Doe,
        "gravatar_url": https://s.gravatar.com/avatar/12345?d=mm,
        "is_teachable_account": true,
        "author_bio": null,
        "author_bio_id": null,
        "custom_role":	null,
        "custom_role_name": null,
        "primary_owner?": false,
        "show_custom_role_upgrade?": false,
        "has_zoom_credential?": false,
        "email": john_doe@example.com,
        "notes": null,
        "affiliate_code": 1_madu8hph,
        "name": bc student 2,
        "is_owner": false,
        "sign_in_count": 1,
        "is_student": true,
        "is_affiliate": false,
        "is_author": false,
        "src":	null,
        "current_sign_in_at": 2021-01-06T15:12:34Z,
        "confirmed_at": 2021-01-06T15:12:58Z,
        "last_four": null,
        "paypal_email": null,
        "affiliate_revenue_share": null,
        "joined_at": 2021-01-06T15:12:26Z,
        "signed_up_affiliate_code": null,
        "author_revenue_share": 0,
        "last_sign_in_ip": 68.123.123.123,
        "current_sign_in_ip": 68.123.123.123,
        "id": 116,
        "school_id": 1,
        "teachable_account_id": 109,
        "is_staff_user": null,
        "agree_updated_privacy_policy": true,
        "unsubscribe_from_marketing_emails": false,
        "meta":{
           "class": user,
           "url": null,
           "name": bc student 2,
           "description":	
           "image_url":	null,
           "status": null,
         },
         "transactions_gross": 1000,
         "shipping_address":{
         	"id":18,
          "line1": 123 Apple Street, 
          "line2": Apt 1,
          "city": new york,
          "region": NY,
          "postal_code": 10016,
          "country": US,
          },
        },
       },
    "course":{
    	"id": 3,
      "name":	Course Name 0,
      "url":	http://testschool.teachable.cloud/courses/3,
      "friendly_url":	friendly-url-0,
      "meta_description": Course Heading,
      "description":	Course Description,
      "author_bio":{
      	"created_at":	2020-05-05T15:09:09Z,
        "headline": MyText,
        "profile_image_url": http://www.example.com,
        "bio": MyText,
        "position": null,
        "user_id": null,
        "name": Author Name,
        "id":	4,
        "meta:"{
        	"class": authorbio,
          "url": /author_bios/4,
          "name": Author Name,
          "description":	
          "image_url": null,
          "status": null,
          },
  			},
      },
     },
    }
]
[
  {
  "type": Admission.created,
	"id": 138,
	"livemode": true,
	"created": 2021-01-12T21:03:41+00:00,
	"hook_event_id": 108,
  "object": {
  	"user": {
    	"id": 489,
   		"role":	student,
    	"email": john_doe@example.com,
    	"name":	Test Student,
    	"school_id": 1,
    	"src": null,
    	"first_touch": null,
    	"last_touch": null,
    	"last_sign_in_at": 2021-01-08T16:53:31Z,
    	"sign_in_count": 2,
    	"unsubscribe_from_marketing_emails": false,
      },
      "purchasable": {
      	"type": creator_product,
        "creator_product": {
        	"id": 3,
      		"author_bio_id": 170,
      		"description": null,
      		"image_url": https://cdn.filestackcontent.com/IcMn5yXSQaQ12345679,
      		"name":	Coaching Service Test,
      		"position": 2,
      		"status": published,
      		"school_id": 1,
      		"created_at": 2020-01-03T19:57:14Z,
      		"updated_at": 2020-09-30T20:30:57Z,
      		"friendly_url":	test-coaching,
      		"destroyed_at":	null,
      		"preferences":
      		"external_url":	
      		"author_id": null,
          },
        },
      },
    }
 ]
[
  {
  "type": Admission.disabled,
  "id": 135,
  "livemode": true,
  "created": 2021-01-12T21:03:55+00:00,
  "hook_event_id": 112,
  "object": {
     "user": {
    	"id":	488,
    	"role":	student,
   	 	"email": john_doe@example.com,
    	"name":	Test Student,
    	"school_id": 1,
    	"src":	null,
    	"first_touch": null,
    	"last_touch": null,
    	"last_sign_in_at": 2021-01-08T16:30:17Z,
    	"sign_in_count": 3,
    	"unsubscribe_from_marketing_emails": false,
      },
    "purchasable": {
    	"type":	creator_product,
    	"creator_product": {
      	"id": 3,
      	"author_bio_id": 170,
      	"description": null,
      	"image_url": https://cdn.filestackcontent.com/IcMn5yXS12345123456,
      	"name":	Test Coaching Service,
      	"position": 2,
      	"status": published,
      	"school_id": 1,
      	"created_at": 2020-01-03T19:57:14Z,
      	"updated_at": 2020-09-30T20:30:57Z,
      	"friendly_url": test-coaching,
      	"destroyed_at":	null,
      	"preferences":
      	"external_url":	
      	"author_id": null,
 	},
        },
      },
    }
  ]
  
{
  "type": "EmailLead.created",
  "id": 42,
  "livemode": true,
  "created": "2021-03-03T18:26:27+00:00",
  "hook_event_id": 988,
  "object": {
    "email": "test@example.com",
    "source": "Form Name Here",
    "created_at": "2021-03-03T18:26:24Z"
  }
}
  
{
  "type": "UserTag.created",
  "id": 123456,
  "livemode": true,
  "created": "2022-05-05T18:13:55+00:00",
  "hook_event_id": 123456789,
  "object": {
    "school_id": 123456,
    "user_id": 12345678,
    "user_email": "student@example.com",
    "tag_id": 1234,
    "tag_name": "tag name here"
  }
}
{
  "type": "UserTag.removed",
  "id": null,
  "livemode": true,
  "created": "2022-05-05T18:14:07+00:00",
  "hook_event_id": 123456789,
  "object": {
    "tag_id": 1234,
    "user_id": 12345678,
    "tag_name": "tag name here",
    "school_id": 123456,
    "user_email": "student@example.com"
  }
}