This article reviews how to send emails from your Teachable school. It also shows how to view email history, which includes custom and automated emails sent to school users.
Overview
Schools on the Basic plan and up can send custom emails to users in their school. These emails have customizable subjects and body content.
You can set a specific Reply to email address and Email sender name in your school's Settings > General menu. (The Reply to email address is where any student responses will be sent.)
The following user types can send emails through the school admin:
If a user has opted-out of receiving instructional and promotional emails via their profile settings, they will not receive custom emails sent from the Emails > Compose menu. Learn more about email opt-in/out.
TIP: If you are looking for more advanced email marketing functionality (such as scheduling emails, setting up email campaigns, etc.), you might consider integrating with a more advanced email platform, such as Mailchimp or ConvertKit. Learn more about Teachable's integrations with various email service providers.
Compose emails
To send an email through your school admin:
Navigate to the Emails > Compose tab of your school admin.
Fill out the following fields:

To - Use the arrow dropdown menu to select Users (to search for users by specific name or email), Course (to send an email to all users in a specific course), or All users (to send to all users in your school).
Subject - Enter in an email subject
Message - Use the text editor to compose your email message. You can use the text editor to format text, add links, and insert images into the body of the email.
Disable HTML Template - When selected, this will send the message as plain text and remove any additional HTML/CSS formatting. This will remove the email header as well.

If you'd like to preview what the email will look like, click the Preview button in the top right corner of the page. This will open up a preview of the email in a new tab.
Click Send email to send the email to your selected recipients.

You can also send yourself a test email by clicking Send Test Email. You will only receive the test email if you have opted in to receiving instructional and promotion emails for your own school.
Segment emails
When sending emails to your students, you might want to only send emails to certain segments (or groups) of students. For example, you might want to only send an email to students who are enrolled in a free trial, haven't fully completed a specific course yet, etc.
In order to segment emails to specific groups of users, we recommend using user filters.
To use user filters to email a specific group of students:
Navigate to the Users tab of your admin side menu.
Specify which user list you'd like to view (i.e. Students, Authors, Affiliates, or Owners).
At the top of the page, click the Add Filter drop-down menu to add a filter.
Select the filter you wish to apply to your users (e.g. enrolled in a certain course, enrolled in a free trial, has a specific user tag, etc.). Note that these filters may differ depending on the user list you are viewing.
Once you have set up your desired filter(s), click the Email Students button in the top right corner of the page. This will open up the Emails > Compose page, with the filtered users pre-selected as your email recipients.
Email history
You can see a list of emails sent to users in the past via your email history. This includes custom emails you've sent via the Emails > Compose menu, but also includes a list of automated emails sent from your school (such as emails sent when a student's payment fails, receipt emails, etc.).
To view your email history:
Navigate to the Emails tab of your admin side menu.
Select the History tab.
From the Select Type dropdown menu, choose the email type you want to view.
If you select Custom Email (i.e., an email sent via the Emails > Compose menu), or Drip Content Release (i.e., an email sent as a part of a drip release announcement), the following details will be available:
Date Sent - the date the email was sent
Subject - the subject of the email that was sent
Recipients - number of users to which the email was sent
Opened - the percentage of recipients that opened the email
Clicked - the percentage of recipients that clicked one or more links within the email
Bounce - the percentage of recipients for which the email could not be delivered
For custom emails and drip emails, you can turn off the Group by Recipients toggle in order to view each individual email sent by specific user email.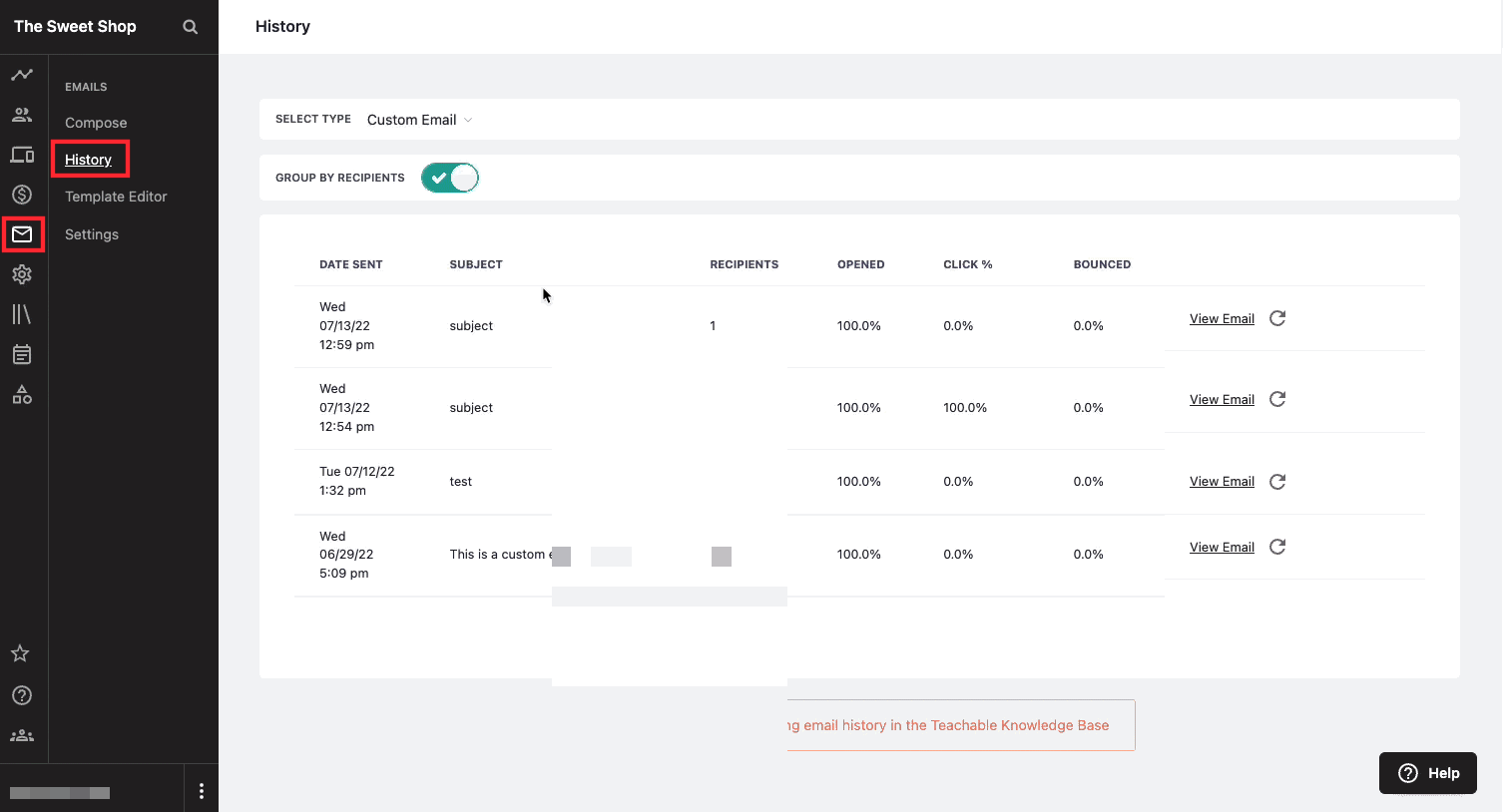 You can also click the View Email button to open up a preview of the email that was sent. Clicking the Refresh icon will update your email's statistics with the most recent data.
For all other email types, you'll see the specific time an email was sent, delivered, opened, or bounced. You can also search for a specific user name or email in the Filter by Recipient field—this can help you track when individual students in your school are receiving automated emails from your school.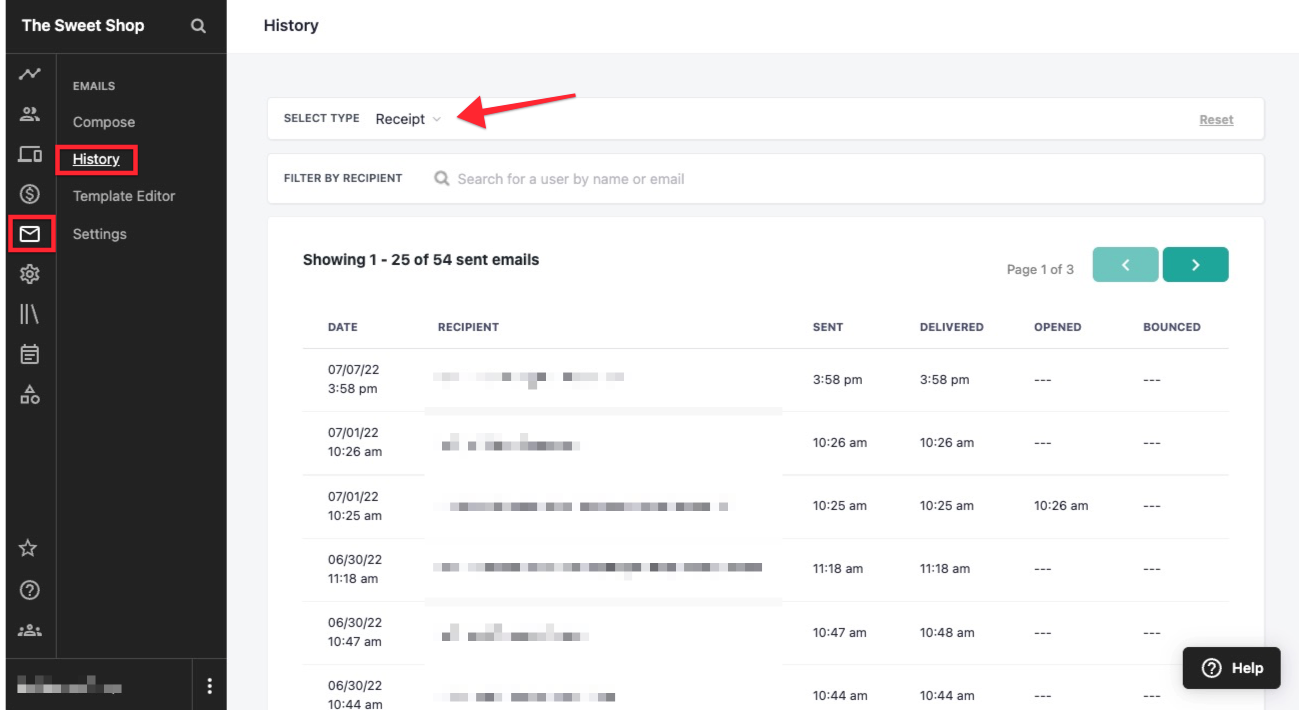 Additional resources