This article goes over how to use Teachable's native integration to embed a Facebook pixel to your school's checkout, site, and course pages.
Overview
Facebook pixels are snippets of code that occupy a single pixel on a page. If you're using Facebook ads, having a pixel allows you to collect data on how your ads are performing, and then use that data to optimize the conversion rate.
Once you enable Teachable's native Facebook pixel integration, it'll automatically add a pixel to the following pages and start tracking the page view events and purchase events (if applicable):
Checkout pages
Sales pages
Thank you pages
Lecture pages
Site Pages (e.g. homepage, terms of service, etc)
Custom Pages
CAUTION: The use of tracking pixels may affect whether your school meets privacy and data consent standards under the European Union's General Data Protection Regulation. We recommend consulting a legal professional before adding tracking pixels on your school.
NOTE: If your Facebook pixel is not tracking the above events for all visitors to your school, it is possible your analytics are affected by third-party privacy regulations and features, such as Apple's iOS14 software update. For more general information on tracking analytics, privacy, and Teachable, please review our FAQ.
Creating a Facebook Pixel
In order to use Teachable's native Facebook integration, you'll need to have a school on a paid plan, a Facebook ad account, and an existing Facebook pixel. For more detailed information on how to create a pixel, we recommend taking a look at Facebook's help articles on the subject.
Once you've created your Facebook pixel, you'll need your Pixel ID to use Teachable's integration: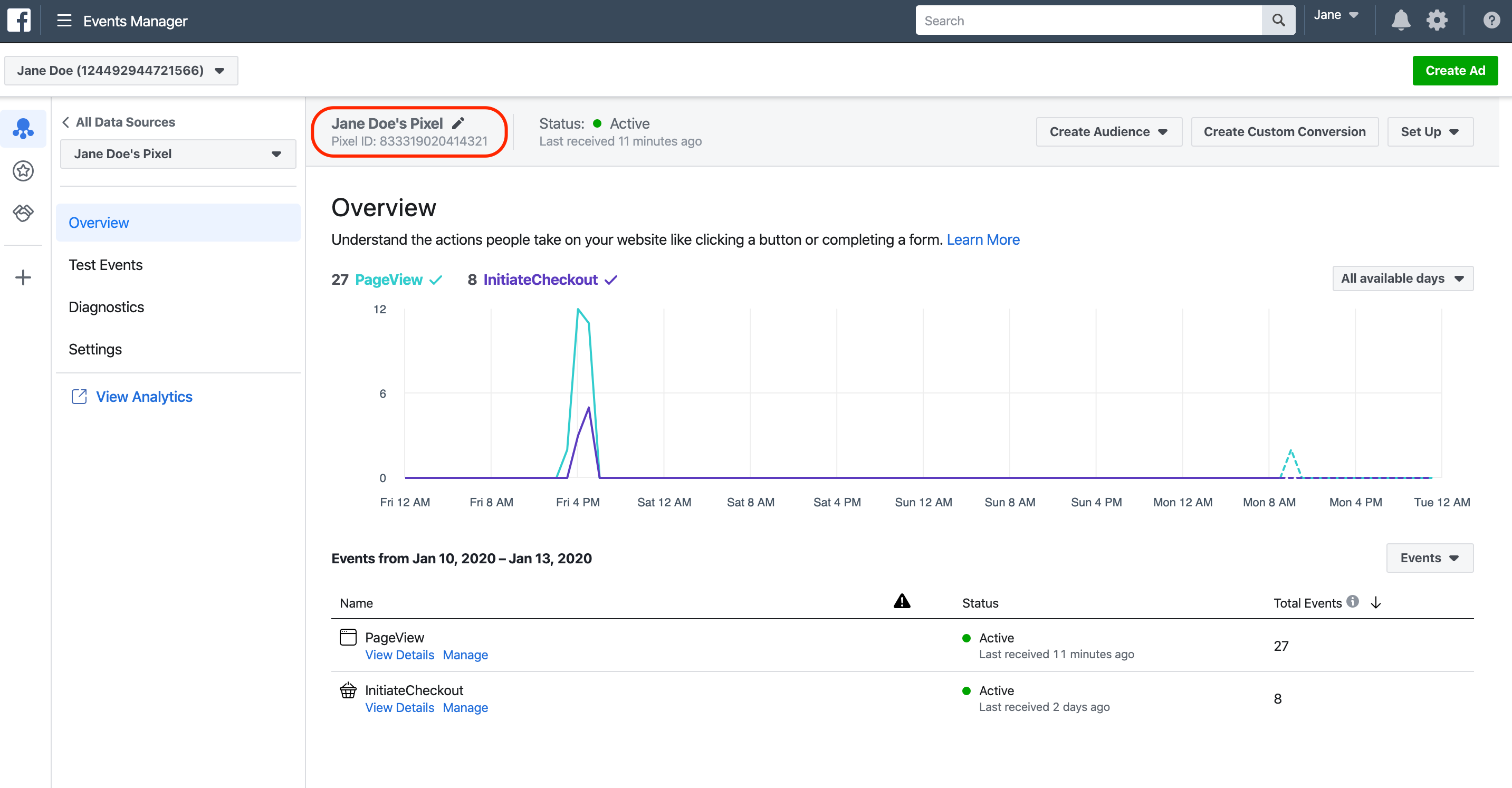 Adding a Pixel to Your School
Once you've created a Facebook pixel and have your Pixel ID, you can add your pixel by following these steps:
CAUTION: If you've already added a pixel to your school using code snippets, we recommend you remove your existing pixel before using this integration to add a new one. Otherwise, the data you gather may be inaccurate.
Click Settings from the submenu, and then click Integrations.
Enable the Facebook Pixel integration by clicking the checkbox.
In the text field, enter your Pixel ID.
Click Save.
Testing Your Tracking Pixel
After you've added enabled the Facebook pixel integration, you may want to test it to make sure it's working. To do so, we recommend installing the Facebook Pixel Helper Chrome Extension.
Once you install the extension, go to one of your school's checkout, sales, or course pages and click on the blue "</>" symbol. If done correctly, you should see your Facebook pixel listed in the window that appears.