This article gives an overview of applications you can set up with your Teachable school. It reviews the kinds of integrations available, how to access the Apps page, and other frequently asked questions.
NOTE: Third-party tools exist outside the realm of customer support. This means that we cannot assist with maintenance, customization, or troubleshooting within the tools themselves. Moreover, with any changes made within the tools, we cannot ensure functionality or full compatibility with current or future versions of Teachable.
Overview
Teachable provides integrations with several third-party applications. These integrations allow you to connect your Teachable school to various different email service providers, community platforms, analytics services, and so on. Setting up third-party apps allows you to link your school to other tools you use—creating a more seamless experience for your overall online business.
All school owners can access and set up app integrations.
TIP: For more tips on how you can utilize specific apps with your Teachable school, check out the Teachable blog.
Teachable also offers an API (available on the Pro plan and up). To learn more about the Teachable API, check out our developer documentation at docs.teachable.com.
Available apps
The following app integrations can be connected with your Teachable school:
App
Description
Plan Availability*
ActiveCampaign
Marketing and sales automation tool for email marketing
Basic and up
AWeber
Marketing automation tool for email marketing

Basic plan for one workflow

Pro and up for unlimited workflows

Circle.so
Creator community platform

Basic and up

ConvertKit
Creator marketing platform

Basic and up

Meta Pixel
Analytics tool that measures the efficacy of your advertising

Basic and up

Google Analytics
Web analytics service that tracks and reports website traffic
All plans
Mailerlite
Email marketing tool and website builder

Pro and up

Mailchimp
Marking, automation, and email marketing platform

Basic and up

Segment
Collect, unify, analyze, and use customer data
All plans
Sumo
Email marketing and lead capture tool to help grow your business
All plans
TikTok Pixel
Analytics tool that measures the efficacy of your advertising
Pro and up
Zapier
Connect and automate Teachable to over 3,000+ additional applications

Basic and up to use Teachable triggers

Professional and up to use Teachable actions
*Plan availability refers to the Teachable plan you must be on to access the integration. Each individual tool might have their own plan and pricing structure.
Accessing the Apps menu
Each app can be connected to your Teachable school from the Apps menu. To access the Apps menu:
Navigate to the Settings tab of your school admin.
Click the Apps tab.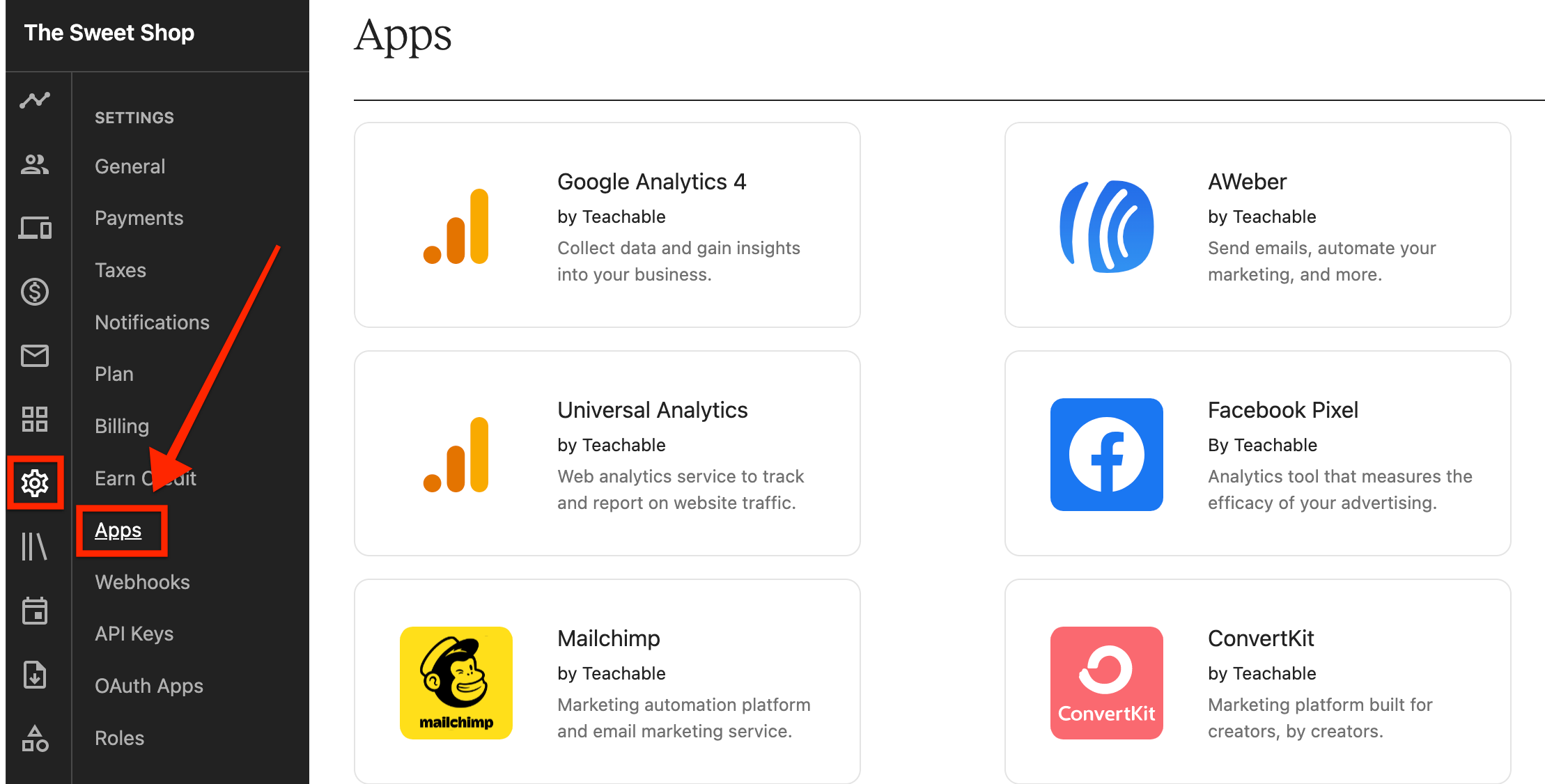 Each individual app has its own guide on how to set up and connect with Teachable. For further instruction, see the specific Knowledge Base article for each app (linked in the chart in the above section.)
Apps settings
If you integrate Teachable with analytics service tools, Teachable sends events related to your students' course activity to these services. If you want to prevent Teachable from sending these events to your integrated services, you need to disable the course events tracking setting.
To disable course events tracking:
Navigate to your Settings > General tab.
Click the Courses tab at the top of the page.
Scroll down to the Course event tracking settings section.
Turn on the Disable course events tracking toggle. (Turning on the toggle will STOP these events from being sent.)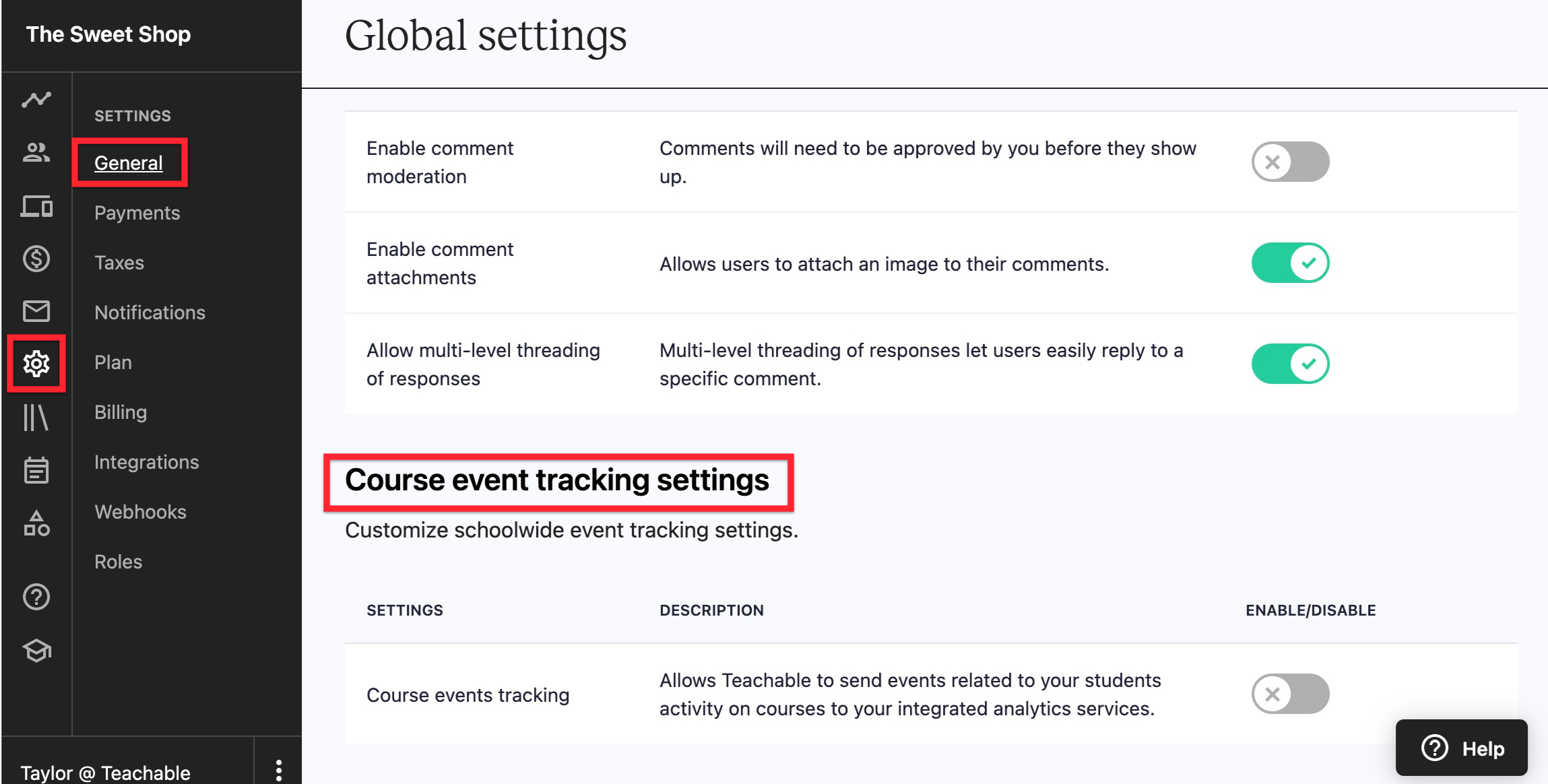 Frequently asked questions
Does Teachable have a public API?
The app I use is not listed. Can I still integrate it with Teachable?
Teachable only offers direct integrations with the apps listed in Apps section of your school.
However, you might be able to use the Zapier integration to connect Teachable with another tool. To see if Zapier offers an automation between Teachable and the third-party tool you're looking to use:
Navigate to https://zapier.com/apps/teachable/integrations.
Type in the name of the third-party tool into the search bar.
Hit the enter key to search.
If a result is listed, then you should be able to use the Zapier integration to connect Teachable to the other third-party tool. Learn more about setting up Teachable with Zapier.
Alternatively, you might be able to utilize Teachable webhooks to send information from Teachable to a third-party application. Read more about using Teachable webhooks.
What can I achieve with each integration?
We are happy to help you connect Teachable to each of the integrations.
That said—while we are Teachable product experts, we are not experts in each of these individual tools. The best place to get information on what you can achieve with each tool is to contact their individual support teams.