This article goes over how school owners can handle collecting and remitting EU VAT.
EU VAT and Your Tax Liability as a School Owner
The European Union Value Added Tax (VAT) is charged on purchases made by customers in the EU. VAT applies to any merchant selling a product or service (including digital products like an online course) to a customer based in Europe. The location of the merchant doesn't matter—only the location of the customer determines whether or not VAT should be applied.
NOTE: These are general recommendations. Teachable cannot give tax or financial advice and is not liable for any losses or tax liabilities due to actions taken (or not taken) based on these recommendations. Always consult a local tax professional when planning your taxes.
Collect VAT
Teachable automatically collects VAT on all purchases made from the EU, regardless of which payment gateway processes the transaction. In some cases, you can disable VAT collection, however, we do not recommend doing so without consulting a tax professional.
File and Remit VAT
If you're using Teachable's payment gateways (the Monthly Payment Gateway or Teachable Payments) and you've enabled BackOffice, then Teachable is considered the "supplier of record" and is responsible for filing and remitting VAT every quarter to the appropriate EU authorities.
If you are using custom payment gateways, then you are considered the "supplier of record". As such, you are responsible for filing and remitting VAT to the appropriate EU VAT authorities for any transaction processed by a custom payment gateway.
As the "supplier of record" you have the option of inputting your own VAT ID in the Settings > Taxes section of your school admin: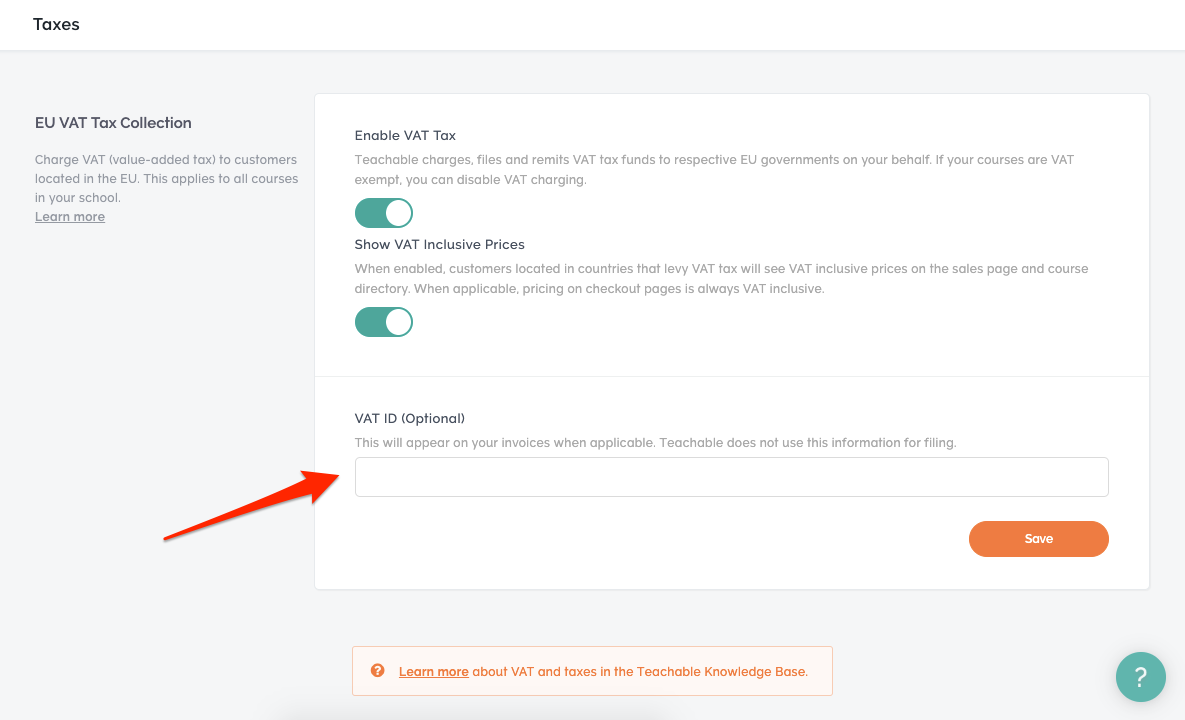 VAT Rates
VAT rates are determined based on a combination of factors; Teachable automatically collects information about a user's location based on their IP address and billing country. Once we've determined where a user is located in the EU, we use their country's current VAT rate to add the appropriate tax on top of the purchase price.
Display VAT Inclusive Pricing
If you've opted-in to BackOffice, you can choose to display VAT inclusive prices on your course's sales page, and your school's course directory in the Settings > Taxes section of your school admin.
When VAT inclusive pricing is enabled, Teachable will automatically add VAT to your course price and display the total as your course price to students subject to EU VAT on the course sales page, school homepage, and course directory. While the precise VAT amount won't be noted on these pages, students will see the precise VAT amount they will be charged on the checkout page in the Order Summary section.
To enable VAT inclusive pricing, turn on the Show VAT Inclusive Prices toggle.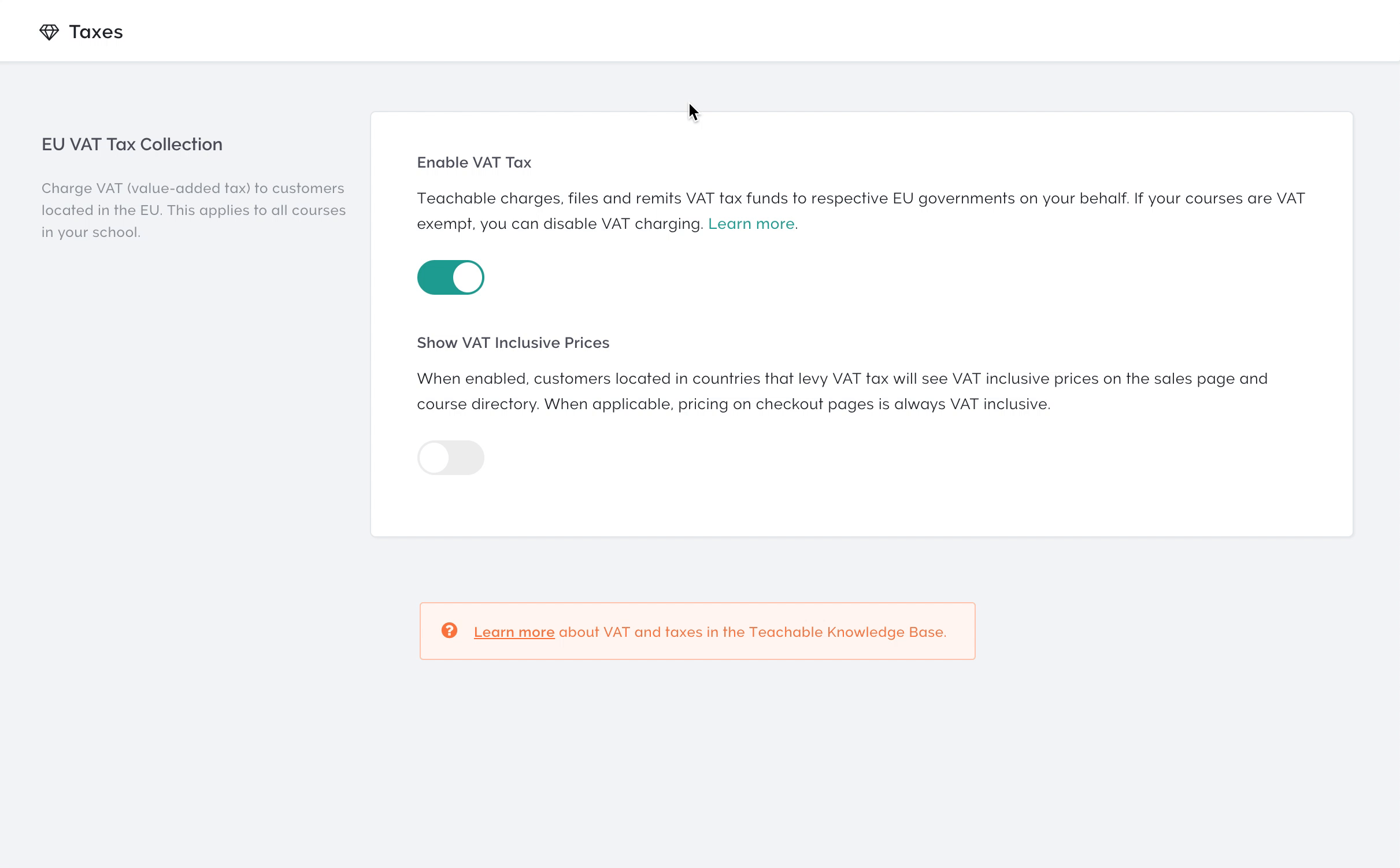 Disable VAT Collection 
If you have BackOffice enabled—or are using both Stripe and PayPal custom payment gateways—VAT collection is optional but will be enabled by default. VAT collection can be disabled by primary owners in the Settings > Taxes of your school admin. To disable VAT tax collection, toggle Enable VAT Tax off.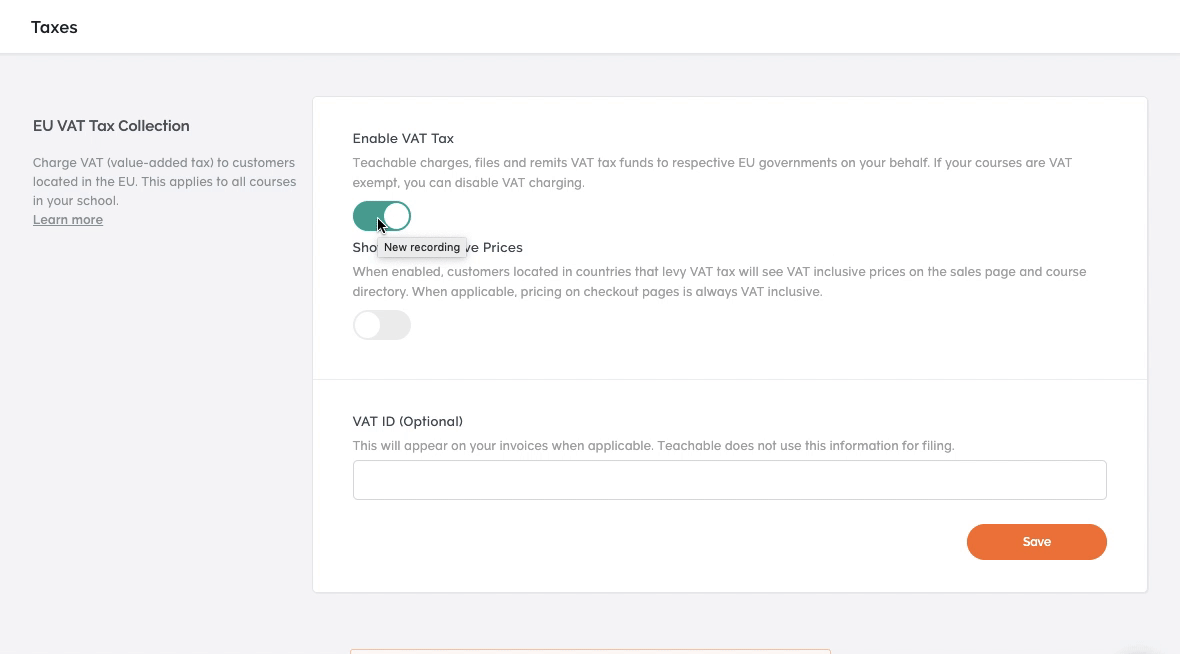 NOTE: If you switch between enabling/disabling VAT collection, subsequent course subscription charges will be the same as the the initial subscription charge. For example, if VAT collection was disabled at the time of purchase, then VAT will not be charged if you enable VAT collection after the initial subscription charge.
View VAT Fees in Your Transaction History
If you've set up custom payment gateways, and are therefore responsible for remitting VAT payouts, then you can use Teachable's transaction reporting tools to determine the VAT rates charged to your students.
You can calculate this by exporting your transaction data in the Sales section of your school admin. Once you have downloaded a CSV of your transaction data, you can reference the VAT Fees and Charge Country columns to determine your tax liability.