This article explains how Teachable handles EU Digital Goods VAT Tax.
Understanding VAT
EU VAT is a tax assessed only on purchases made by customers located in the EU. When students pay through a Teachable payment gateway, Teachable is the legal merchant of record, and we must by law collect the appropriate tax from EU users when they check out. We have an automatic process to do this (so no action is required on your end).
How it works in practical terms: we automatically collect information about a customer's location based on factors such as their IP address and billing country. If the customer doesn't appear to be in the EU, the checkout process is exactly the same as it's always been. If the customer is in the EU, we use their country's current VAT rate to add the appropriate tax (see below for a list of tax rates) on top of the purchase price. In rare cases where there's conflicting country information but we think the customer may be in the EU, we simply ask them to re-select their country before finally checking out.
For users located in one of these countries, their checkout form looks as such: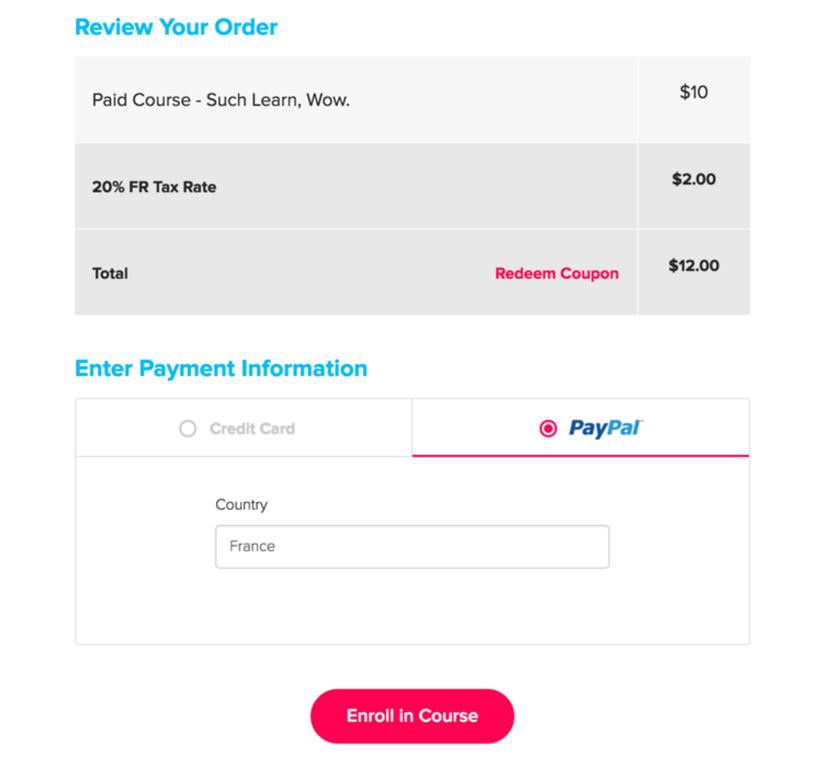 Here is a full list of VAT taxable countries and current tax rates: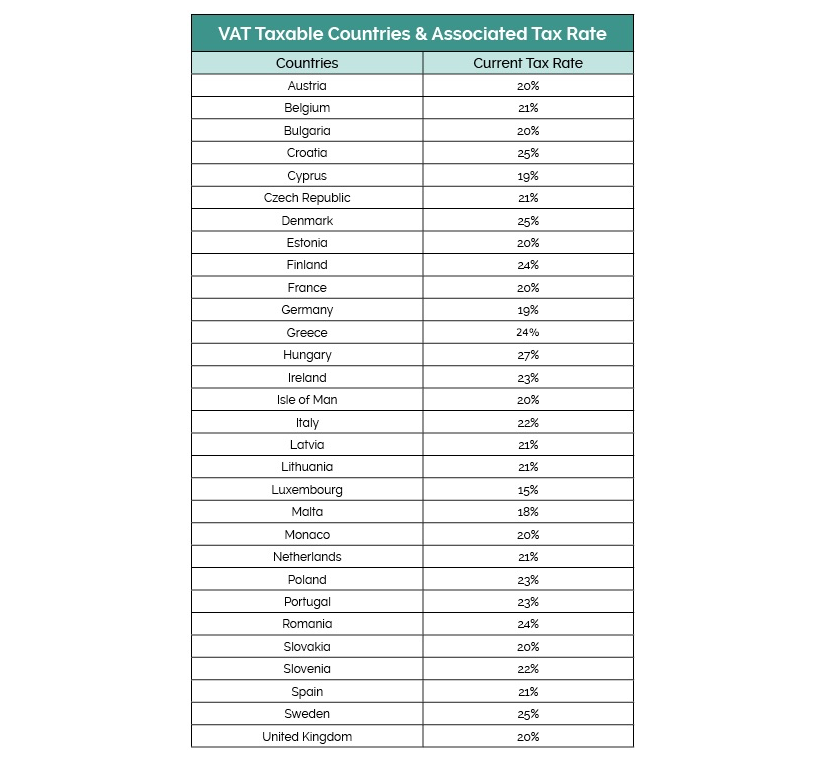 If the user is purchasing with PayPal, they will now be redirected back to Teachable to complete the purchase with the final tax amount shown.
The European Union Value Added Tax (aka EU VAT) applies to any merchant selling a product or service (including digital products like a course) to a customer based in Europe. It doesn't matter where the merchant is based, only the customer. Therefore, EU VAT may apply to you even if you've never set foot outside the USA, if you have European students purchasing paid courses through your school.
For those using Teachable's payment gateway, VAT is automatically applied during checkout. We handle everything. Note that for schools using Teachable's payment gateway, Teachable's address will appear on receipts whenever a valid VAT ID is applied during checkout. This is due to the fact that, in compliance with VAT laws, Teachable is considered the merchant of record for transactions in which our payment gateway is used.
For those using a custom payment gateway, VAT will always be charged unless both custom gateways (Stripe and PayPal) have been set up. School owners with Stripe connect and PayPal custom gateways can disable automatic VAT collection.
Purchases with VAT added will include the VAT and country in the detailed transaction view in your Admin section: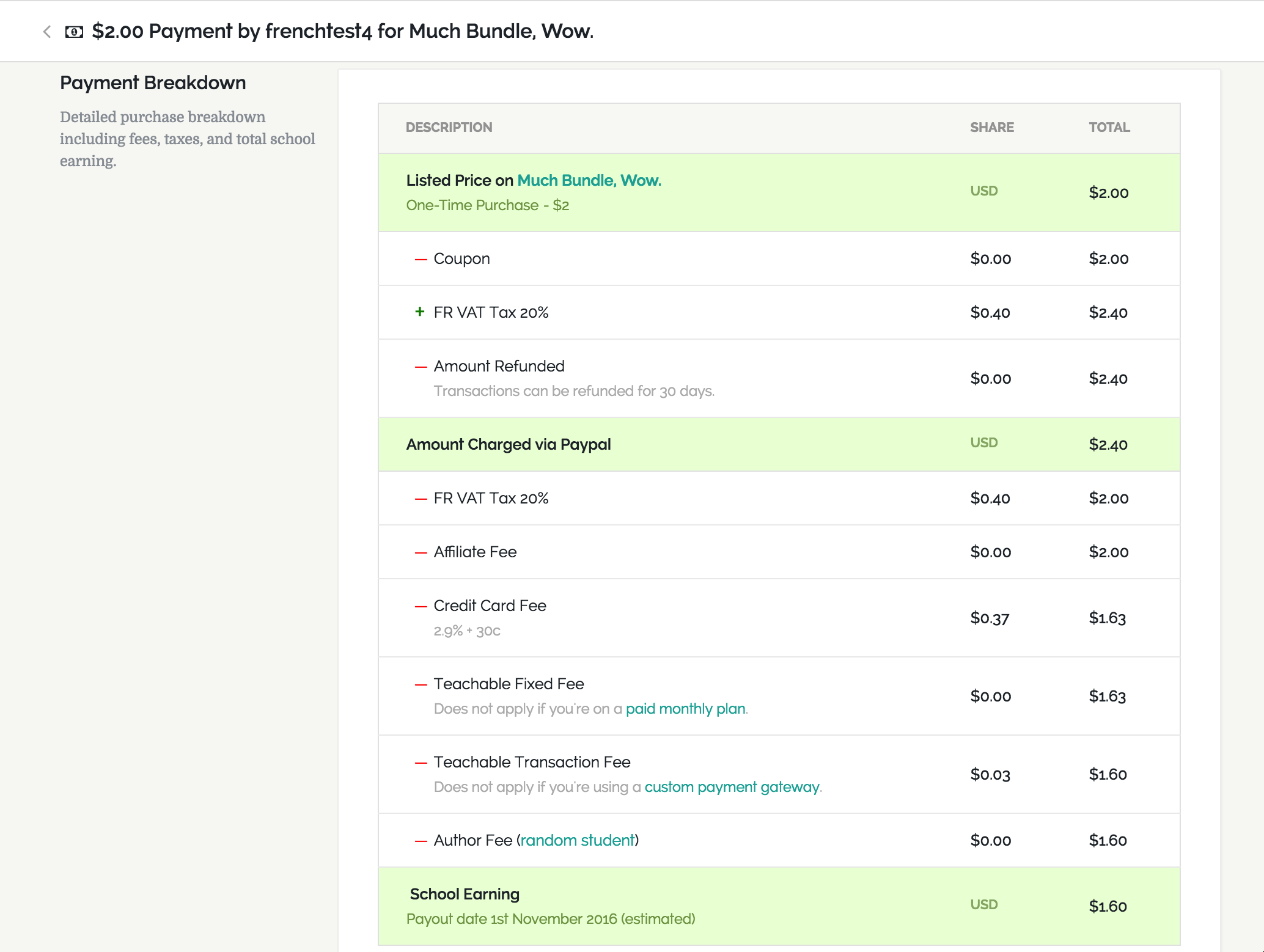 And as always, the raw data for all of your sales are available using the Export CSV button in the admin area under Transactions. An email will then be sent to you with a downloadable CSV file.
Adding VAT ID at Checkout
If a company is VAT-exempt, they can add their VAT ID at checkout to remove the tax from their purchase.
During the checkout flow, they'll be able to click Add VAT ID here, under their order summary, to generate a box where they can fill in their ID: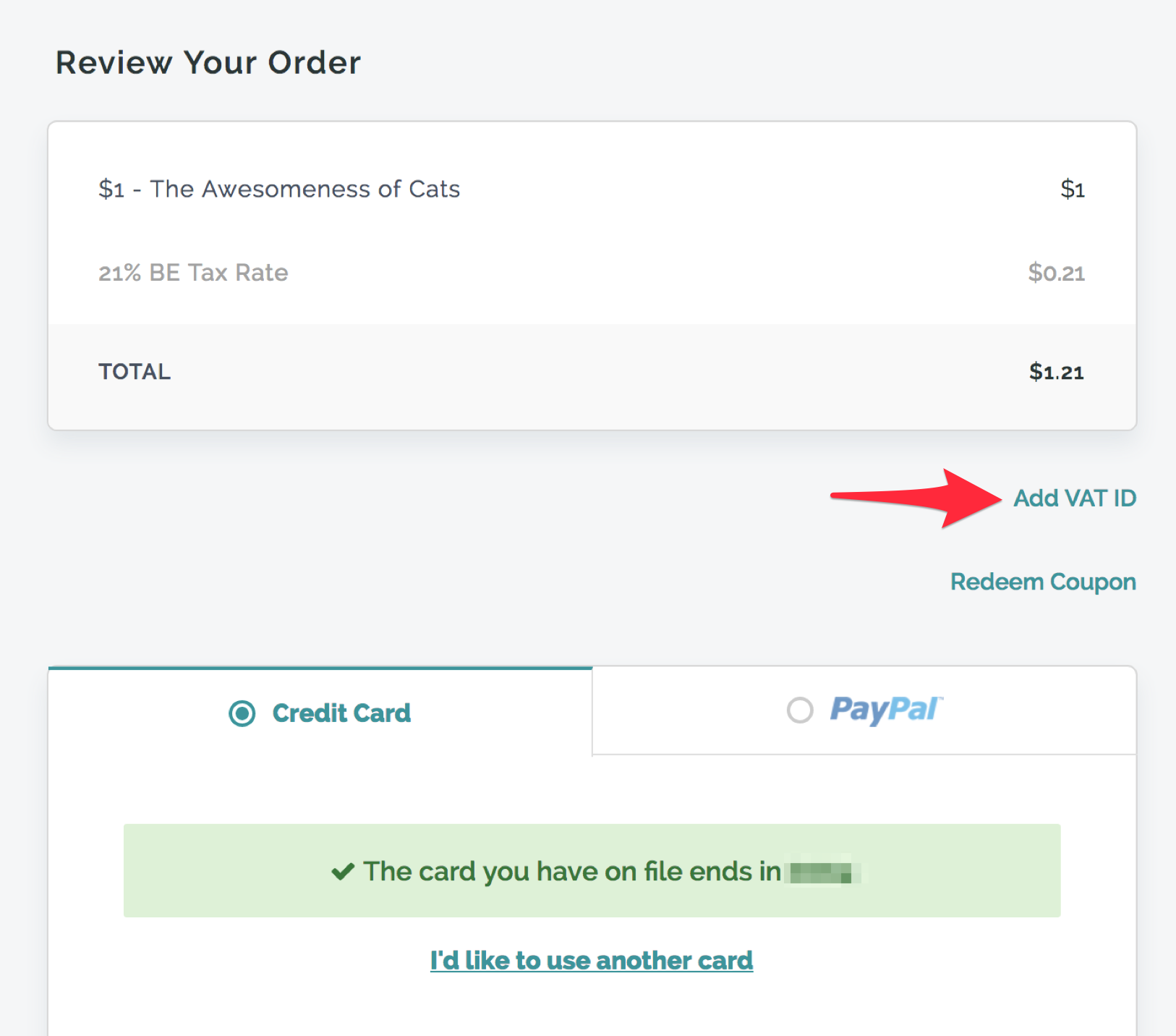 If the ID is valid, the tax will automatically be removed: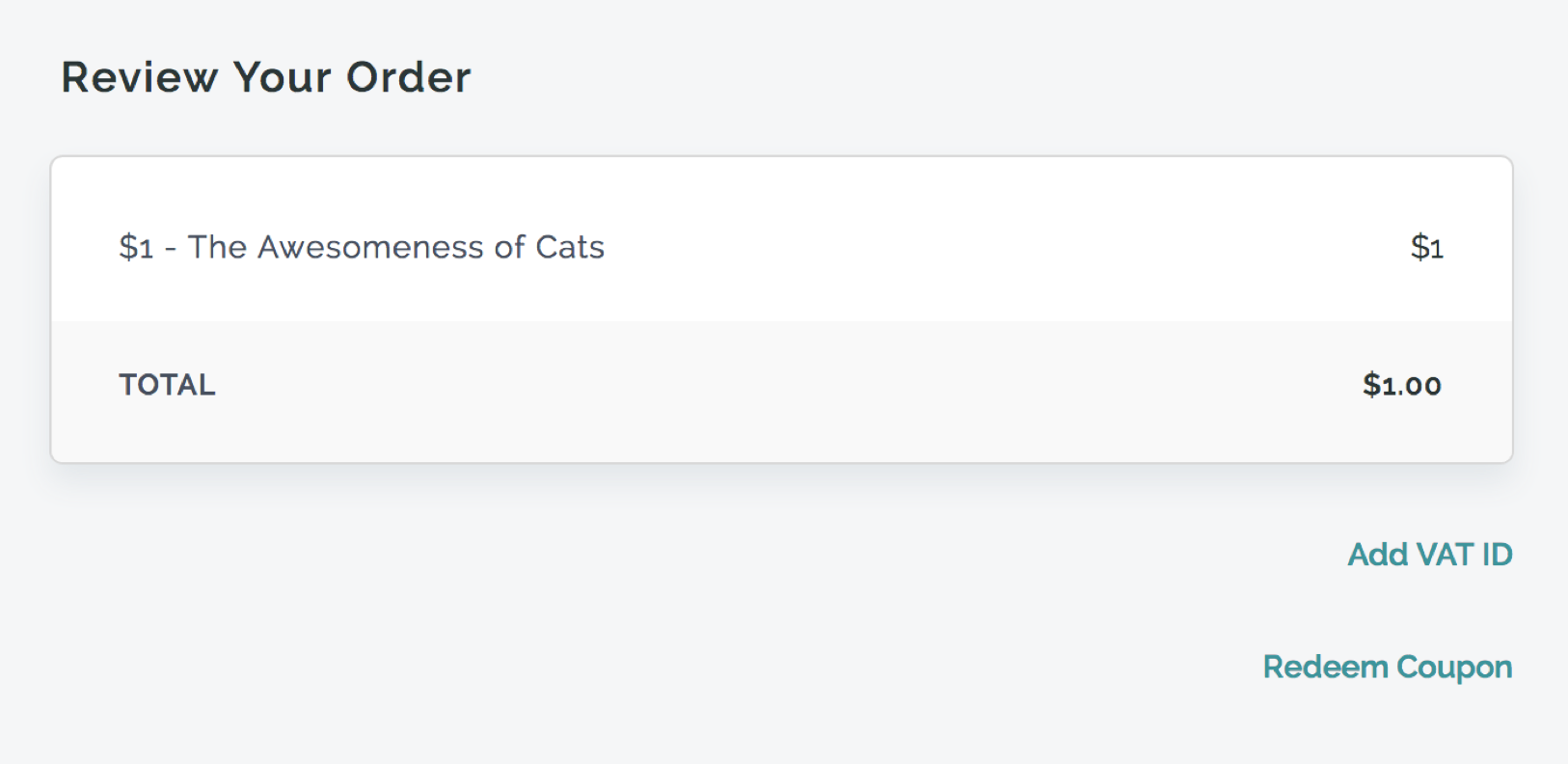 If it is invalid, an error message will appear: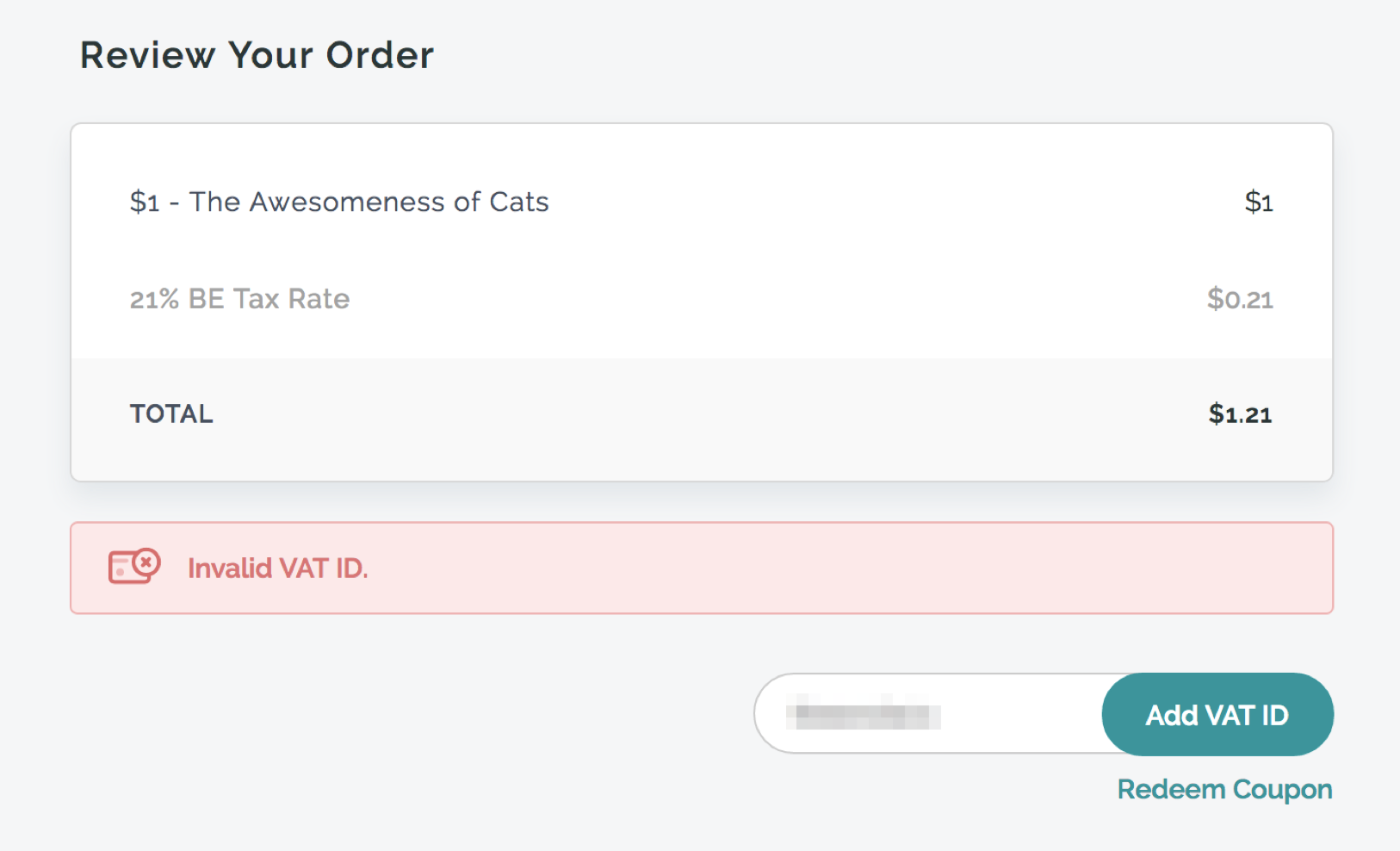 If a VAT number is input successfully, they will receive a receipt with the vendor and purchaser VAT IDs both recorded: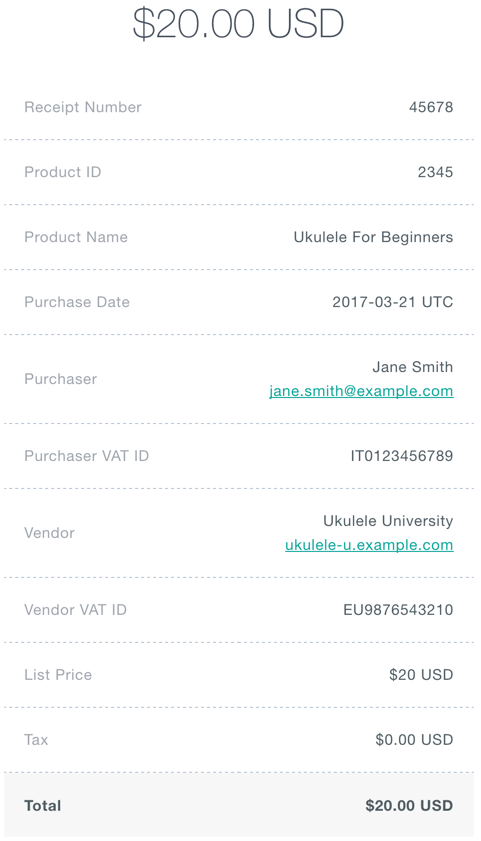 Disabling VAT Compliance (Custom Gateway Only)
As mentioned above, if you are using Teachable's gateway, VAT compliance will be automatically enabled and you won't have to worry about it.
For schools with one custom payment gateway set up (Stripe or PayPal), VAT will automatically be charged at checkout.
For schools with both custom payment gateway credentials set up (Stripe and PayPal), however, VAT collection is optional but will be on by default. It can be disabled in the admin area under Settings > Taxes.
Note that in the case when VAT is collected over a custom gateway, Teachable is not collecting the taxes; rather, they are going straight to your Stripe Connect or PayPal account along with the rest of the purchase, and you will be responsible for filing and paying the taxes yourself.
NOTE: If you switch between enabling/disabling VAT collection, it's important to note that while subscriptions will be processed by whichever gateway is active, subsequent subscription charges will be based on the initial subscription charge. So if VAT was disabled at the time, VAT will not be charged if you enable VAT collection after the initial subscription charge.
To disable VAT compliance when using both custom gateways, follow these steps:
Log into your Teachable admin area.
Select Settings from the admin sidebar.
Click Taxes in the submenu.

Under EU Digital Goods VAT Tax on Custom Gateways, toggle it to be off.
Click Save. A notification will appear letting you know that Exclusive EU Digital Goods VAT Tax has been enabled.
FAQs
I'm not in the EU; does this affect me?
EU regulations require us to businesses classified as "marketplaces" -- like Teachable -- to collect VAT on behalf of customers. If your customers are in Europe, we will add VAT on top of the purchase price. But we take care of filing and remitting the taxes -- from your perspective, the sales will look exactly the same as they do now. Unless you are using a Custom Payment Gateway - then you are responsible for remitting VAT payouts to respective EU governments.
Why is it mandatory for me to charge students VAT when using Teachable gateways?
It is mandatory because when students pay through our gateways, Teachable is the legal merchant of record--not you or your business. Because of this, it is our responsibility, not yours, to collect the VAT and pay it to the respective EU governments.
What should I tell my students about the tax?
Because of regulations, EU residents have come to expect VAT on top of the price digital products over the past few years, and won't be surprised to see it at checkout.
How do you determine a tax location?
If we see from an IP address or previously collected piece of data that a buyer might be in Europe, we use available information such as billing country and additional information, like simply asking the user to choose their country from a drop-down menu. We try to make the process as simple as possible to keep the checkout flow smooth.
How do my customers enter their own VAT number for their own tax purposes?
During order review at checkout, they can enter their VAT number to exempt them from the tax (if applicable).
How can I find my tax liability by country?
You can calculate this by using the exported CSV of transaction data. To access your transaction data, simply visit the Transactions area and click the button in the upper right-hand corner. However, we will release a detailed report before the end of each year to make this process simpler.
How is Teachable filing and paying the VAT it collects?
We have integrated with Taxamo, the leading provider of tax compliance software and services for marketplaces, to handle this process automatically.