This article shows you how to set a different homepage and modify both the navigation bar and footer menus.
Select a Default Homepage
Your homepage is the first page that visitors see when navigating to your school URL. You can edit the default page to be your school homepage, a specific course sales page, a custom page, or your course directory.
Log in to your Teachable school.
Click Site.
Select Navigation.

In the Homepage Settings section, use the dropdown menu to change the default homepage for Logged Out and Logged In users.

You can select from the following options:

Default Teachable Homepage - The default Teachable homepage template. Here's an example:
Course Directory Page - The page that displays all of the courses in your school. Here's an example:
A Custom Page - A page added to your school (e.g. Terms of Use, Privacy Policy, or custom page). Here's an example:
A Course Sales Page - The sales page of a specific course in your school. Here's an example:

Click Save.
Add Links to the Navigation Bar or Footer of Your School
You can customize the links that appear in the navigation bar or footer of your school. The navigation bar appears in the top right section of your school, while the footer appears at the bottom of your school.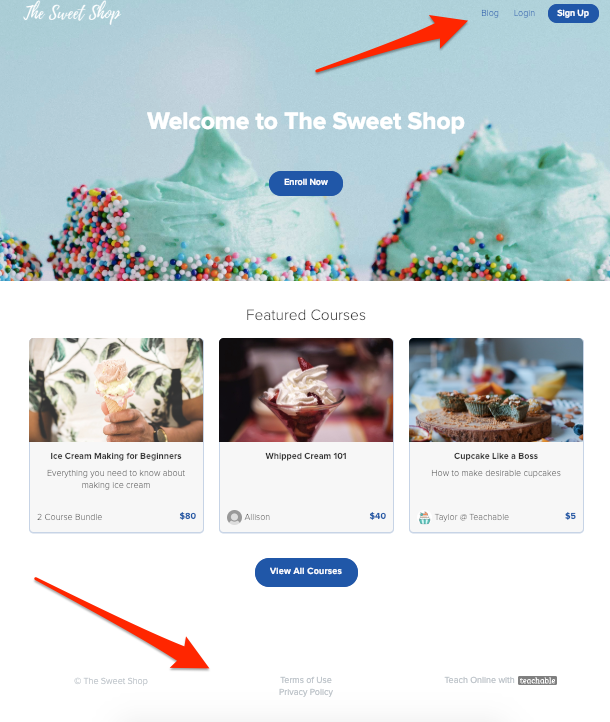 To add a new link, click the Add Link button in the Navigation Bar or Footer section.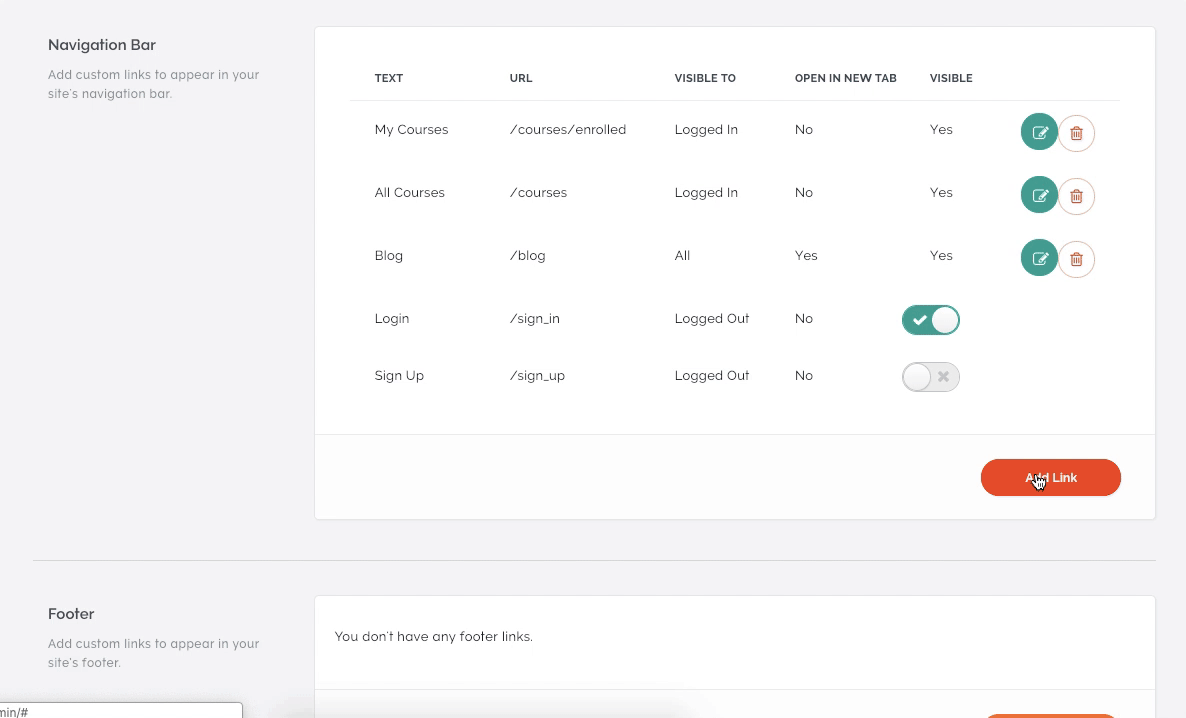 A popup modal will appear. Fill out the form and click Add Link when done.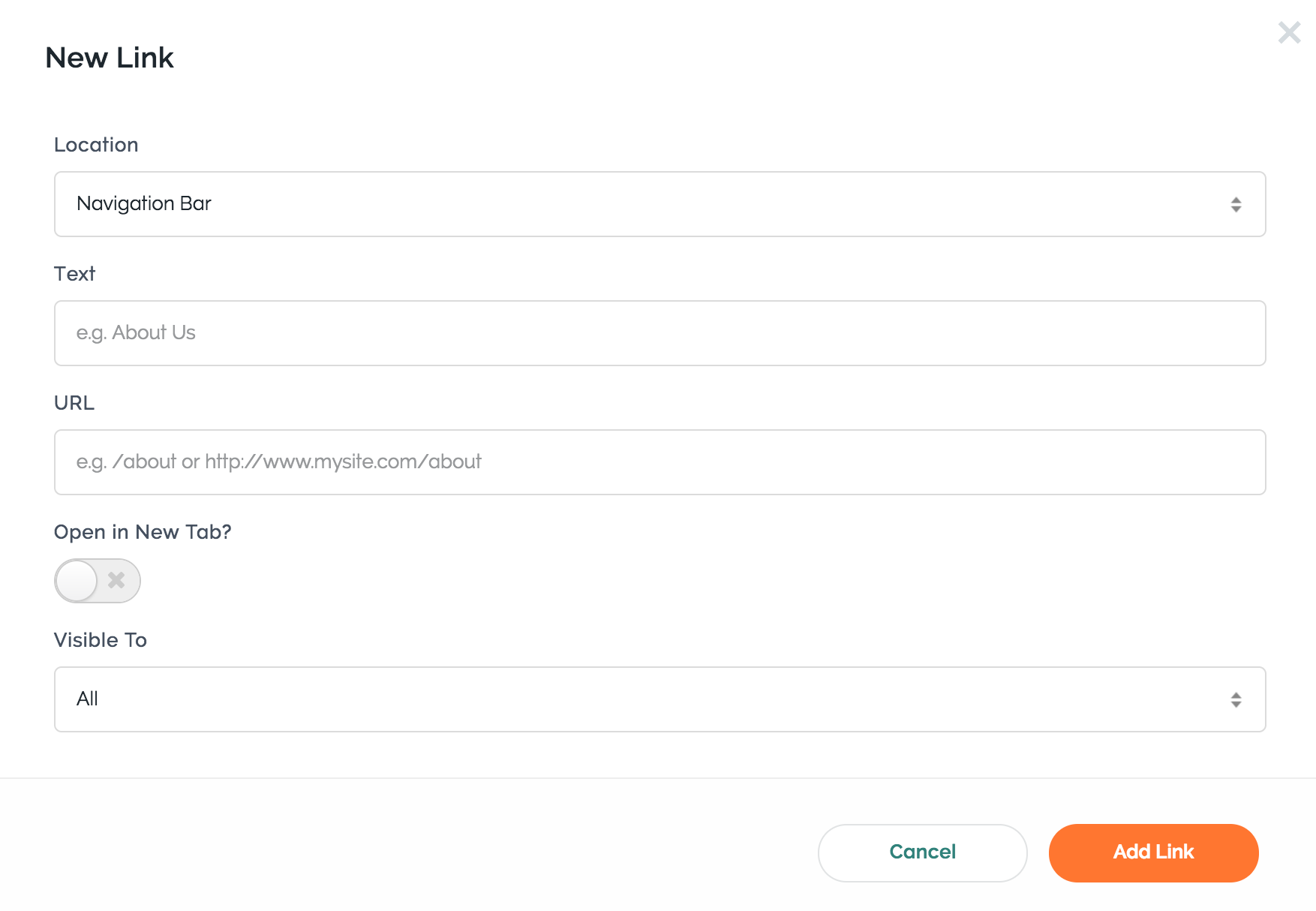 Location - This is where the link will appear in your school.
Text - The title of the link.
URL - The web address of the linked page.
Open in New Tab - When toggled on, the link will open in a new browser tab.
Visible To - The users (logged out, logged in, or all) to whom the link will appear.
Modify Navigation Bar and Footer Links
To edit a link in the navigation bar or footer, click on the external editor icon next to the link.
To delete a link in the navigation bar or footer, click on the red trash icon next to the link. Click OK to confirm.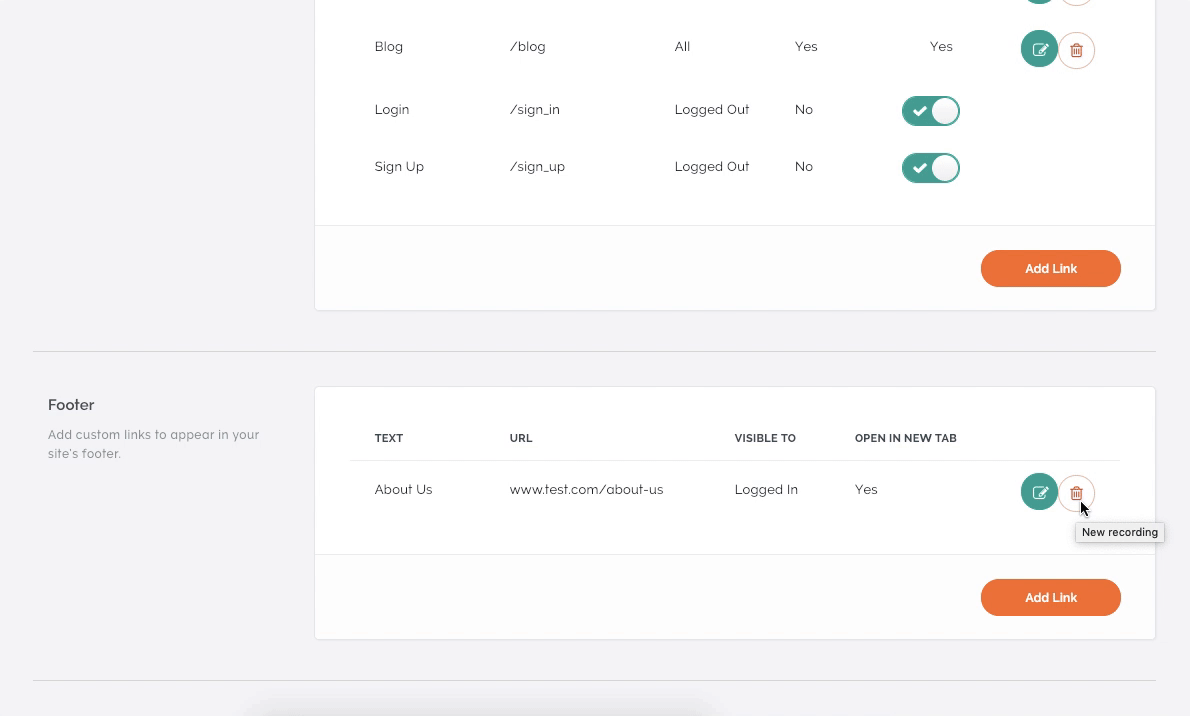 To reorder links in the navigation bar or footer, drag links above or below one another.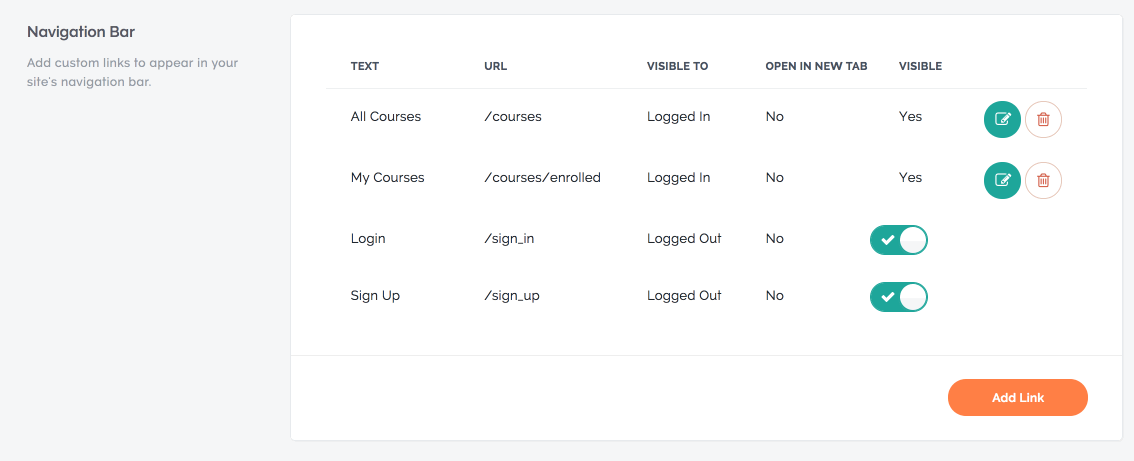 NOTE: The Sign Up and Login URLs cannot be edited and do not have an external editor icon. By default, these navigation bar links are only visible to logged out users. If you would like to entirely remove them from your navigation bar, click the toggle under the Visible column.
Course Categories
If you've created course categories from your course Information > Details section, they'll appear in this section at the bottom of your Site > Navigation page.. From here, you can change the name and description of your categories. You'll also be able to toggle whether the category is visible, preview what the category looks like in the course catalog, save any edits you've made, and/or delete the category.