This article goes over viewing an individual user's purchases—both one-time purchases and course subscriptions.
Finding an Individual's Purchases
Select Users from the admin sidebar and then choose a specific user from their respective list (i.e. Students, Owners, Authors, or Affiliates).
Inside the individual user area, select Purchases.

Active Subscriptions
In the Active Subscriptions section, you'll see a list of courses the user is subscribed to—this includes both course subscriptions and payment plans. From here, you can see which course your student is enrolled in, the billing interval they are under, the recurring price, and their time of enrollment. You can also end a course subscription by clicking the red trash icon. Once you end a subscription, you'll have the option to unsubscribe the student and unenroll, or just end the subscription.

Students enrolled in annual subscriptions will be sent email reminders of their subsequent charges seven days before the charge date.
Transaction History
In the Transaction History section, you'll find the date a transaction was made, the Sale Price (if applicable), Price (full price, in USD), Earnings (what you earn), the Course that was purchased, the coupon that was used (if applicable), and the attributed affiliate (if applicable).

To view a more in-depth breakdown of an individual transaction, including a summary of purchase details and a payment breakdown, click the transaction to see additional details. This is also where you can refund a purchase.
Understanding an Individual's Transactions
Summary
The summary includes buyer and transaction information like the buyer's name and email, the transaction date, pricing plan (free, subscription, one-time purchase, or payment plan), payment gateway, payout date, and whether or not the transaction is still refundable.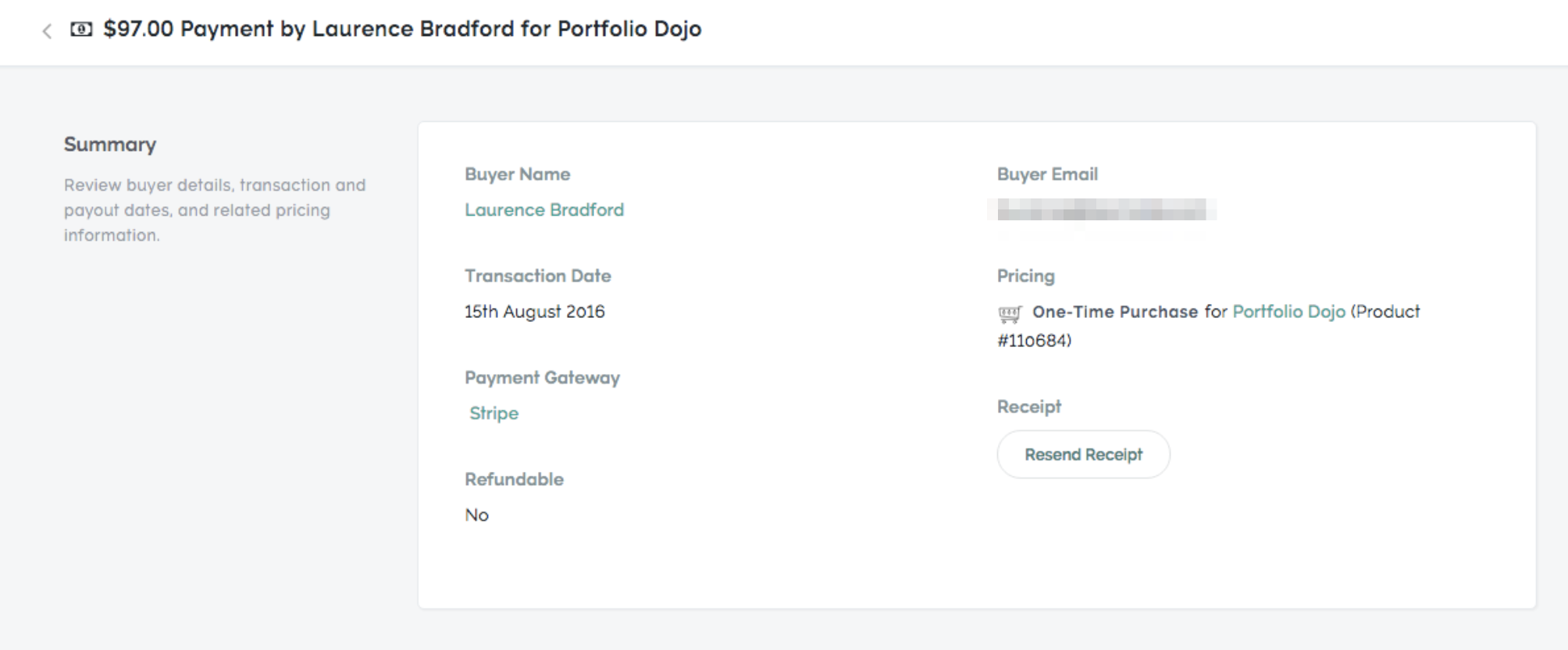 Payment Breakdown
Listed price - what price the course was advertised for, minus:
Coupon - (if applicable) discounted price
Amount Refunded - shows if a refund was issued
Amount Charged via Stripe - how much the user was charged for. From this amount, the following fees may be subtracted:
Affiliate Fee - (if applicable) fee that went out to an affiliate
Credit Card Fee - how much goes back to Stripe
Teachable Transaction Fee
Author Fee - (if applicable) amount that goes to the course author
Tax - (if applicable) when VAT tax enabled
Estimated School Earning - what the school owner gets after all discounts and fees are taken out—i.e. your net profit.