This article goes over how myTeachable integrates with your school, and how to enable/disable myTeachable account access on your school.
Overview
Enabling myTeachable on your school means that any user with a myTeachable account will be able to access your school—and any other school they are part of—from the myTeachable dashboard.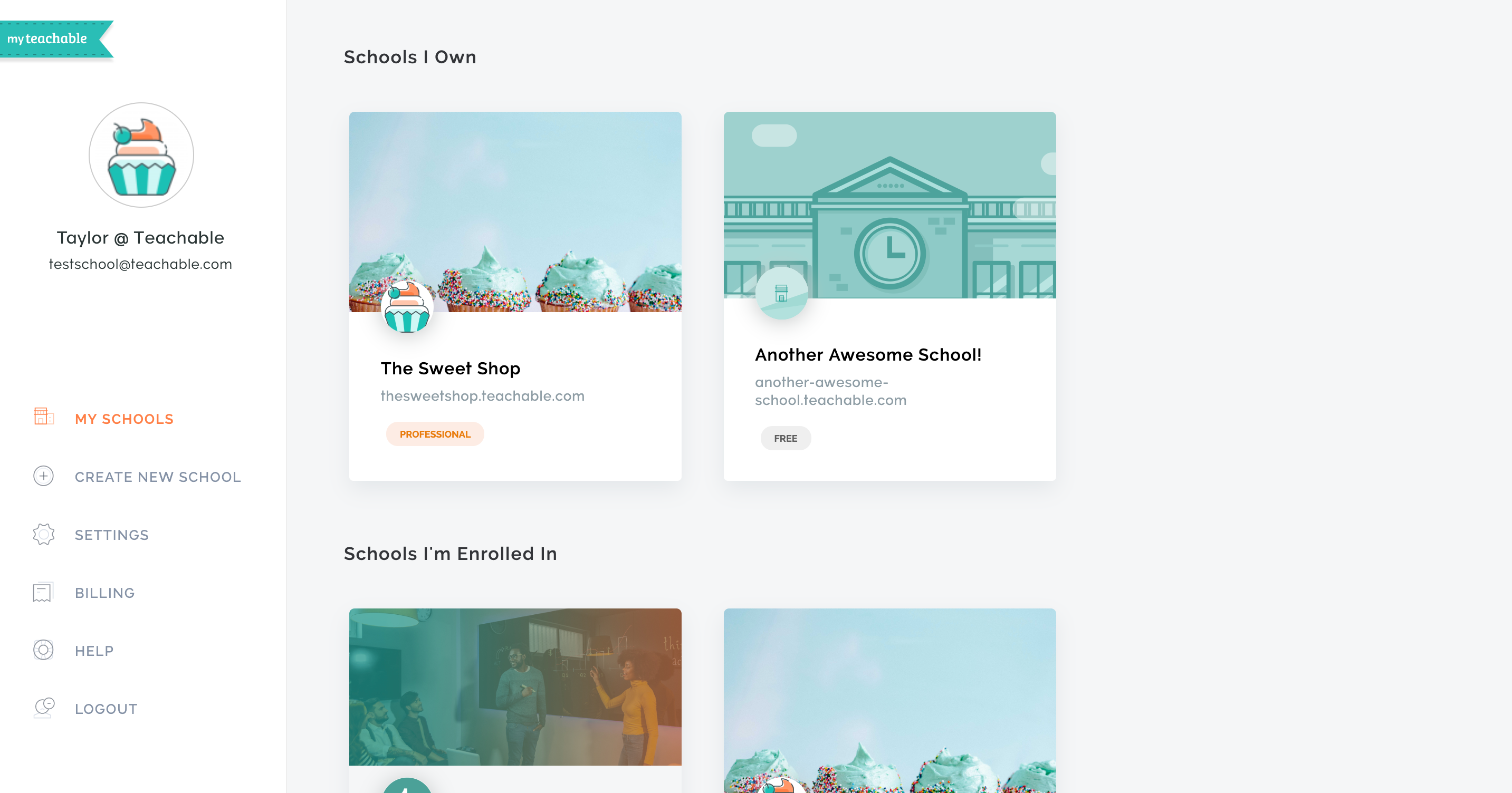 For schools created on or after March 16, 2021, myTeachable accounts are disabled by default. You can find the myTeachable toggle from your school's Settings > General > myTeachable menu.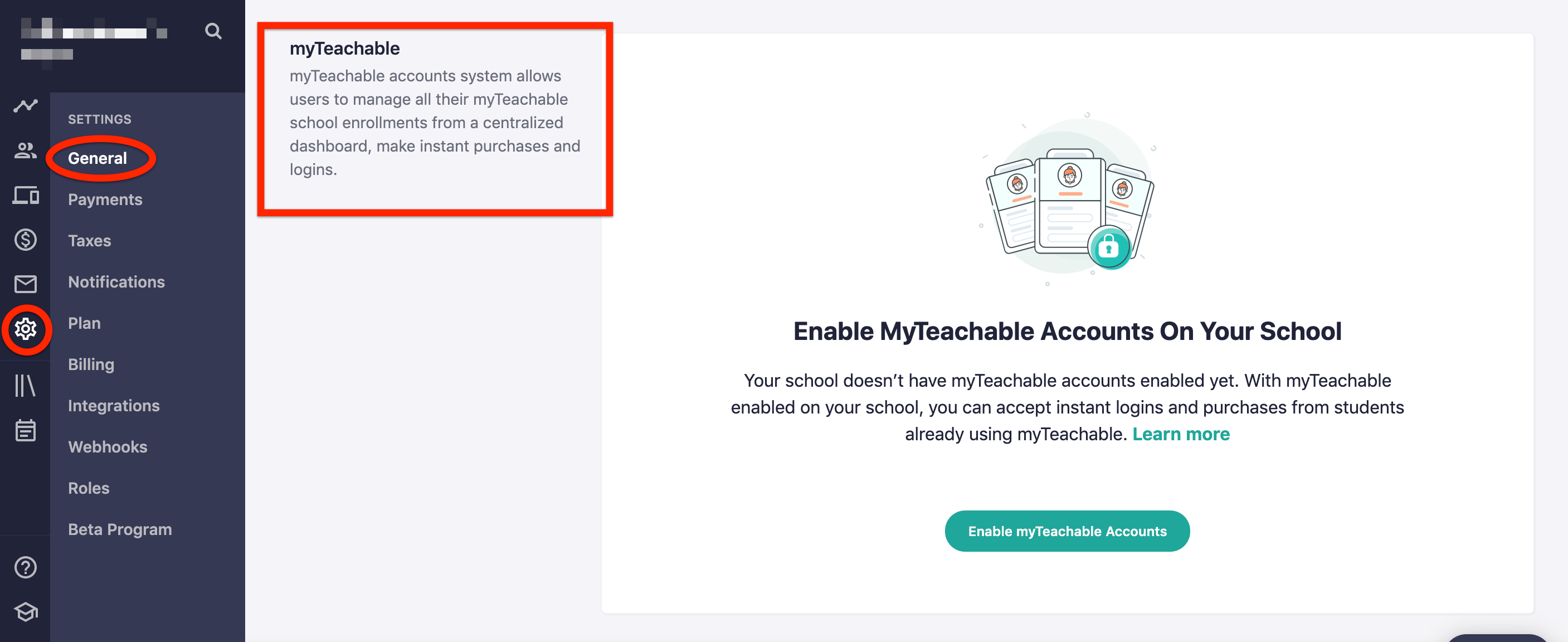 Please note that myTeachable is required if you would like to make your courses available on the Teachable iOS app.
myTeachable Owner Accounts
With myTeachable, school owners can do the following:
Access the admin area(s) for their existing school(s) by clicking on the school from their My Schools dashboard
Access any myTeachable-enabled schools owned by others on which they are a student, author, or affiliate
Create new schools
Manage their myTeachable account settings like name, email address, profile picture (managed through Gravatar), and password
TIP: In order for Gravatar images to appear on Teachable, your image must have a G-rating.
Access the help center to resolve issues and submit support tickets to customer care
All other administrative details, like managing students, Teachable plans, billing, user payments, invoicing, report generation, and so on, are handled in your individual school admin area—not from your myTeachable dashboard.
To delete your myTeachable account, please contact Customer Care.
myTeachable Student Accounts
Upon clicking Log In as a student, those with an logged-in myTeachable account will see this: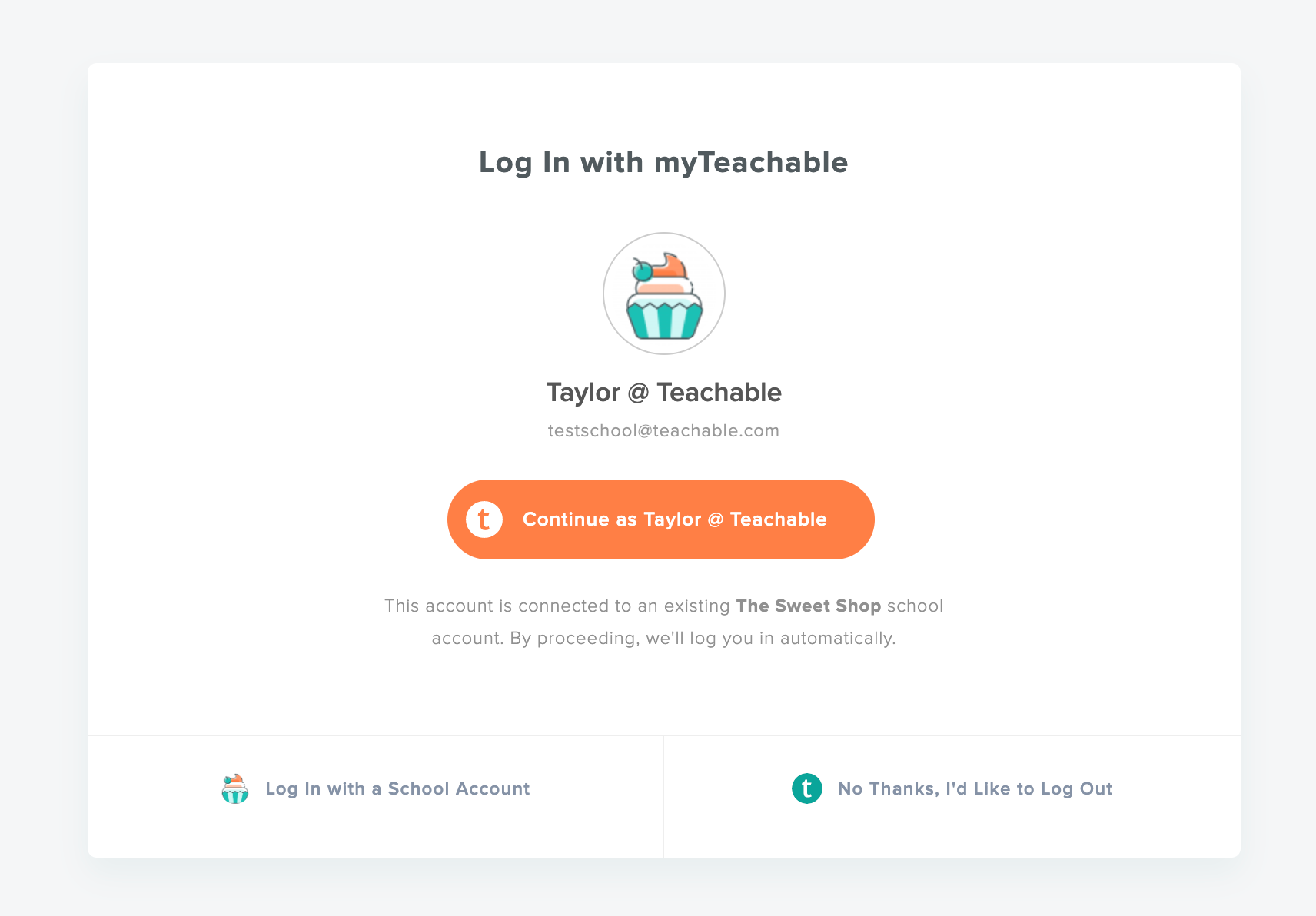 Those without a myTeachable account, or not signed in to a myTeachable account, will see the same form as they usually do. From here, they can sign in with their school account: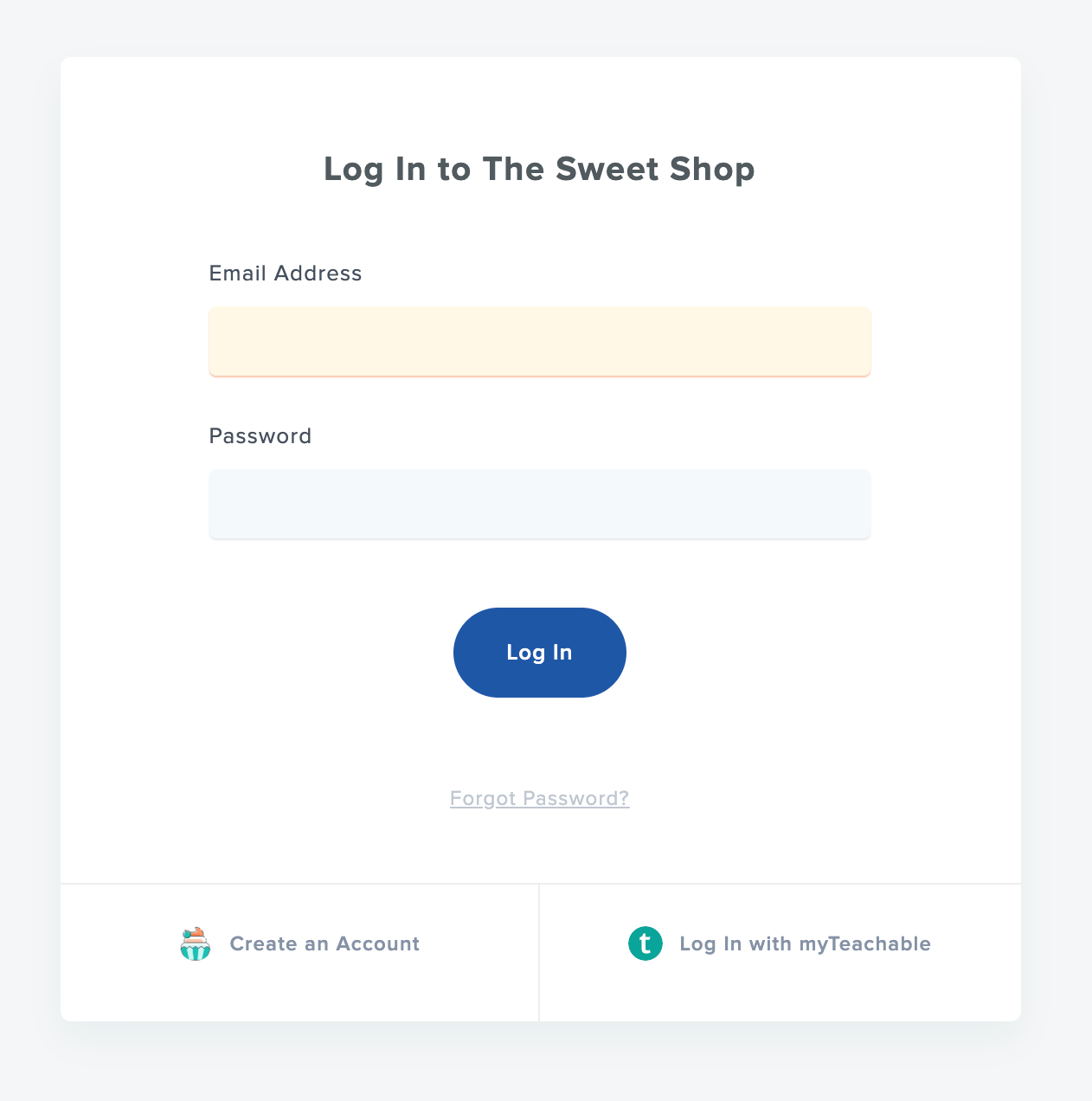 If they do not have a school account, they can create one by clicking Create an Account. If they click Log In with myTeachable, they will be prompted to sign in to their myTeachable account.
You can see school users who have myTeachable accounts set up by going to the Users area and looking for the Teachable logo by their image: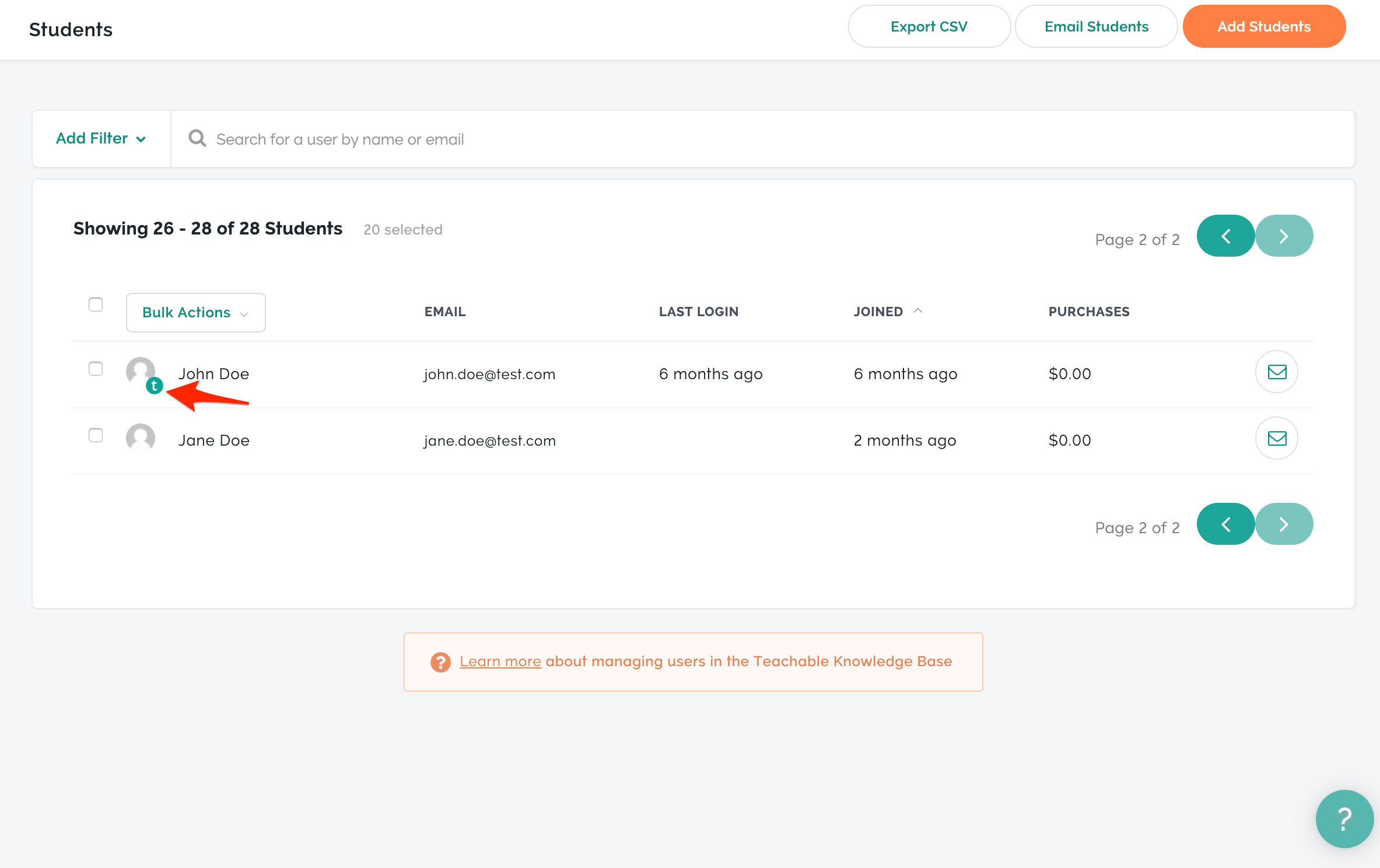 NOTE: If you are a student and do not see your school listed in myTeachable, or do not have the option to login through myTeachable, it is possible that the school owner has disabled myTeachable. If that is the case, you can login to the school directly from the school homepage.
For information on how students can edit their profile or login details, please see our Knowledge Base article here.
For login troubleshooting tips, please see our Knowledge Base article here.
Enable/Disable myTeachable
School owners can enable or disable myTeachable accounts for their school at any time. This option is available in the Settings > General > myTeachable menu.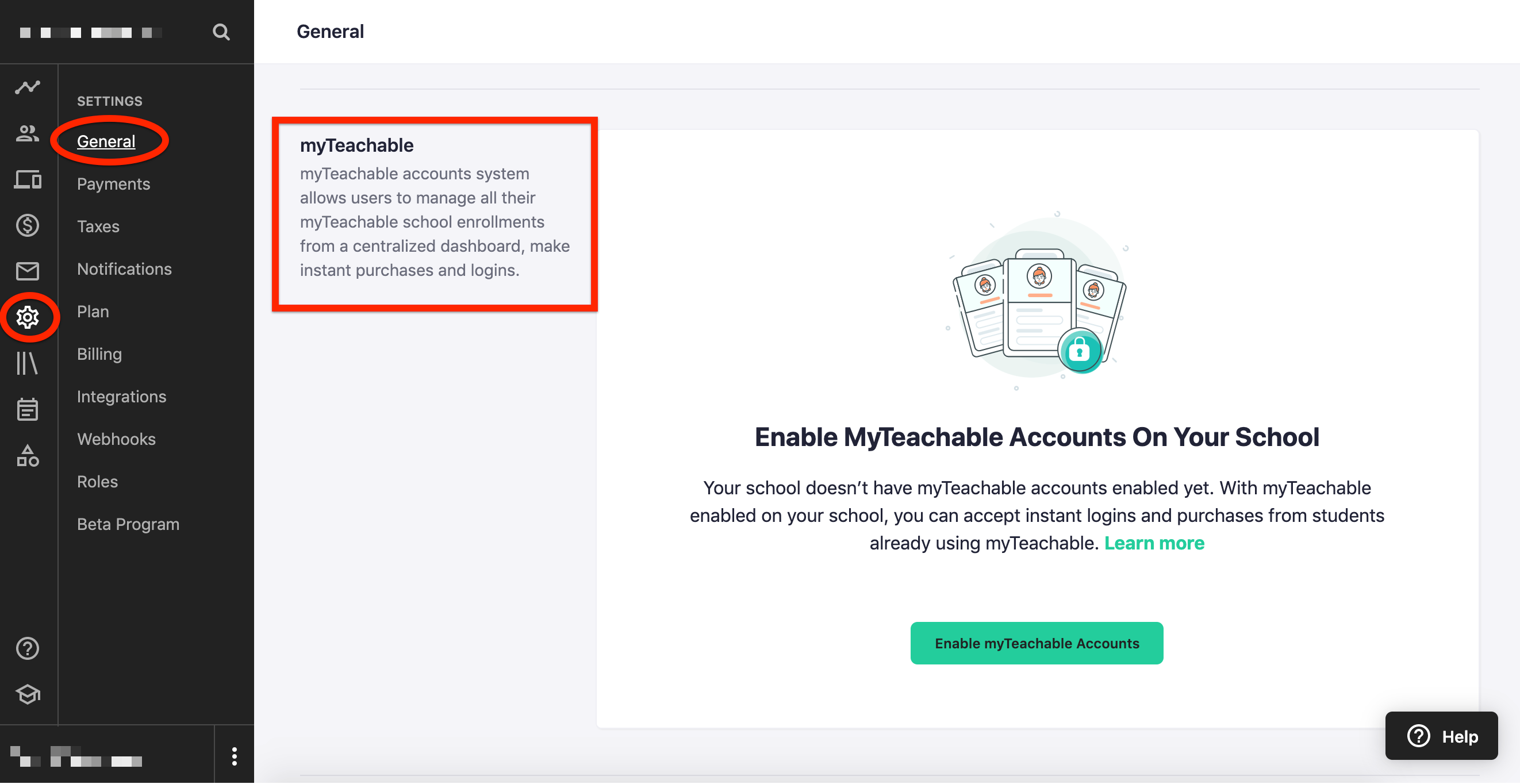 If you choose to disable myTeachable accounts after you have already launched your school, we recommend you treat this option with caution, as it is likely to create confusion for your students who have been accessing the school with their myTeachable accounts. Keep the following potential issues in mind:
Your school will no longer show up in a student's myTeachable dashboard.
Your school will no longer be available on the Teachable iOS app.
Students who have myTeachable accounts will have their account passwords on your school set to whatever the myTeachable password was (i.e. they'll have the same login credentials as myTeachable).
If a student is in the middle of a purchase on your school when you disable, the purchase may not be completed.
When you click Disable myTeachable accounts, a pop-up window appears asking you to confirm the change. Click I understand, disable feature to confirm the change, or click Cancel to return to the previous screen.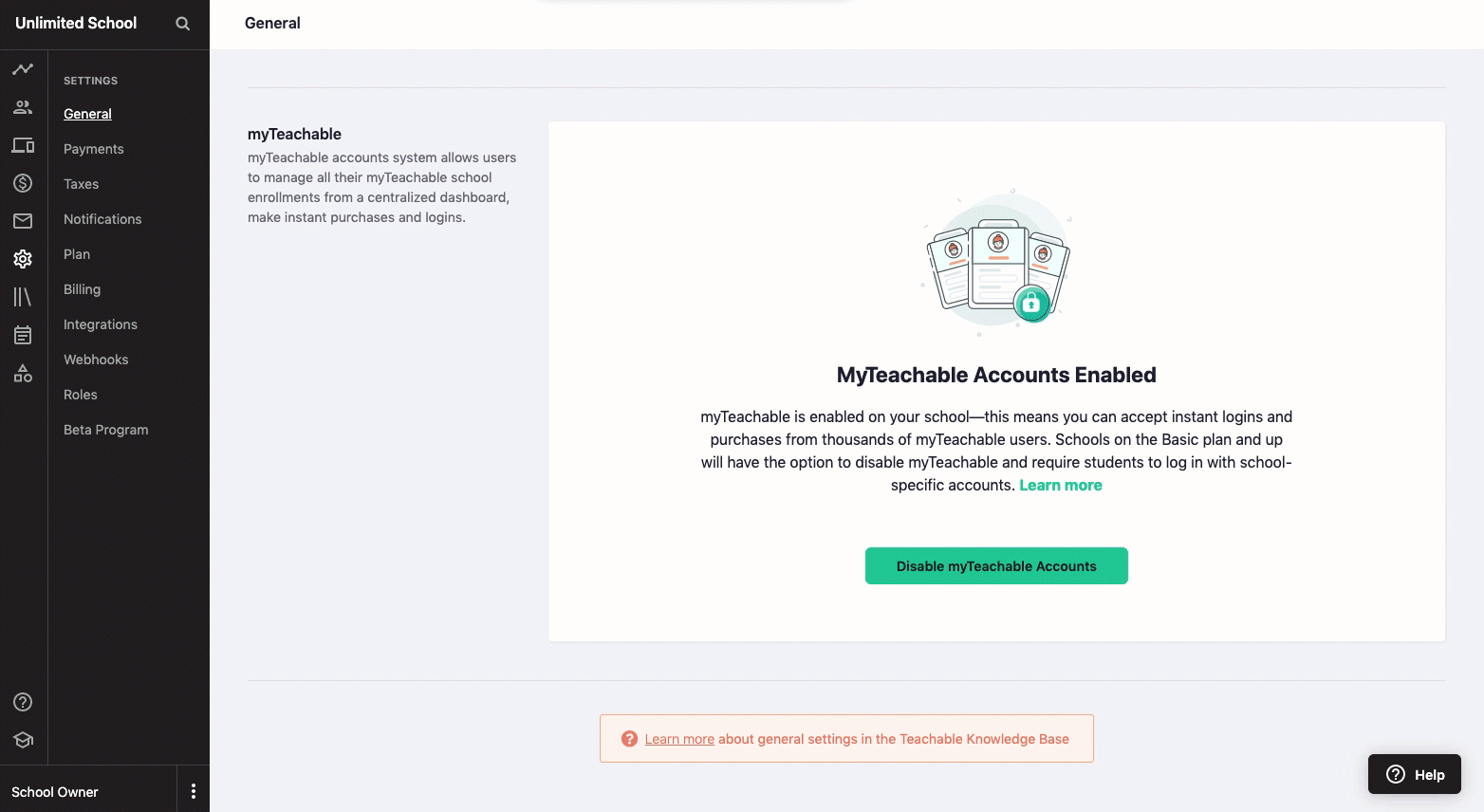 If you've disabled myTeachable, you can reenable it by going back to myTeachable in the Settings area. From there, click Enable myTeachable accounts. Afterwards, you'll see this prompt:
If you select Yes, automatically connect, users with a myTeachable account will have your school automatically added to their dashboard.
If No, I'd rather have them opt in is selected, users will be required to opt in to connect their school account with their myTeachable account.