This article goes over using myTeachable on your school, and how to enable/disable myTeachable account access on your school for students, authors, and affiliates. If you created a Teachable school on or after December 5, 2016, myTeachable has already been enabled for your school users. To learn about myTeachable owner accounts (which are separate from myTeachable school user account access), read Understanding myTeachable Owner Accounts.
What Does It Mean to Have a myTeachable-Enabled School?
There is a difference between having a myTeachable owner account, which you can read about here, and a myTeachable-enabled school. The former is all about helping you, the owner, manage your school(s). All owners must use myTeachable for their personal accounts.
Enabling myTeachable on your school, meanwhile, means that your students, affiliates, and authors will be able to sign up for a myTeachable account and use it to access any myTeachable-enabled school. This solves the common student frustration of needing to create a new account every time they want to take a course on a Teachable-powered school. For you, as a school owner, this means that new students will potentially be able to sign up for your school with a single click, resulting in higher conversion rates and a smoother user experience.
It is totally optional to enable myTeachable on your school. If you choose not to enable it, students, affiliates, and authors will sign up for your school the same way as before, creating a separate account used only on your school. New schools (created after 12/5/2016) have it automatically enabled, but can disable it as long as they are on a paid plan and have under 100 students.
Enabling myTeachable on Your School
To enable myTeachable on your school, go to the admin area and select Settings. Scroll down to the bottom of the Settings area to find the myTeachable heading. Click the Enable myTeachable Accounts button. Be aware that once this is done, it cannot be reversed in the future.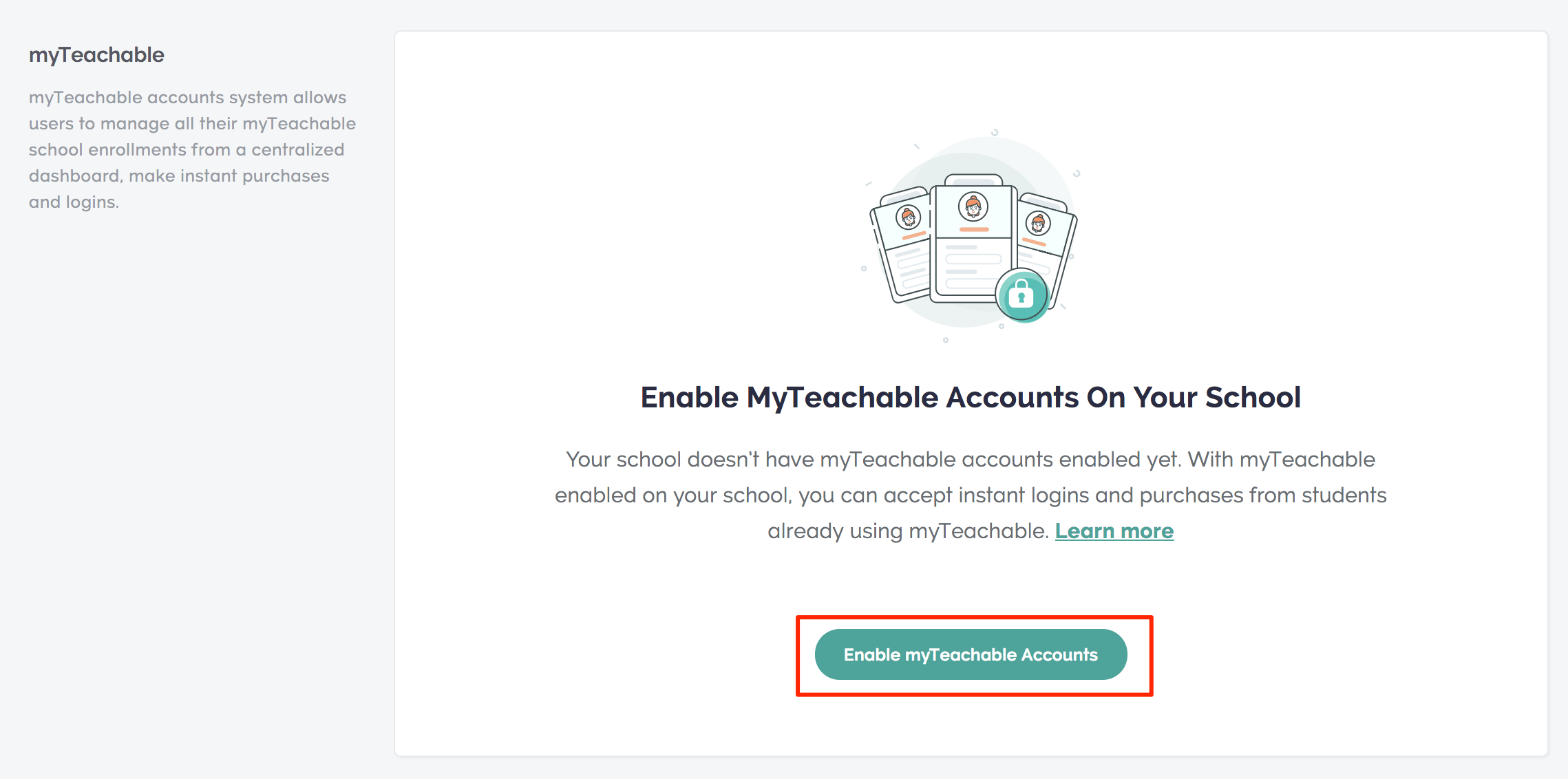 Next, you'll see this pop-up window:
Here, you can choose whether to automatically connect a student's myTeachable account when they sign up for your school with their myTeachable email address, or let them opt in to connect the account.
If you select Yes, automatically connect, users on your school who already have a myTeachable account will have your school automatically added to their dashboard.
If No, I'd rather have them opt in is selected, users will be required to opt in to connect their school account with their myTeachable account.
After you select an option, myTeachable will be enabled.

How Does myTeachable Affect My Students?
Upon logging in as a student, depending which option you choose when you set up myTeachable, users will have a variety of experiences.
Those with an existing myTeachable account that is linked to the school will see this: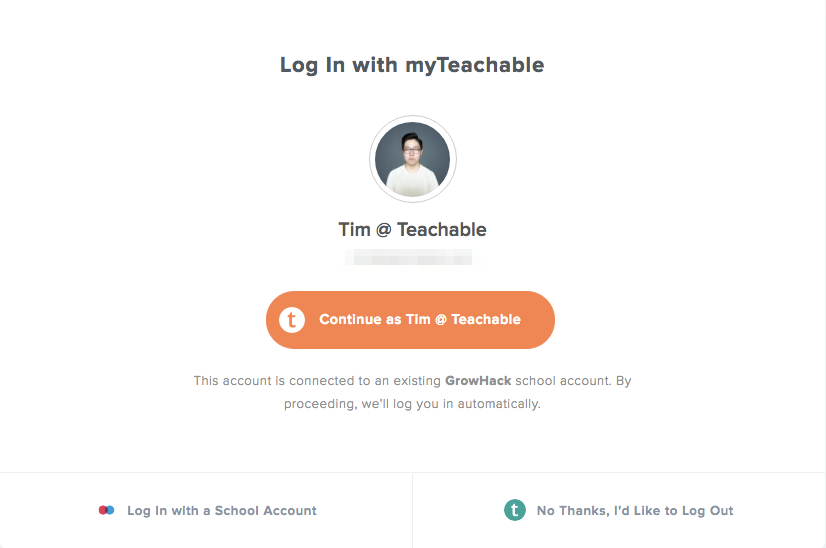 Students can simply hit Continue to access the course.
NOTE: If you think someone's original school account has been mistakenly associated with someone else's myTeachable account, please submit a ticket and we'll look into it.
Those without a myTeachable account, or not signed in to a myTeachable account, will see the same form as they usually do. From here, they can sign in with their school account: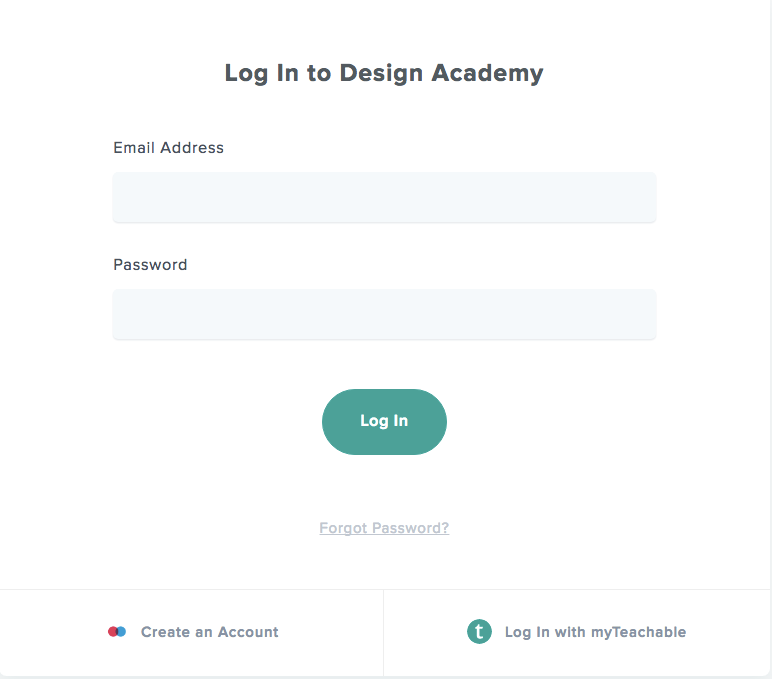 If they do not have a school account, they can create one by clicking Create an Account. Students can create a school account by filling out the fields, agreeing to both Teachable and the School's terms, and selecting Sign Up.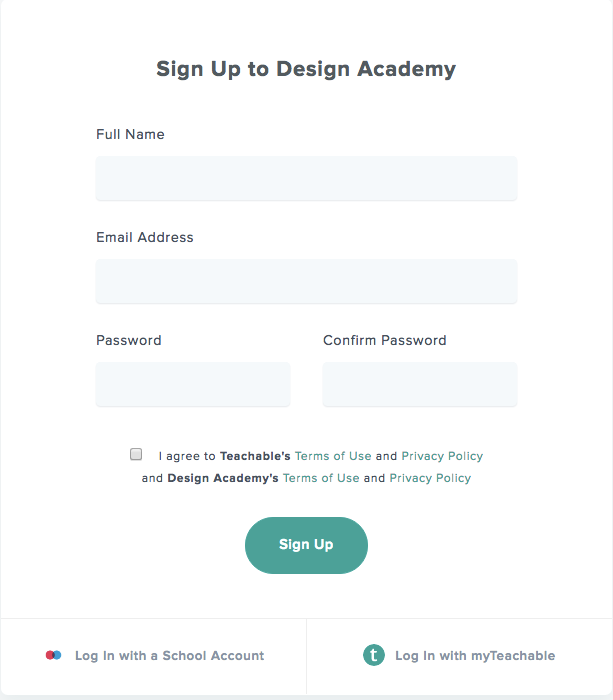 If they click Log In with myTeachable, they will be prompted to sign in to their myTeachable account: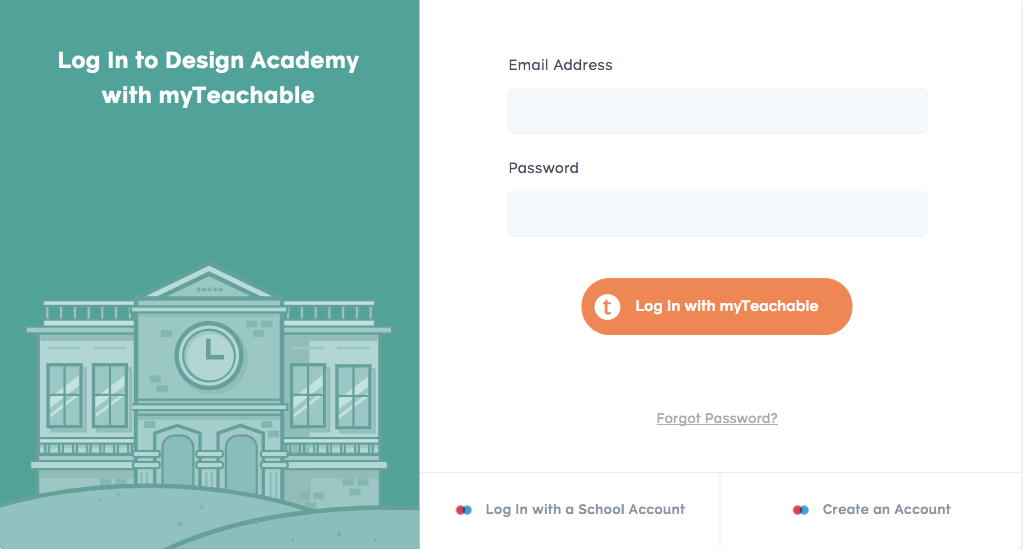 Afterwards, they will be prompted to continue logging in with their myTeachable account. If their myTeachable account is not linked to the school, it will automatically be linked upon login.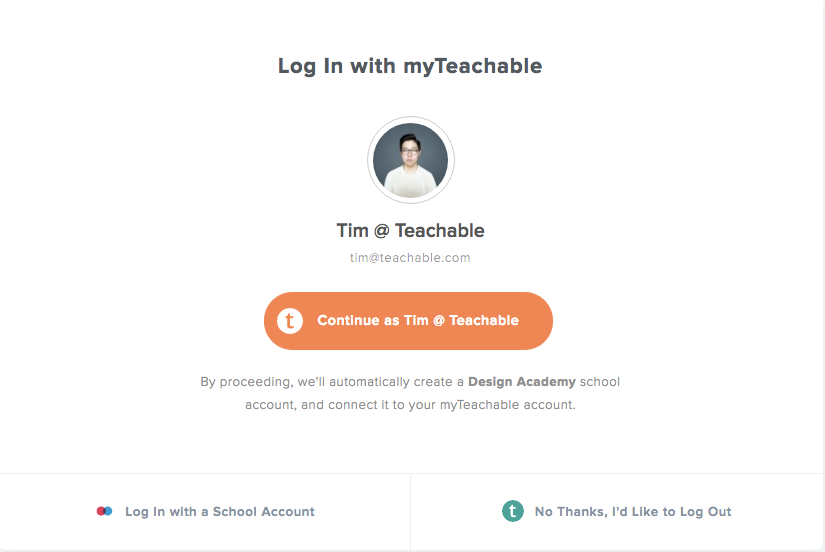 You can see school users who have myTeachable accounts set up by going to the Users area and looking for the Teachable logo by their image: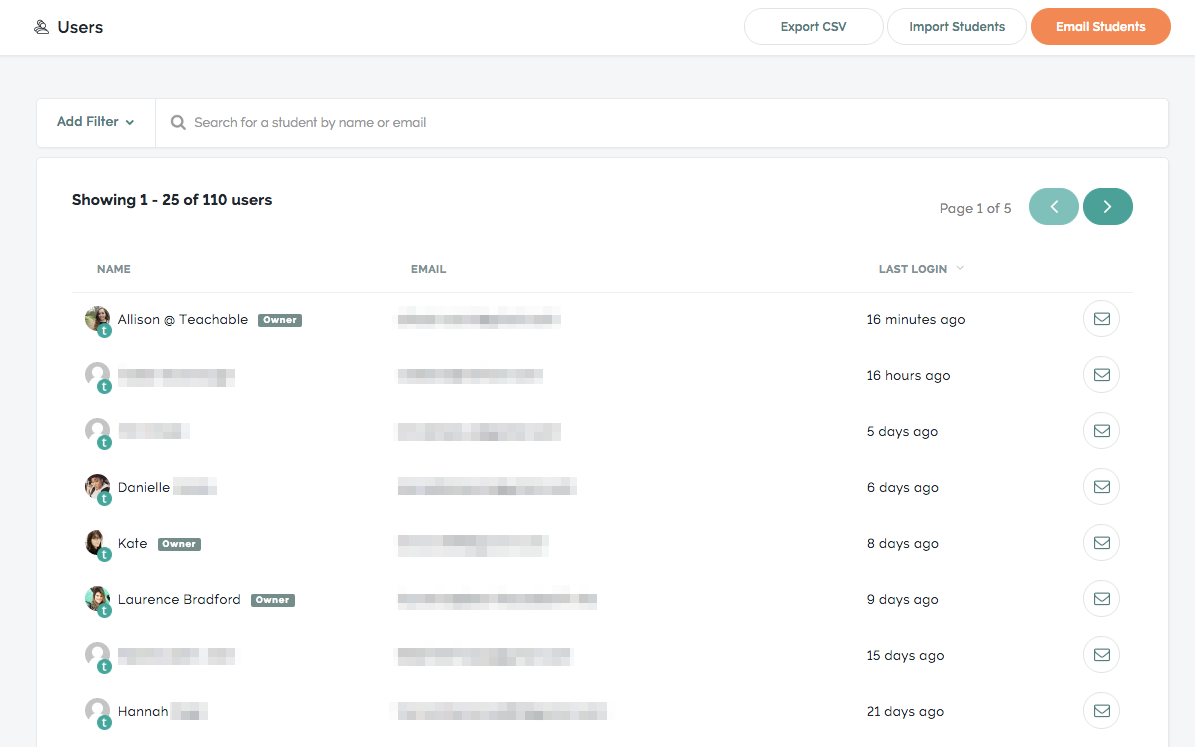 Disabling myTeachable (select schools only)
NOTE: Disabling myTeachable is only available to schools with under 100 students on the Basic plan and up.
School owners on paid plans with under 100 students can disable myTeachable account access for their school users after it has been enabled. This option is available under myTeachable in the Settings area.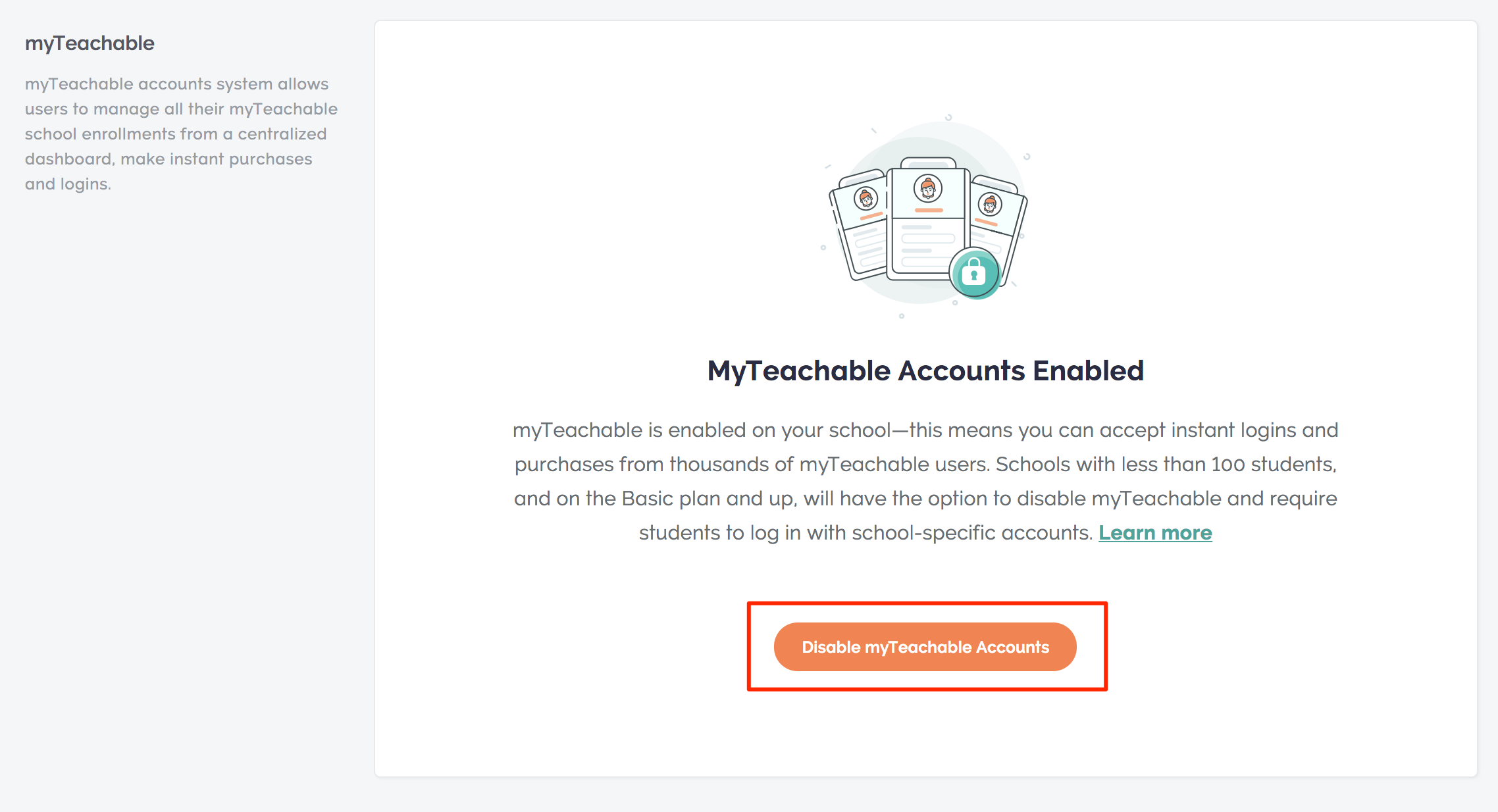 Treat this option with caution, as it is likely to create confusion for your students who have been accessing the school with their myTeachable accounts until now.
Logistical issues that may arise for students include:
Your school will no longer show up in the student's myTeachable dashboard.
Students who have myTeachable accounts will have their account passwords on your school set to whatever the myTeachable password was (i.e. they'll have the same login credentials as myTeachable).
If a student is in the middle of a purchase on your school when you disable, the purchase will most likely not go through.
If you decide to disable myTeachable, we recommend telling your students several pieces of information beforehand to make the process as smooth as possible for them:
That your school will no longer be accessible from their myTeachable dashboard.
That they can still log in to your school using their myTeachable username and password, but they must go directly to your school's website to do so.
That if they change their password or account details while on your school, it applies only to their profile on your school--not myTeachable or any other Teachable-powered schools.
A mass email with these details may be the best way to distribute this information. Do this by going to Emails in the admin area and selecting All Users, then drafting and sending the email.
If you have more than 100 students on your school, understand the risks, and would still like to explore having myTeachable disabled, please submit a support ticket and we will review your situation on an individual basis.