This article goes over how to set up custom payment gateways for your school.
Overview
Schools using custom payment gateways process their own student payments and are paid directly by Stripe and/or PayPal. Rather than paying Teachable's transaction fees, you pay transaction fees directly to Stripe and/or PayPal.
Similarly, Teachable will not handle or distribute payouts for authors and/or affiliates because Teachable does not process sales for school's using custom gateways. School owners using custom gateways are solely responsible for the payment of authors and/or affiliates.
While Stripe (credit/debit cards) and PayPal (non-recurring USD purchases only) payment gateways can be added independently of each other, both Stripe and PayPal (Business account) must be set up for a school owner to receive all payouts directly. For example, if only PayPal has been set up, then any purchase made using a credit card will be processed through the Monthly Payment Gateway and will be subject to Teachable's refund policy and transaction fees.  
Primary owners also have the option to disable PayPal as a payment option. When PayPal has been disabled, students will not have the option to pay via PayPal payments on the checkout page. As such, students will only be able to pay via credit card and these transactions will be processed by Stripe.
If you're not sure what payment gateway to set up, see this article for more information.
Connecting Your Stripe Account with Teachable
Primary owners can set up how their school accepts payment and receive payouts in the Payouts section of their school admin.
NOTE: Stripe only works in select countries; please visit Stripe to verify if it is available in your country.
If you are able to set up a Stripe account, complete this process to set up Stripe as a custom payment gateway for your school:
Log in to your Teachable school.
Click Settings in the admin sidebar and navigate to the Payments section.
Click on the Switch button in the Accept Credit Card Payments section.

Then, click the Connect with Stripe button. 

You'll be redirected to a new webpage on Stripe where you can log in to an existing Stripe account or create a new one.

If you're creating a new account, fill out the required information. When you're done, click

Authorize access to this account.
Otherwise, log in to your existing account to connect with Stripe.
Upon successful connection, you will see an alert at the bottom of your screen reading Stripe Connect gateway has been successfully set up.
Your Client ID and API Key will appear inside the Stripe area.
Connecting Your PayPal Account with Teachable
PayPal is only available as a payment option for non-recurring payments priced in USD. For example, students will not be able to purchase a course via PayPal if it priced in Euros (or other non-USD currencies). Similarly, students will not be able to purchase a course via PayPal if the course is priced by subscription or payment plan.
PayPal uses API credentials to identify each account, and these credentials are needed to verify that a request is being made through a valid PayPal business account. Please note that standard PayPal accounts do not have access to PayPal's API credentials, and is available only in certain countries. Please visit PayPal's website to see if it is available in your country.
If PayPal is not available in your country, then you can disable accepting PayPal payments. To disable PayPal, turn off the Allow students to make purchases using PayPal toggle. You'll see a notification that indicates that you've successfully disabled PayPal: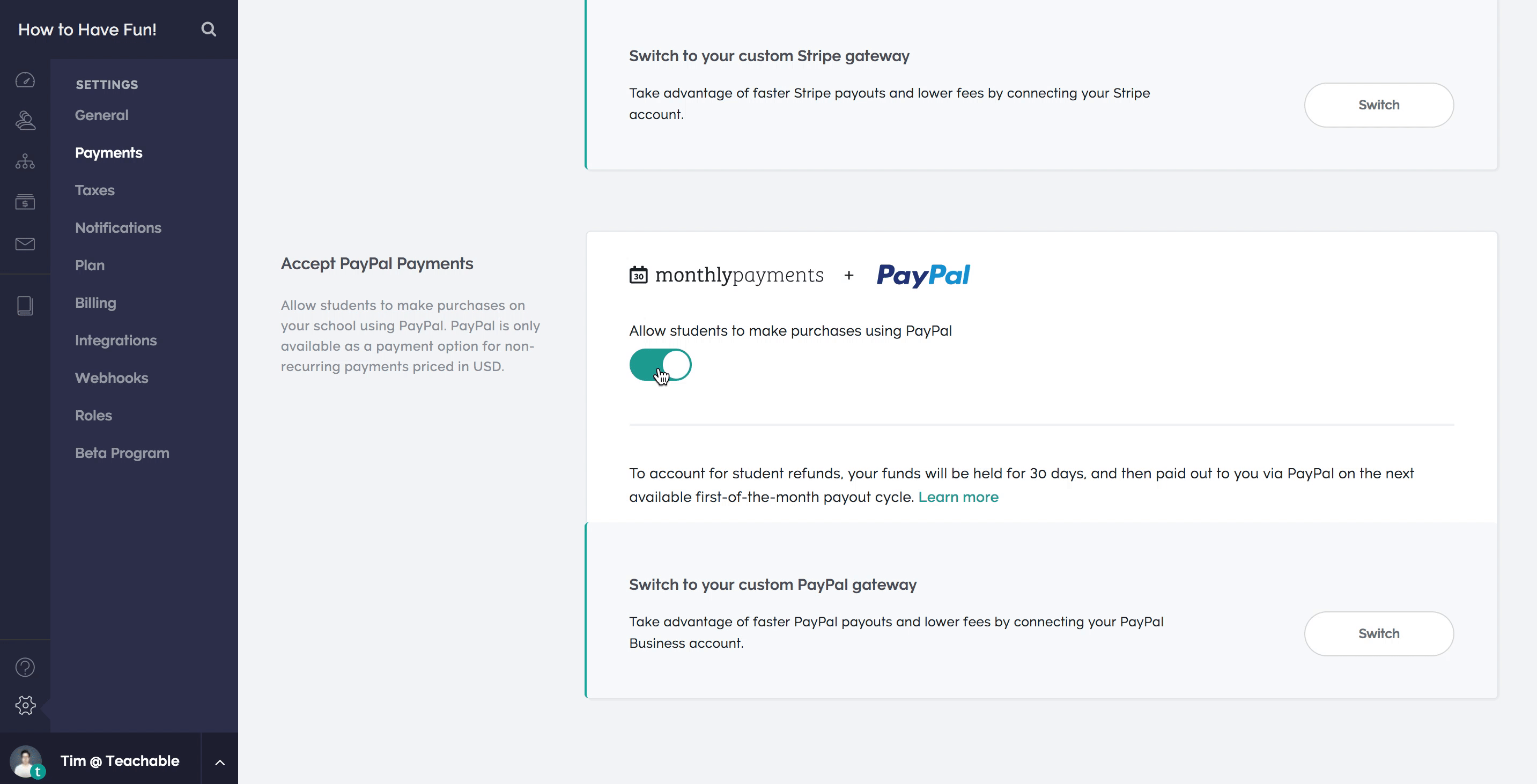 If PayPal is available in your country and you want to allow students to make purchases using PayPal, then complete the following steps to set up PayPal as a custom payment gateway for your school:
Go to PayPal Developer. Keep in mind that this is different from the normal PayPal site, so please ensure that you are on the right page before starting.
Sign in to your PayPal business account.
Click Dashboard in the top right corner.

From there, visit

My Apps & Credentials in the Dashboard.

Scroll down to

REST API apps

and click

Create App.
Fill out the appropriate information. The App Name doesn't matter, but we do recommend calling it "Teachable" so it's easier to keep track.  The Sandbox developer account should automatically populate.  If not, you may need to create one.  This is done in Sandbox > Accounts on the left-hand tab.
Click Create App.

Make sure to click

Live

instead of

Sandbox

in the top right corner of the app.

In the Live API Credentials section, you'll see your PayPal account email, Client ID, and Secret (aka API) key. Again, if you do not have a PayPal business account, this information will not be shown. Click the Show button to reveal and copy the Secret API key.
Return to Settings > Payouts in your school admin. Click on the Switch button to use the custom PayPal payment gateway and copy this information into the Accept PayPal Payments section.  
Click Save and you're done.