This article goes over how you can edit your billing information as a student or coaching client.
For information on how to edit other user profile settings, please see this Knowledge Base article.
For information on how to edit your billing information as a school owner, please see this Knowledge Base article.
Overview
If you are a student or coaching client enrolled in a school powered by Teachable, there are two types of accounts:
Teachable Accounts - Teachable Accounts are centralized accounts that allow you to log in to any Teachable-Accounts-enabled school using the same credentials. You can use a singular Teachable account to enroll in as many courses as you'd like, and be able to access them from your Teachable Accounts login page.
Non-Teachable Accounts (School Accounts) - Some school owners choose to disable Teachable Accounts for their schools. In that case, you will not be able to use your Teachable account for that school—instead you'll have to create a separate school account with its own set of login credentials.
The instructions for how to edit various billing settings will differ slightly, depending on whether or not you are using a Teachable account in the school. Each section in this article will outline the process for both Teachable and non-Teachable accounts
To navigate to your profile, log in to the school you're enrolled in. Then, click your icon located in the top-right corner of any page. From there, you can select which page of your profile settings you would like to go to (Edit Profile, Manage Subscriptions, Add/Change Credit Card or Contact).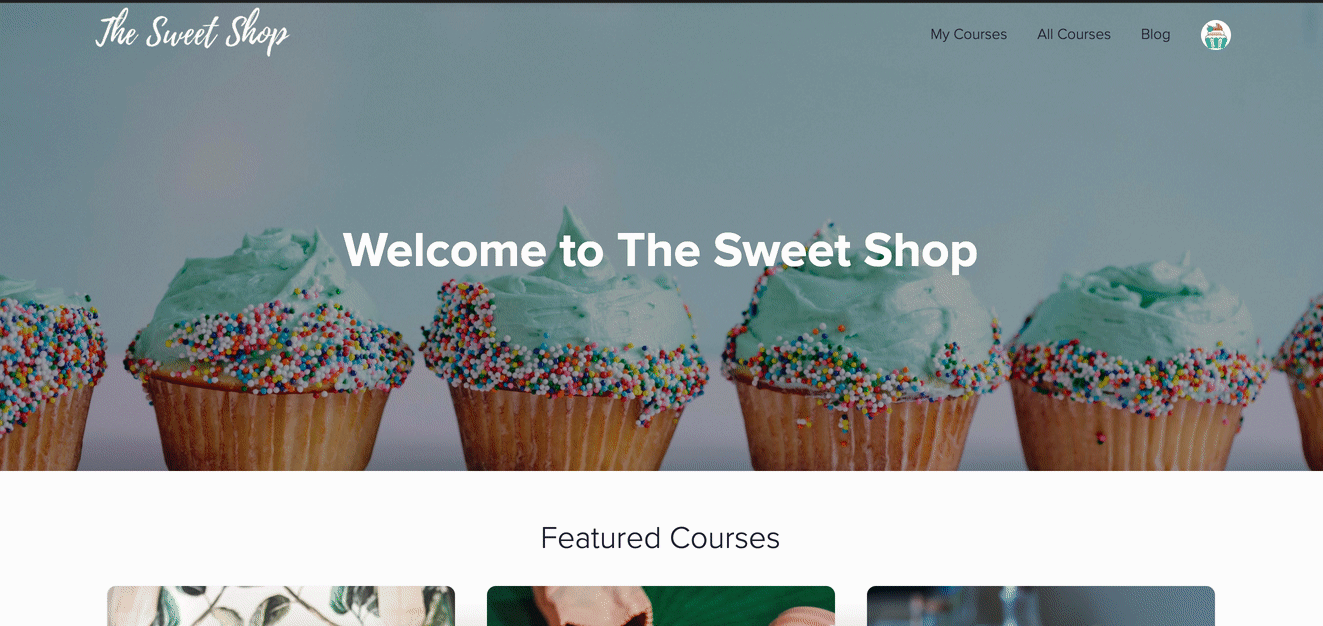 If the school is Teachable-Accounts-enabled, you will see the the word "Linked" on the Edit Profile page in the Linked Accounts section. If the school is not Teachable-Accounts-enabled, you will see the words "Not Linked" in the Linked Accounts section:
Add or change credit/debit card information
For one-time purchase options, students can check the "Save my billing info for future purchases" box in the Payment Information section on a product checkout page to save their payment details to their profile. For recurring payment options (i.e., a subscription or payment plan), student payment details will automatically be saved to their profile.
To add, change, or remove any of these saved payment options, students can click the Add/Change Credit Card option from their profile dropdown menu.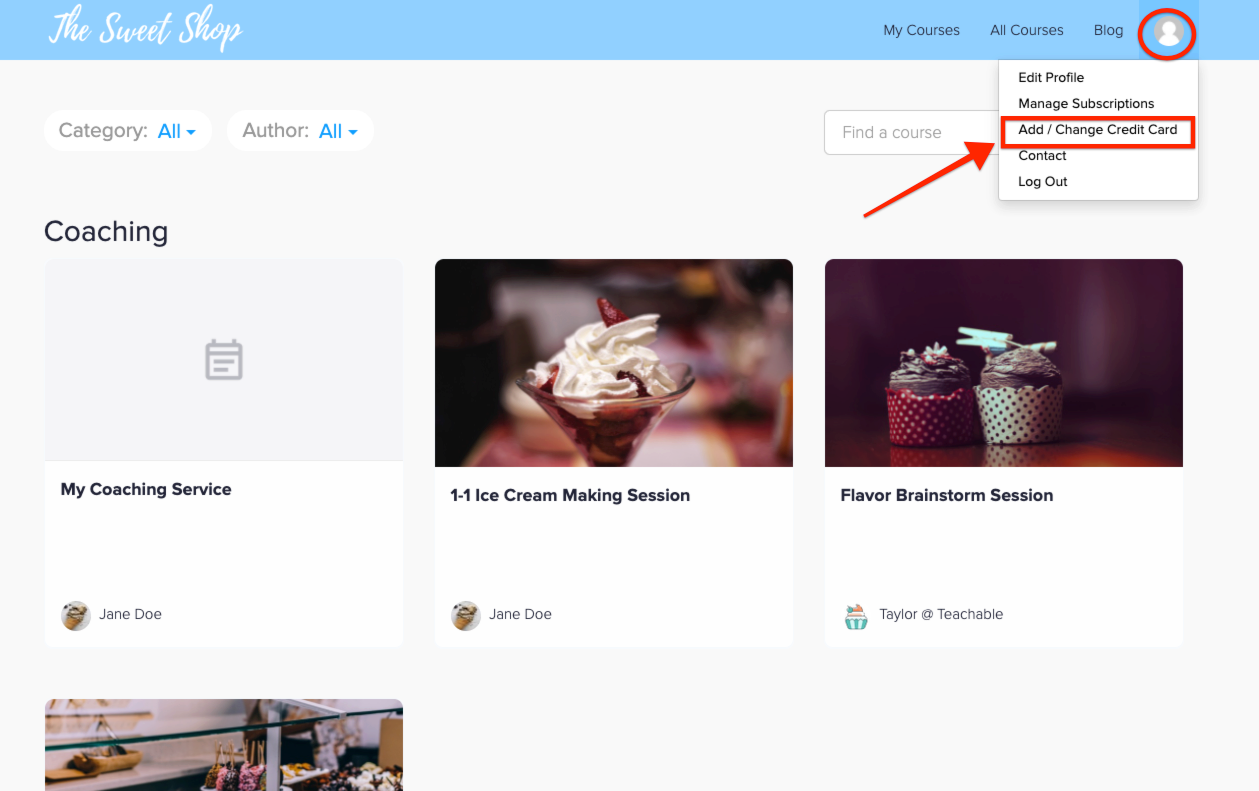 Teachable Accounts Schools
Clicking the Add/Change Credit Card menu option will take you to your Teachable account's Billing page. Here, you'll see the following information:
Schools I Own - a list of schools where you are designated as an owner (if any). Clicking the Manage Billing link for a school will take you to your school's billing area.
Schools I'm Enrolled In - a list of schools in which you are a student. Clicking the Manage Subscriptions link takes you to your Edit Subscriptions page. The dropdown menu lets you choose which card will be charged for subscription/payment plan payments.
Stored Credit Cards - a list of cards that are stored on your Teachable account.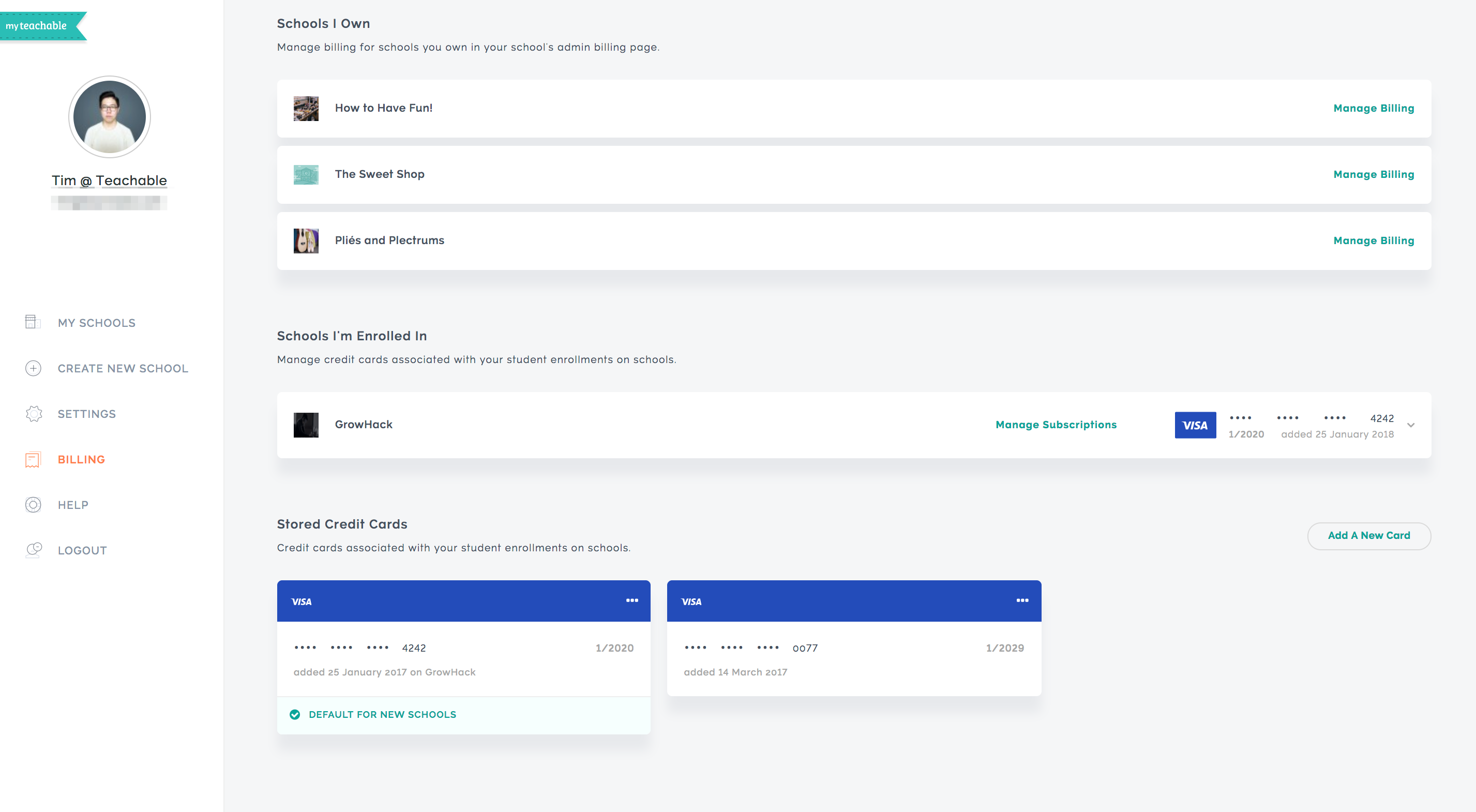 To add a new credit or debit card, click the Add New Card button:

Then, enter your card information and click Add Card: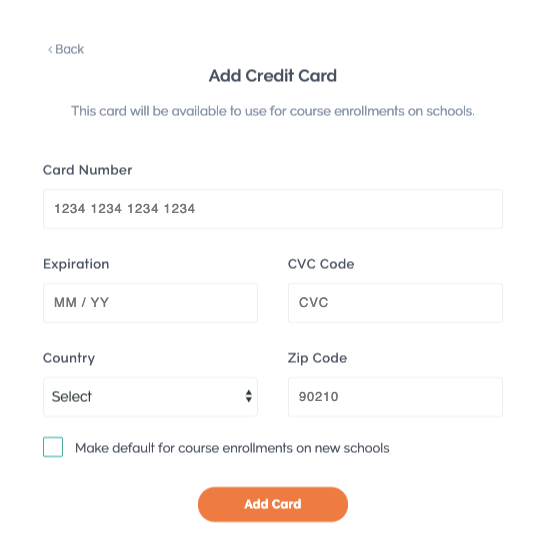 NOTE: By checking Make default for course enrollments on new schools, you are confirming that your card information will be applied to the next purchase you make through another school on Teachable.
To change your default card, click the ellipses icon and select Set Default Card For New Schools:

Whichever card you designate as your default will automatically have its information loaded when purchasing a course on a new school.
To remove a card, click the ellipses icon and select Remove Card. If you have an active subscription or payment plan associated with the card, then you'll receive an error message indicating that you must unlink your card from the school it is associated with: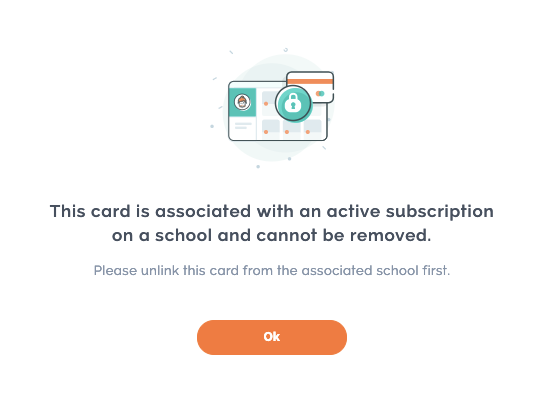 To unlink your card, navigate to the Schools I'm Enrolled In section and click the arrow to select a new card. Then, select a new card from the drop-down menu. A green arrow will appear next to the card that you select.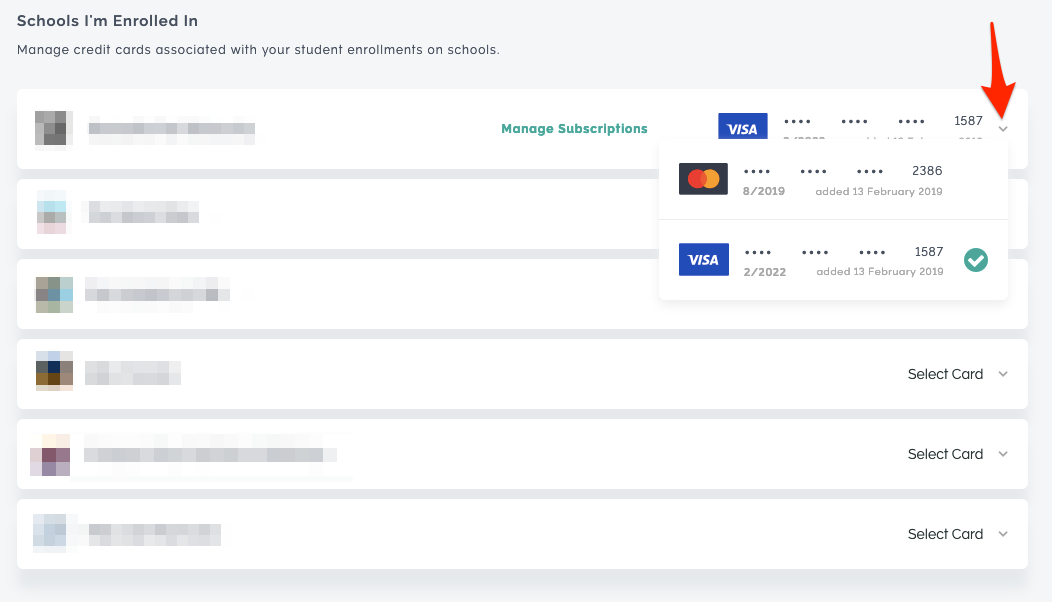 CAUTION: It is important to click the arrow next to any schools listed in the Schools I'm Enrolled in section, and to select the new card you added as your default card moving forward. If you skip this step, your old card will continue to be billed.
Once the card has been unlinked, you can then proceed with removing the card in the Stored Credit Cards section.
Non-Teachable Accounts Schools
The Add/Change Credit Card page allows you to see which card is currently associated with your school account.
To remove a card, click the Remove Card button.
To add a new card (if there is no associated card) or update an existing card, enter in your credit/debit card information and then click Update Credit Card.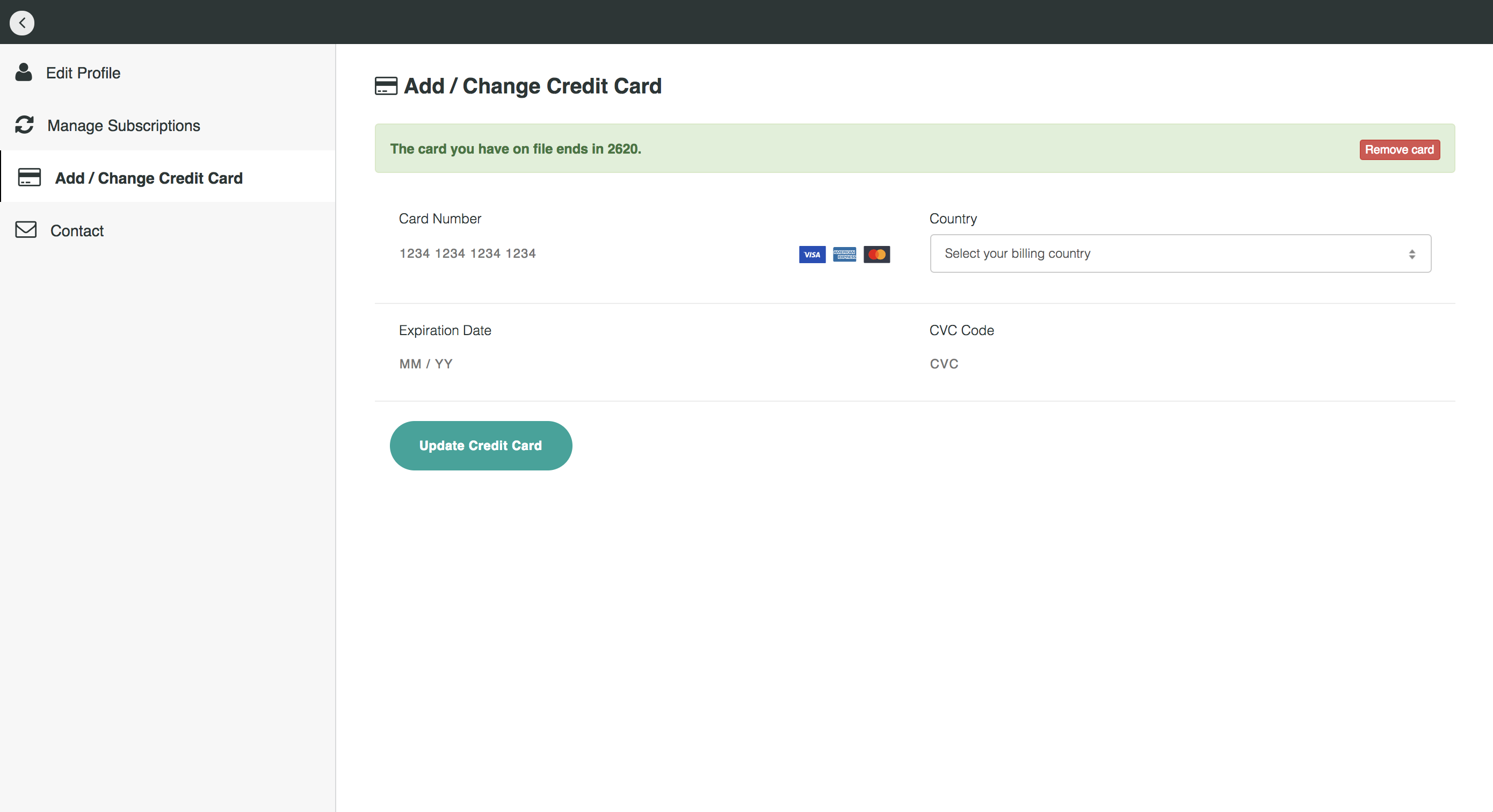 Add or edit address information
For all users, there will be an Address section in your profile menu. This field is available within your profile for the specific school, and is not available in the Teachable Accounts dashboard.
To add or edit an address, fill out all applicable fields. Required fields will be denoted with an asterisk (*). Click the Update Billing Info button to save your information.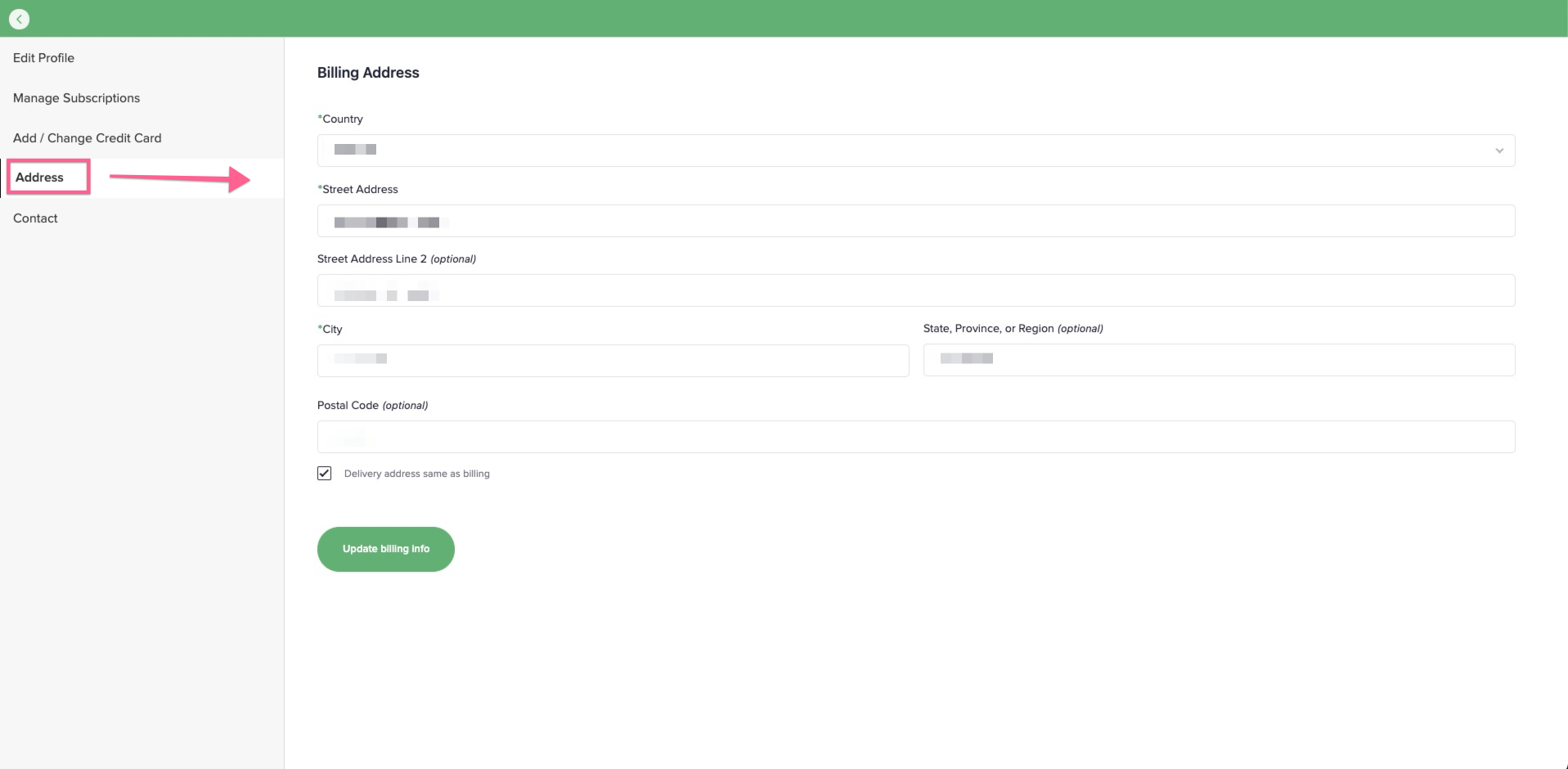 NOTE: The address added on this page does not change the original billing address added on the product checkout page. However, you can edit the address here for any updates to be applied to future payments.
Manage subscriptions
The Manage Subscriptions page will list the number of active subscriptions you have in that school (e.g. pricing plans and monthly subscriptions). This page is the same for both Teachable Accounts and non-Teachable Accounts schools.
If you have an active subscription, you'll see the Course Name, the Recurring Price, the Time of Enrollment, and a Cancel button (which will cancel your subscription at the end of the current billing cycle).
You cannot change the billing date of an active subscription—your billing cycle is determined by the date you purchased the subscription.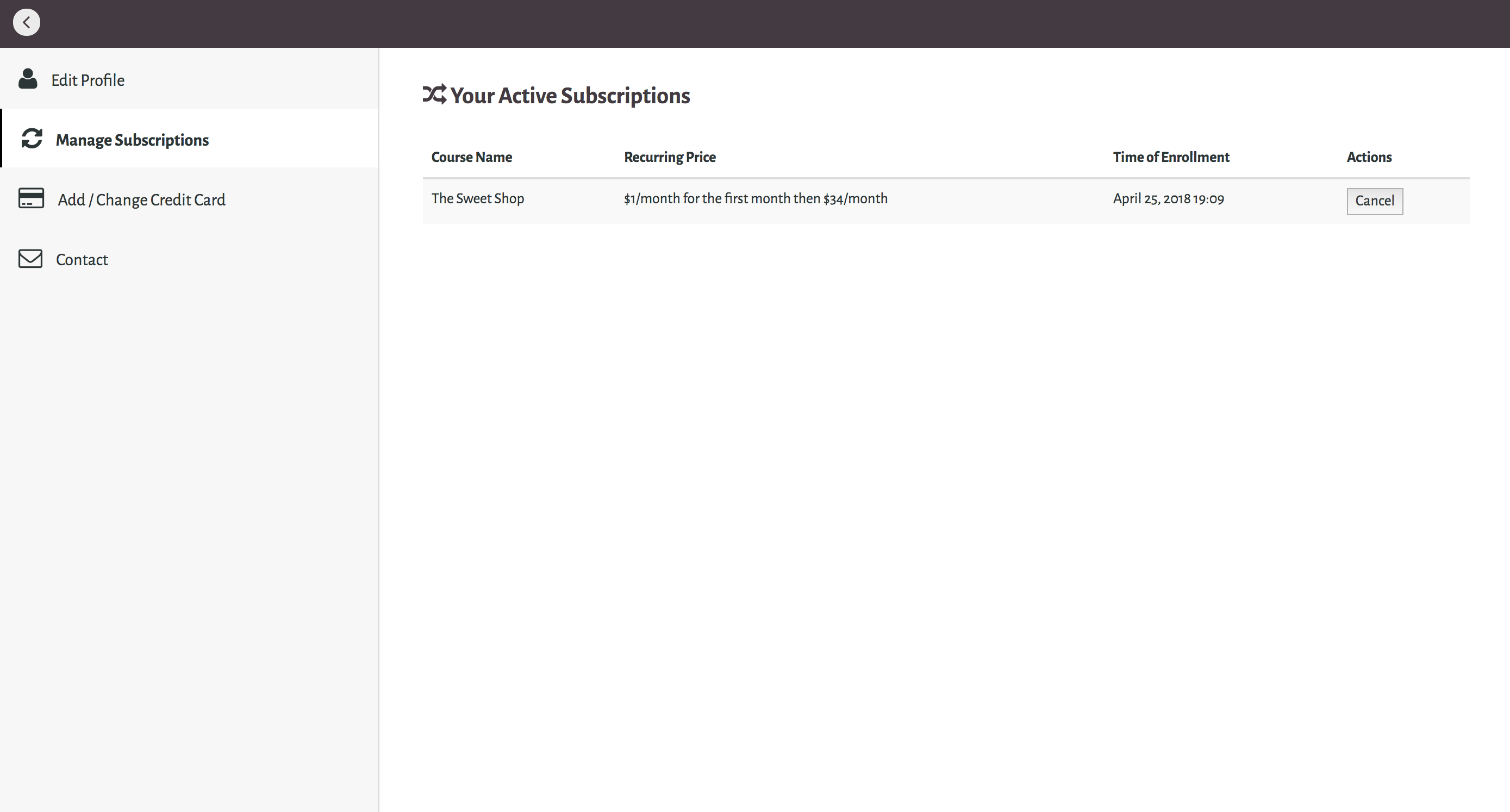 NOTE: If you are enrolled in a fixed payment plan schedule, rather than a recurring weekly/monthly/annual subscription, you might not have the option to cancel. Please contact your school owner with any questions about your payments.
Contact
The Contact tab is used to email your school owner if you have any questions, comments, etc. For more information on the contact form, take a look at this article.