This article goes over how to purchase a course as a student.
Overview
Once you decide to purchase a course from a Teachable school, you'll first have to decide which pricing plan you want to purchase. If there is only one pricing plan, then the price will be reflected on the enroll button.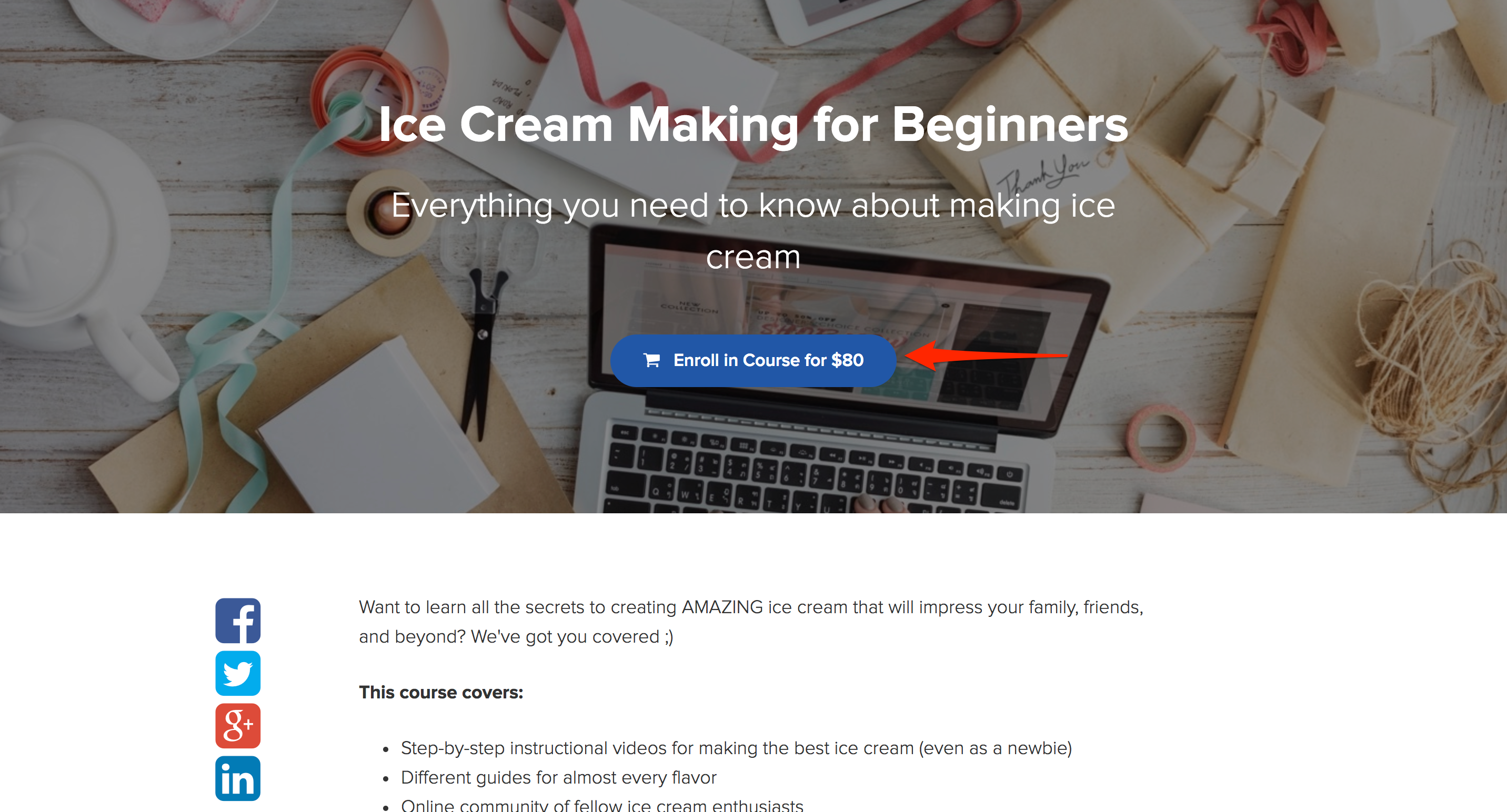 If there are multiple pricing plans, you'll have to choose which one you'd like to purchase. When you click the enroll button, or scroll down the page, you'll be shown a table of possible pricing plans as set by the school owner.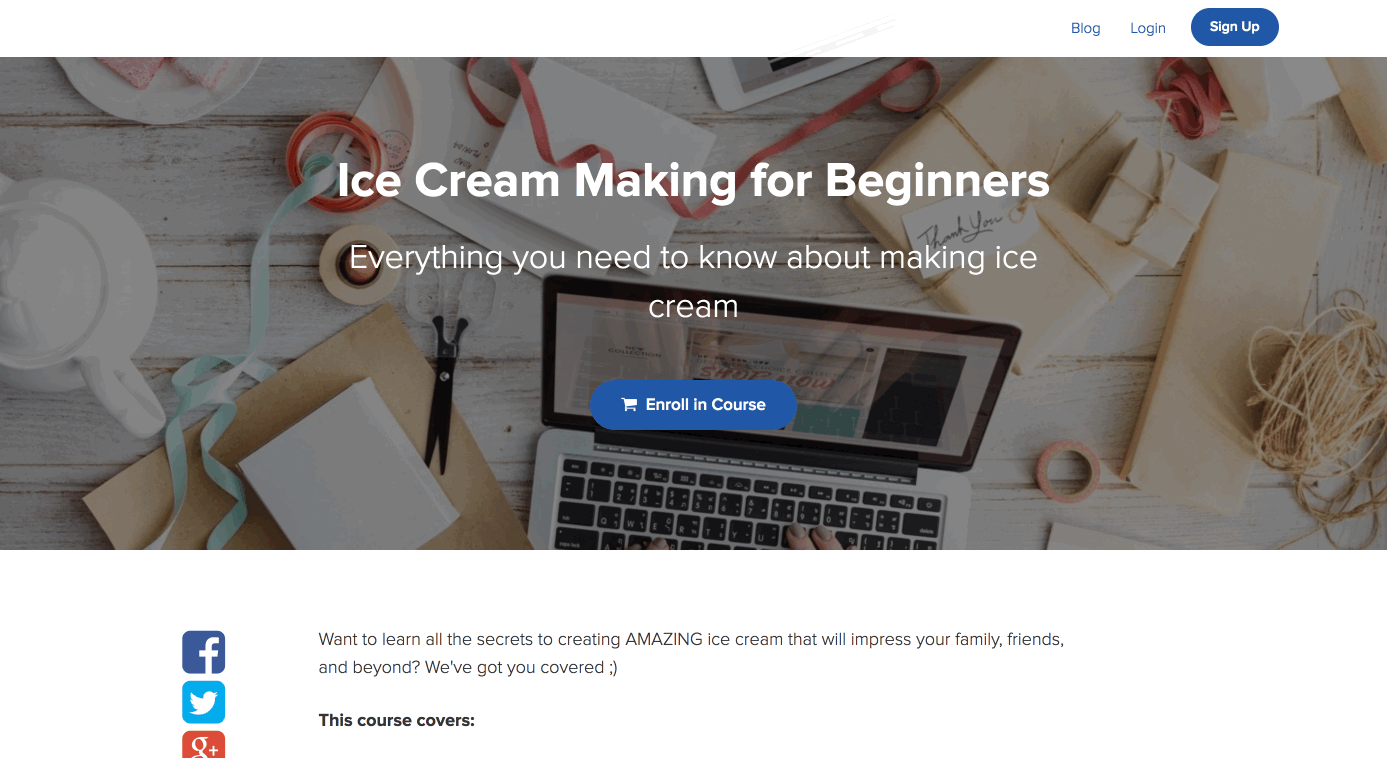 From there, you can choose which plan to purchase, and then continue to the checkout page by clicking the enroll button.
The Checkout Page
Once you're redirected to the checkout page, you'll be able to add coupons, add a VAT ID (if applicable), as well as select which account and payment method you'd like to use to purchase the course.
Order Summary
In this section of the checkout page, you can review the course you are purchasing, and the final amount. If applicable, this is also where you would enter a coupon code or VAT ID.
If you have a coupon code, clicking the Add Coupon button will reveal a text field for you to enter your coupon code. Once applied, the pricing will reflect your new discounted price.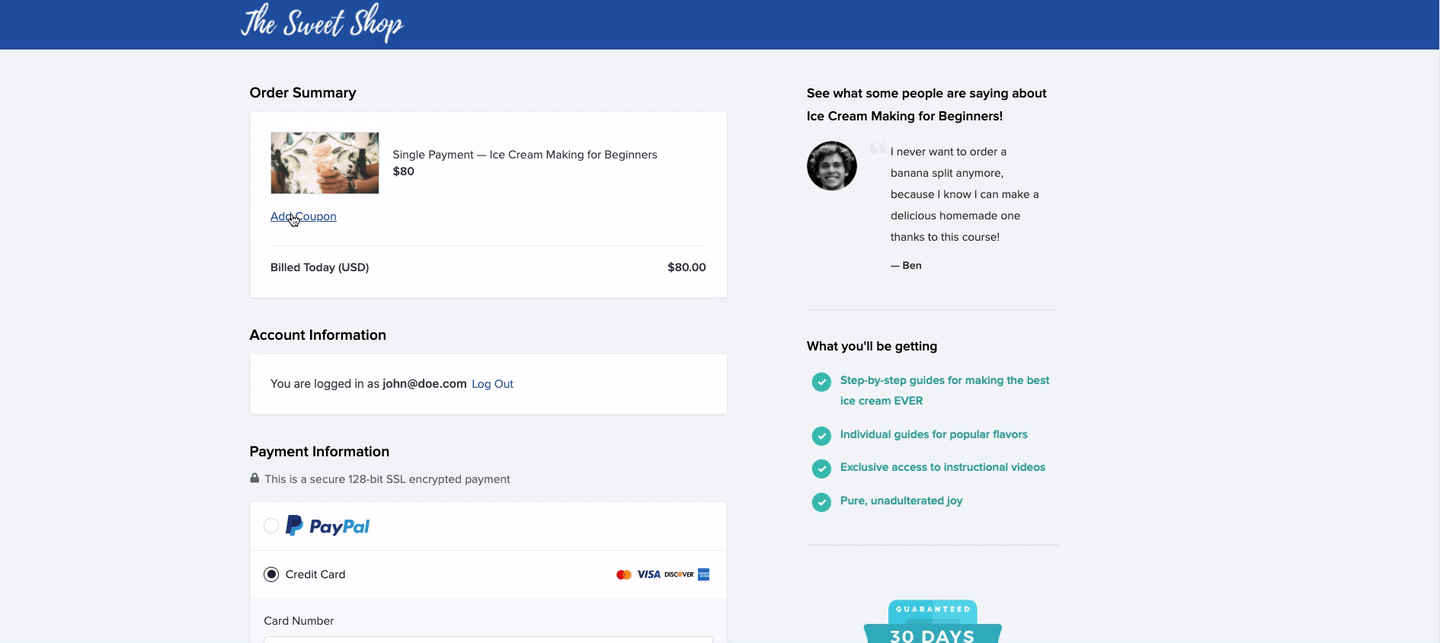 If you are located in a country where VAT is levied, the amount charged for VAT will be shown here. If applicable, you can click Add VAT ID to input your VAT ID number, which will in turn remove the VAT charge from your order total.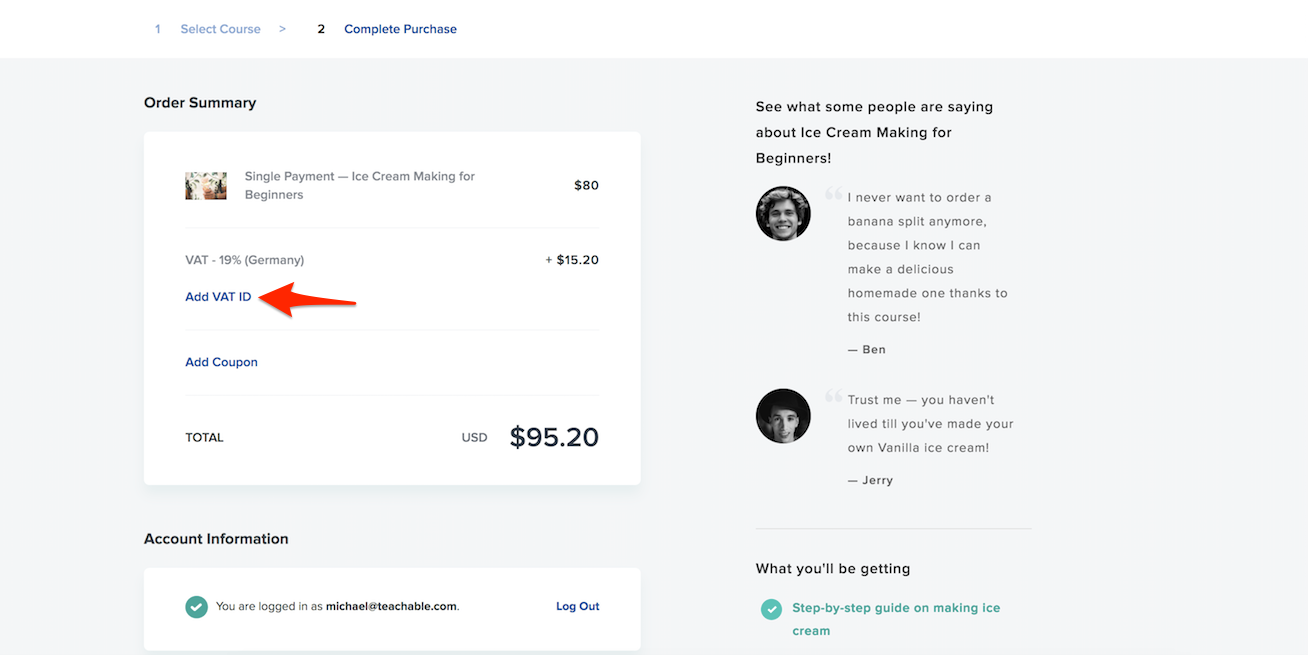 Account Information
If this is your first time purchasing a course from this school, and therefore you do not have an account already, the email address you enter here will be used to create your account. After you input an email address, click Continue to validate your email address.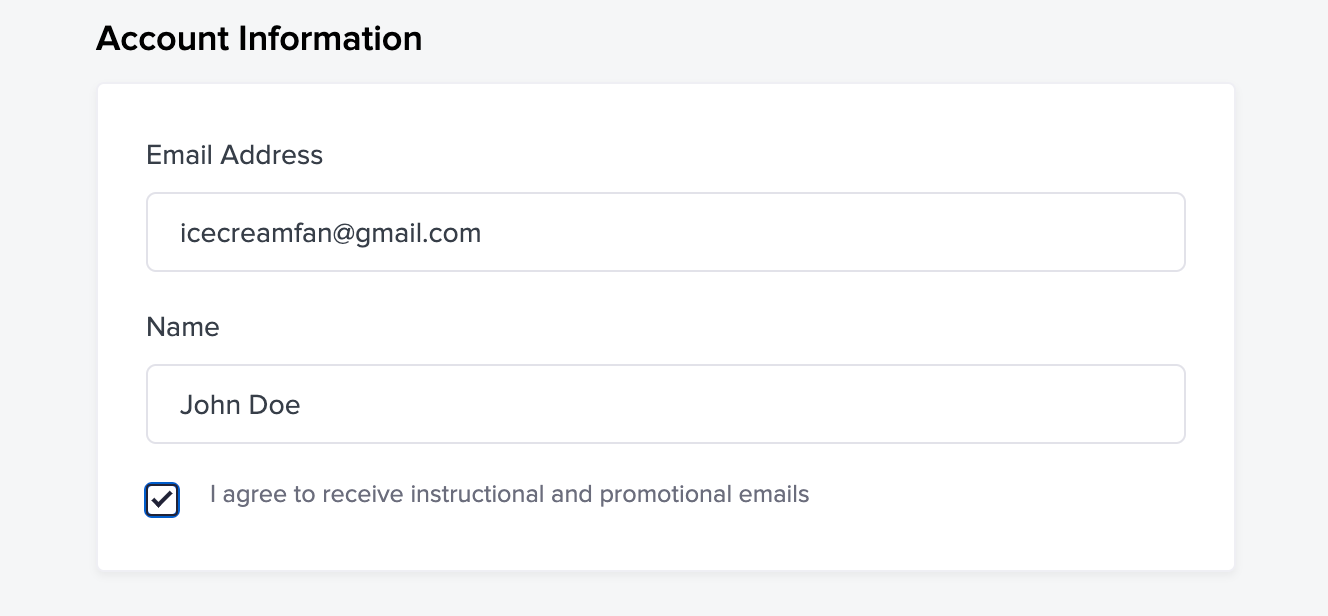 After completing your purchase, you'll be prompted to input your name and create a password for your account. You'll also be sent an email asking you to confirm their account (more on that below).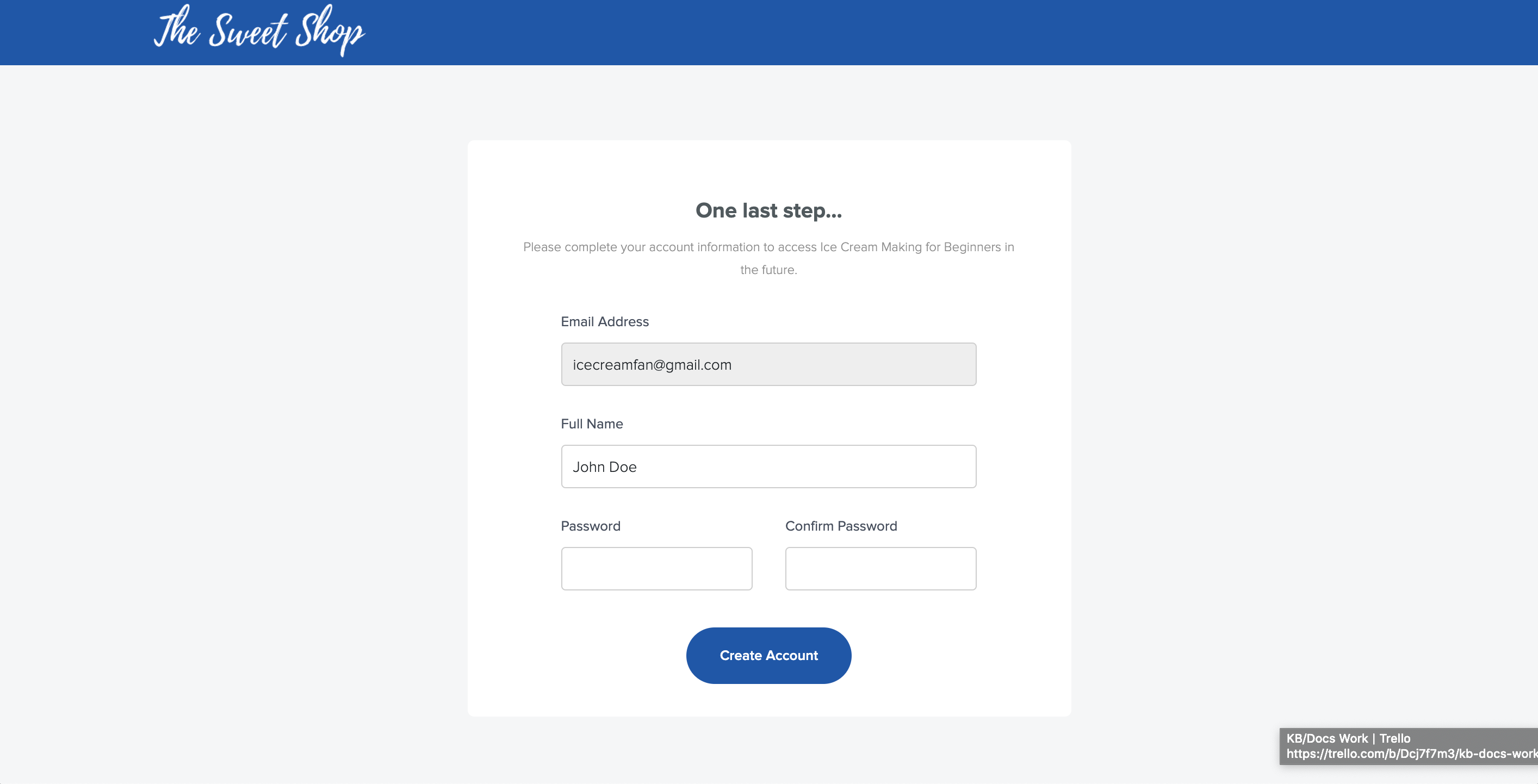 If you already have a school account, you'll have to enter your email address and click Continue. Then, you'll be prompted to enter your account password.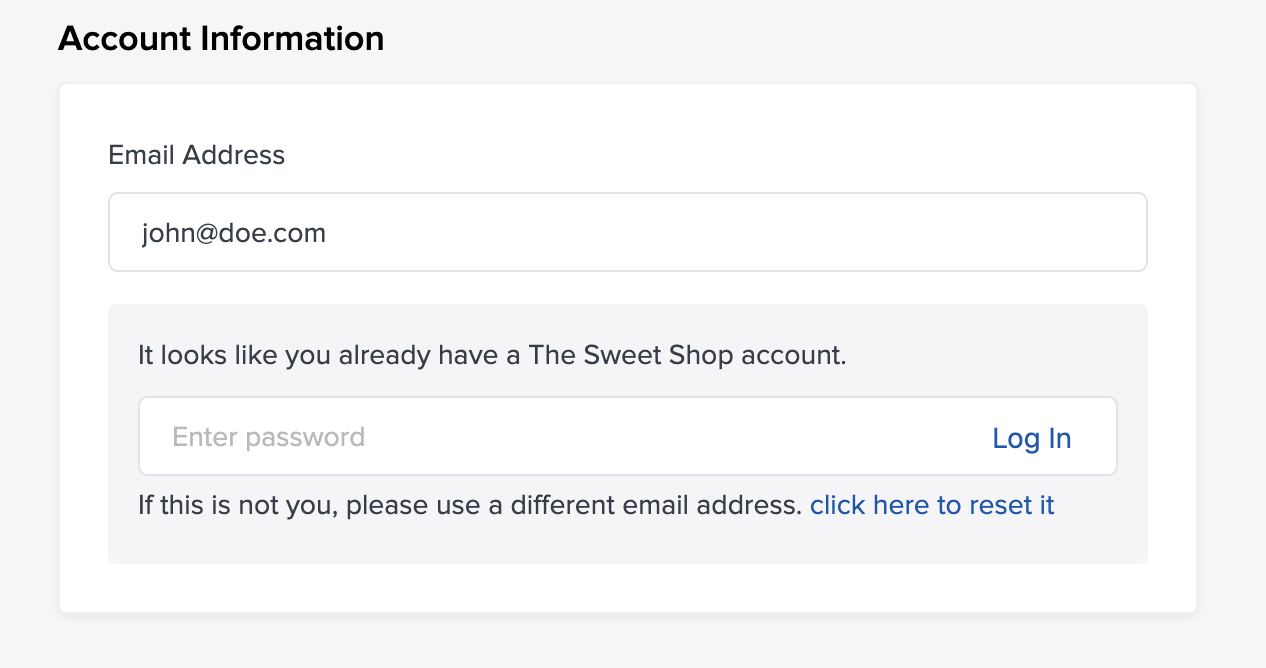 Similarly, if you are purchasing a course from a myTeachable-enabled school and have an existing myTeachable account, you'll be asked to input your myTeachable account's password.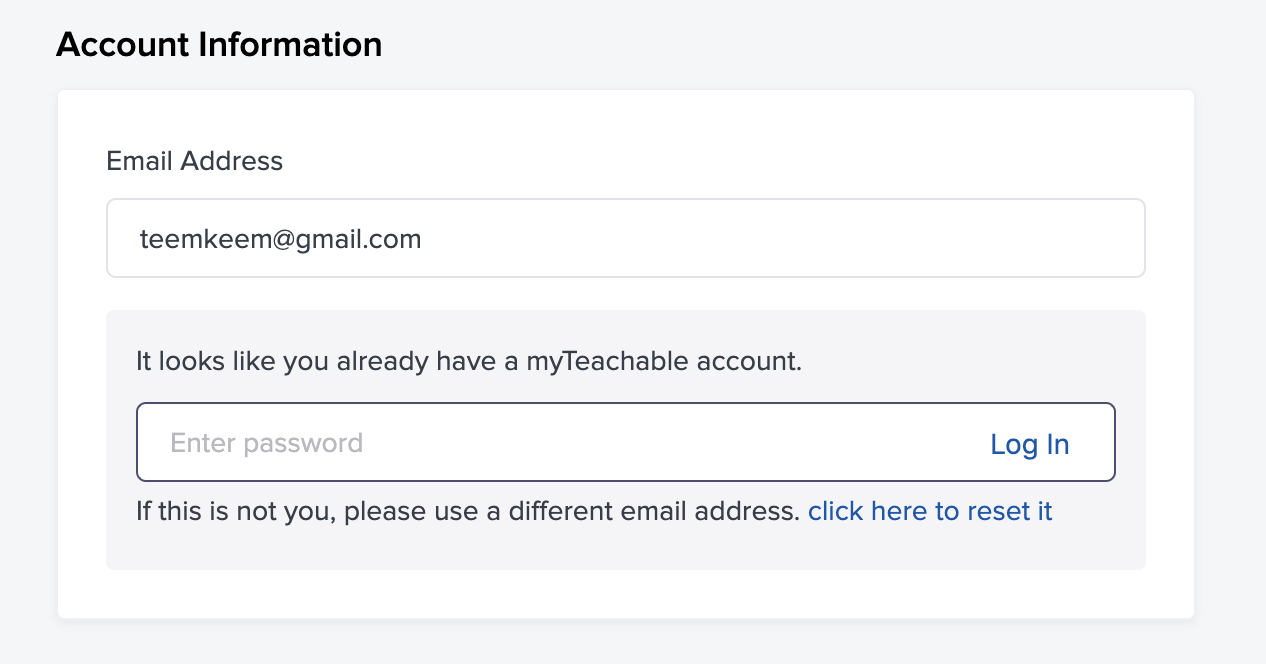 Payment Information - credit card
Here you can choose your payment method: PayPal, credit card, or mobile pay. If you are purchasing a course using a credit card, select the Credit Card radio button. Then enter your Card Number, Expiration Date, CVC Code, Country, and Postal Code. When you're finished, click the Buy Now button.
If you make any errors when entering this information, the incorrect information will turn red. You can then re-enter the information. Once you've entered all the required information, you can then choose to save your payment information to myTeachable by checking the Save my card for future purchases box.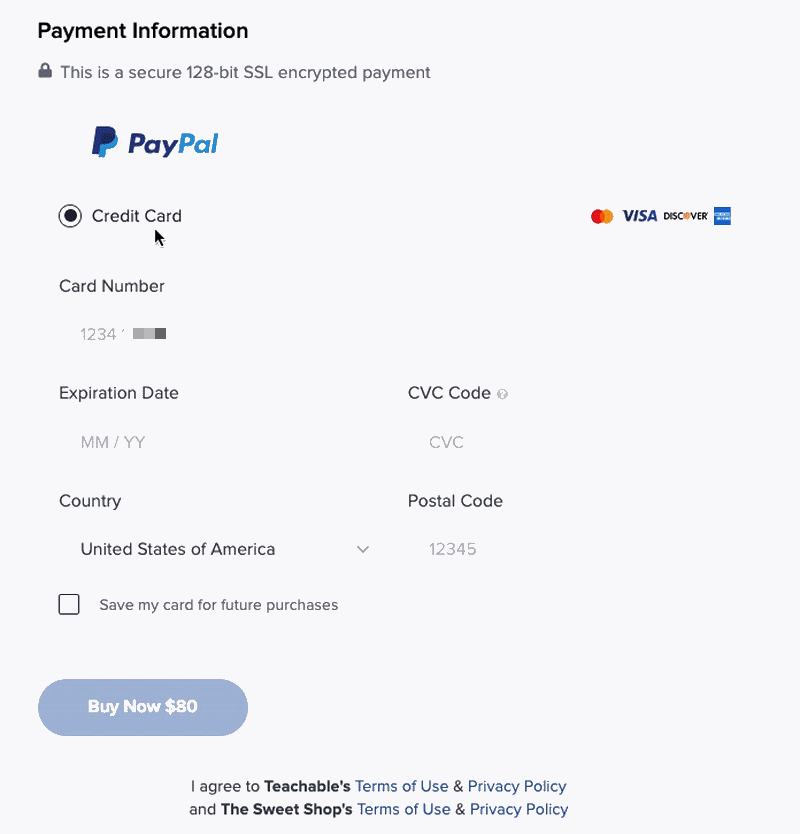 Payment Information - PayPal
If you are purchasing a course using PayPal, select the PayPal radio button and select your Country, then click the PayPal button. Upon checkout, you'll be redirected to PayPal's website to complete your purchase.
NOTE: Courses with recurring (e.g. subscription or payment plans), non-USD pricing plans can only be purchased with a credit card.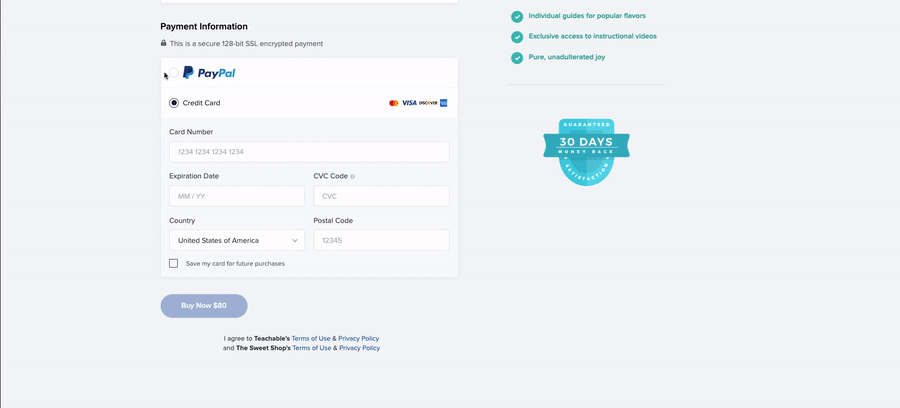 Payment Information - mobile
If you are purchasing a course using a mobile payment app, either Google Pay or Apple Pay will be displayed. Tapping this option will take you to a modal where you will be asked to review your payment information. Ensure everything is correct and tap Pay. You will be asked to enter your CVV number. Tap Confirm.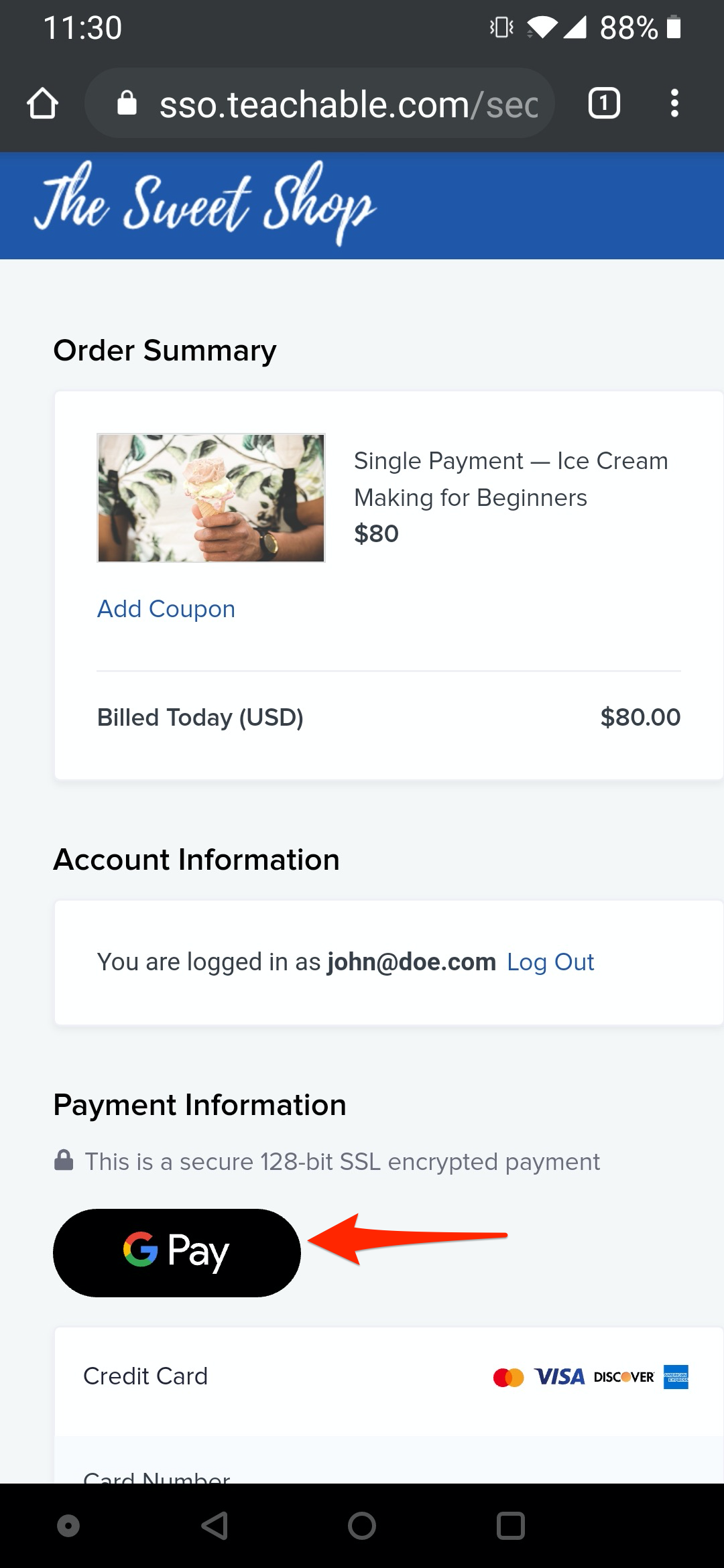 Complete Your Purchase
Once you have entered your payment information, click the Buy Now button to complete your purchase.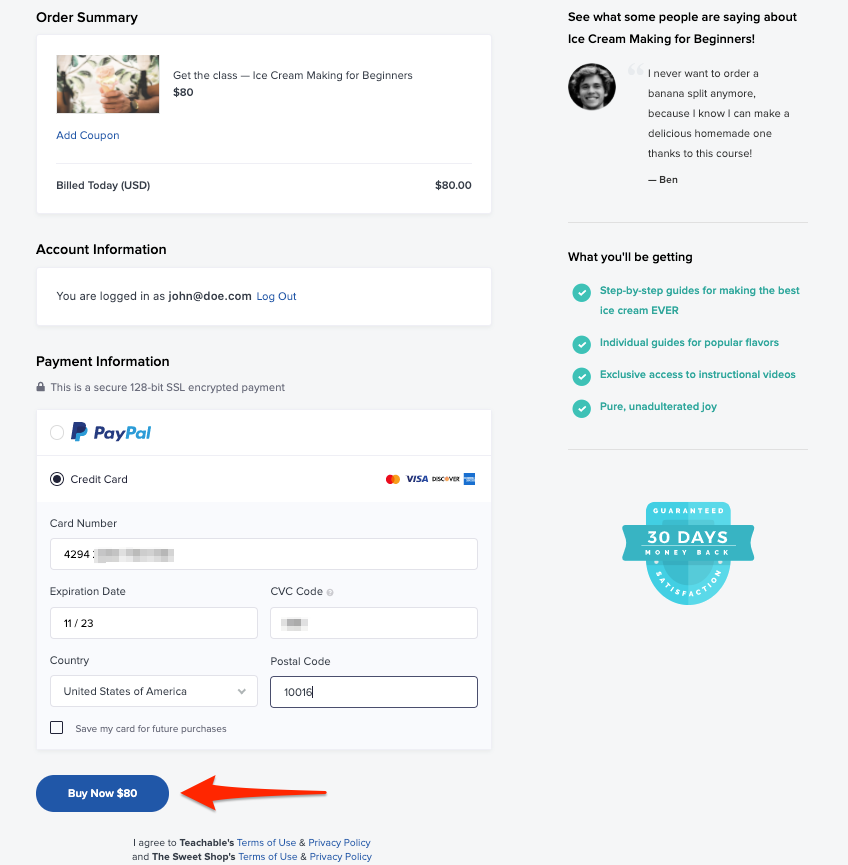 In some cases, your bank may require you to authorize your credit card payment. If so, a pop-up window will appear prompting you for additional information to authorize the payment with your bank: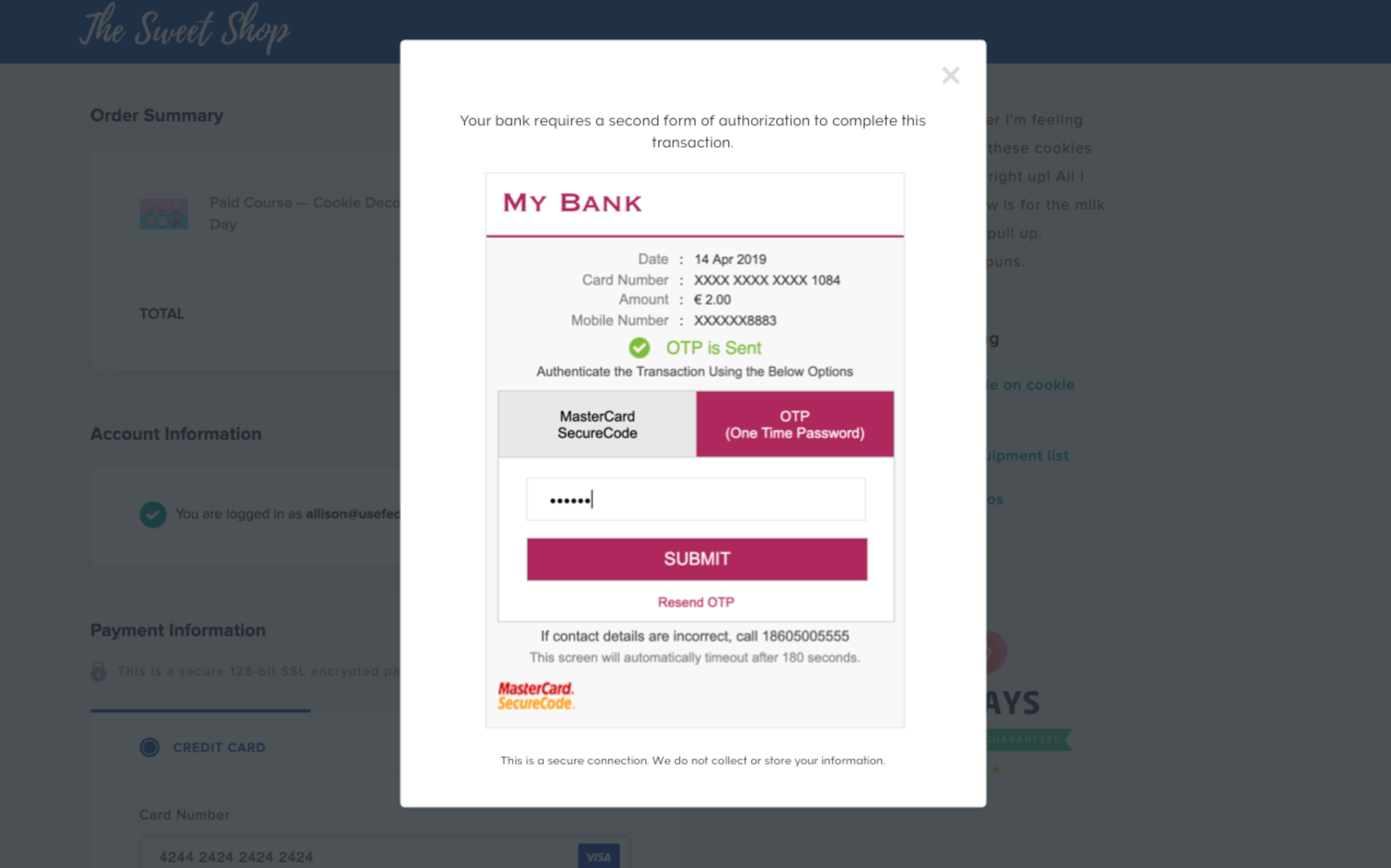 NOTE: If you're using PayPal to purchase a course, then you will be redirected to PayPal to complete your purchase.
Once you complete your purchase, you'll be directed to a thank you page and will automatically receive a receipt to the email specified in the Account Information section that provides more details about your purchase: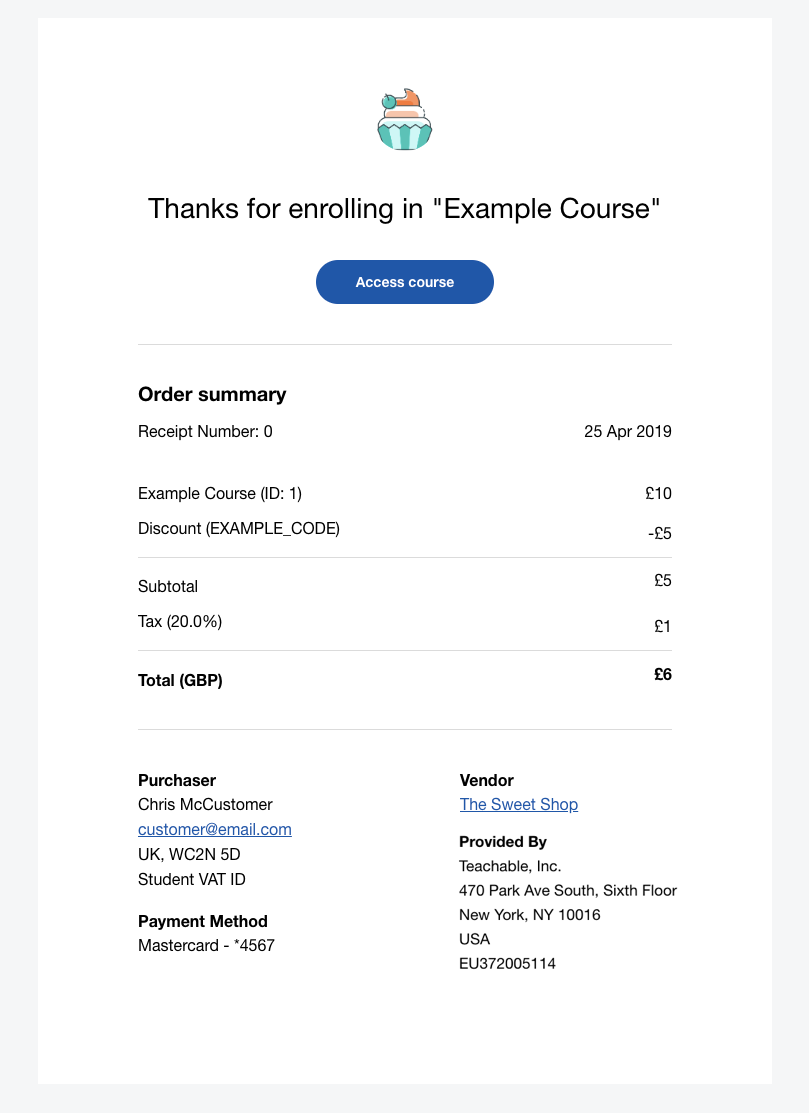 You'll also receive an account confirmation email. To confirm that your email address is correct, click Confirm Email: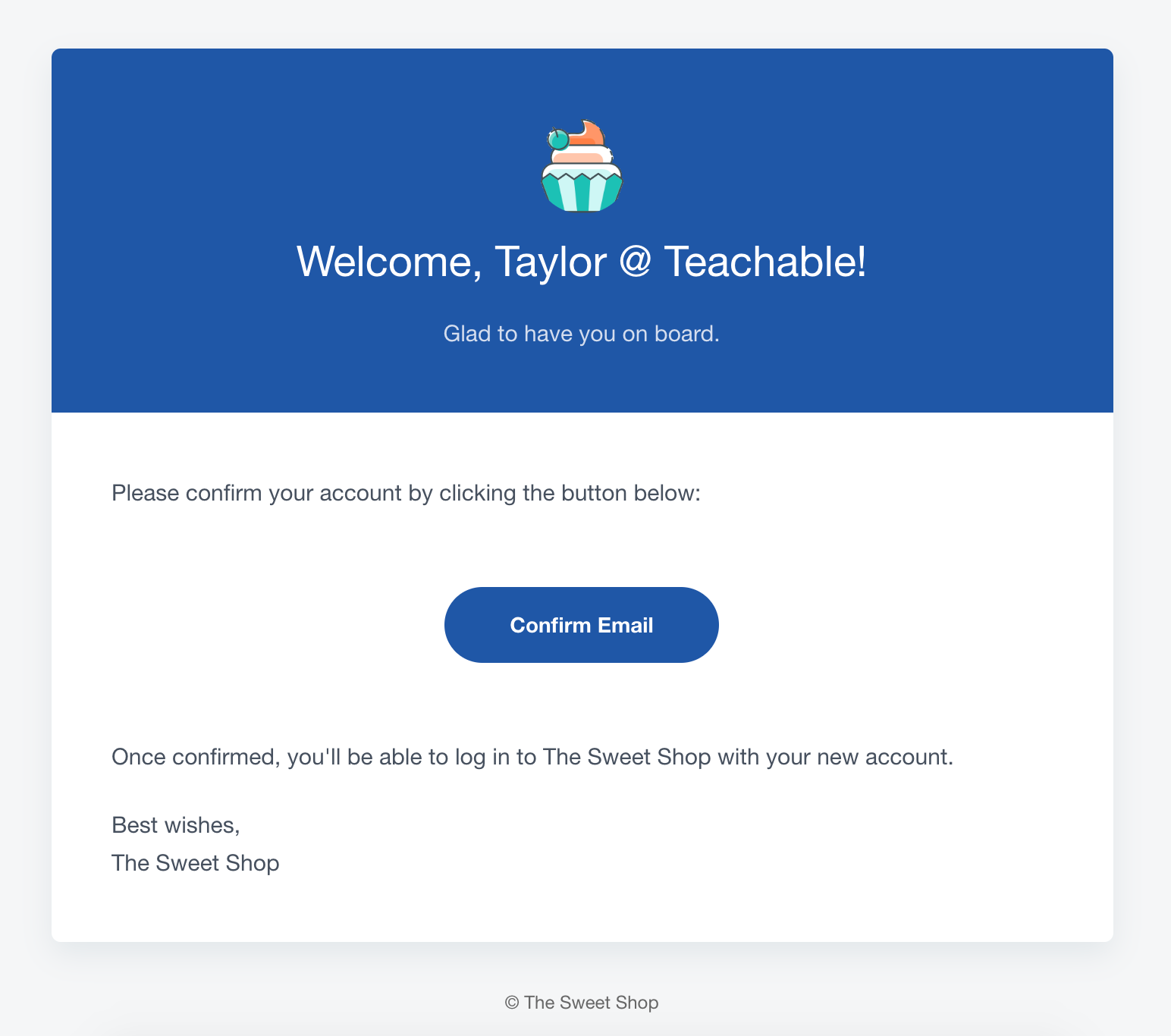 Now, you can log in and access your new course!