On the Business plan, school owners have to ability to create custom user roles by assigning or removing certain permissions. This article goes over how to tailor user roles to fit your needs.
Overview
There are five types of user roles on Teachable—primary owner, owner, author, affiliate, and student—each of which has their own set of default permissions. These roles cannot be customized, however, you can create custom user roles that can be assigned the same types of permissions.
If your school is on the Business plan, you can create, apply, or remove these types of permissions:
It's important to note that some permissions can only be applied to a user's custom role in conjunction with another permission. This is because some permissions are predicated on the ability to access another permission.
If the Issue Purchase Refunds permission is applied, then the View Financial Information permission will also be applied.
If the Publish & Delete Courses permission is applied, then the Create & Manage Courses permission will also be applied.
If the View Course Reporting permission is applied, then the Create and Manage Courses permission will also be applied.
If the Erase Users permission is applied, then the Create & Manager Users permission will also be applied.
Creating a Custom User Role
To create a new custom user role, complete the following steps:
Log in to your Teachable school.
Navigate to the Users section and select Custom from the sidebar menu.
To add a new custom user, click on the Add Custom Users button. A pop-up window will appear where you can add information about the user.

Choose from Role drop-down menu to select an existing custom role to apply to the user.Alternatively, you can select the Create New Role option to create and apply privileges for a new role. Give the new role a name by entering text into the Role name field. Click Save once you've selected permissions for the custom role. 
To modify an existing custom user's permissions, search for the user's profile in the Custom tab of Users section of your school admin and click to open. Select the Role tab in their user profile.

To modify the permissions of an existing role, click on the Edit Role button. Click Save to update the user role.
Revoking Custom User Role Permissions
If you no longer want a user to have custom permissions, you can revoke their permissions by clicking on the Revoke All Permissions button in the user's profile.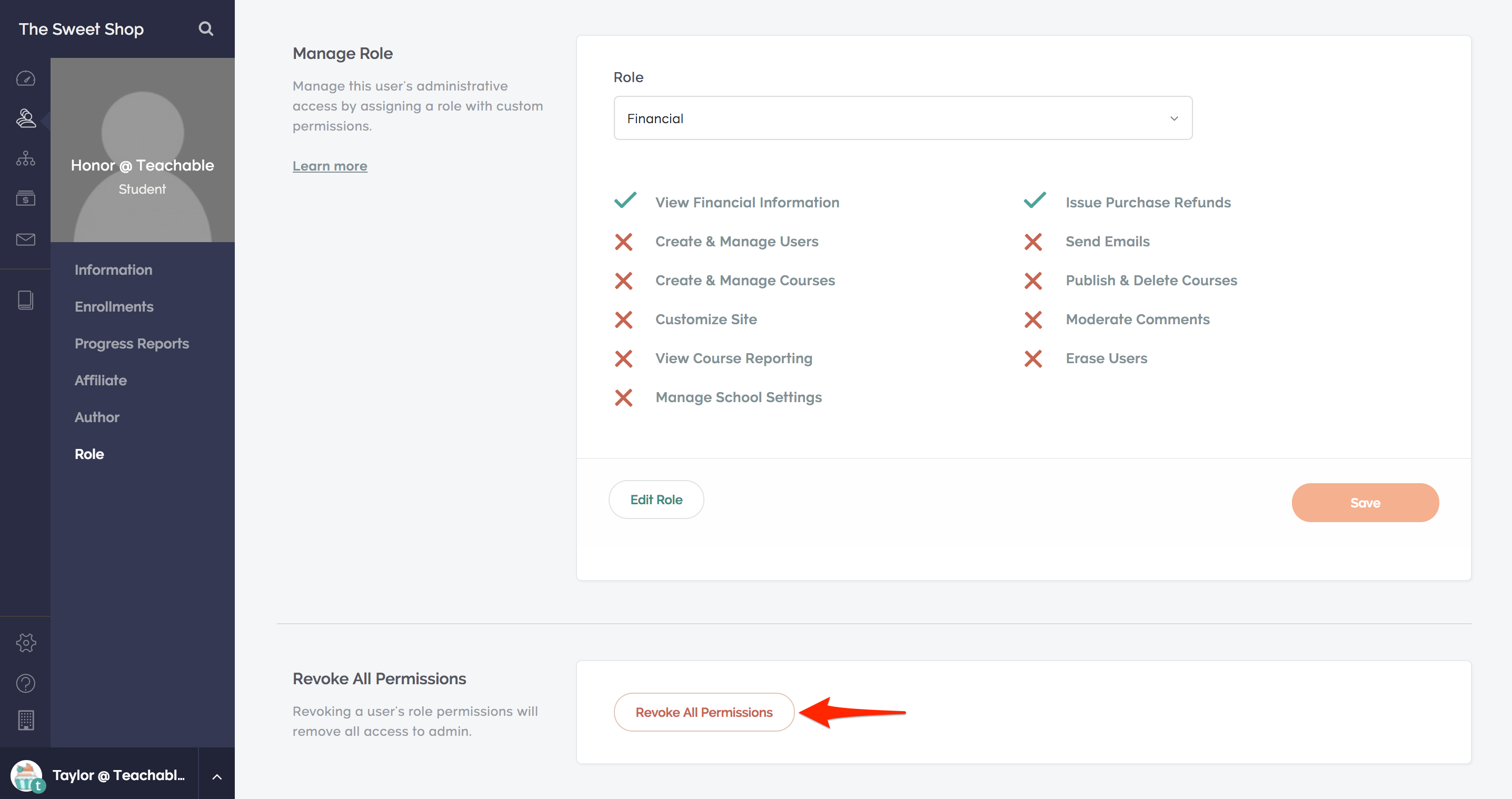 Alternatively, you can revoke custom user roles in bulk by navigating to the Custom tab of the Users section in your school admin.