This article helps school owners understand which version of page editor they have, differences between the versions, and how to convert 1.0 pages to 2.0.
What is page editor?
Page editor is a robust graphical tool that helps bring your school's presence to life. Using the What You See Is What You Get WYSIWYG editor, you can build beautiful, content-rich site pages, sales pages, and thank you pages. Page editor is easy to use, yet flexible enough to offer more advanced page design if desired.
Page editor uses page blocks to design great-looking pages. Page blocks are pre-made "building blocks" used to construct pages for your site. Each of these blocks are self-contained, which means that editing and formatting one block does not affect other blocks. In the following article, you can learn more about creating pages with page blocks.
This is what the page editor 2.0 looks like. The design panel is on the left, a preview panel is on the right: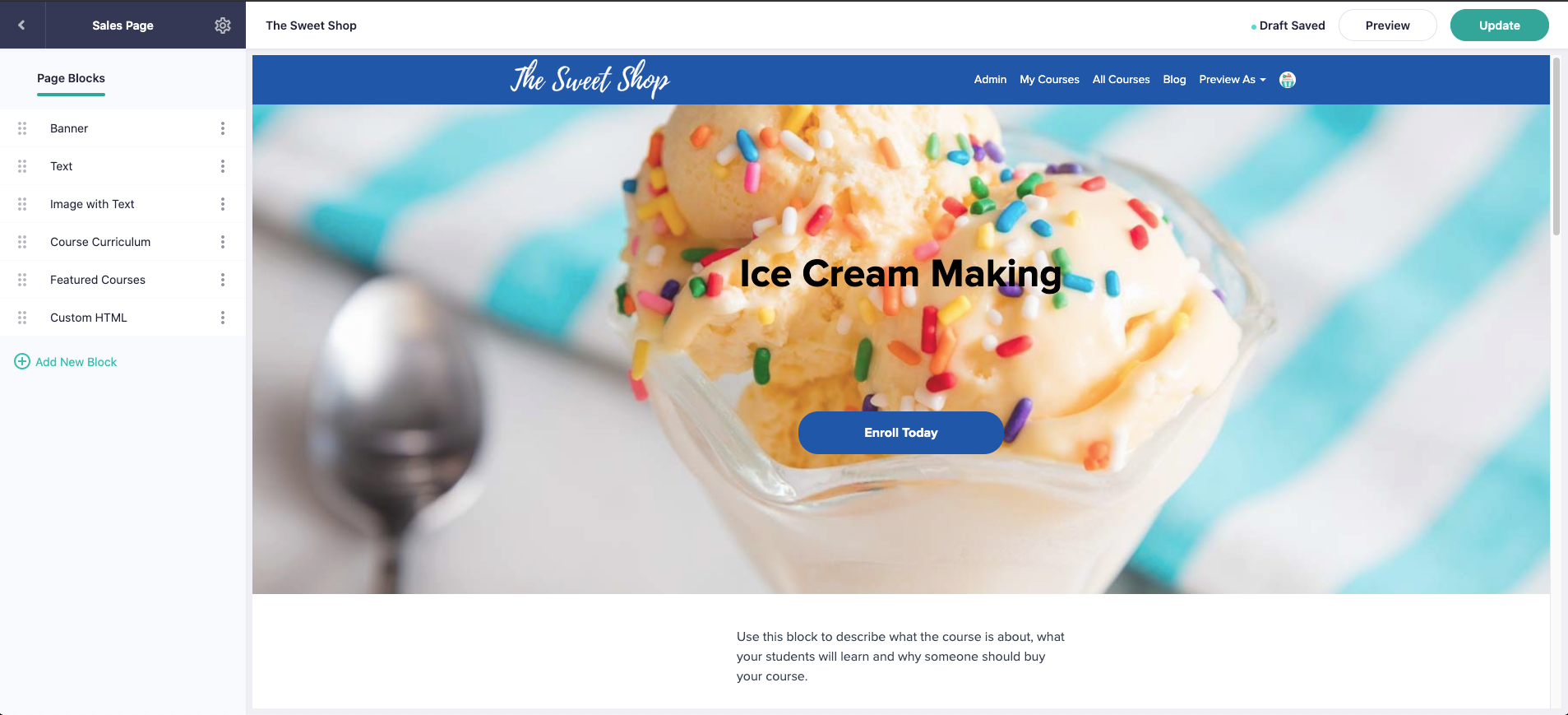 What's the difference between page editor 1.0 and 2.0?
Schools created before September 18, 2019 have access to both Page Editor 1.0 and 2.0.. Schools created after September 18, 2019 only have access to our Page Editor 2.0.
CAUTION: If you created your Teachable account before September 18, 2019, any new courses you create will use the 1.0 editor by default. You can add additional sales pages in the 2.0 editor.
Many of the blocks available in 2.0 are also available in 1.0; the primary difference is in the layout of the editor. For example, this is what a page created with page editor 1.0 looks like: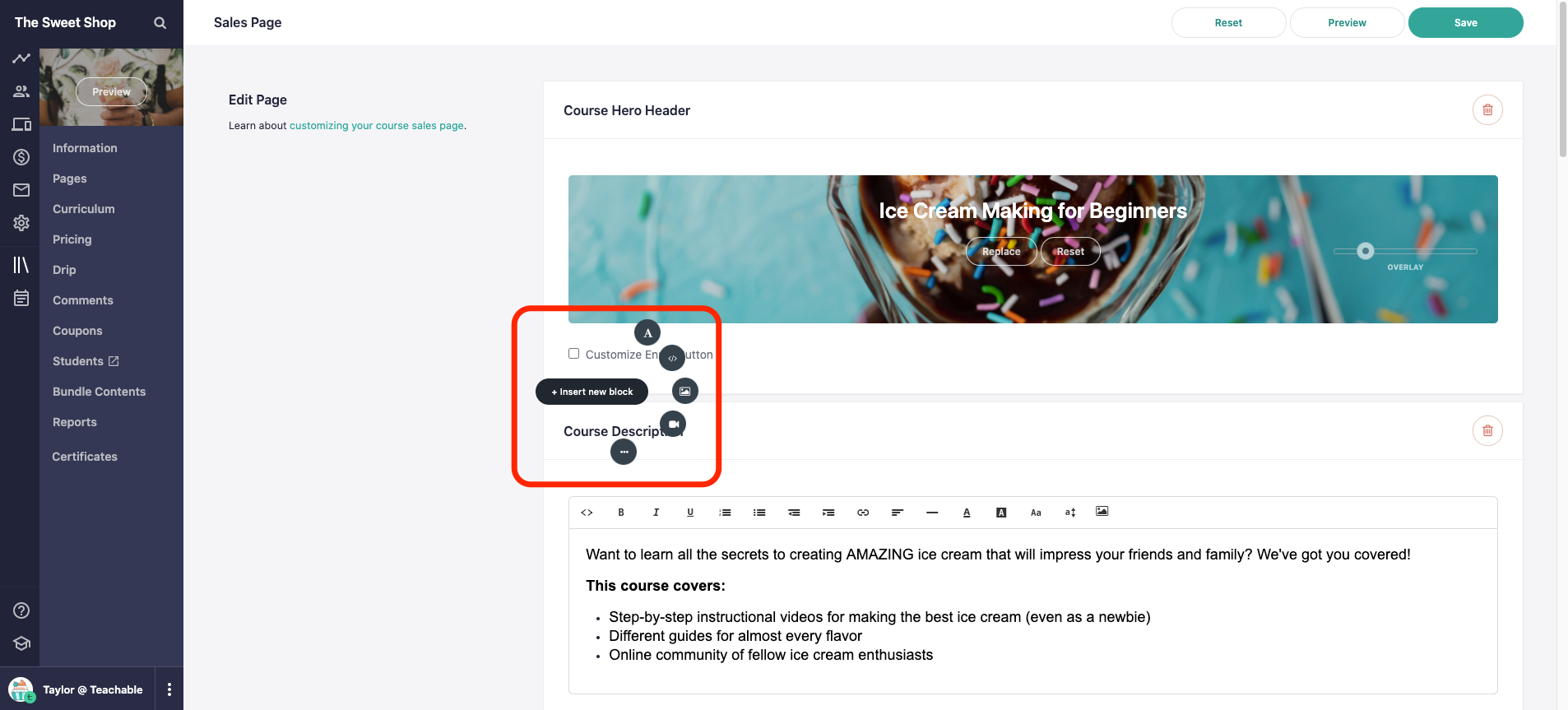 Instead of blocks, you have a radial with options to edit your page. You'll also notice that you don't have a design and preview panel, you work directly with the content. Read more about using 1.0 page blocks.
Now let's see what a page editor 2.0 page looks like: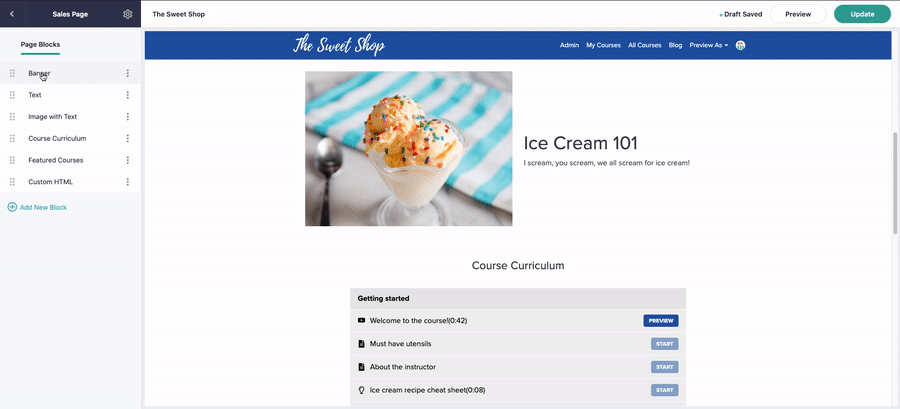 As you can see, the content dynamically updates as you make changes in the design panel. You also have a multitude of block options to help your school look its best. Read more about using 2.0 page blocks.
NOTE: The Featured Products block is not available in 1.0 pages. To use that block, you'll need to manually recreate your 1.0 page to 2.0, then add the block.
How do I know which version I have?
In Site > Pages and within the Pages tab of your course products, you'll see a column called "Editor Version":
For schools created before September 18, 2019: When creating a new school page, a prompt will appear to specify which page editor you wish to use.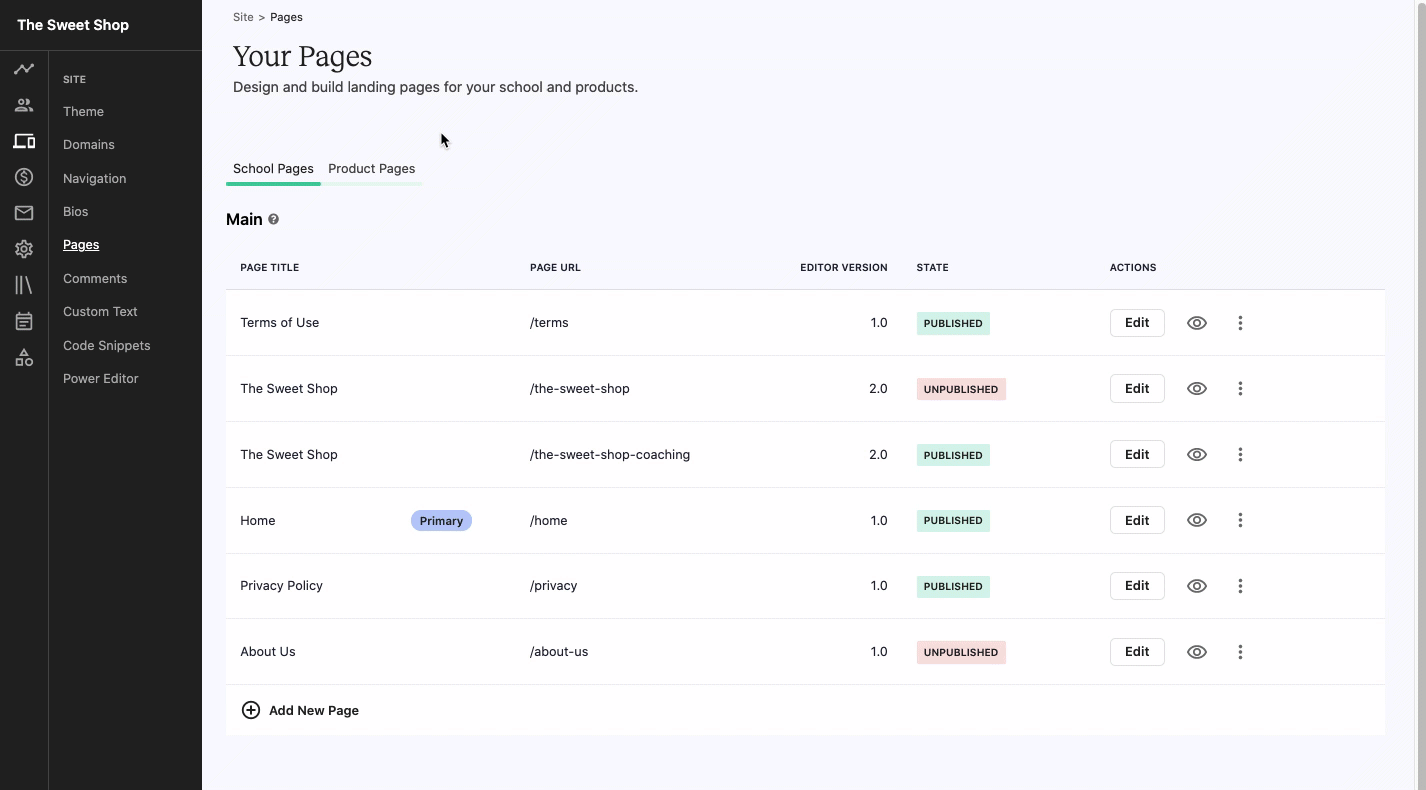 For schools created after September 18, 2019: When creating a new school page, you will be directed to the Page Editor 2.0.
NOTE: You can only create pages for Coaching and Bundles using page editor 2.0, so you will not see an Editor Version column in these products.
What if I need to switch a 1.0 page to 2.0?
At this time, there is no migration/conversion option to change a page created in Page Editor 1.0 to Page Editor 2.0 or vice versa. If you want to use 2.0 specific blocks on your sales pages and you have 1.0 pages, you will need to create a new page with Page Editor 2.0 and manually copy over your existing 1.0 information.
TIP: Opening your school in multiple browser tabs and using copy/paste will make this process go faster.
What if I still have questions?
Here are some additional considerations that might help:
Schools created after September 18, 2019 only have access to the 2.0 editor. Read more about creating multiple sales pages.
Teachable no longer updates page editor 1.0. All improvements and additional blocks will be for page editor 2.0 and beyond.
Power Editor customization is not available in 2.0 pages.
Page editor 1.0 will not be removed--you may continue using it as you desire but again, using new components like the Featured Products block will require 2.0 pages.
1.0 course checkout and thank you pages cannot be recreated as 2.0 pages. This is because they are automatically created when you set up your school and create courses. Creating 2.0 thank you and checkout pages requires creating a new school.