This article reviews how to set affiliate commission rates, track affiliate performance, and understand affiliate payout options.
Overview
On the Pro plan and up, you can allow users to promote your product(s) as an affiliate. Affiliates receive a percentage of revenue generated from any sale that is a result of their promotion.
In this article, we'll review:
For more information on things like setting up affiliates, affiliate links, creating affiliate application forms, and the affiliate experience, check out the Additional resources section at the bottom of this article.
Set commission rates
Affiliate commission rate is the percentage of each sale that the affiliate receives for any sales that are made with their affiliate links. Commission rate can be set on an individual basis.
You can set the commission rate for your affiliates:
Alternatively, you can set or update the commission rate for individual users after they already have accounts in your school. To do so:
Navigate to the Users > Affiliates tab of your school.
Click into a specific affiliate's user profile.
Select the Affiliate tab of their user profile.
In the Affiliate Commission section, enter in a number from 1 to 100.
Click Save.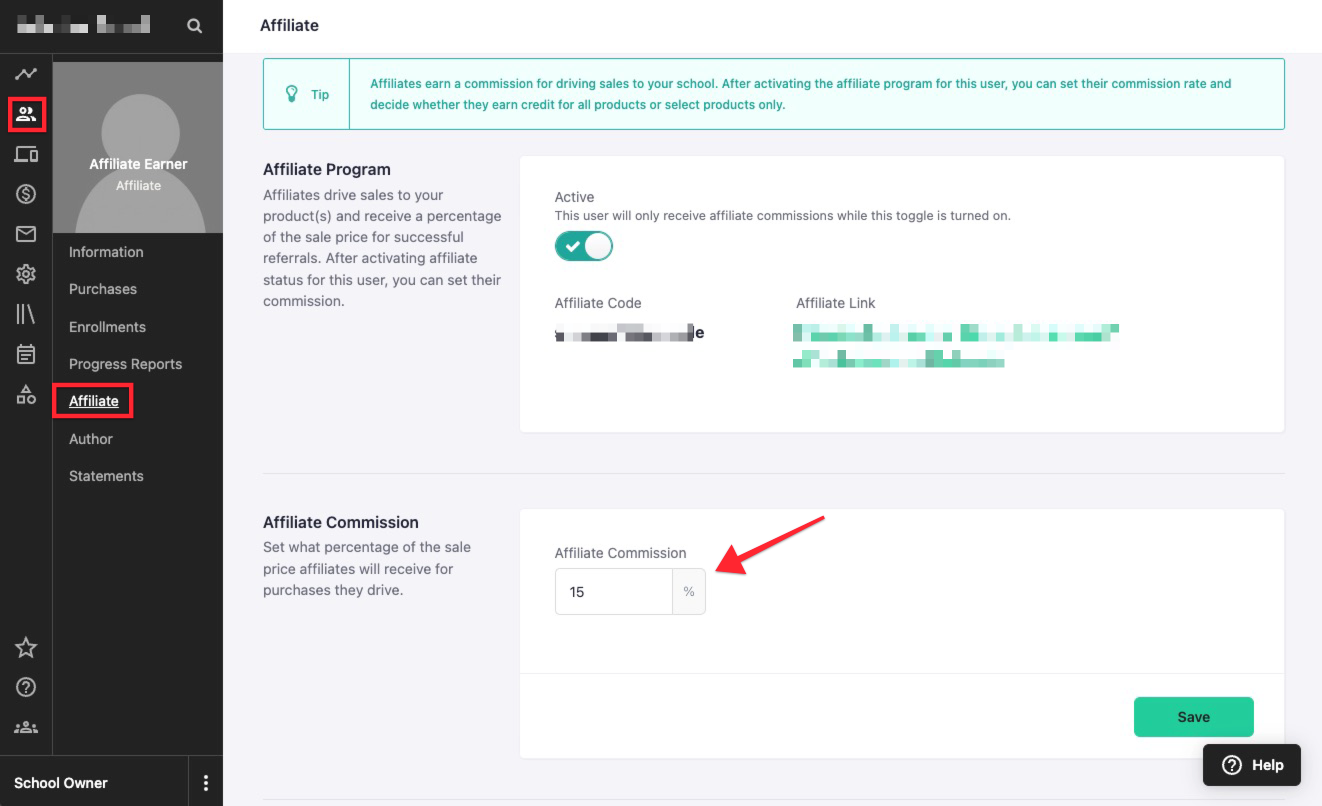 You can also set a new commission rate for affiliates in bulk. Learn more about user bulk actions.
Understand affiliate commission
In a transaction where an affiliate earns commission, the affiliate fee is deducted from the total transaction earnings (i.e., the amount charged minus taxes). Learn more about transaction details.
In the case of a subscription or payment plan, affiliates will receive a percentage of each payment, not just the first.
If you change an affiliate's commission percentage, this will apply for future transactions. Transactions that have already occurred will have the affiliate commission amount calculated based on the affiliate commission rate at the time of the original sale.
For recurring transactions (such as subscriptions or payment plans), affiliate commission is based on the percentage set at the time of the transaction. For example, if you set your affiliate John Doe's commission rate at 20%, and he is attributed to a student's purchase of a subscription, he will receive 20% commission for the first transaction. If you later change John Doe's commission rate to 50%, John Doe will earn 50% commission for future transactions related to that student's subscription.
Track affiliate sales and performance
From your Users > Affiliates page, you can track how your affiliates are performing. At the top of the page, you can view the following three metrics:
Sales by affiliates - the total amount of money (in USD) made by the school via sales made with an affiliate link
Total affiliate earnings - the total amount earned by affiliates via commission rate across the school
Average affiliate sales - the average amount of school sales made per affiliate. Calculated by dividing the total sales by affiliates by the total number of affiliates in your school.
You can also use the Add Filter option to filter for sales by specific affiliates, by specific users, for specific products, or other various metrics.
Affiliate payouts
When affiliates earn commission, they need a way to receive their earnings. The affiliate payout options available are determined by your school's payment gateways and BackOffice settings. (Learn more about payment gateways and BackOffice).
Essentially, if you have BackOffice enabled (which is available on either teachable:pay or the Monthly Payment Gateway), Teachable will automatically pay out your affiliates and handle affiliate tax forms. If you have BackOffice disabled, you are responsible for paying out your own affiliates and handling affiliate tax forms.
NOTE: To understand your payment gateway and BackOffice settings, navigate to your Settings > Payments page.
In the chart below, find details about how affiliates receive their payouts in each scenario.
| | | |
| --- | --- | --- |
| | BackOffice enabled - Teachable handles payouts | BackOffice disabled - school owner handles payouts |
| Payout method | PayPal - affiliates must enter in a valid PayPal account on their affiliate dashboard | Varies—the school owner can use any method of their choosing off of the Teachable platform (i.e., Zelle, PayPal, Venmo, check, etc.). |
| Payout frequency | On the first business day of every month, after an initial 30 day hold. (For example, earnings made in January are paid out on March 1st). | Varies—determined by the school owner |
| How are earnings tracked? | Teachable automatically calculates how much your affiliates earn each month. (You can also track affiliate earnings via your Users > Affiliates menu by applying filters). | School owners must track earnings for each affiliate. You can use our affiliate transaction reporting to keep track of how much is owed to each affiliate. |
| Who handles affiliate tax forms? | Teachable will automatically collect W8/W9 tax forms for affiliates, and then issue them 1099 forms for any earnings made in the year. Learn more about tax forms. | School owners are responsible for collecting and/or issuing affiliate tax forms. |
Additional resources