This article explains how to group and sell your products as a tiered membership. For questions regarding membership, review our Memberships FAQ.
Overview
A membership offers the ability to group courses, coaching, and/or digital download products together based on a tiered pricing structure. With memberships, you can adjust the level of access to your products based on a student's tiered plan. Each tier can be individually customized by price and content.
NOTE: On the Basic plan, there is a limit of one membership tier. Upgrade your plan to Pro or higher for access to unlimited membership tiers.
Create a membership tier
To create a membership tier:
Click the Memberships tab on the left admin panel of your school. Click Create a Membership Tier.
In the Name field, enter in the name of the tier and then click Next.
Use the Sections to add and organize published products to your tiered membership. Once products have been added, click Next.
Set the price for your tier by using the drop down menu to select the currency. Additionally, you can set both a monthly and/or yearly membership price for your tier. (If you would like to offer the membership for free, click the Offer for free option). Click Next.
Once your tier has been created, you can continue to work on and publish your tier or return to the Membership page.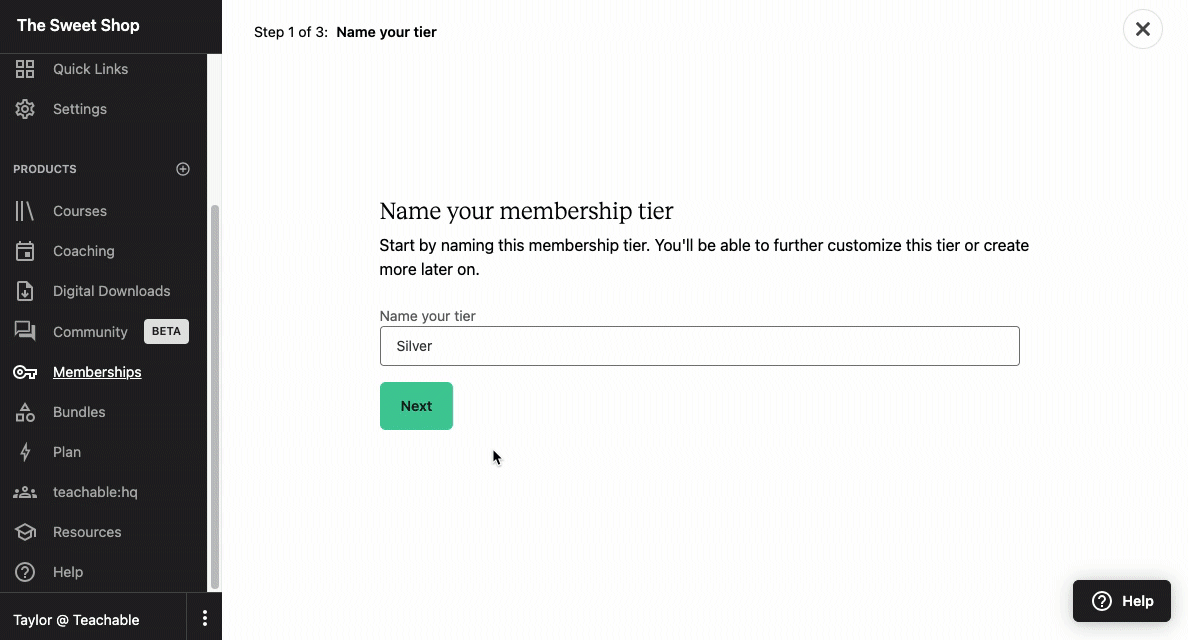 Add additional membership tiers
For schools on the Pro plan and up, you can add additional tiers to your membership to offer additional levels of access to products and services. Navigate to the Membership page and click Create a new tier.
Make changes to Membership settings
You can update your membership product at any time by adding or removing tiers, as well as changing the name, imagery, and sales page of your membership product. In addition to managing your tiers, the Membership Dashboard displays total revenue, total number of active members, and the average revenue per member across all tiers.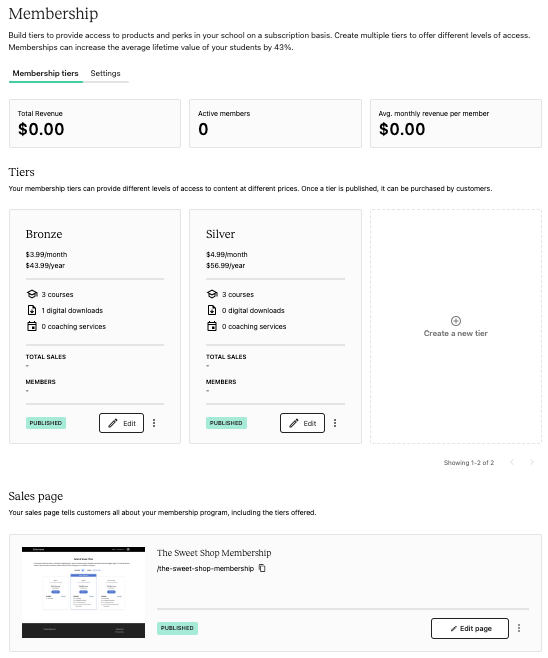 Membership tiers
Tiers are managed individually from the Membership Dashboard. Each tier has its own pricing, content access, and settings. To make changes to an existing tier, click the Edit button. Learn more about managing membership tiers below.
Sales page
Use page editor blocks to customize the Membership sales page. The Membership pricing block will automatically display all published and visible tiers. Learn more about publishing tiers below.
Settings (Membership)
In the Membership dashboard, toggle the Settings tab at the top of the page to update the name of the Membership product, add an additional subtitle (optional), and add a product image to display your Membership product. Additionally, you can change the Visibility settings to show or hide your Membership product on your All Products page.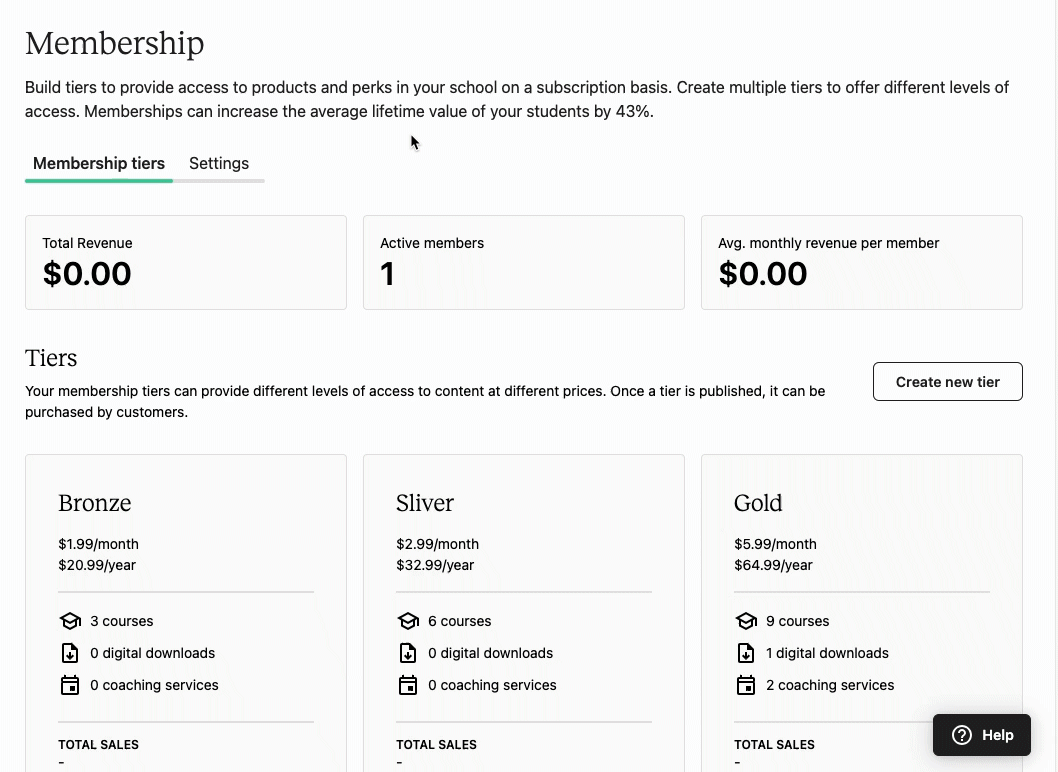 Manage and edit tier details
Product access
Once a tier is created and published, all students who have enrolled in that tier have access to all products added to that tier. You can update access to these enrolled students at any time by adding or removing products to new or existing sections.
To add a product:
Click Add products to an existing section, or create a new section and add products to that section.
To remove a product from a section:
Click the X icon next to the specific product.
To remove an entire section:
Click the three dot icon and choose Delete section.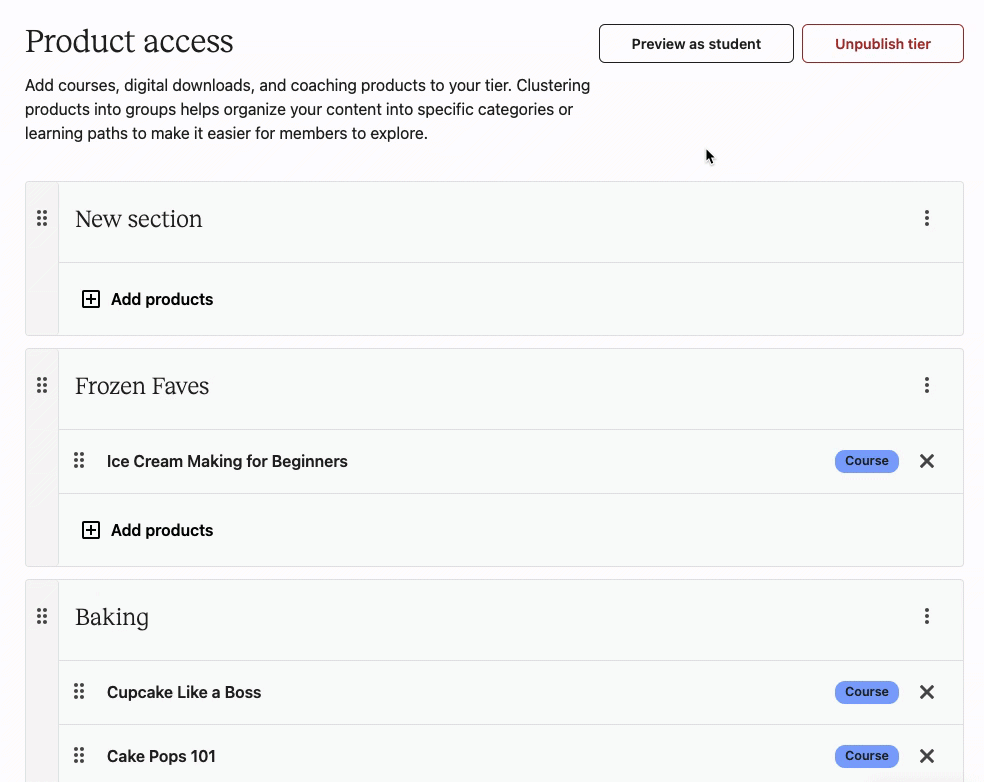 Pricing
You can update a tier's pricing at any time in the Pricing tab of that tier. Pricing can be created on a monthly or annual basis. Alternatively, you can create a free tier.
NOTE: Pricing changes only affect new members. Existing members who purchase prior to the price change will remain at the previous membership price.
In addition to pricing your tier, you can also offer a tier as a Free trial. Trials can be set at 7, 14, 30, or 90 days. A trial period is determined by the date a student enrolls in that tier.
To share the direct checkout link for a tier, click the Copy checkout link button next to the monthly or annual pricing option.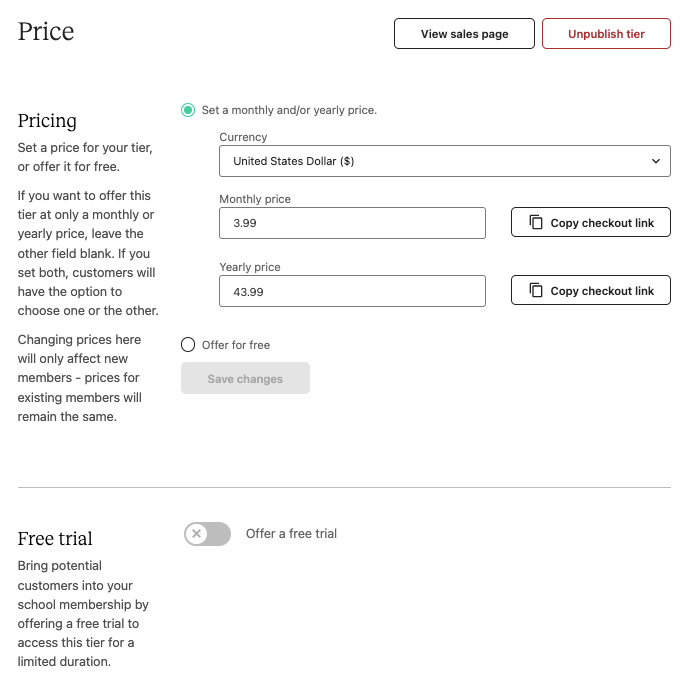 Settings (Tier)
Within the settings tab in a tier, you can change the name of the tier at any time.
By default, tiers are unpublished and invisible to potential members. To make a tier visible for purchase on the membership sales page, toggle Visibility on.
Learn more about publishing and visibility of your school products.
Members
To quickly filter members by tier, click the members tab in a specific tier. This will redirect you to the Users > Students area of your admin with the membership filter already applied.
Publish a tiered membership
To publish a tier, click the three dot icon under the tier and choose Publish. Alternatively, if you are editing a tier, click the Publish tier button in the top right corner of the page.
Please note that publishing a tier will automatically make it visible to potential members. To make a tier invisible on your membership's sales page, navigate to Edit > Settings > Visibility, and toggle Visibility off.
If you would like to publish your Membership product, but keep it invisible to your All Products page, go to your Membership Dashboard, click on the Settings view, and toggle the Visibility for the Membership product off.
Learn more about publishing and visibility of your school products.
Student Experience
Students can access the membership tier options from your Membership's sales page. Students will be able to toggle between monthly and yearly options and choose the tier that is best for them. Learn more about purchasing a product within a Teachable school as a student.
Once your student has purchased access to a tier, they can view all available products from that tier in the My Membership page of their student account. They can view content by section and click on any available product.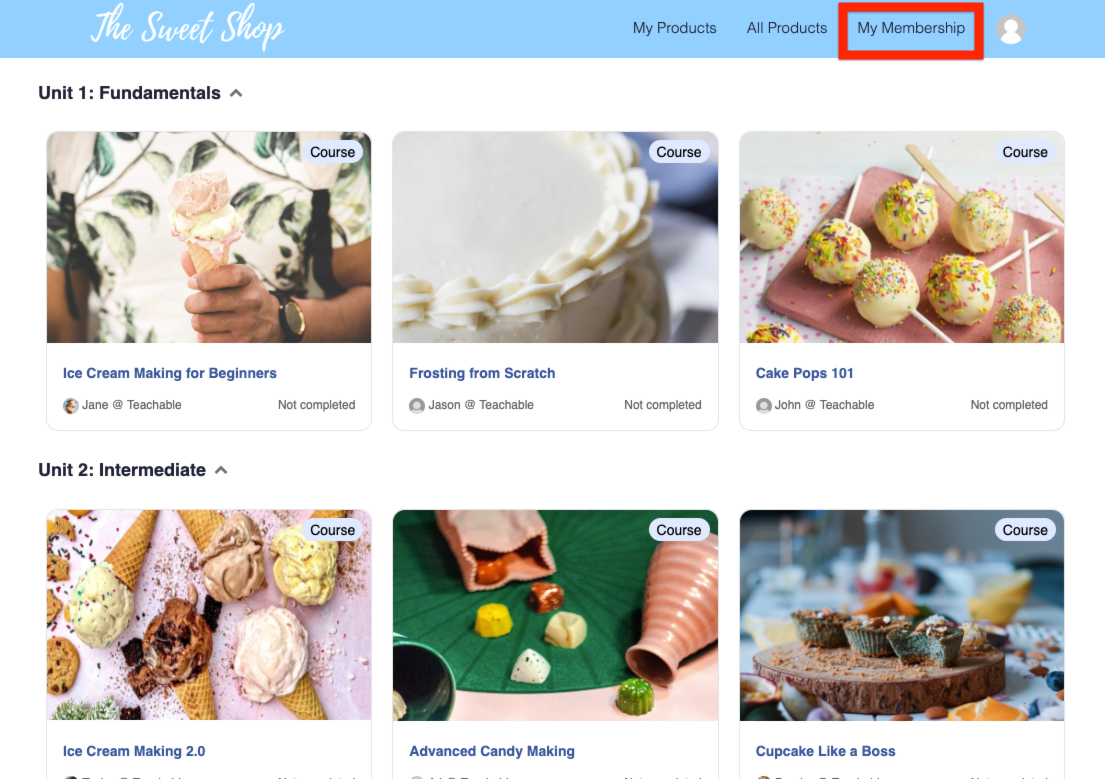 Students can also manage their membership subscription at any time in their student profile. Learn more about managing billing information as a student.
If you would like to view your content the way your student will experience it, go to the membership tier and click the Preview as student button.