This article explains how to pre-sell a course. It reviews what a pre-sale is and provides some general best practices on how to launch a successful pre-sale.
What is a pre-sale?
A pre-sale is when you sell access to your course prior to its official launch. Pre-selling is a great way to gauge interest—and make sales—before you launch your course. This allows you to get started on promoting and marketing the course (often before you've even finished the content). This is also an opportunity to communicate with your students and gain insights into what information the students would like included in the course. You can receive feedback from your audience as the content is still being developed.
A pre-sale is a common strategy for content creators, as it can provide you an opportunity to earn money while refining your course content. You can read our blog article here to help determine if a pre-sale is right for you.
Set up product pages
When you pre-sell a course, you want to be clear about what that means on your course sales page. This ensures that students understand what they are paying for, when the material will be available to them, and helps prevent unnecessary student refunds or chargebacks.
For example, you can use text blocks on your sales page to highlight phrases such as "Coming Soon" or "Launching on [Date]" so that students will know when the material will become available.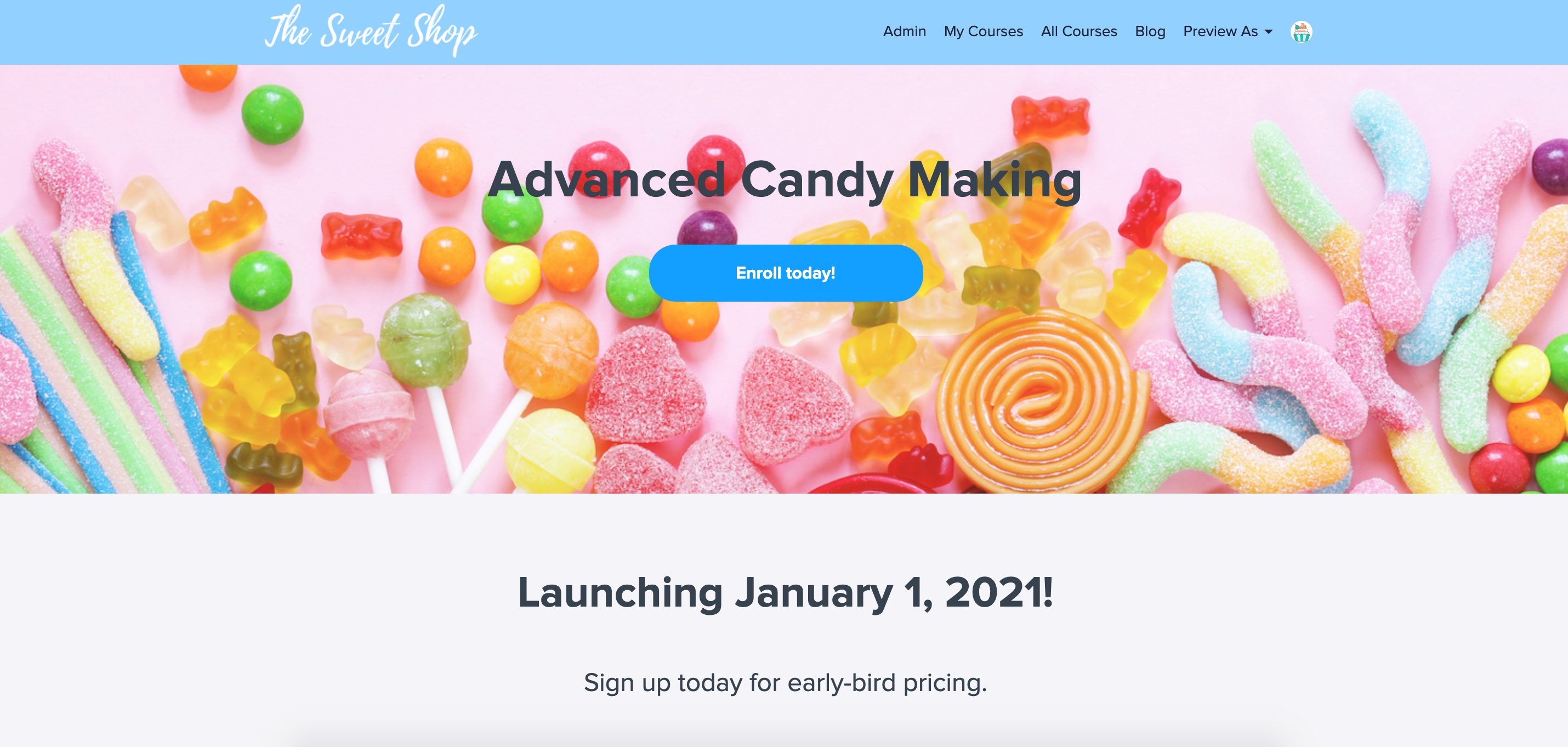 You can access your sales page editor from the Pages menu of the specific course title. From the Pages menu, you can also access and edit your thank you page. The thank you page is the first page students will see after they complete checkout.
TIP: If you do not want students to see a thank you page, you can edit the default post-purchase page from the Information tab of the course.
For more information on how to design and edit your product pages, please see our Knowledge Base.
Create pre-sale pricing options
Some creators choose to offer special pricing options for a pre-sale. For example, you can create a pricing option that is discounted from the full price of the course as a special "early bird pricing" option. This can help to encourage students to purchase the course early.
To set up a pricing option for your course, navigate to the course Pricing tab and click Add Pricing Plan. Once you select your pricing option (one-time purchase, subscription, etc.), you can edit the Name, Subtitle, and Detailed Description of the pricing option to include details about the early-bird pricing.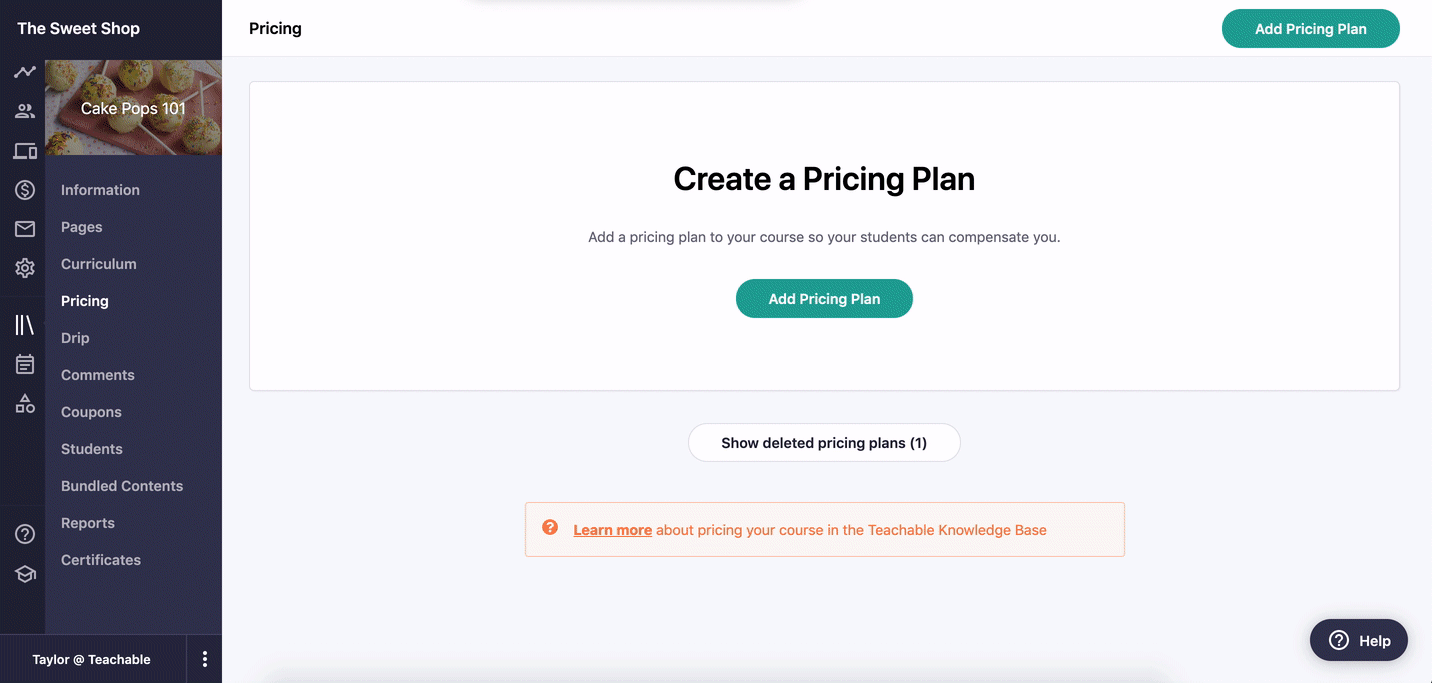 To add the pricing option on your course sales page, navigate to the sales page editor for the course. Then, you can add a Pricing block to the page—this ensures that students will be able to enroll in the course from the sales page.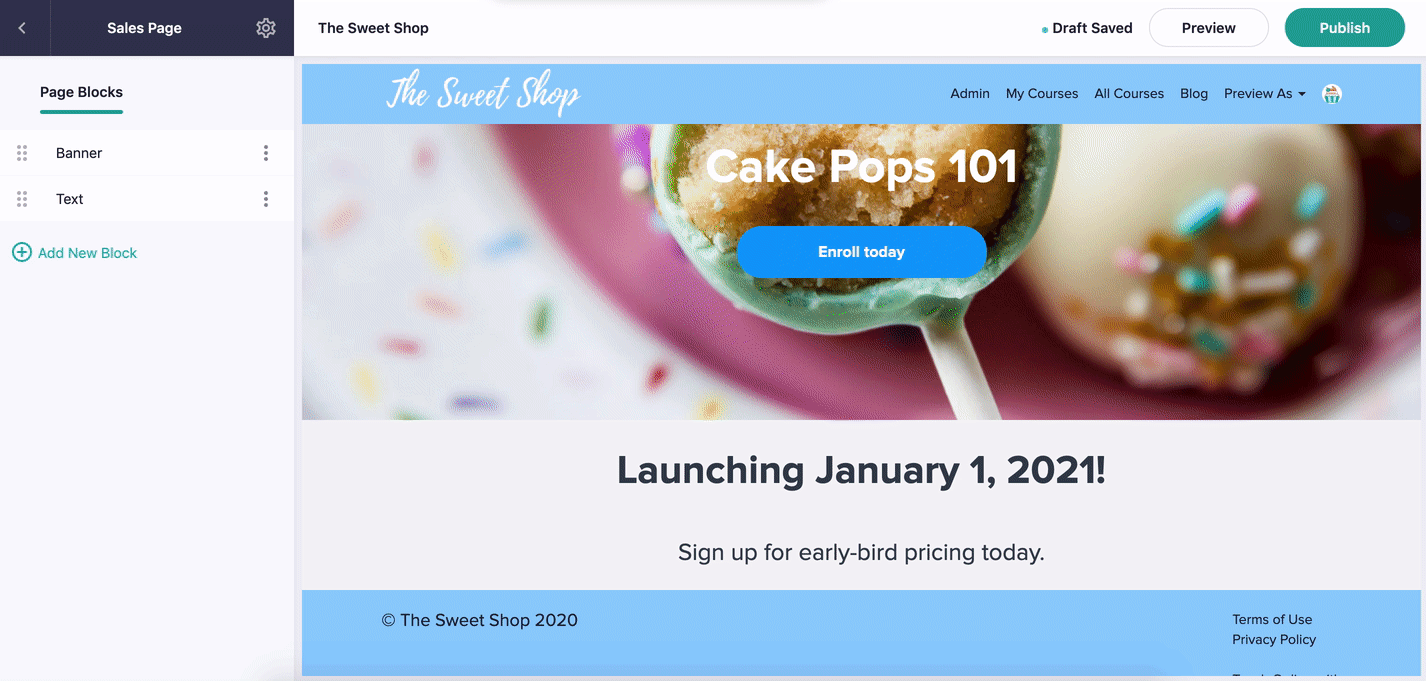 When your pre-sale period is over, you can delete any early-bird pricing options you set up. Deleting a pricing option does not impact any students who have already enrolled via that pricing plan—even recurring/subscription plans. Students on payment plans and subscription plans will continue to be charged as normal.
Curriculum setup
When you offer a pre-sale, you will likely keep your course lectures unpublished while you are still working on your course content. Unpublished lectures are not visible to enrolled students, and will appear in your Curriculum tab with a "Draft" icon.
You can publish/unpublish your lectures by toggling the Publish icon from the Curriculum tab.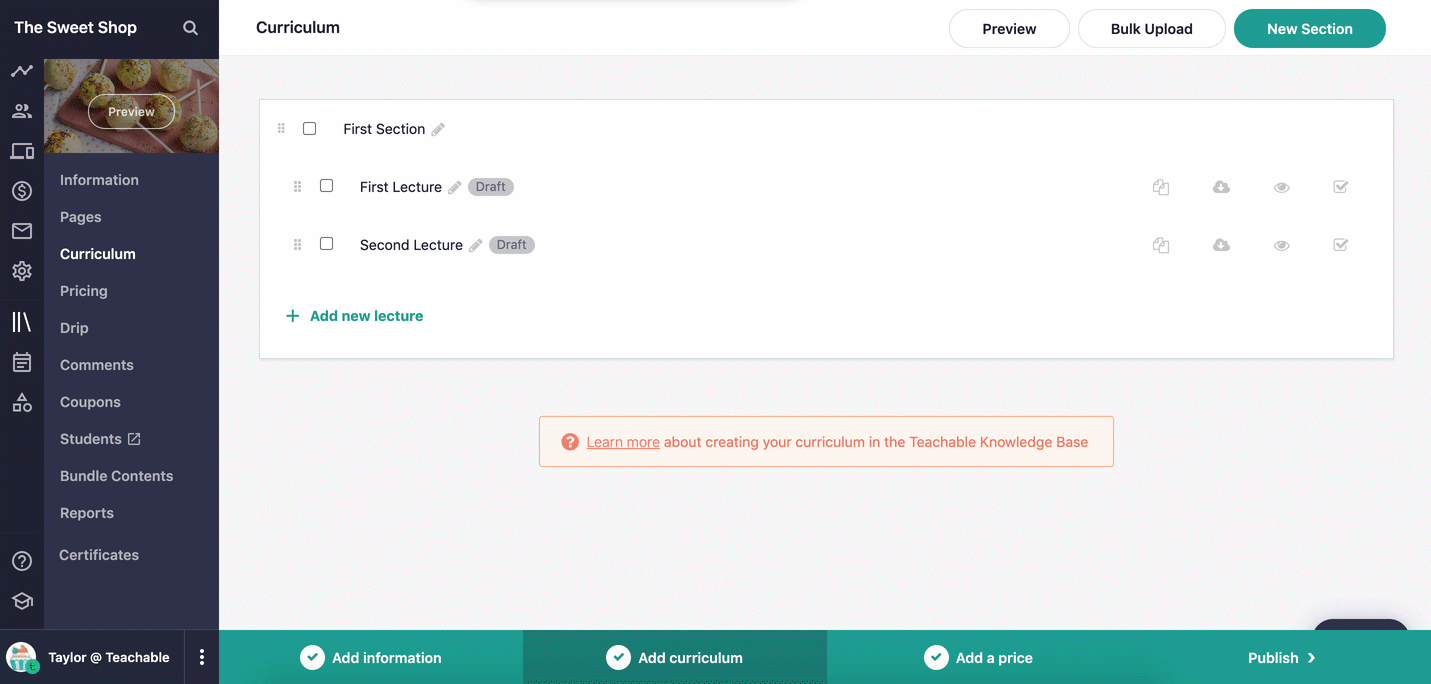 If you are keeping your lectures unpublished during the pre-sale period, students might be confused when they see a blank curriculum after they purchase: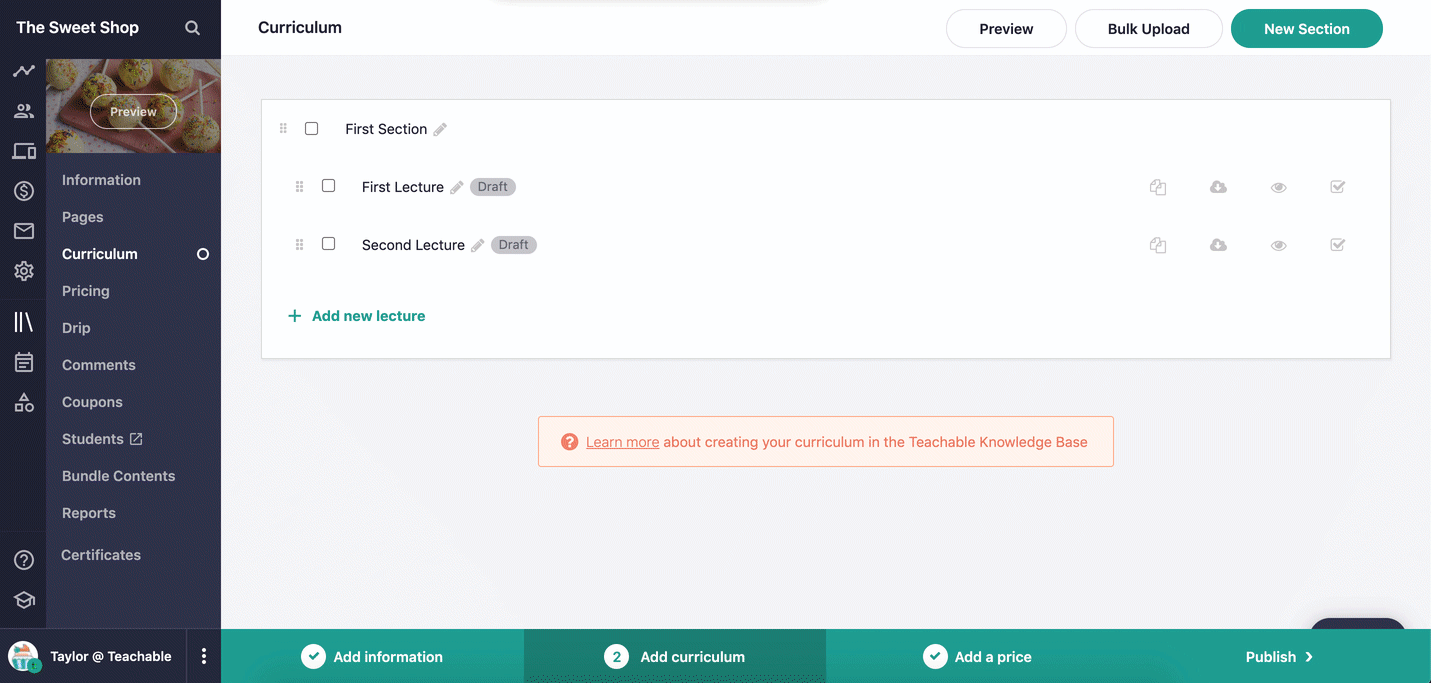 Therefore, you might consider adding a "Welcome" section to your curriculum. This lecture can include information about when the course will become available and provides an opportunity to introduce yourself to your students. This way, you are providing a better experience for your pre-sale students, and they will better understand how the course will be released.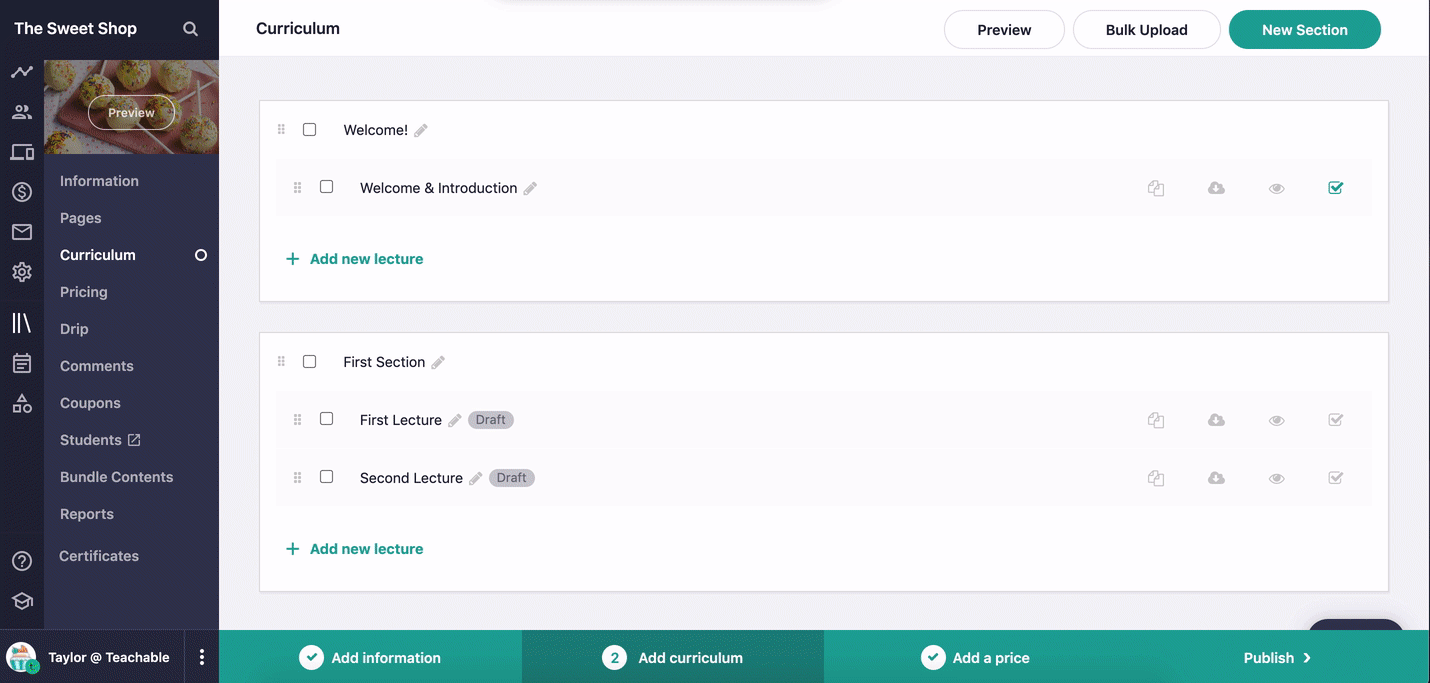 You can preview your course at any time by clicking the Preview button at the top of the Curriculum page. To preview the course as an enrolled student, click the Preview as student option from the preview bar at the top of the page.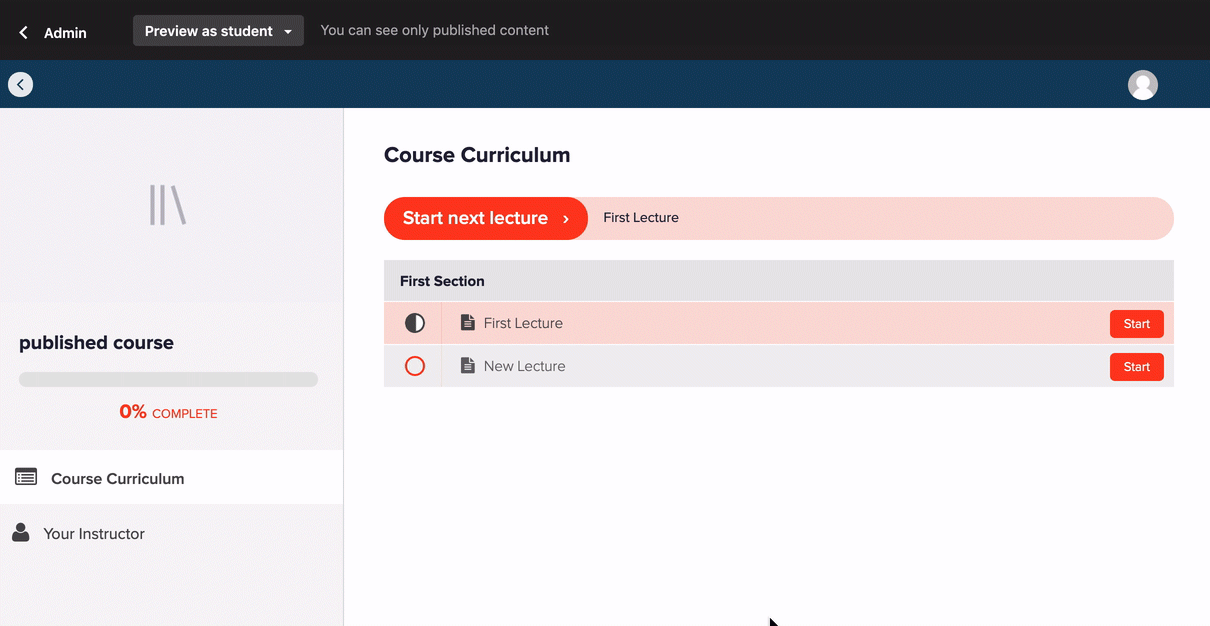 For more information on publishing and unpublishing lectures, please see our Knowledge Base.
Sell your course
Once your course is set up for the pre-sale, you can start marketing and selling your course to your prospective audience.
If you'd like to send your potential students directly to the sales page you created, you can navigate to your course Pages menu. Then, click More Options and Copy URL Link for your sales page. This will copy the sales page URL to your clipboard, so that you can paste and send this URL to your audience.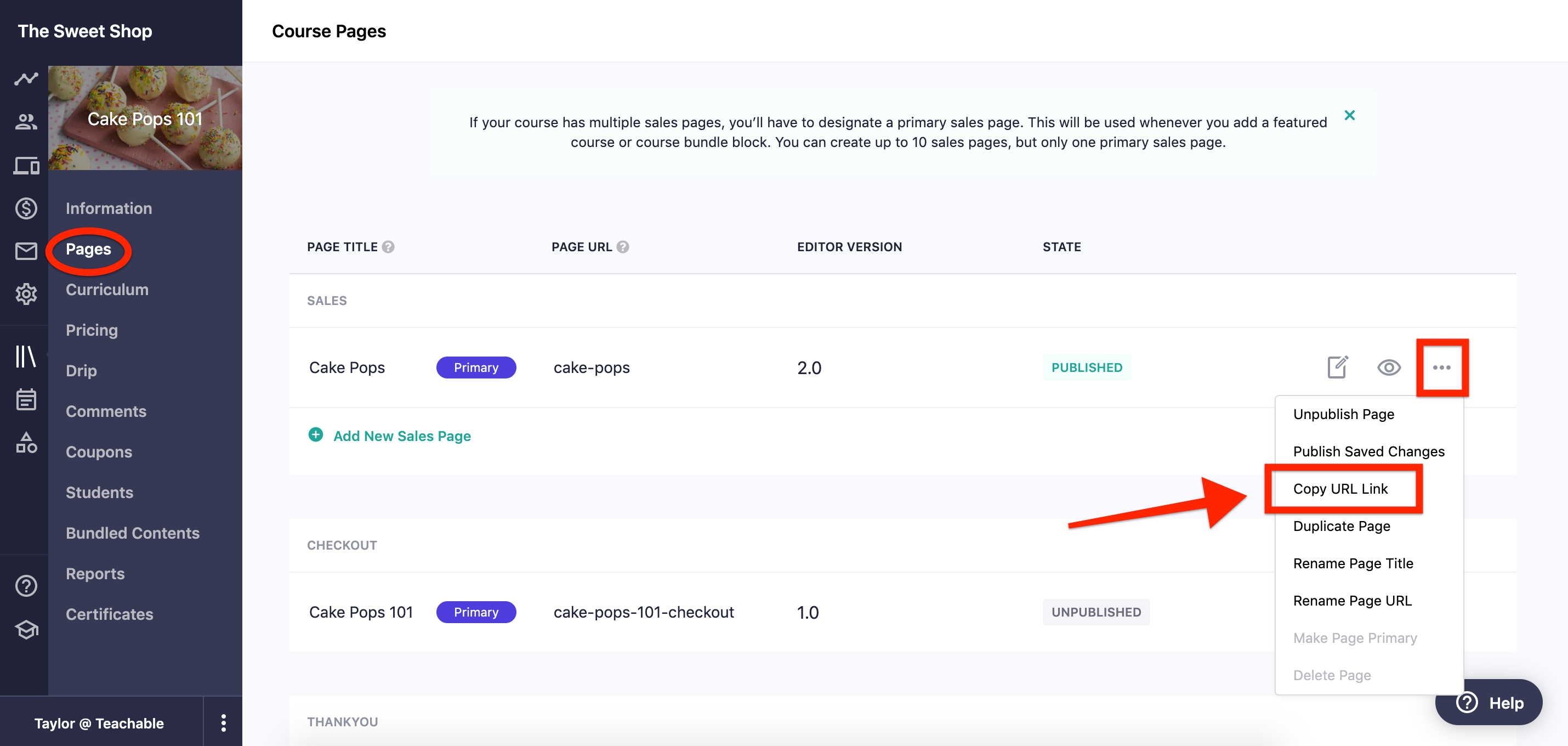 For more guidance on how to market or sell your courses, we recommend checking out our Knowledge Base article on getting your first students. We also suggest exploring TeachableU, which provides core trainings on how to launch a course and build an audience.
Prepare for launch day
Once your pre-sale period is over, you should edit your course details to reflect that the course is now live.
This preparation can include:
Deleting any "early bird" pricing options, and setting up your regular course pricing options.
Editing your course sales page to remove mention of the pre-sale.


TIP: You can Hide and Unhide specific blocks on your sales page editor. This can help you to quickly edit your sales page when you switch between pre-sale and launch.

Publishing your curriculum. Your students will not automatically receive an email notification when new lectures are published, so you might consider sending them a custom email to let them know the material is now available.