This article goes over how to add and manage comments to course lectures.
NOTE: Comments are public by default and cannot be made private.
Enable Lecture Comments
Enabling comments on course lectures helps school owners foster student engagement and interact directly with students. To enable comments on a course lecture, complete the following steps:
Log in to your Teachable admin area.
In the admin sidebar, select the course for which you wish to enable comments. If the course is not displayed, click View All to see all courses in your school.
Click Curriculum and select a lecture to enable comments on.
Enable comments by toggling on Comments in the lecture area.When a student views the lecture, they'll be able to add a comment in the Post a comment box:
Manage Comment Settings
Comment settings can be adjusted in the Settings > General > Comments section of your school admin

You can enable the following settings:
Enable Comment Moderation - When enabled, any comment that is made on a lecture by a student must be approved by the school owner before it will appear in the lecture comments.
Enable comment attachments - When enabled, allow students and instructors the ability to upload an image file to their comments.
Allow multi-level threading of responses - When enabled, allow students to reply to specific comments. Multi-level threading keeps comments organized and allows students to easily engage in conversation with other students or instructors in the course. When multi-threading is enabled, comments and replies will look like this
Manage Comments
As your students add comments to lectures, you may want to moderate comments before they appear in the comment thread and, in some cases, delete comments.
Moderate Comments
If you enable comment moderation and a student leaves a comment on a lecture, then this message will appear: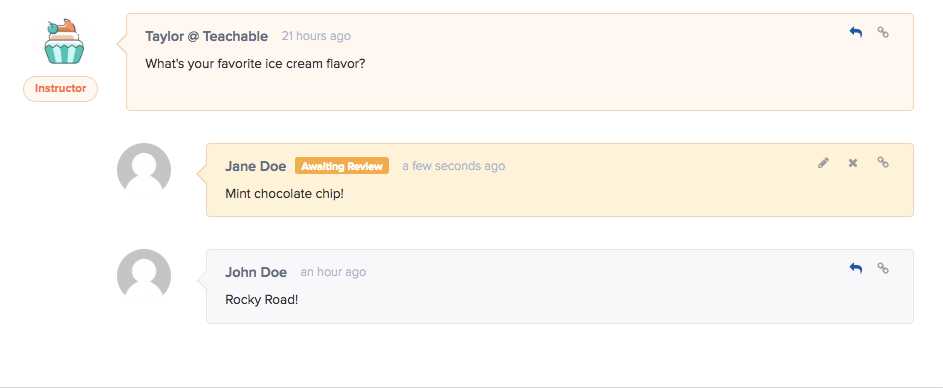 To approve or reject a comment that is awaiting moderation, follow these steps:
In your Teachable admin sidebar, go to Courses and select the course for which you want to moderate comments.
Select the Comments tab.
To view comments that haven't been approved or rejected, navigate to the Awaiting Moderation section. You can then click Approve or Reject. After you approve a comment, it will appear in comment box in the lecture:

Alternatively, you can approve or reject all comments made by students in your school by navigating to Site > Comments.
Comment Notifications
As a school owner, you can set preferences for email notifications you and your students receive for lecture comments.

From the Settings > Notifications menu, you can set preferences for comment notifications you will receive as a school owner.
From the Email > Settings menu, you can set preferences for notifications your students will receive for lecture comments.
Students can choose to opt in or out of comment notifications themselves from their profile settings.
Delete Comments
To delete a comment, navigate to the comment box in the lecture. Then, click the X icon to permanently delete a comment.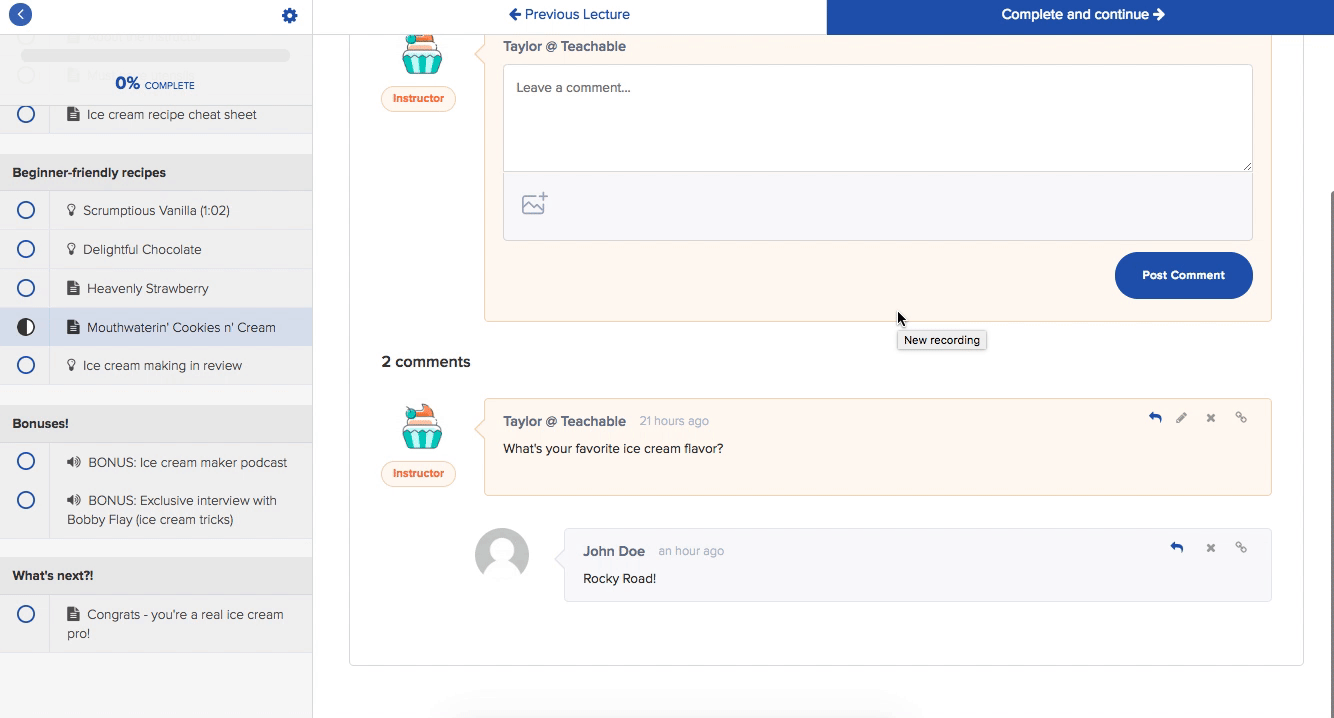 Engage with Comments
As a school owner, you may wish to further engage your students by uploading image files and/or replying to your students in the comments thread.
Add Comment Attachments
To add an image file to a comment, click on the image uploader icon. Then, select a file by clicking on the Choose File button. Click the Post Comment button to publish the comment in the comment thread.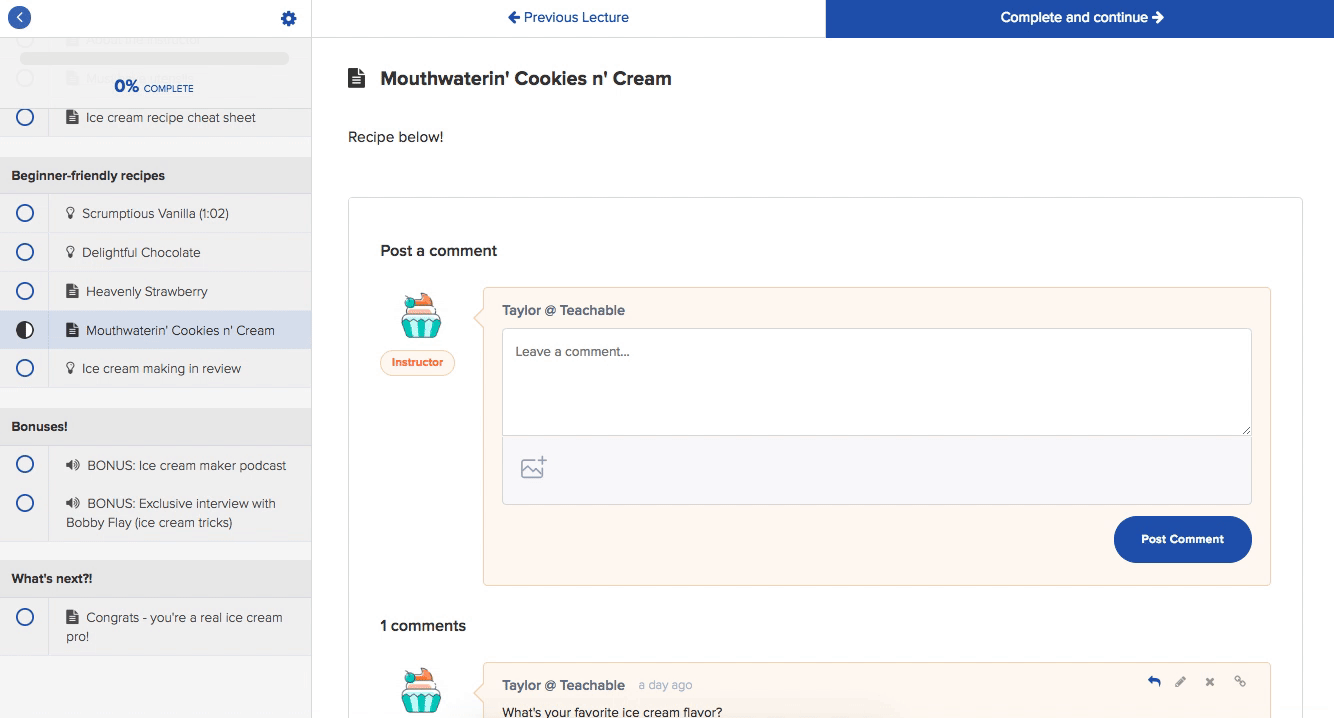 Reply to Comments
To reply to a comment, navigate to the Comments area of your course admin and locate the Latest Activity section. From here, you can look over any comment made within your course, and reply to them by clicking the Reply button.
You can also reply to comments within the lecture page itself. To reply to a comment, click the arrow icon and type in your response. Afterwards, click Post Comment.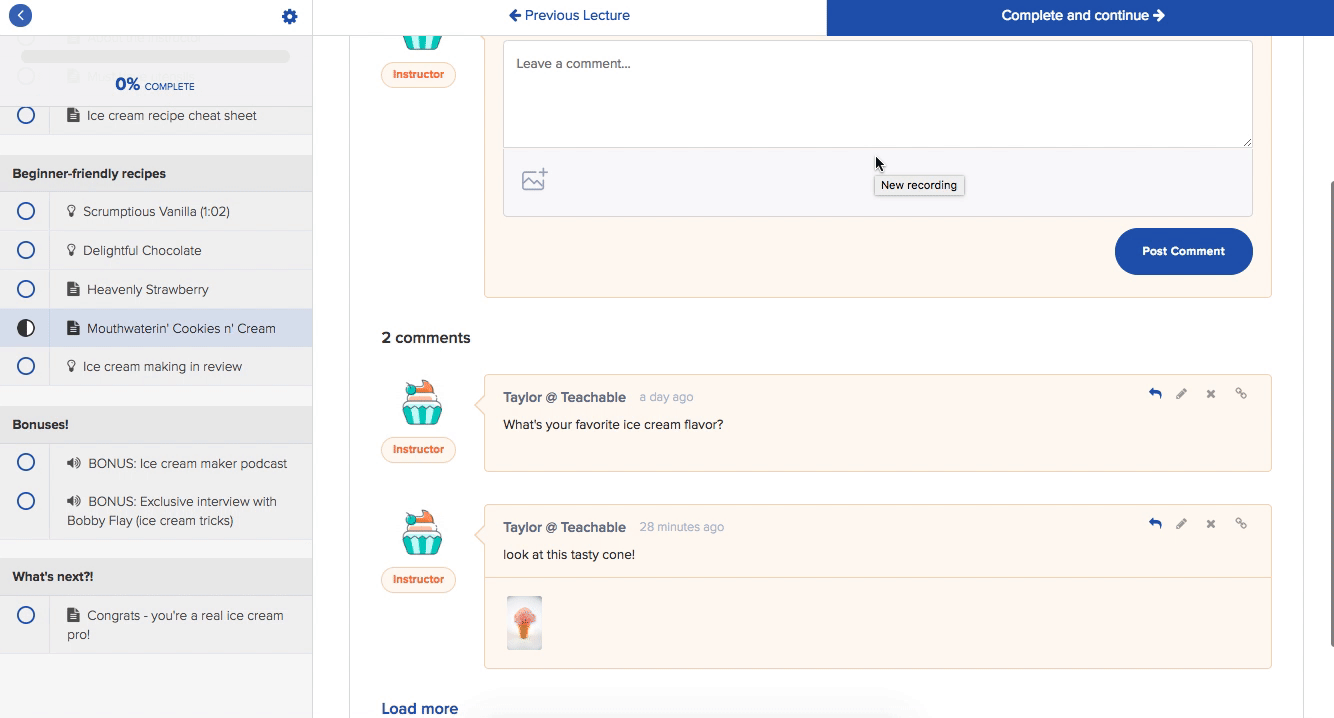 Comment Notification Emails
When a student adds a new comment to a lecture, you will receive an email notification, if enabled. Within the email, you will see the student's name, the course name, the lecture title, date and time (listed in UTC), and a link to respond directly to the comment in your school's admin.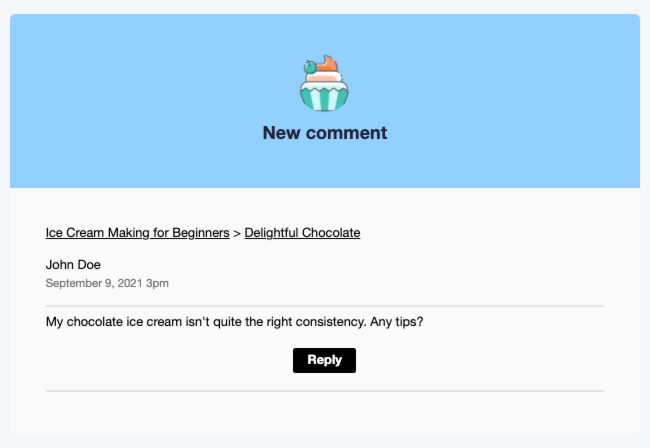 Link to a Comment Thread
To link to a comment thread, navigate to the lecture and click the link icon: