This article shows you how to use Teachable's power editor on the Professional plan and higher.
CAUTION: The Power Editor is an advanced feature, and our documentation on it is still in development. Please use it with caution, as our customer care team is unable to assist with issues related to custom code.
Finding the Power Editor
Navigate to the Power Editor in the submenu. 

Using the Power Editor
The Power Editor allows you to fully customize your Teachable school's theme. By editing the template files using Liquid, you can create a one-of-a-kind Teachable school.
Liquid is an open-source templating language developed by Shopify. It serves as a link between stored data and the HTML templates that are displayed on the page of your web browser. Learn more about using Liquid here.
Inside the Power Editor, you can edit the following templates: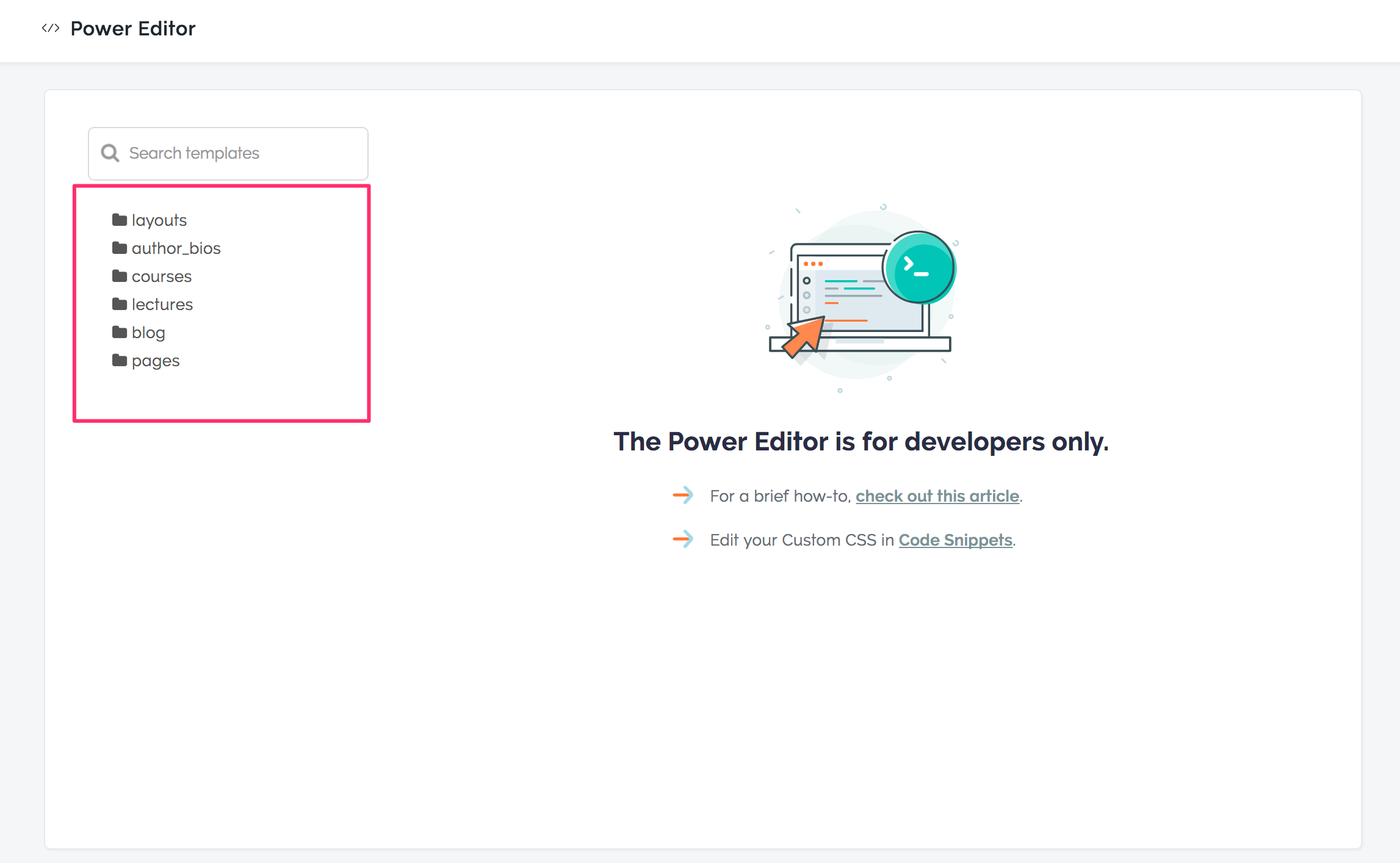 NOTE: Click the partials folder inside each template to see more of what you can edit.
pages: customize the different blocks on your Teachable school's pages, including checkout buttons, rich text boxes, testimonial blocks, your homepage, and more 
author_bios: edit the way author bios appear to your students in the course curriculum 
courses: customize the way your course appears to users who are enrolled in your course and those who are not enrolled. You can also edit your course's thank you page, as well as elements on the sales page like author bios, coupon codes, testimonials, and more 
blog: change the way components of your blog appear to end users, including the index, posts, sidebars, social media links, and more 
layouts: change the layouts of your published courses, blogs, unlaunched schools, and scheduled maintenance pages by customizing headers, footers, and more
lectures: fully customize the way lectures appear for students, including content like videos, quizzes, and more
When using the Power Editor, click Save to save your work where you are, without publishing changes to the live site. Click Publish to make your changes live.
You can also Unpublish your edits at any time to remove the changes from your live site, or click Reset to start over from the base template.