This article goes over how to make advanced customizations by editing school template files in the Power Editor.
Overview
On the Business plan and up, you can edit your school's template files in the Site > Power Editor section of your school admin.
CAUTION: The Power Editor is an advanced feature and our documentation on it is still in development. Use caution when making changes to school template files.
School template files use Liquid, an open-source templating language developed by Shopify. Liquid serves as a link between stored data and the HTML templates that are displayed on the page of your web browser.
TIP: Use Code Snippets to add HTML/Javascript to your school head tag and edit your school's CSS.
Edit Power Editor Templates
To make changes to your school's template code, click on the template folders to open your school's templates and partials: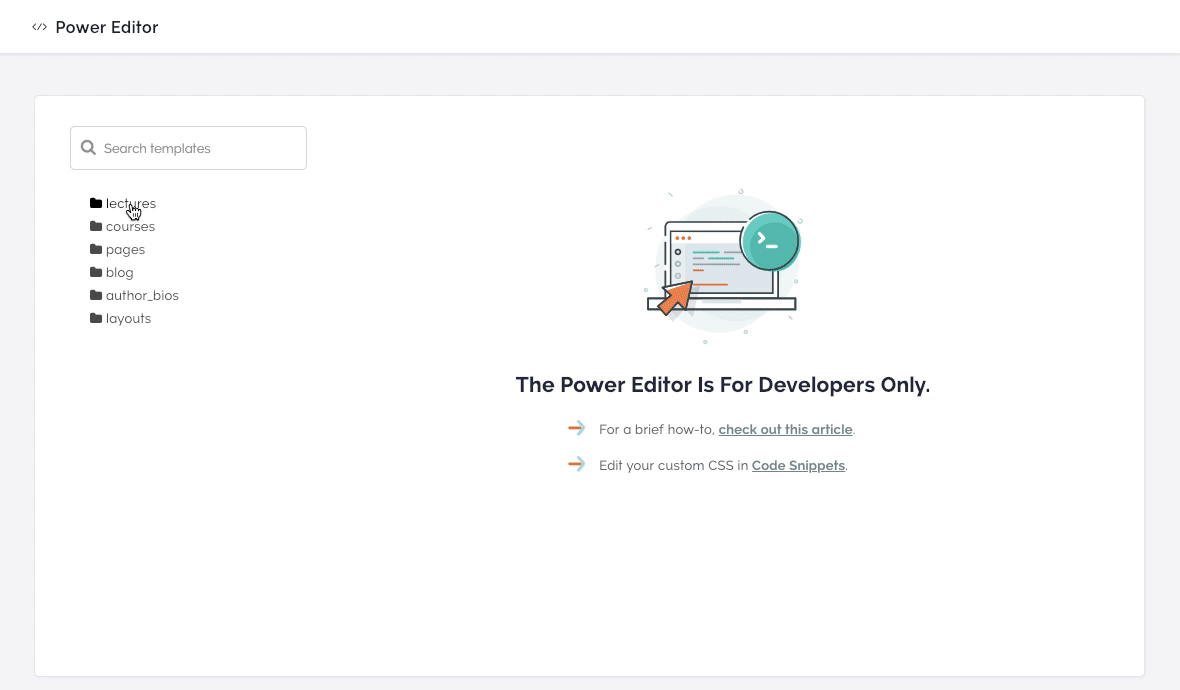 In the template folders, you can use Liquid code to do the following:
lectures - Customize the way lectures appear for students, including content like videos, quizzes, and more.
courses - Customize the way the course sales page appears for logged in and logged out users.
pages - Customize blocks on school pages, including checkout page buttons, rich text blocks, testimonial blocks, and more.
blog - Customize the way components of your blog appear to users, including the index, posts, sidebars, social media links, and more.
author_bios - Customize the appearance of author bios in the course curriculum.
layouts - Customize the layouts of pages in your school by editing headers, footers, and more.
NOTE: Adding custom code to your school is an advanced modification—we can't guarantee full functionality or compatibility with current or future versions of Teachable. This includes how the code functions, as well as how it impacts the appearance of your school.
Once you make changes to the template code, click Save. Click Publish to make your changes live on your school.
You can also Unpublish your edits at any time to remove the changes from your school, or click Reset to start over from the base template.