This article reviews how to add the Google Analytics integration to your school, uninstall the integration from your school, and provides some basic troubleshooting steps.
CAUTION: Third-party tools exist outside the realm of customer support. This means that we cannot assist with maintenance, customization, or troubleshooting within the tool itself. Moreover, with any changes made within the tool, we cannot ensure its functionality or full compatibility with current or future versions of Teachable.
Overview
NOTE:
Google will stop processing data on the current integration, Universal Analytics, on July 1st, 2023. To migrate your legacy integration in Google to the current Google Analytics (GA4) integration, follow the
Google Analytics guide
.
Google Analytics is a web analytics service offered by Google that tracks and reports website traffic. School owners can integrate Google Analytics in their Teachable school in order to track and report on traffic within their school pages.
Add Google Analytics to your school
To setup your Google Analytics integration:
Navigate to the Settings > Apps page of your Teachable school.
Select the Google Analytics 4 icon.
Click the Install button.
A popup modal will appear. Add your Google Tag ID.

Click Install to complete your setup.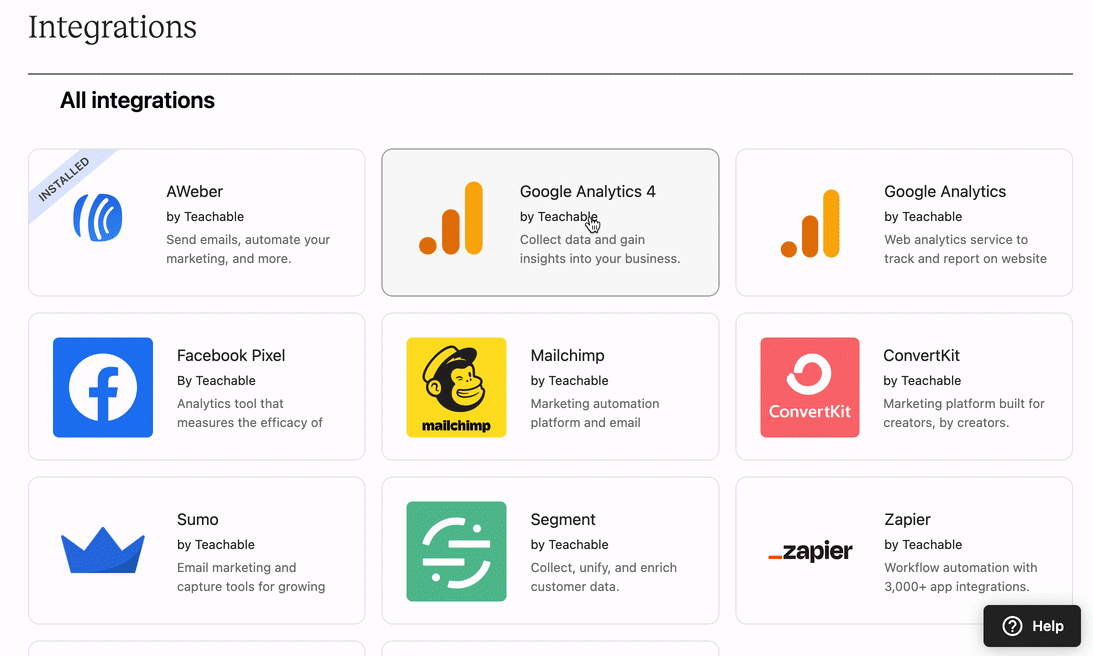 Remove Google Analytics
To turn off the integration:
Navigate to the Settings > Apps page of your Teachable school
Select the Google Analytics 4 icon.
Click the Uninstall button.
A popup modal will appear. Click Uninstall to confirm.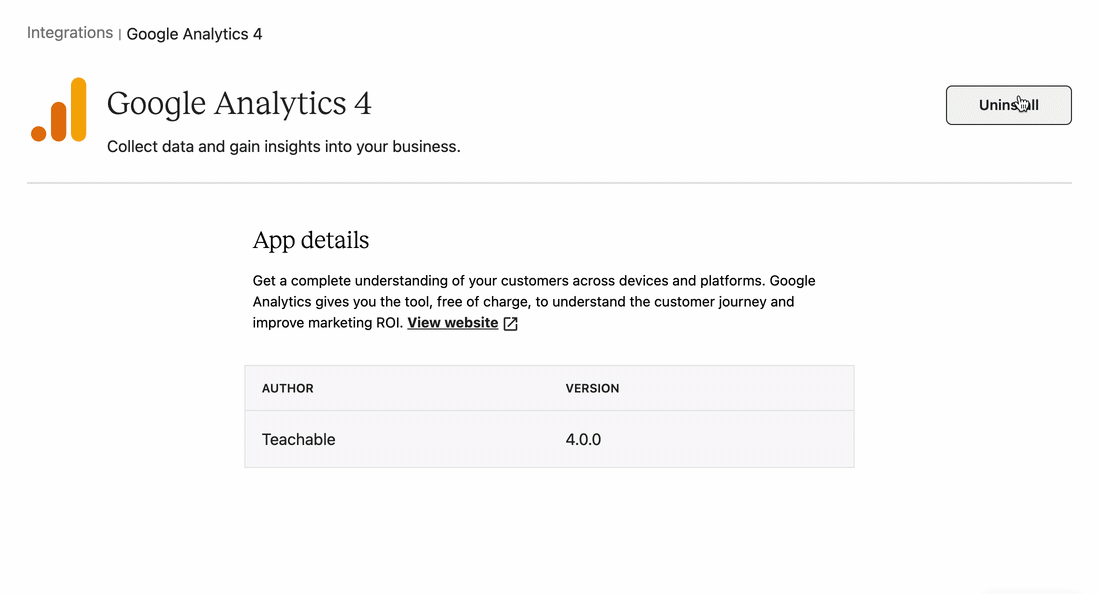 Frequently asked questions
Do I need to do anything after updating my account from UA to GA4?
Yes–after you have updated your Google Account from UA to GA4, you will need to remove your old integration with Teachable and update to the new integration option in Settings > Apps.
What are some other functions available with Google Analytics?
Google Analytics has advanced functionality. In order to take advantage of all Google Analytics has to offer, we recommend looking into
Google Analytics Academy
.
Can I set up conversion tracking for my school?
Note: Once set up correctly, purchases should show up as conversions in the Realtime view immediately. However, it will take 24-48 hours for these events to begin populating in your Reports.
Why am I not getting my reports?
It has been reported that adblockers can cause issues with analytic tracking code in Google Analytics and other tools. There are ways you can address the issue, however, this does require advanced custom coding.
What is Teachable's policy on privacy and tracking?