This article reviews how to add the Google Analytics integration to your school, uninstall the integration from your school, and provides some basic troubleshooting steps.
NOTE: Third-party tools exist outside the realm of customer support. This means that we cannot assist with maintenance, customization, or troubleshooting within the tool itself. Moreover, with any changes made within the tool, we cannot ensure its functionality or full compatibility with current or future versions of Teachable.
Overview
Google Analytics is a web analytics service offered by Google that tracks and reports website traffic. School owners can integrate Google Analytics in their Teachable school in order to track and report on traffic within their school pages.
Google Analytics has advanced functionality. In order to take advantage of all Google Analytics has to offer, we recommend looking into Google Analytics Academy.
NOTE: For more general information on tracking analytics, privacy, and Teachable, please review our FAQ.
Adding Google Analytics to your school
First, you will need to create a new Google Analytics account if you do not have one yet for your school, or use an existing account. For help setting up your Google Analytics account, continue here.
If you have an existing Google Analytics account:
In your Google Analytics Admin menu, select the account you would like to use from the dropdown menu in the Account column. Then, in the Property column, click Create Property.
Skip to step 3 below.
If you are creating a new Google Analytics account:
From your Google Analytics Admin menu, find the Account column. Click Create Account.
You will be prompted with a Google account setup wizard. You will need to enter in an Account name and set your account data sharing settings. Then, click Next.
In the Property Setup step, enter in a Property name. Then, select Show Advanced Options.
Turn on the toggle for Create a Universal Analytics property. In the Website URL field, enter in your school's domain. Select the radio button for Create a Universal Analytics property only.
Click Next. You will be prompted to fill in some information about your business/website.
Click Create. This will bring you to the Tracking Code page of your new property.
Copy the full Tracking ID for the property.
Login to your Teachable school in a new tab or window and navigate to the Settings > Integrations page.
Click the icon for Google Analytics, which will open up a popup modal.
Paste the tracking ID from Google Analytics (copied from step 7) in the Tracking ID field on Teachable.
Click the Save button on Teachable.
Disable the integration
If you would like to stop tracking traffic from your Teachable school, you can disable the Google Analytics integration at any time. To do so:
Navigate to the Settings > Integrations page of your Teachable school.
Click the Google Analytics icon.
In the popup modal, click the Uninstall app button.
Once uninstalled, you will see a success message at the bottom of the screen indicating that the integration has been uninstalled.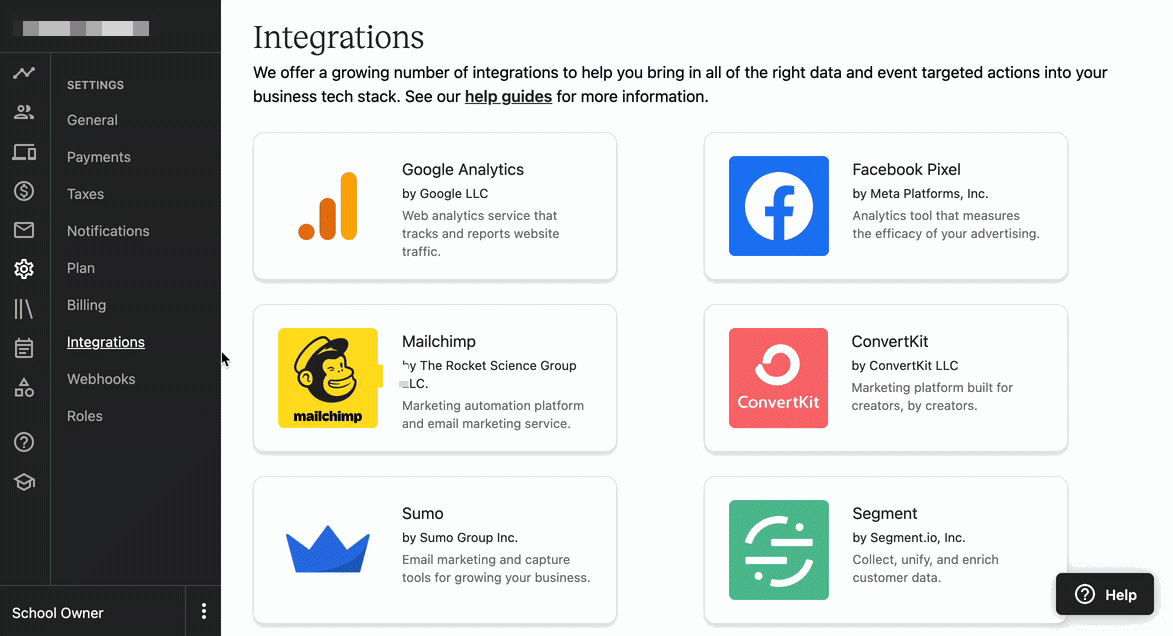 Troubleshooting Google Analytics
Tracking Code Setup
For more information on setting up your UA tracking code in Google Analytics, we recommend reviewing Google's support documentation here.
Adblockers
It has been reported that adblockers can cause issues with analytic tracking code in Google Analytics and other tools. There are ways you can address the issue -- most of which are more advanced and involve writing code. Learn more here.