This article explains the product access duration feature and how to enable it. Product access duration is available on all paid plans.
Overview:
Product access duration gives creators the ability to set time limits on product access for Free, One-Time, and Payment Plan pricing plans.
Products can be customized so that all students/clients are unenrolled on the same specified date. Or, if you prefer, products can be set to access for a specified duration over a rolling period (for example, 30 days). Once the time limit expires, students can repurchase the product if it is still available.
CAUTION: Students are not notified pre-purchase that they are in a product with time limits. Creators should note this somewhere on their product's checkout or sales page.
Please note that setting a time limit is a one-time operation, there is no way to extend the time limit once it expires. If students need to access the product again, they may re-enroll through checkout or they can be manually re-enrolled by the creator.
Set specific product access duration
Go to your product's Pricing page.
Click Add Pricing Plan.
Choose a Free or One-time purchase pricing plan. (Product access duration for Payment Plans is only available on a rolling basis.)
Fill in the fields for Price, Name, Subtitle, and Description.
Check the Limited course access duration box.
The Access setting options will be active. Choose the All students lose access on a specific date radio button.
Enter the date for your product access to expire.
When you are done making your selections, click Add Free Plan or Add Purchase Plan.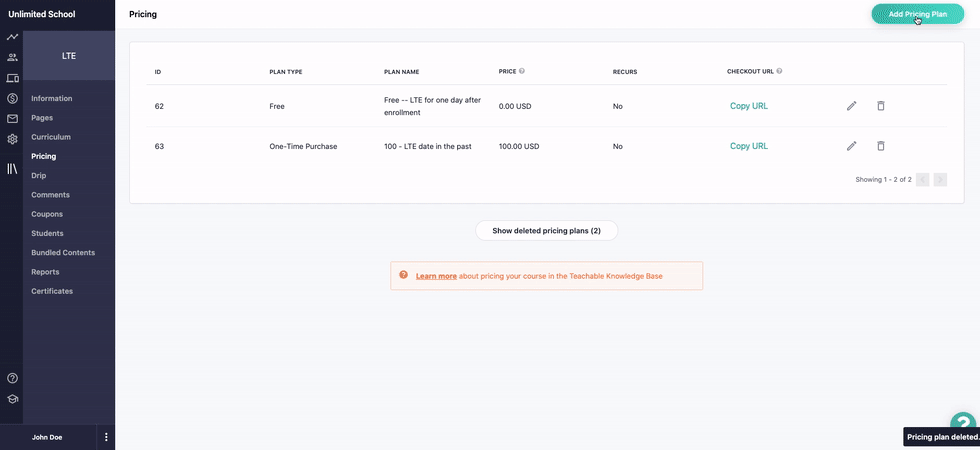 NOTE: When you add a limited product access pricing option with a specific unenrollment date, the pricing option will be automatically unpublished once the unenrollment date has passed. This means that additional students will not be able to enroll on that specific pricing option.
You cannot edit the product access period of a pricing option once it is created. If you want to edit the product access period moving forward, delete the pricing option and create a new one.
Set rolling product access duration
Follow steps 1-5 above in "Set specific product access duration".
Choose the Each student gets a specified amount of time radio button in "Access Setting".
Choose a Number (duration) and a Time (Days, Weeks, Months, Years).

If you are setting up the access duration period on a Payment Plan, only monthly intervals are available. Additionally, the set access time must be equal to or longer than the number of months specified in the payment plan.

When you are done making your selections, click Add Free Plan or Add Purchase Plan.
Student experience
When students enroll in a product with limited access, they can access it via My Products in the top navigation bar. Once they start the course, they'll see the course's duration in the left-side navigation panel: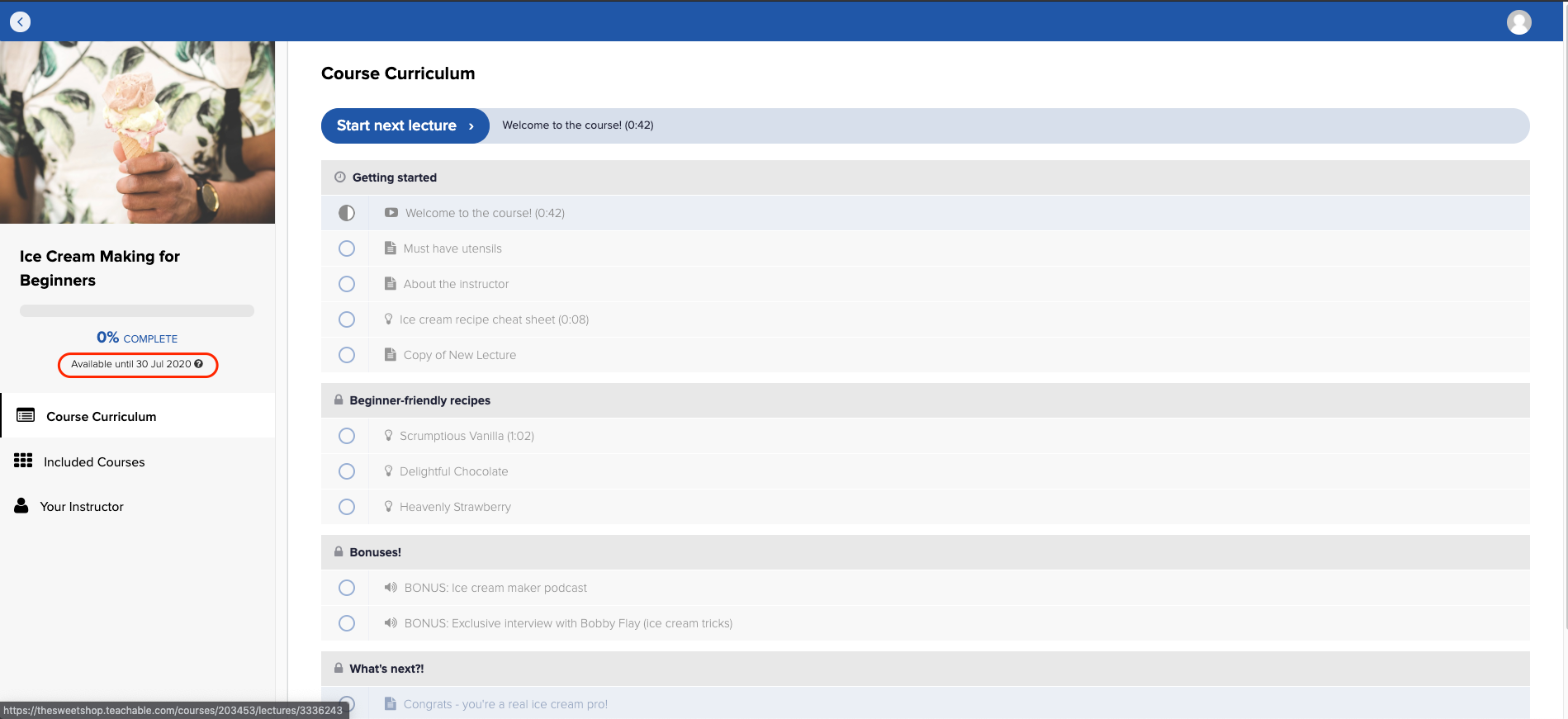 When a student's course access period ends, they will be notified via an automated email. This email template, Automatic Product Unenrollment Notification, can be edited in the admin Emails > Template Editor menu. This email can be disabled from the Emails > Settings menu.
TIP: When students complete a course's limited time access, they will not be able to access the course or its certificate because they will be automatically unenrolled from the course.