Whenever you create a page on your site—be it sales page, thank you page, homepage, etc—you'll be using the same page editing experience. This article goes over how to use the page editor and the different type of page blocks available.
Overview
Whenever you create or edit a page, you'll be using blocks. Page blocks are pre-made "building blocks" used to construct pages for your site. Each of these blocks are self-contained, meaning that the editing and formatting of one block does not affect other blocks.
You can find your site pages by going to Site > Pages. From there you can choose to preview your page, publish/unpublish your page, edit your page, or delete your page.
Similarly, you can find your course pages (sales pages, checkout page, and thank you page) by going to Course > Pages and clicking the Edit button to work within a course page.
Add Blocks
To add a new block to your page, click the respective Add New Block button on the lefthand side. From there, you'll be shown a preview of how that block will look on your page in the page preview. Once certain, click the Add button to finalize.
Once the block has been added to your page, you'll be able to customize its content and settings accordingly.
Block Types
Once you add an image block to your page, click Upload Image and use the file-picker to upload an image to your page. From there, you can enter Image Alt Text and also Link to URL when the image is clicked:
The text block contains a WYSIWIG (what-you-see-is-what-you-get) editor for you to add text to your page. There are a number of text customizations in the editor, such as the ability to change styles, change font styles, insert links, etc.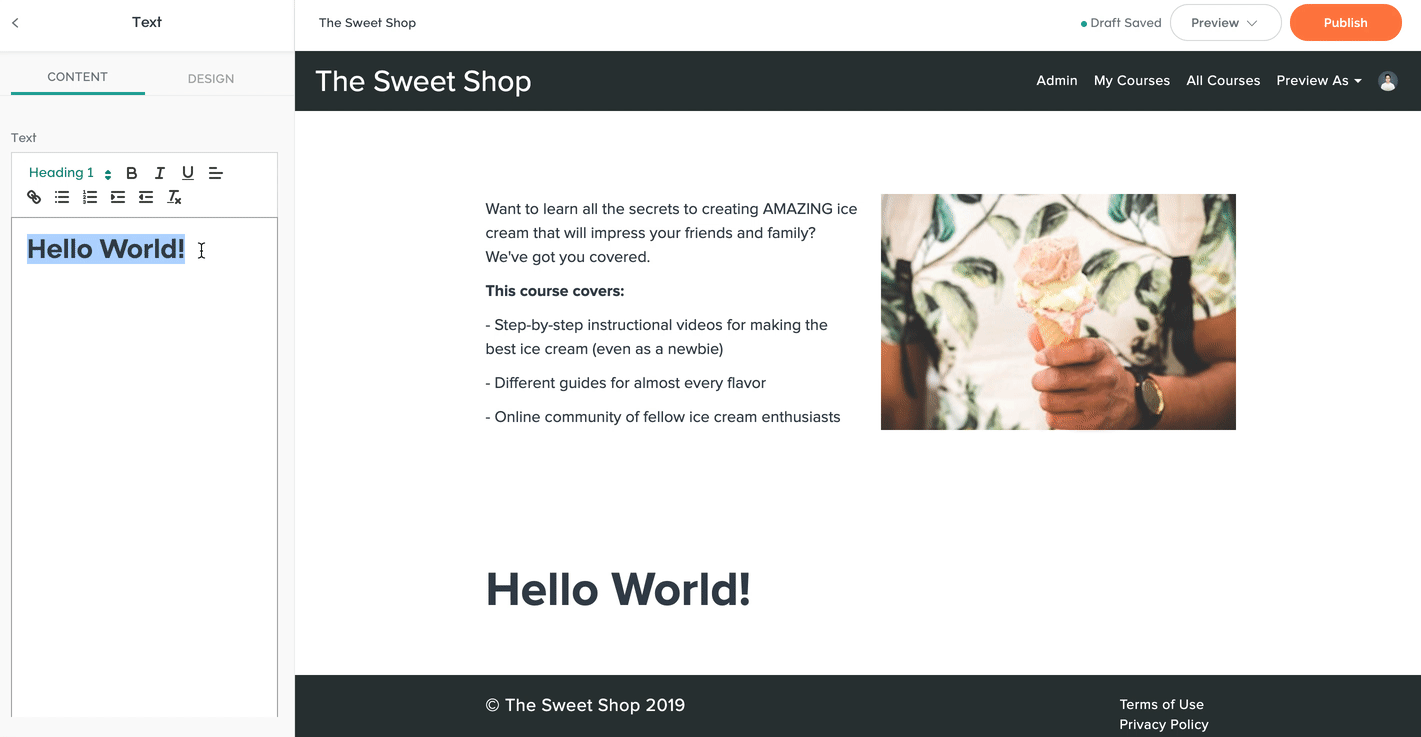 Adding a button block allows you to create a Call-to-Action button that will take the user to an external link. You can change the URL field to specify the link you want the button to go to, and the Button Text field to change what the button says. On a course's sales page, you can have a button take users directly to a pricing plan's checkout page. Similarly, on a course's thank you page, you can have a button take students directly to your course curriculum.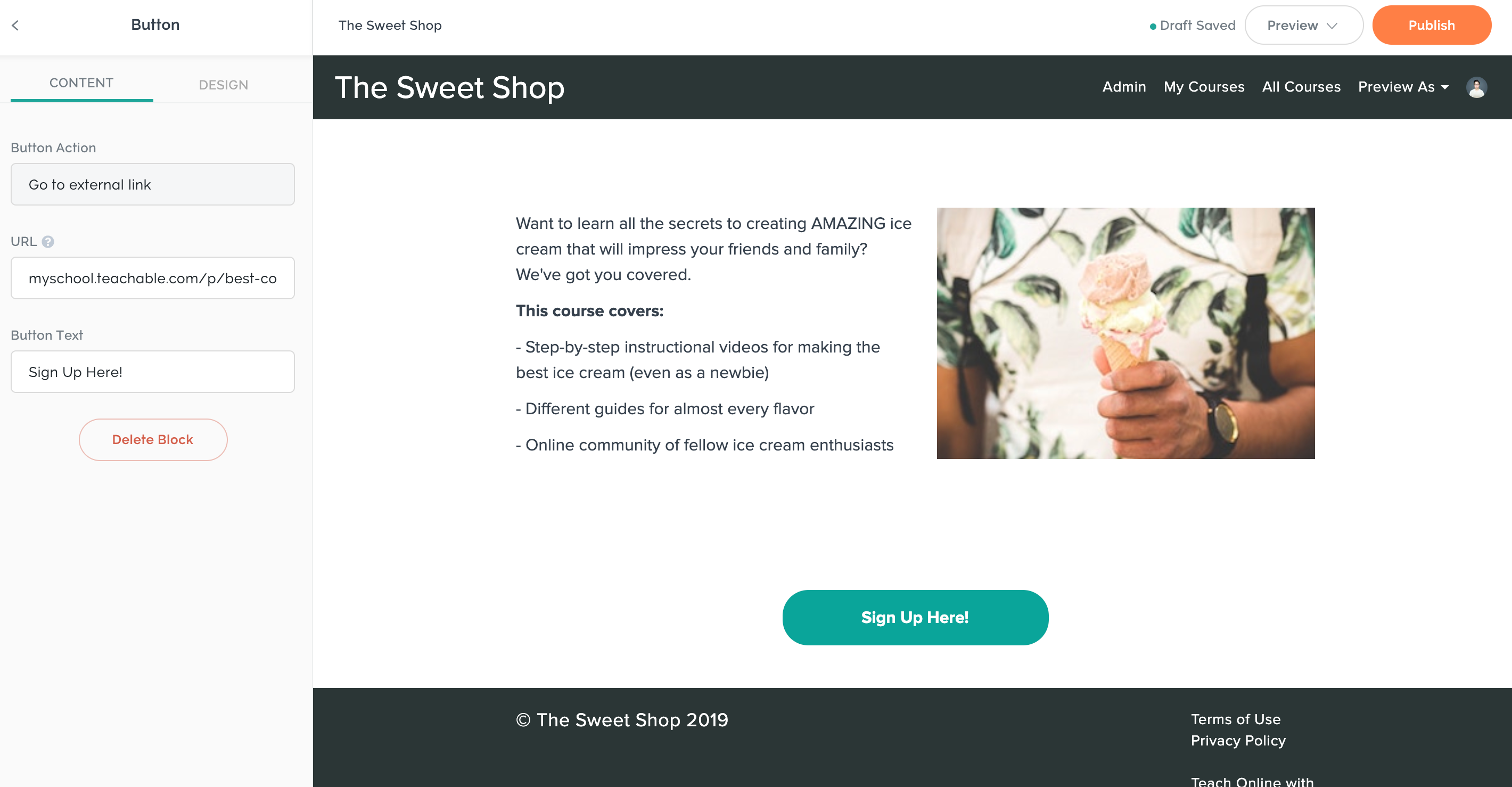 The video block allows you to embed a video file to your page. Use the Heading Text and Description Text fields to add more information about your video. Click the Upload Video/Replace Video button to upload your video to your page. Once you've uploaded a video, you can also upload a custom thumbnail by clicking the Upload Custom Thumbnail button.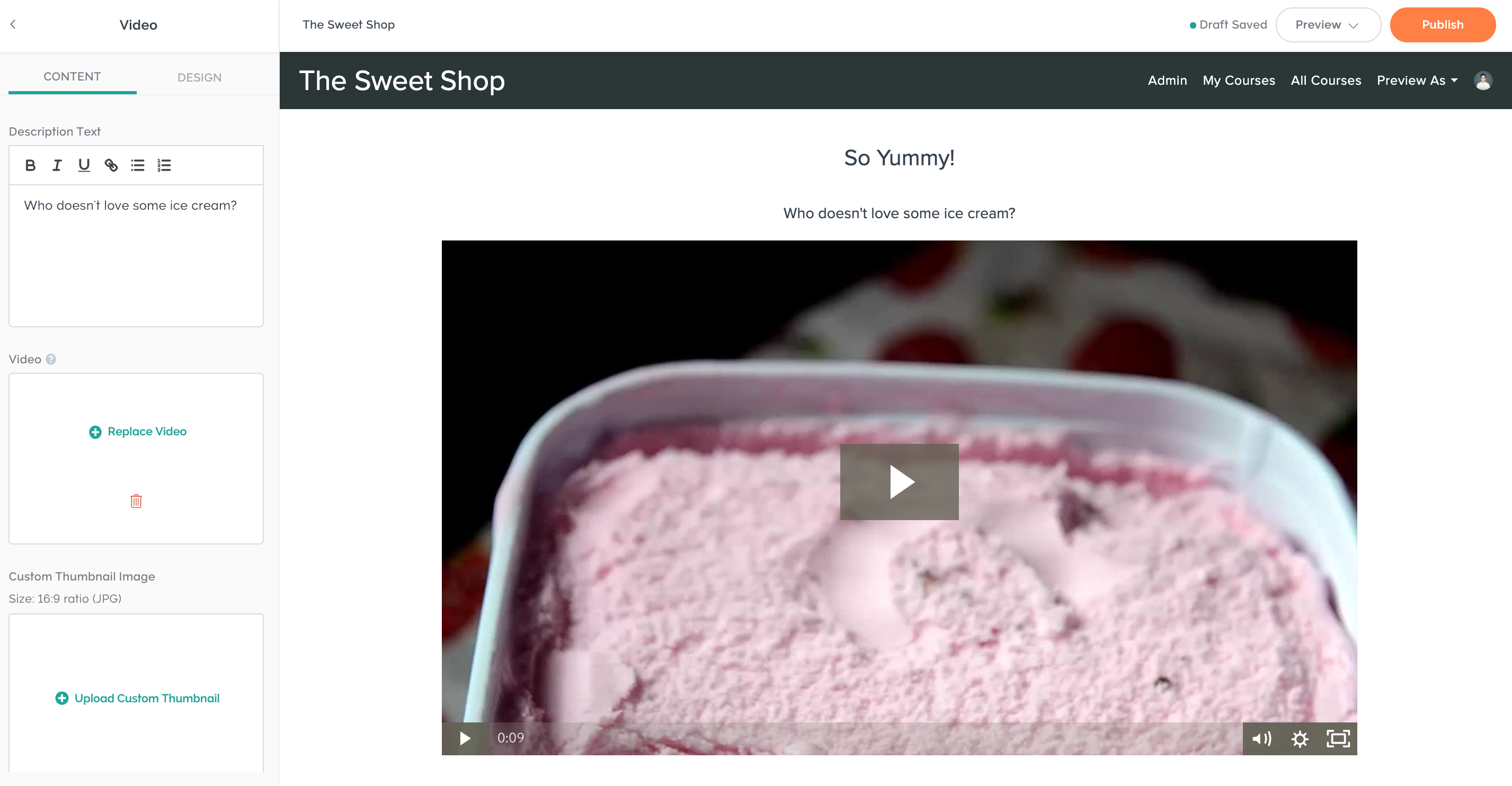 The custom HTML block inserts a blank block into your page, which can then be customized as you see fit using HTML and/or Liquid . Please note that custom code is an advanced feature, and as such, the functionality cannot be guaranteed.
Block Layouts
A block layout is a template that can be used for a variety of functions. For example, the Image with Text layout lets you insert an image and text field to your page side-by-side:
Once you add an Image with Text block, you can change whether the image displays to the left or right of the text using the Layout dropdown menu. Click Upload Image to open the file upload modal and upload your desired image. The Image Alt Text is what will appear if your image fails to load, and is used for SEO purposes.
Use the Heading Text and Text fields to edit the text that displays to whatever you'd like.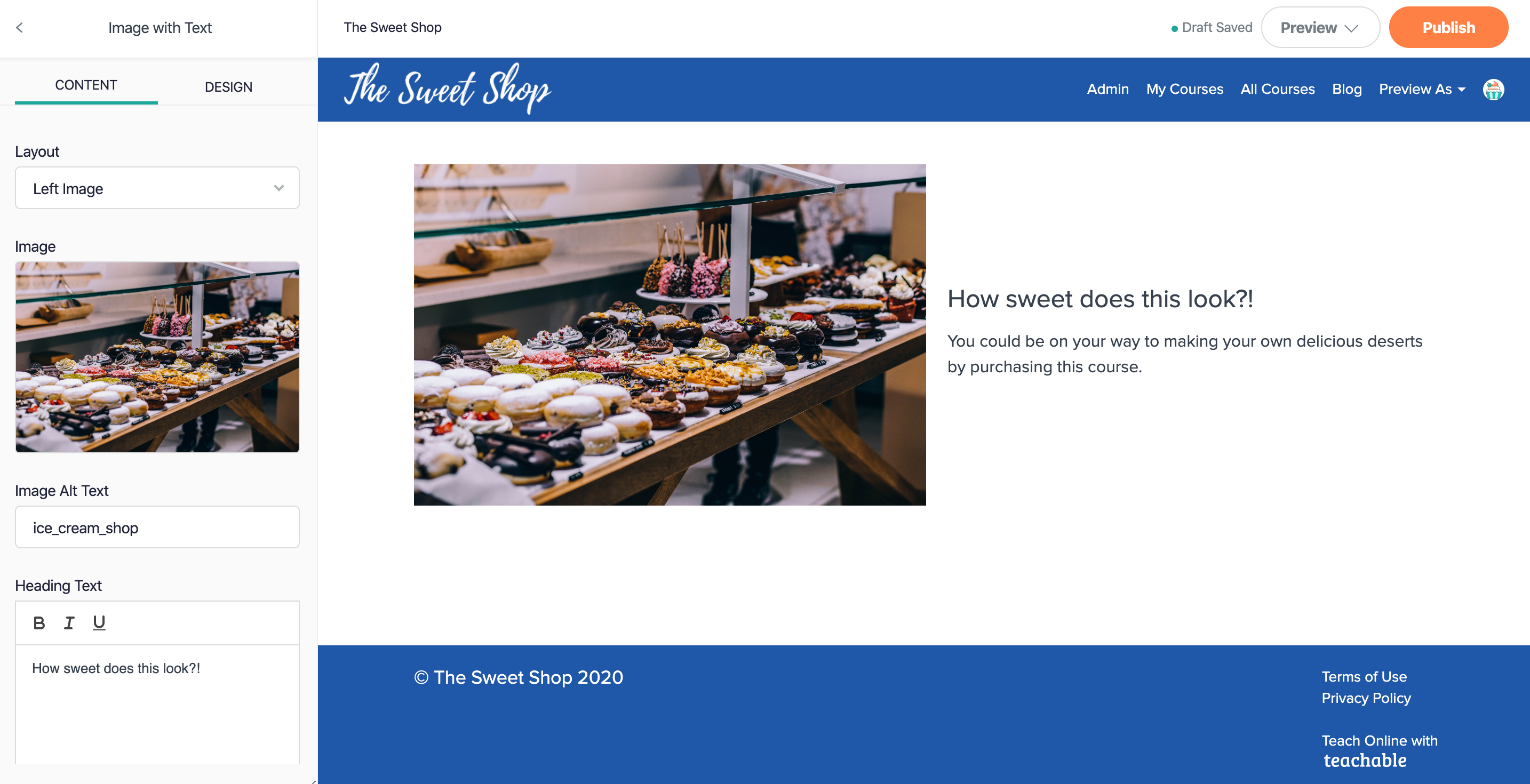 The Banner layout can be used to create homepage heroes, or eye-catching headers. Clicking the Add Image button allows you to upload a background image for your banner. Alt Text is what will appear if your image fails to load, and is used for SEO purposes.
Use the Heading Text and Subheading Text fields to change the text that displays on the banner.
Checking the Show Button box will add a button to your banner. Use the Button Action dropdown menu to change the behavior of the button. You can also change the text of the button using the Button Text field.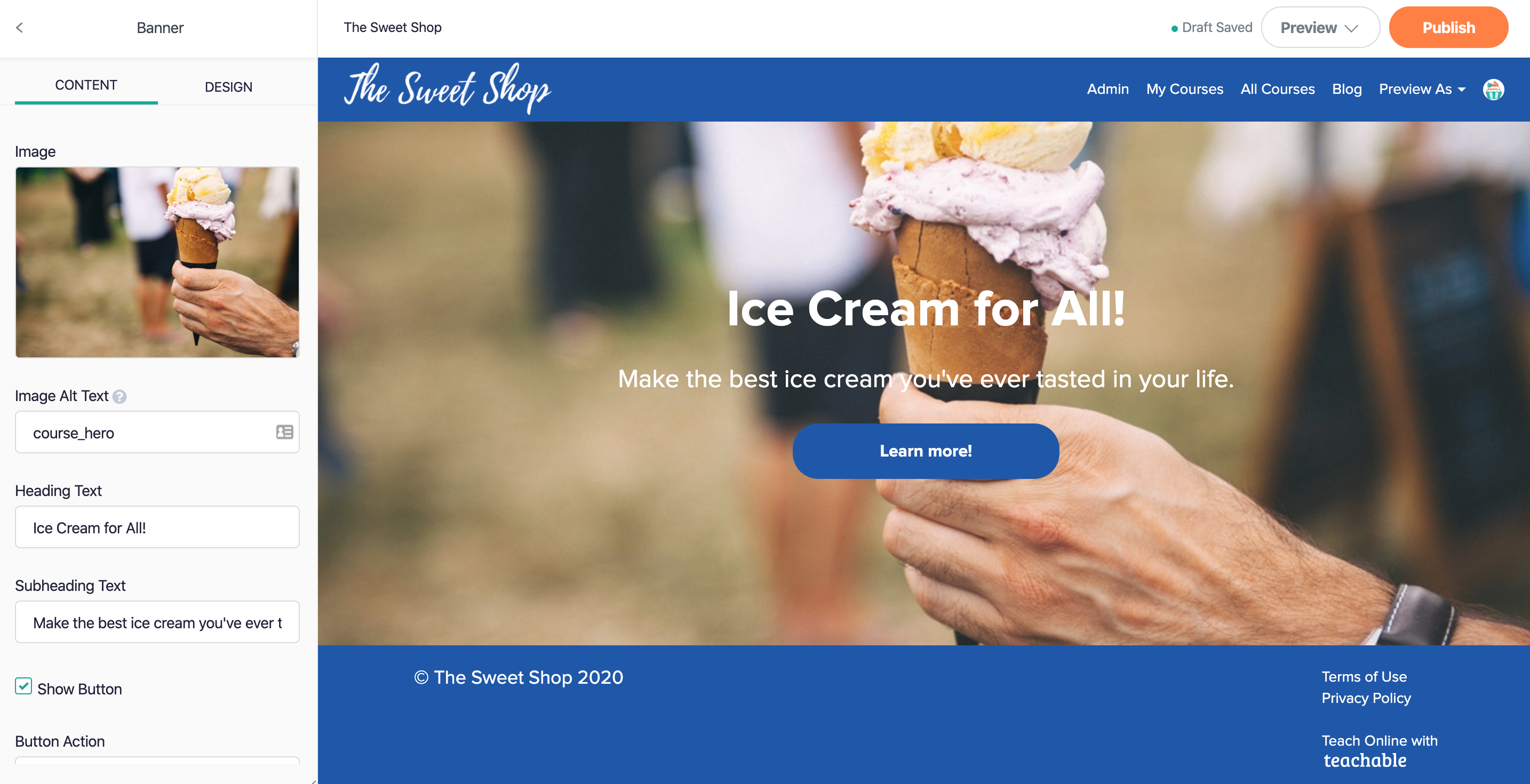 The Text with Image Layout grid comes with three different columns, but you can add more by clicking the Add New button. In each different column, click Upload Image to add an image. Alt Text is what will appear if your image fails to load, and is used for SEO purposes.
Use the Heading Text and Text fields to change the text that displays on the column.
The Featured Products layout will take the first three products in your catalog and display them along with their first pricing plan. Users who click on a product will be taken to the primary sales page of that product.
In the Design tab, you can change how the card your featured courses are displayed in looks.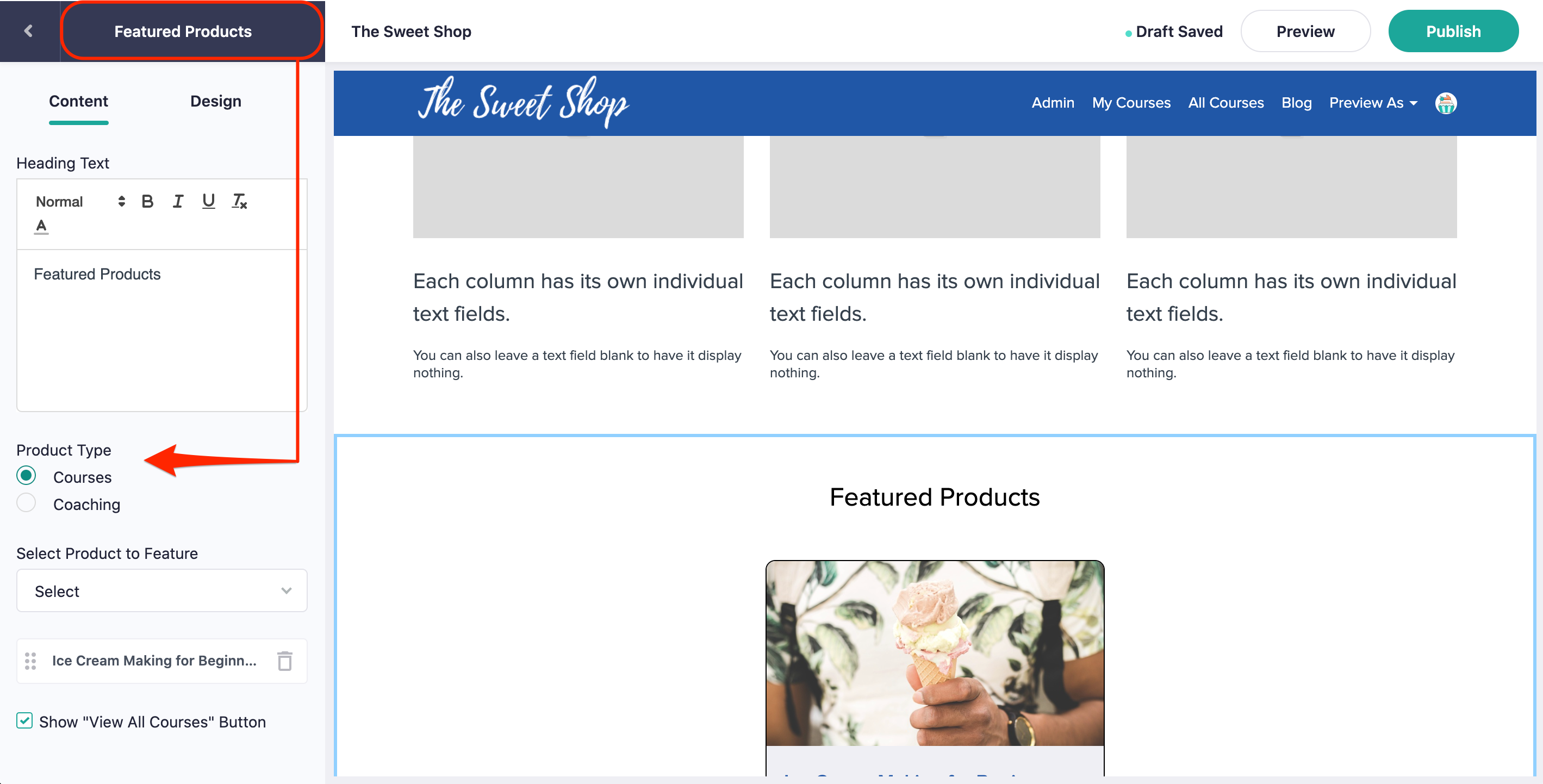 On your sales page, the
Pricing
layout displays all the published pricing plans for your product. You can do the following:
Change the Heading Text in its text field
Select the Pricing Plans you wish to show on your sales page
Drag and drop to reorder the prices
Change the button text in its respective text field.
NOTE: Updates made to the order, layout, or pricing plans you show will only take place on newly created price blocks. Existing price blocks will not be affected, but you can update those blocks with specific plans just like a newly added pricing block.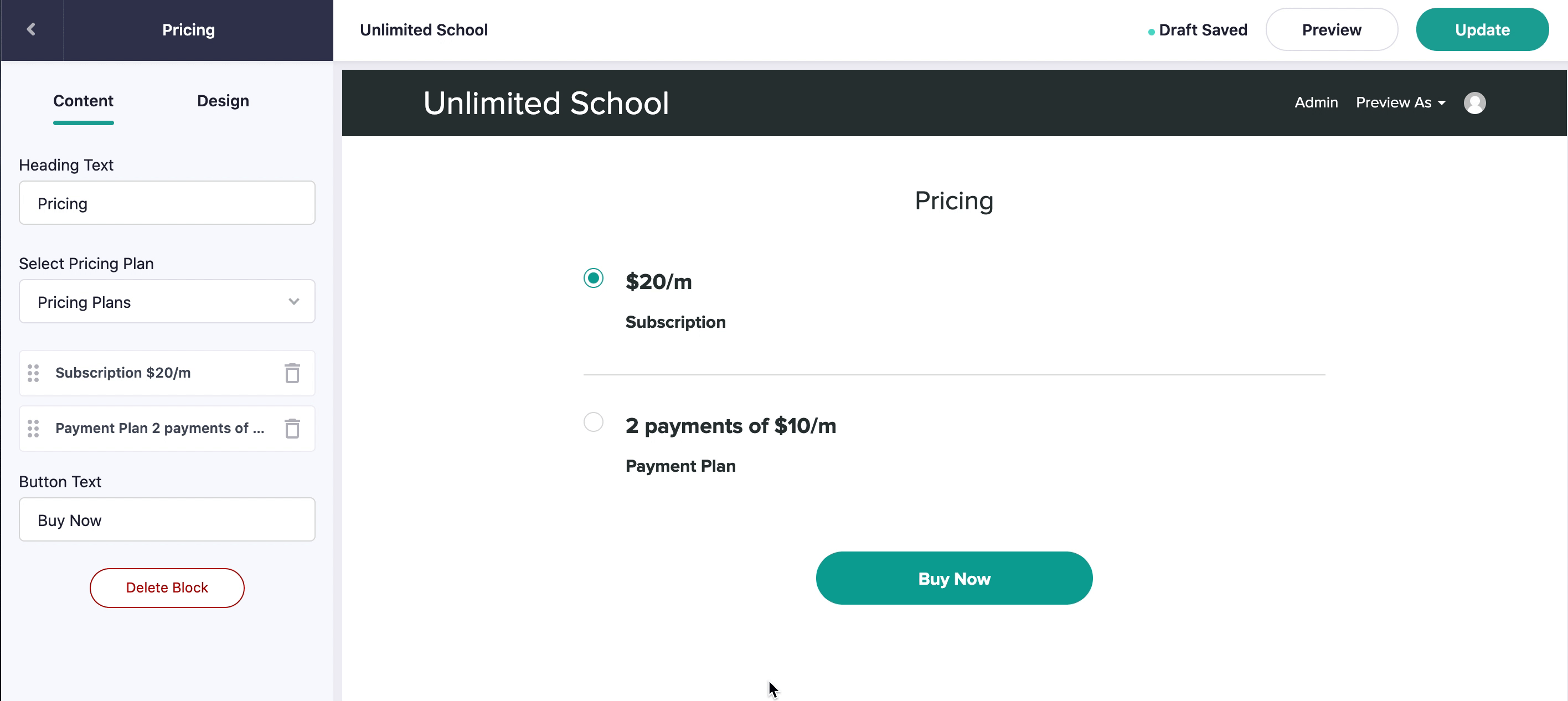 Rearrange Blocks
Once you've added blocks to your page, you can rearrange them by clicking and dragging individual blocks above or below existing blocks: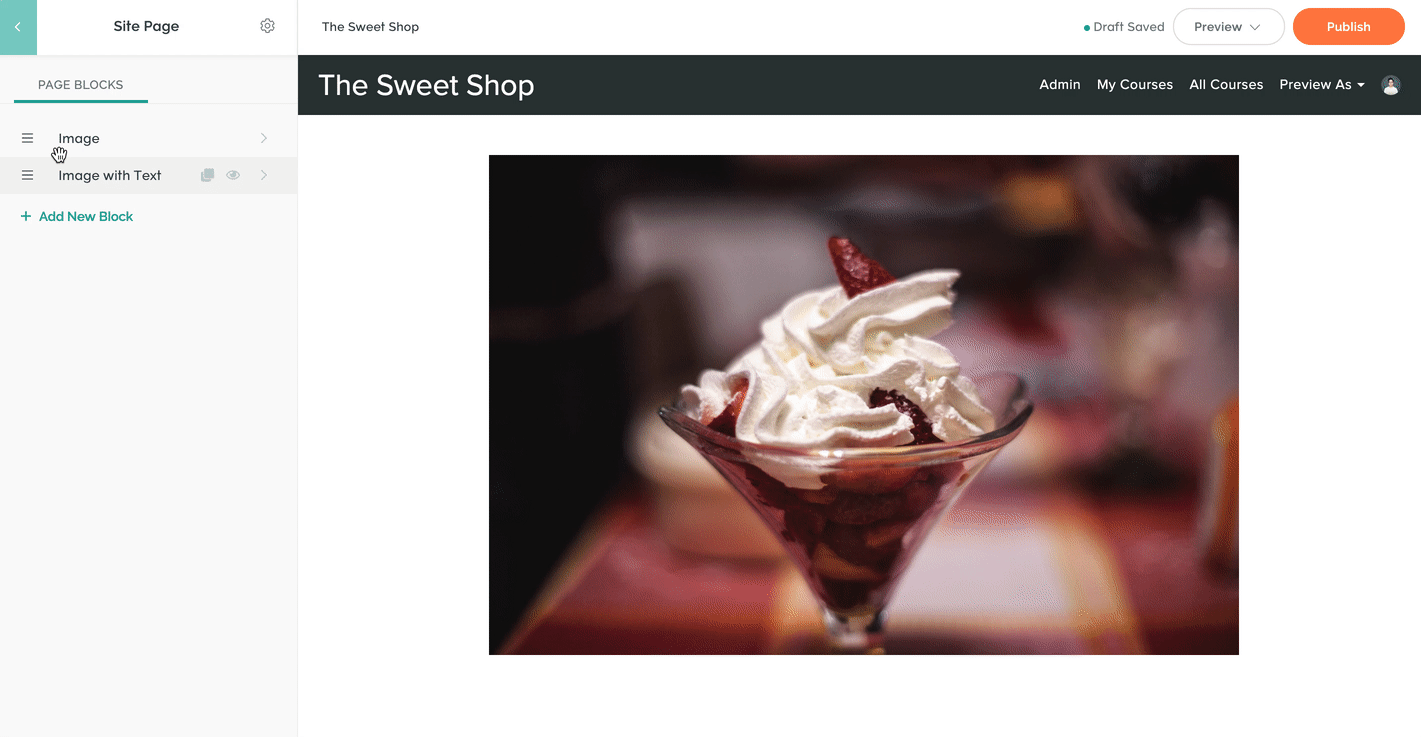 Delete Blocks
To delete a block, scroll to the bottom in the block's settings and click Delete Block. A notification box will appear. Click Delete to confirm.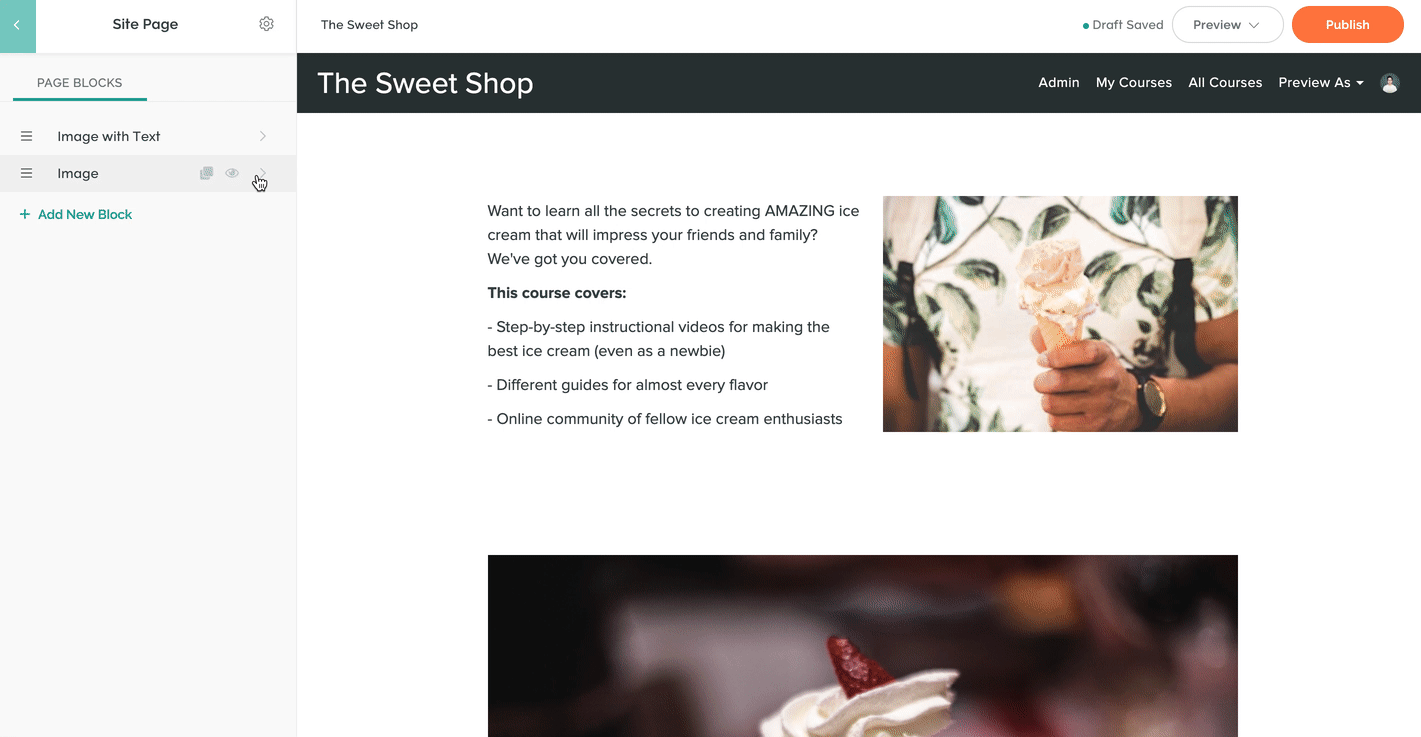 Block Designs
Each block has its own design that can be customized. Click the Design tab to see the blocks design settings. Each block has its own set of design settings, for example the Image with Text block allows you to determine the text alignment, background color, heading color, and text color.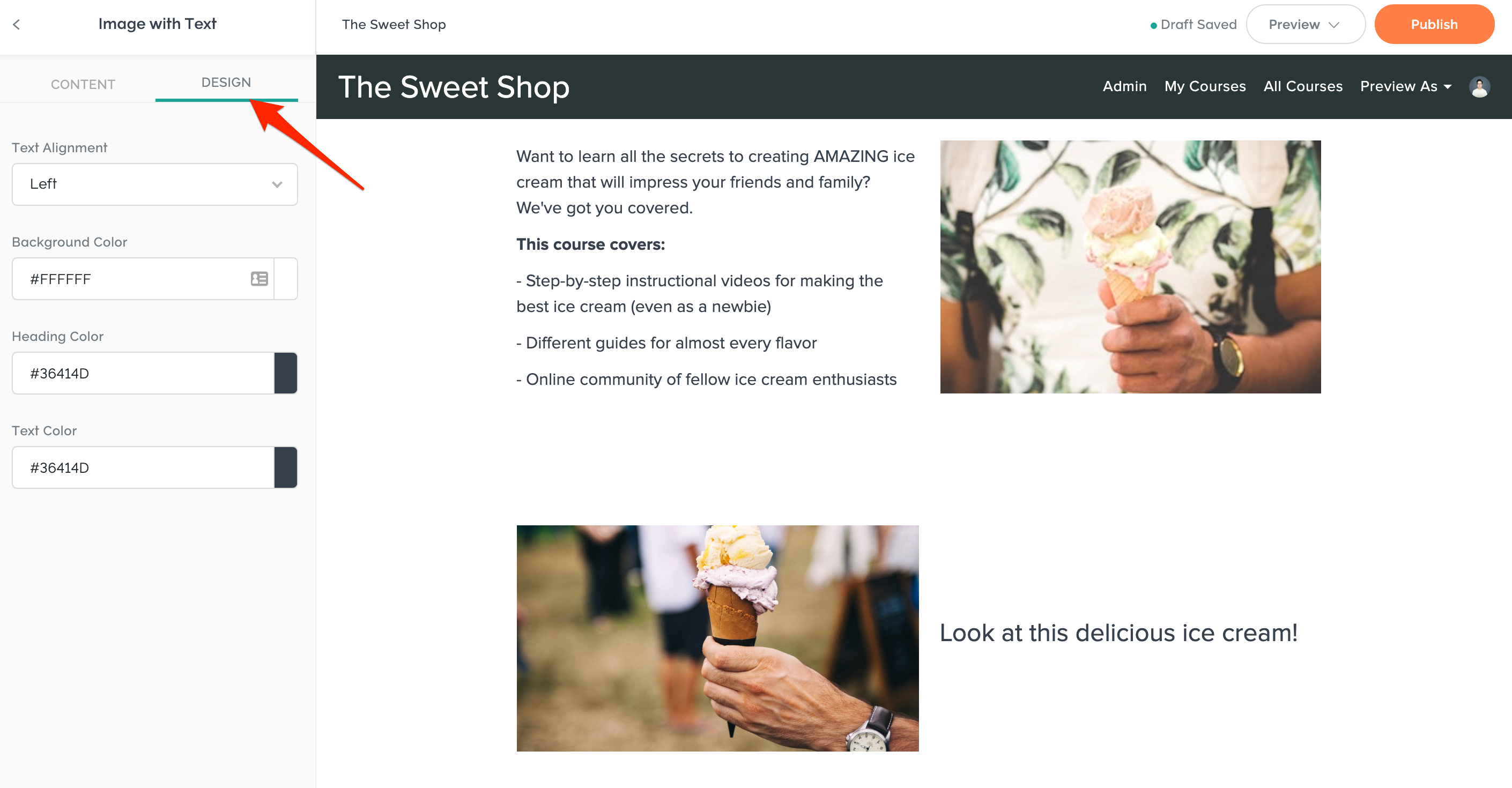 Page Settings
In the page editor, you can modify the following settings for each site page by clicking the gear icon: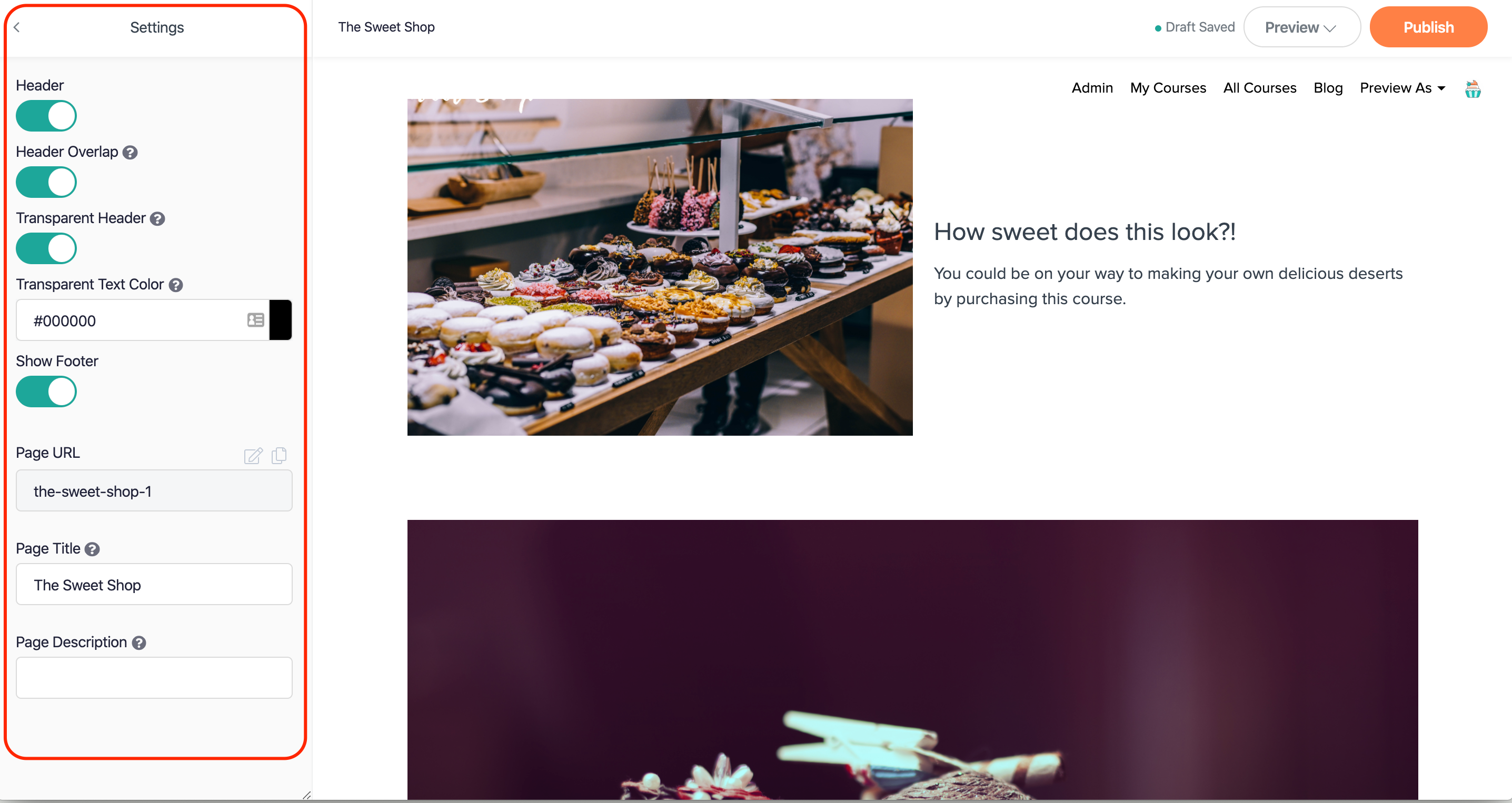 Header - When toggled on, the header will appear on the page.
Header Overlap - When toggled on, your header will always be shown at the top of your page.
Transparent Header - When toggled on, your header will be transparent at the top of your page. When a user scrolls, your header will then turn opaque based on your theme.
Transparent Text Color - If transparent header is toggled on, you can specify the color of the text that appears when your header is transparent.
Show Footer - When toggled on, the footer will appear on the page.
Page URL - The web address where your users can access this page. Please note that this field will not appear until you publish your page for the first time.
Page Title - The title of the page as it displays in a browser tab.
Page Description - A small blurb about your page.