This article explains how to get started creating and managing downloadable products in your school.
Overview
Digital downloads are a way to package your content files into offers for students. This option offers flexibility in sharing content like pdfs, epublications, spreadsheets, and images.
Benefits of using digital downloads include:
Offering free resources to current and prospective students
Building your audience and potential leads
Sharing bite-sized content (i.e. ebooks, checklists, infographics, templates, etc.)
Offering content as a digital download is a great way to build an audience for your courses and other products. Use digital downloads to give visitors a free resource— providing immediate value to your visitors, while building your audience and gaining their contact information as users in your school.
Digital downloads are also a great digital product to get started with as a beginner. You can build an audience with small samples of your content while creating a valuable course. Digital downloads also let you test your knowledge material to see how it is received.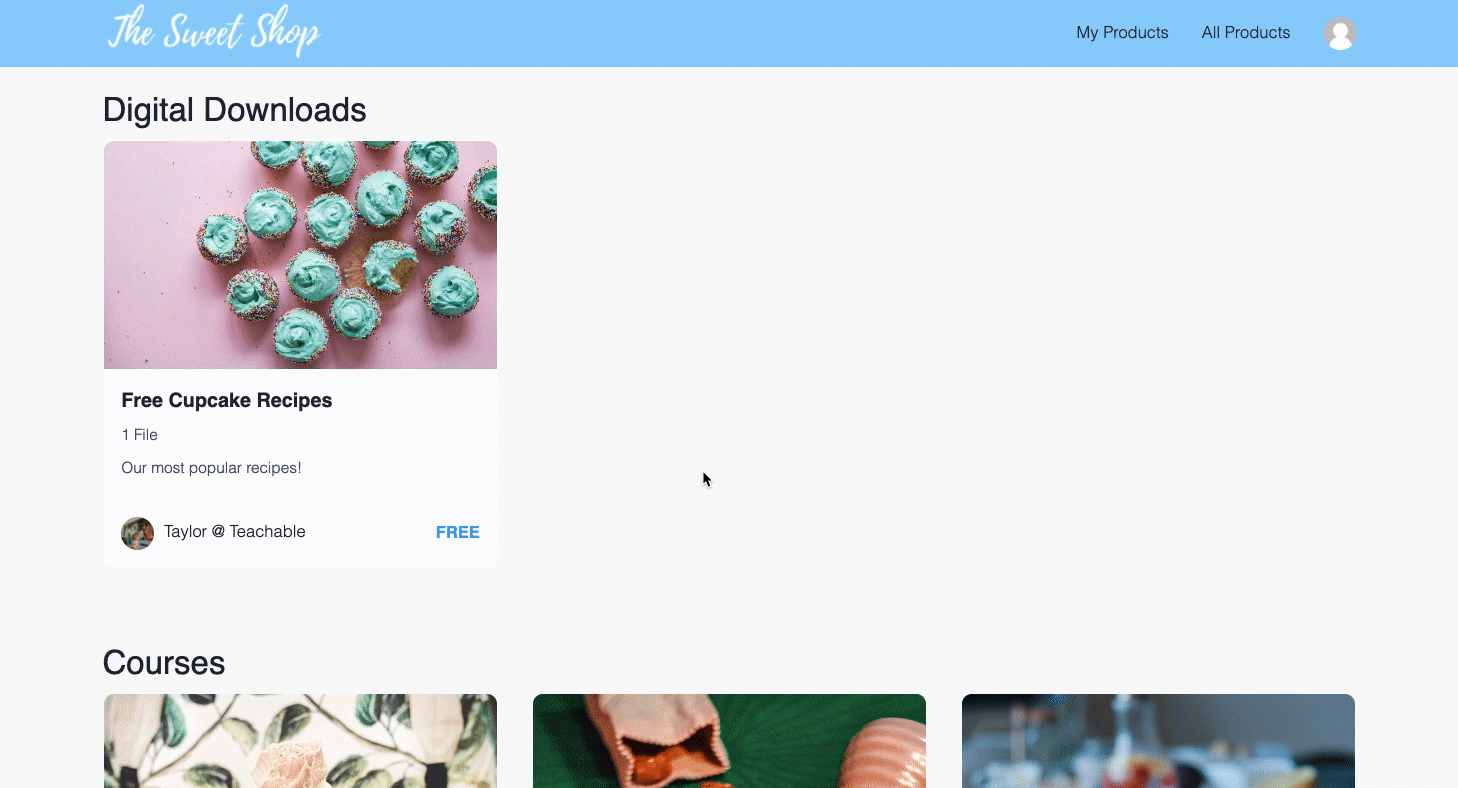 NOTE: At this time, digital downloads are only available as free products.
Create a downloadable product
To create a digital download product in your school:
From you Admin area, click the Digital Downloads tab and click the Create Digital Download button.

Alternatively, you can click the plus (+) icon next to Products or click the Create New Product button in the top right corner of your dashboard.
In the Information tab, add the Name, Description, and Thumbnail for your digital download as it will be displayed for students. Click Save before moving to the next step.
Below the thumbnail, add your Content. You can add up to 5 files per digital download product. Please note that the maximum total size of all files is 250 MB.
When you are ready to publish your product, switch the Product Status toggle on. This will make your product visible to students through the product sales page and the All Products page in your school.

Available file types for digital downloads:
Documents: PDF, TXT, DOC, DOCX, EPUB
Spreadsheets: XLS, XLSX, CSV
Images: JPG, GIF, PNG, TIF, WEBP
Audio: MP3, M4A, AAC
TIP: Want to provide video content for your students? Consider creating a course product.
Manage and edit digital download details
Pages
Once you've created your digital product, you can edit your product's sales page in the Pages tab. To update your sales page:
Go to the Pages tab and click the Edit button next to the sales page.
Within the page editor, use the Page Blocks to add images, descriptions, and other details about your product.
To change the sales page settings, including the page name and/or sales page url, click the gear icon.
Once your sales page is complete, click the Preview button to view the page as your students will see it.
Click Save.

To share the sales page directly with your audience:
Go to the Pages tab and click the More options button (three dot icon) next to the sales page.
Click Copy URL Link. This will save the URL to your clipboard to paste into emails, social media posts, and more.

Information
After you have completed your digital download product, you can add or replace content at any time. Replacing content will not remove any products your students have already downloaded to their device, however, new students will not be able to download deleted content.
To add or remove a file within your digital download product:
Go to the Information tab and scroll to the Content section.
Perform one of the following actions:

To add an additional file to your product, click the Upload button and choose an additional file from your device or cloud storage service.
To delete an existing file, click the Delete button next to the specific file. This action is permanent.

CAUTION: Once a file is uploaded to a published product, students who have signed up will be able to immediately download all content.
By default, all new digital download products are unpublished. To make your digital downloads visible, turn the Product Status toggle on. This can be updated at any time.

Students
To quickly filter and view the students with access to a digital download, click the Students tab. This will automatically redirect you to the Users area in your admin with the appropriate filter already applied.
Student experience
Once your digital product is published, students can access your content from your school's All Products page, or through the direct url of the product's sales page.
On the sales page, a student can click on the Download button found on the Banner block or within the Button block. This will direct your student to your school's login page. Returning students can use their existing login credentials to download, while new students can sign up and create a login account.
Once logged in, students have immediate access to the download page for your product where they can download all files added to your digital download product.
NOTE: To avoid confusion, ensure that your students have the applications necessary for opening the file. For example, in order for a student to open a Word document, they'll need to have Microsoft Word on their device.
Delete a digital download product
To delete an entire digital download product:
Navigate to the Information tab of that product and scroll to the bottom of the page.
Click the Delete digital download button.
A pop-up window will appear to confirm this action. Click the Delete button.

CAUTION: Please note that this action is permanent and cannot be undone.
Frequently asked questions
Can I offer my digital downloads as a paid product?
Who can create a digital download product?
Primary owners, owners, and authors are able to create a new digital download product within a Teachable school.
Can I add a digital download to a bundle product?
Not at this time.
Can I add a digital download as an upsell or order bump?
Not at this time.
Can I rearrange the order of my content?
Not at this time.
Can I rename the files a student sees after they are added to a digital download product?
No - Students will see the file name including the file type extension on the download page. To change the file name, edit the name from your device or storage service first. After, add the named file to your digital product and delete the previous file.