This article goes over changing your Teachable account's billing information, changing your payment information, and which payment methods are accepted by Teachable for your School's Teachable Plan.
If you are a student looking to update your billing information for a course purchase, please see this Knowledge Base article.
Overview
If you are the Primary Owner of your school, you can change your school's billing information at any time. Within your Settings > Billing tab, you can update and access the following information: 
Subscription details - View a breakdown of your current subscription and plan costs. You can also cancel or change your Teachable plan from here.
Billing & Shipping Addresses - Edit your billing and/or shipping address. Includes a field to enter your tax ID number, if applicable.
Payment Methods - Edit the details of your associated credit/debit card, bank account, or add a new payment method.
Billing History - View the billing history for your Teachable plan, with the option to Download an invoice for each payment.
Accepted payment methods
Teachable accepts the following payment methods:
American Express
MasterCard
Visa
ACH (GoCardless)
PayPal is not available at this time. 
Add or remove payment methods
You can have one primary payment method and one backup payment method on file.
To add a payment method:
In your Teachable admin sidebar, select Settings > Billing.
Under Payment information, click the Edit payment method button.
In the popup window, click the Payment Methods tab.
Choose between adding a new credit card or ACH.
Enter in your details, then click Add.
To add a Backup method, repeat the steps above. Once both methods are added, select which method you'd like to add as your Backup, then click Update.


If you would like to remove the primary payment method on file, you will first need to designate another payment method as primary.
To designate another primary payment method, click into the backup payment method details then click Set as primary: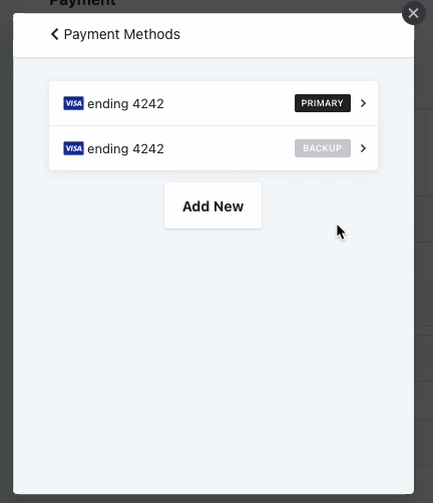 You can remove any non-primary payment method at any time by clicking into the payment method's payment details, and then selecting Remove Payment Method:


Billing and shipping address
Your billing address is the address associated with the payment method you use to pay for your Teachable plan. A shipping address, if different from your billing address, is the address associated with your residence.
In your Teachable admin sidebar, select Settings > Billing.
Under Payment information, click the Edit address button. 
In the popup window, select Billing & Shipping Addresses.
Click on the specific address you want to update and make any changes. Click the Update button when you are done. 


Billing and shipping addresses are collected to ensure that Teachable's tax and finance systems accurately reflect where our users are located. This information will only be used for compliance purposes. Please check out our privacy policy for more information about how Teachable handles personal information.
Add a tax ID
In the billing address section, there is a field to enter a tax ID number (if applicable).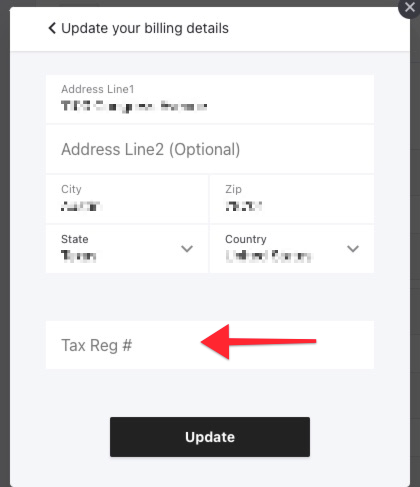 This tax ID number will appear on your Teachable plan invoices. Please note that you should still enter your tax ID in your Settings > Taxes menu (if applicable) to ensure proper tax collection.
Download an invoice
Each time you make a payment for a Teachable plan, you will receive an email with an attached invoice. You can also download these invoices from within your Settings > Billing tab. The invoice will include:
The amount paid and payment date
Your billing address and tax ID number (if applicable)
Teachable's address and tax registration number
To download an invoice:
Navigate to your school's Settings > Billing tab.
Under Invoices, click View all invoices.
In the popup window, click the Billing History tab.
Click the Download button next to the invoice you would like to download.


This will download a PDF file to your computer, which you can then save for your records.
View your billing history
At the bottom of the Billing page, you can view your Teachable billing history.

For each transaction, you'll see the payment date, payment ID, amount paid, which plan you were billed for, and whether it was an annual or monthly plan.
You'll also be able to resend the receipt of any transaction to your Teachable associated email address by clicking the Resend Receipt button.
Failed payment attempts
If the primary card on file for your school is declined for any reason, Teachable will automatically attempt to charge your backup card on file (if any).
If both your primary and backup payment methods fail, Teachable will notify you via email. Afterwards, we'll automatically attempt to process your plan payment the 1st, 4th, and 9th day after the initial failed payment.
If all of these payment attempts fail, your school will automatically be downgraded to the Free plan.